Being a celebrity is a full time job. These celebrities work day in and day out. Even during their days off, they still don 't seem to have any down time as they are often followed around by media, fans and the paparazzi. The photos captured of them often shows off their glamorous outfits, their luxurious cars, grand mansions, and designer items. You can also find these on their posts on social media. These celebrities, from actors, actresses, singers and other TV personalities seem to have it all, flaunting their #travelgoals getaways and their seemingly worry-free lifestyle.
Though it is without a doubt that these celebrities have earned much in terms of investments and have a ton of money to spend, a lot of people are still shocked after finding out their net worth. Years and years in the spotlight have allowed them to earn millions and keep growing their savings at the same time. Curious? Here are some of the highest net worth of the most followed celebrities in the industry.
PRISCILLA PRESLEY | $50 MILLION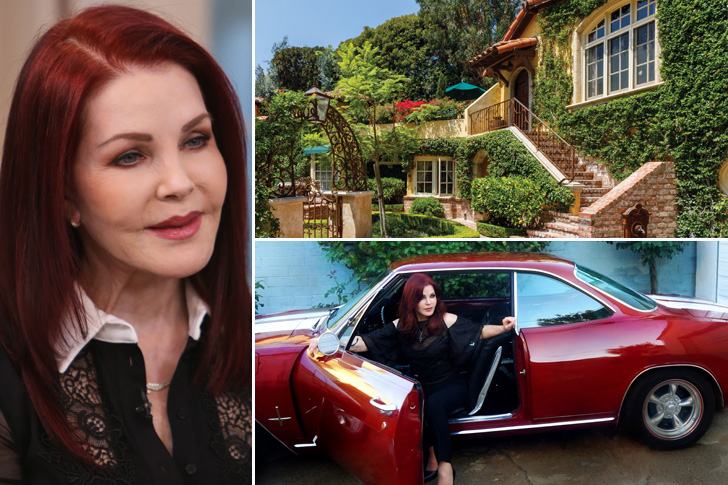 Priscilla Presley may be made famous for being the former wife of the King of Rock 'n' Roll himself, Elvis Presley, but she has successfully made a name for herself. She had a starring role in a number of successful movies and was also part of the long-running TV series Dallas. The now-75-year-old star then later turned her eye on making different investments, entering the business world.
She used to serve as Elvis Presley Enterprises' (EPE) chairwoman. Priscilla was responsible for turning his ex-husband's mansion, Graceland, into one of the top tourist attractions in the US. No wonder she managed to amass a net worth of $50 million. Priscilla is also an author, and her 1985 memoir, Elvis and Me, was a New York Times bestseller. She might be in her mid-70s today, but there is no stopping Priscilla from working and doing what she loves in both the business and entertainment worlds.
MEGHAN MARKLE | $50 MILLION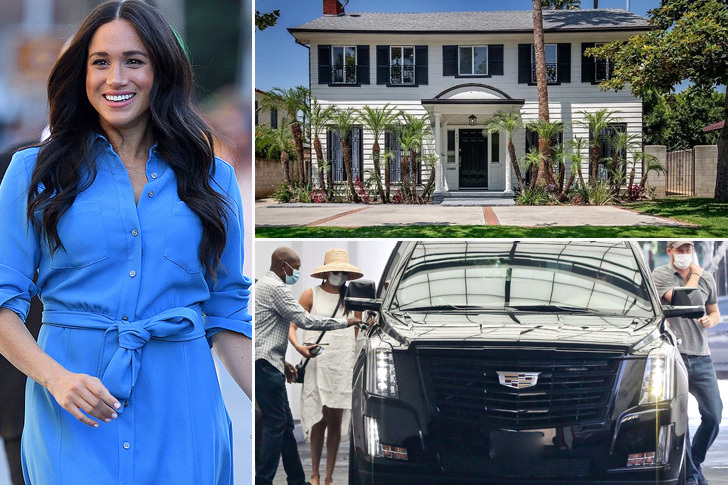 Who didn't know Meghan Markle? With the degree of fame and controversies linked to her name, it is quite hard not to know the former actress who turned out to be a British royal. She used to be seen on the small and big screens as part of the projects Suits, Horrible Bosses, Remember Me, and more. The 39-year-old star is, now, mostly part of headlines after headlines, news, and even tabloids.
Meghan is now known as the wife of the British Prince Harry, the late Princess Diana son. She is currently working as a humanitarian and philanthropist, just like her husband. Meghan now has a $50 million net worth, combined with Prince Harry's fortune. They had recently inked a "multi-year mega-deal" with Netflix after they stepped down as senior royals. Meghan and Prince Harry are now on their way to launch a production company that would provide scripted content, documentaries, and children's programming for the streaming giant.
Jeffrey Katzenberg | $900 million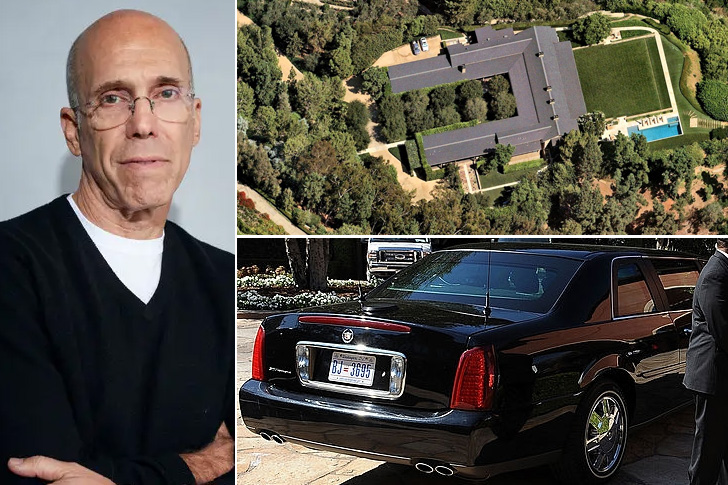 If you know what you are doing in the media industry, you will get rich. That is the case with Jeffrey Katzenberg who is a media proprietor and a film producer. Media will never go away as long as humans are alive and Katzenberg probably knows this. He made investments in Walt Disney Studios, serving as its Chairman from 1984 to 1994, producing hits that endeared the public. These include the films Aladdin, The Lion King, and The Little Mermaid. He was also the CEO of DreamWorks Animation.
His hard work paid off as he accumulated around $900 million in net worth, mainly because of the many high-grossing Disney movies he was involved with. Records show that his biggest pay was in 2016 when he and partners David Geffen and Steven Spielberg sold DreamWorks to Comcast for a staggering $3.8 billion. How much did he get? A mind-boggling $420 million.
Brooke Shields | $40 million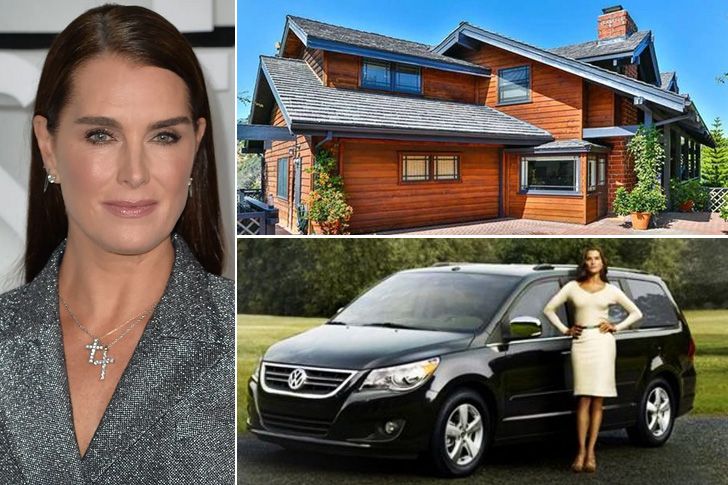 Both a child star and a child model, Brooke Shields was off to a good start at the tender age of 12. She starred in Pretty Baby in 1978 and followed this up with other movies in the 80s, including Endless Love and The Blue Lagoon. In 1983, Shields suspended her career and attended Princeton University to obtain a bachelor's degree in Romance Languages. When she went back to acting, the actress appeared in minor films and landed a major role on NBC's Law & Order: Special Victims Unit.
Over the years, Shields has accumulated a net worth of $40 million, and a big chunk of that money came from her TV shows and movies. She likes promoting fitness as an extension of being feminine and believes that femininity and being athletic are compatible, contrary to what the media has always portrayed. Shields also had a very deep friendship with Michael Jackson and delivered a tearful eulogy during his wake.
Denzel Washington | $250 million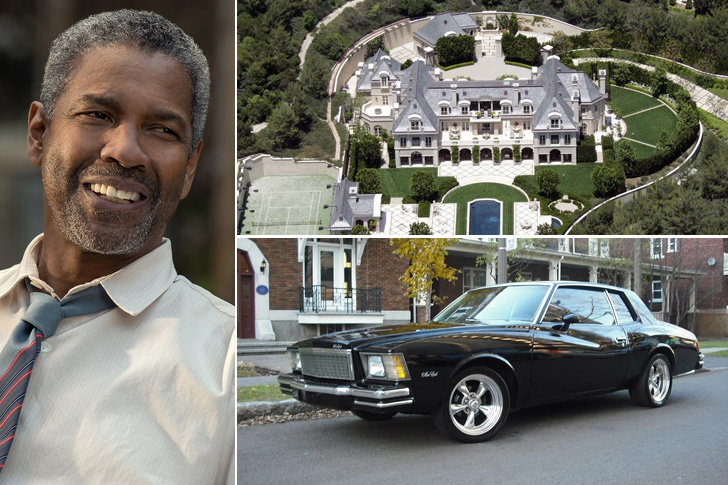 If you are the recipient of 17 NAACP Image Awards, it means you are a very good actor. That is the case with Denzel Washington, who has been given credit for reconfiguring the idea of classic movie stardom in Hollywood. If you haven't noticed, most of the roles he played give out vibes of grace, humanity, dignity, and human strength. This was evident in his 1980s films, especially in the films Malcolm X and Cry Freedom.
With more than 40 years in the entertainment industry, Washington has brought many characters to life and his bank account is a testament to his success as an actor. His estimated net worth is $250 million, most of which he's earned from his acting career. Just to give you an idea, he earned $12 million for Training Day, The Siege, and Fallen. For sure, Washington was able to set some of the money aside to make passive income as he prepares for his retirement.
George Clooney | $500 million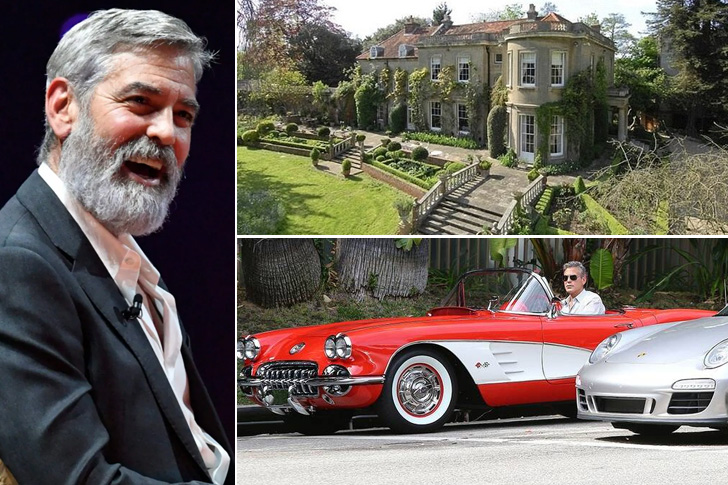 Much has been said about George Clooney, but we think that his most successful movie series yet was Ocean's Eleven. While he gained recognition as Dr. Doug Ross in the medical series ER, he actually started much earlier –having first appeared on TV in 1978. Apart from acting and directing, the actor is also famous for his economic and political activism. That is perhaps what made Amal Clooney fall in love with him. In addition, the Times Magazine has named Clooney one of the most influential people of all time.
Clooney has a net worth of $500 million and he has made various real estate property purchases in the US, Mexico, and England. These houses are most likely installed with the latest home security system for their privacy. As high-profile personalities, they do need their private moments. Apart from buying houses, he is also into riding bikes, collecting cars, and traveling.
Kirk Douglas | $60 million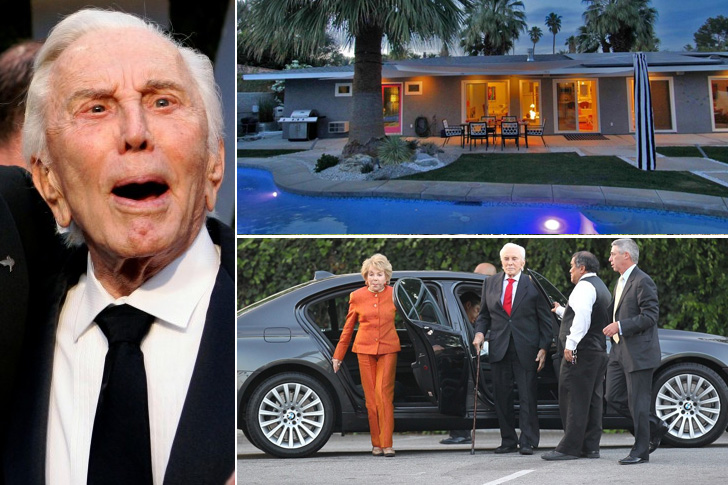 Kirk Douglas lived through his childhood in poverty, and his family probably had to deal with personal loans. This did not stop him from achieving success, and it made him more motivated to succeed. He made his first film debut in the movie The Strange Love of Martha Ivers. What made him an international star was his performance as the boxing hero in Champion back in 1949. He was also an entrepreneur, having established his own production company, Bryna Productions.
When he passed on February 5, 2020, at the age of 103, his net worth was at $60 million. Prior to his death, he did not allow the health issues he was facing at the time to stop him from finishing his book about stroke, hoping it would inspire others like him and serve as a manual for those dealing with the problems related to the disease. Many found the book useful as it was written from experience.
Alexis Ohanian | $40 Million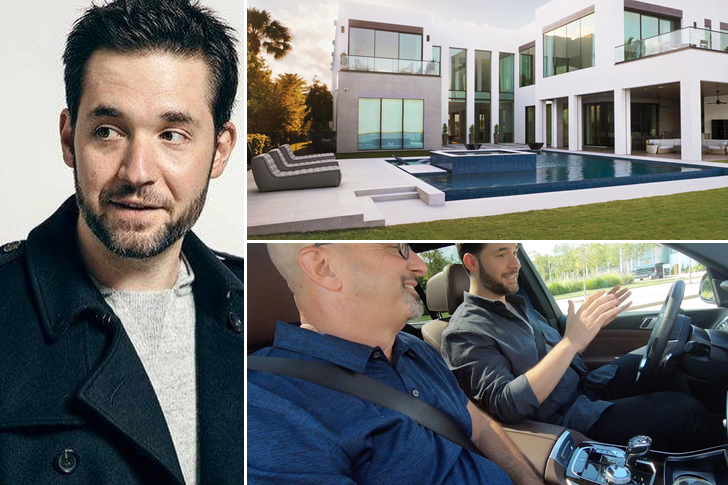 After finishing his studies in 2005 and graduating with a degree in history and commerce, Alexis Ohanian wasted no time beginning his professional career. Well, from that point onward, it's no secret that he has dabbled in plenty of ventures through the years. From starting a venture capital firm called Initialized Capital to participating in numerous philanthropic endeavors, Ohanian's most notable project in the digital domain would undoubtedly be co-founding the social media platform Reddit.
Today, Reddit has become a hub for people to share their interests, hobbies, and opinions. Besides maintaining a successful business career, he has also tried his hand in other endeavors. From sharing business tips through podcasts and promoting new startup companies, the internet entrepreneur also published his very own book titled Without Their Permission. He's definitely a busy fellow, and his current net worth is estimated to be around $40 million.
Pete Davidson | $8 Million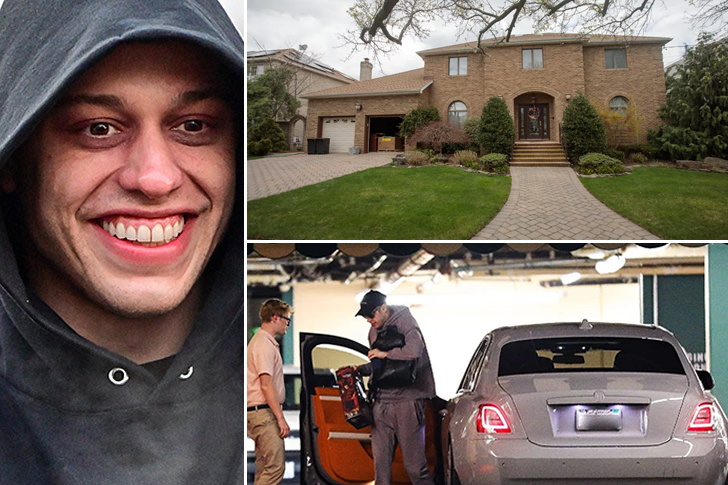 While we all love to watch action-packed flicks or drama features, it's no secret that there's also a special place for comedy in our lives. The entertainment industry has introduced us to numerous stars who possess an amazing sense of humor through the years. There are many influential figures from every decade, for sure, but one of the most recent comedians to garner a high degree of popularity would be none other than Pete Davidson.
Beginning his journey as a stand-up comedian, Davidson eventually made his way to more on-screen work. Since then, he has become well-known for his stint in Saturday Night Live. Along the way, though, the comedian garnered even more recognition for his work in several movies, most notably his lead performance in The King of Staten Island, a semi-autobiographical film that he also co-wrote. Davidson has also landed parts for Brooklyn Nine-Nine, Trainwreck, and The Suicide Squad.
Serena Williams | $250 Million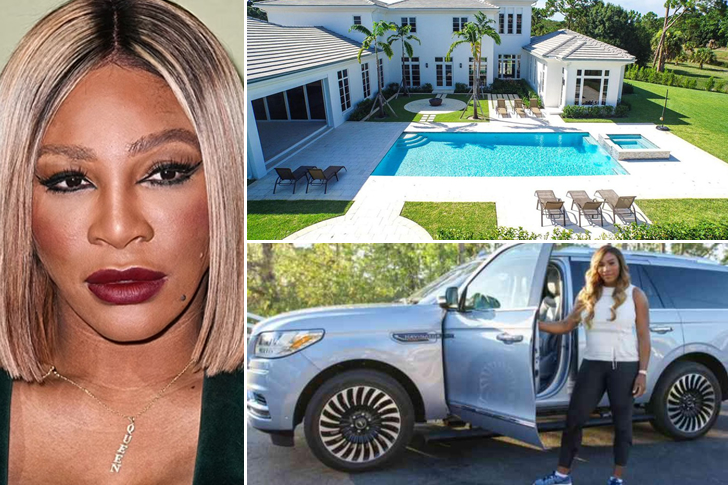 Serena Williams went through rigorous tennis training at the early age of three, along with her sister Venus. Both were groomed by their father to be tennis superstars. She won her first major championship in 1999, Grand Slam in 2003, and held the number one spot in the Women's Tennis Association rankings countless times over throughout her stellar career. She and Venus had teamed up together and won a series of doubles titles.
Apart from her profession as a professional tennis player, Williams also has several investments in 66 startup companies through her company, Serena Ventures, having nearly 20 corporate partners. Her career prize money of $94 million is worth twice as much as any other athlete has made. Today, the prolific tennis player has an estimated net worth of $250 million, which will certainly increase in the following years with her business ventures.
AL SHARPTON |$500 THOUSAND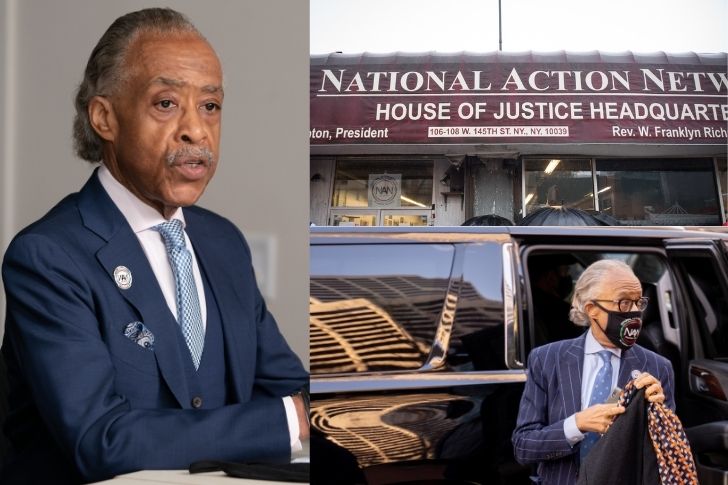 Aside from being a host, Al Sharpton is known for being a civil rights activist and Baptist minister. He is the founder of the National Action Network and the host of his own radio talk show, Keepin' It Real. The 66-year-old personality also gets credit for being a regular guest on different news shows on cable TV. Despite the fame and stints, however, these things didn't keep Al from financial woes.
His investments and businesses back in 2014 went on a downward spiral, though he denied these claims. The broadcaster even said his debts were already paid, though he didn't reveal the amount, and there was no confirmation if it was true. Years have passed, and everything seems to be well for Al today. He now has a net worth of $500,000 and is probably out of debt, giving him the affluent life he deserves.
WESLEY SNIPES | $10 MILLION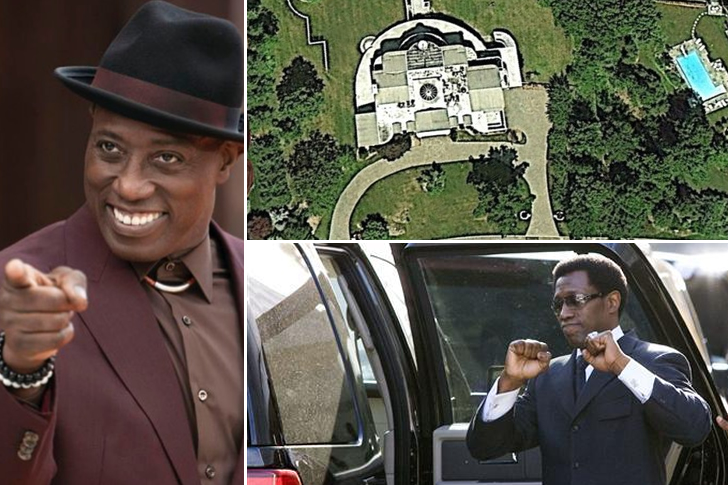 Wesley Snipes is a well-known American actor who currently has a net worth of $10 million. He has been able to put together quite a successful career filled with acting credits in films such as Demolition Man, White Men Can't Jump, and the Blade trilogy. Besides acting, he has also managed to create his own production company for television and film. He's also an author and draws in income from the royalties of his published books.
$10 million might be a considerable fortune, but it's far less than what Snipes earned during the prime years of his acting career. Between the years 1996 and 2004, he reportedly earned around $38 million from appearing in various films. Nonetheless, Snipes is poised to add more to his current $10 million net worth as he has various business ventures outside of acting. We certainly hope that he handles his money wisely this time around!
STEVEN SEAGAL | $16 MILLION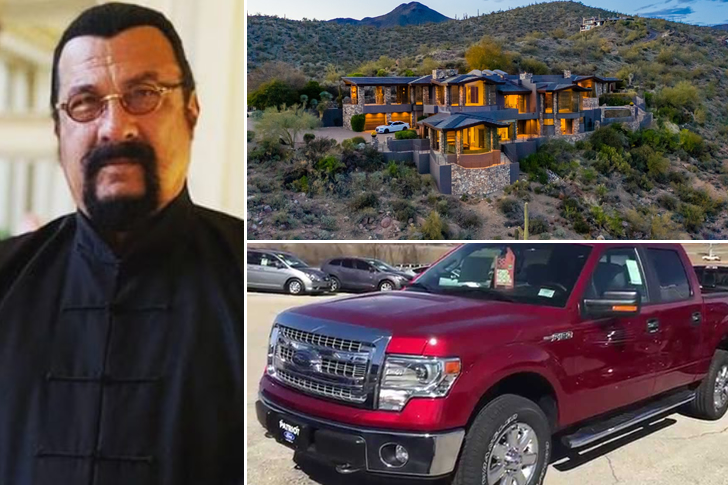 Steven Seagal is one of the most notable action stars in Hollywood during the 1980s and 1990s. Besides acting, he is also a martial artist, producer, screenwriter, and musician who currently has a net worth of $16 million. Despite his many passions and interests, it's not a secret that Seagal managed to earn majority of his net worth from being a famous action movie star. He has appeared in films like Under Siege, The Glimmer Man, Fire Down Below, and many more.
Seagal was once on the list of the highest-paid actors in Hollywood. He even allegedly made around $600 million during the peak of his acting career. You'd certainly wonder why this $600 million figure drastically dwindled to a mere $16 million. Apparently, Seagal lost millions to failed business ventures. We certainly hope that he's now working with a financial advisor that can help him manage his finances wisely.
JENNIFER ANISTON | $300 MILLION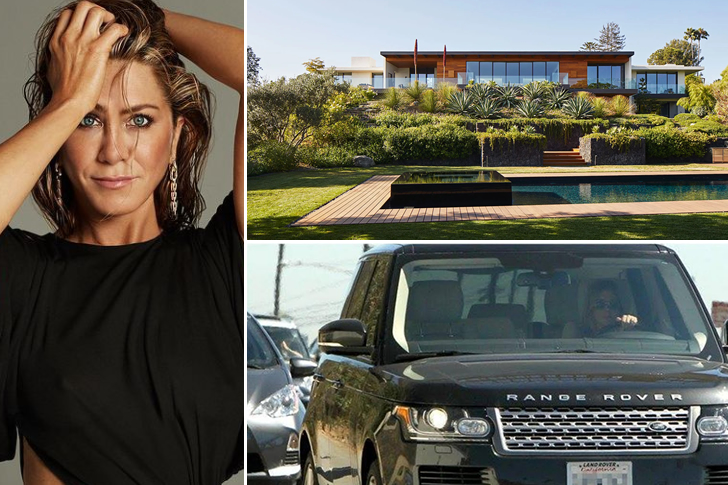 Jennifer Aniston is a well-known American actress who is best known for her role as Rachel Green on the hit television sitcom Friends. She's also a successful film producer and businessperson with an astounding net worth of $300 million. Aniston's $300 million fortune puts her at the 7th spot on the list of richest actresses in the world, and she's one of the wealthiest celebrities in Hollywood today.
She certainly won't be worrying about her fortune decreasing anytime soon. This successful actress consistently earns more than $20 million per year from acting and various endorsements. You could say that getting a money loan to acquire anything she wants is the least of the actress' problems. With more money and income coming in, it's reasonable to expect that she'll continue to rise in the rankings of the wealthiest actresses in the world.
RUSH LIMBAUGH | $600 MILLION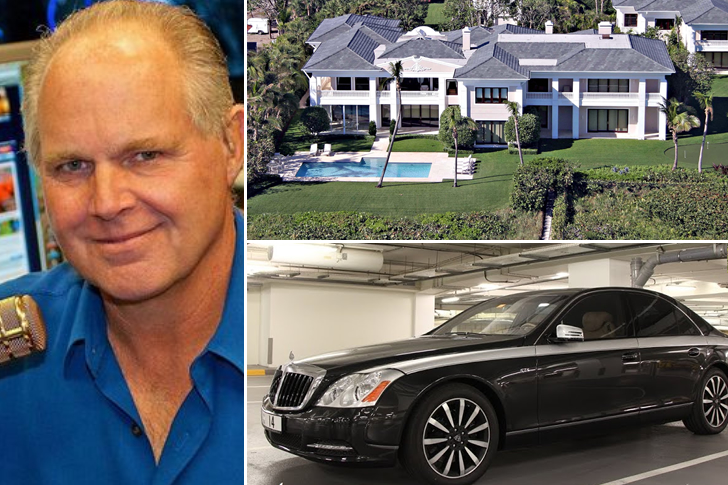 The late Rush Limbaugh was a prominent American political conservative radio host. He gained his widespread degree of influence in the political sphere as a pundit with his long-running radio show The Rush Limbaugh Show. It was syndicated across the American airwaves on both FM and AM stations in 1988. Sadly, the political commentator passed away on February 21, 2021.
There is no doubt that Limbaugh established himself to be one of the highest-paid political commentators over the recent decades. Millions of weekly listeners tuned in for his hot takes, which garnered him an impressive net worth of an estimated $600 million at the time of his passing. At the height of his popularity, the right-wing pundit was reported to have been earning over $85 million annually. However, apart from his political show, he was also a known philanthropist with charitable donations for the Leukemia & Lymphoma Society.
WHOOPI GOLDBERG | $60 MILLION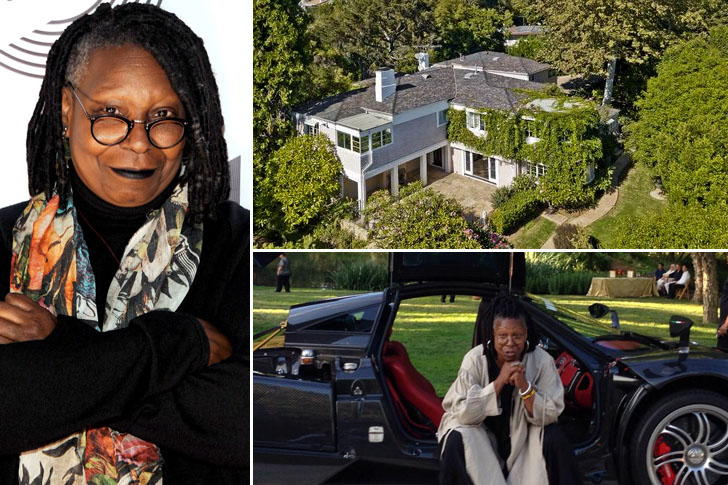 Whoopi Goldberg has been a staple to every American home for being one of the hosts of the longtime running chat show, The View, but this is just one of the too many things she is known for. The now-65-year-old star used to conquer the big screen with her hit '90s movies, like Sister Act, Sister Act 2, Ghost, and many more.
Her incredible acting skills and a number of projects back then earned her several accolades, becoming one of the few stars who have an Emmy Award, a Grammy Award, an Academy Award, and a Tony Award. Are you wondering how she has managed to amass $60 million net worth? It's easy to analyze why, actually. Whoopi has been active in the entertainment world since 1982 and remains to be a significant part of it until today. With her credits, it is no surprise why she has become one of the most influential stars in this day and age.
Pamela Anderson | $12 million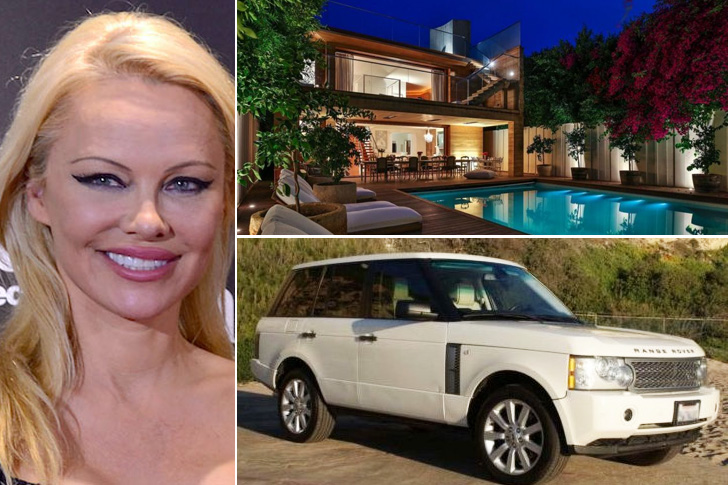 Baywatch star Pamela Anderson is a known TV and magazine personality. She has appeared on the TV series Home Improvement and V.I.P.  Apart from TV, she also made appearances on Barb Wire, Raw Justice, and Dancing on Ice. Anderson is a known animal rights advocate, although she was once called out for the manner by which she expressed her support. She also became a spokesperson of FrogAds in March 2012.
Anderson has a net worth of $12 million, which mostly came from modeling and acting. She bought a beach home in Malibu and when she failed to sell it for a premium, she decided to rent it out instead for $50,000 a month — which is more than enough to cover the home insurance costs. She now resides in Vancouver Island, in Canada. She also holds both American and Canadian citizenship. Oh, and did you know she also lived in France at one point?
Walter Cronkite| $20 million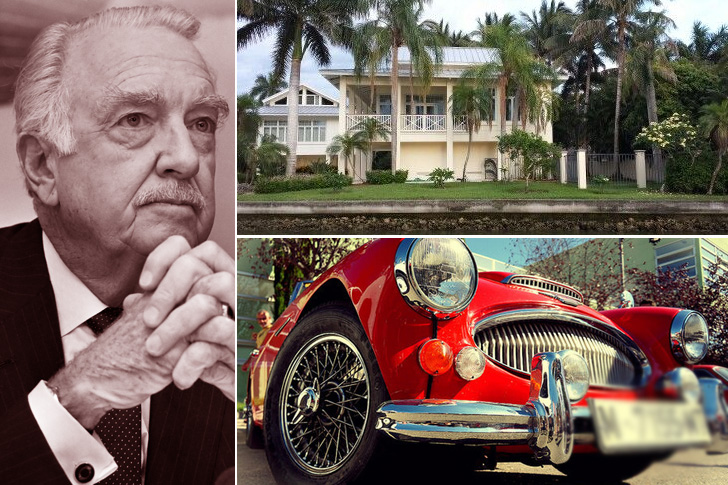 As a broadcast journalist, Walter Cronkite was a witness to various world events from 1937 to 1981. Among these events were World War II, the Vietnam War, and the Watergate scandal. He also reported on events like the Iran hostage crisis and the Mercury program of NASA. Cronkite is a well-respected anchorman. During the start of his tenure at CBS Evening News, Cronkite was in competition with NBC's Chet Huntley and David Brinkley who hosted The Huntley-Brinkley Report. It was his coverage of the Apollo 11 and 13 missions that made him more famous.
At the time of his death in 2009, Cronkite had $20 million in the bank. His lawyers would have taken care of his estate when he passed. Cronkite was cremated and buried alongside his wife in Kansas City. His funeral was well-attended, and many of those who adored him in life were in attendance, including Barbara Walters, Meredith Vieira, and Morley Safer.
Bono | $700 million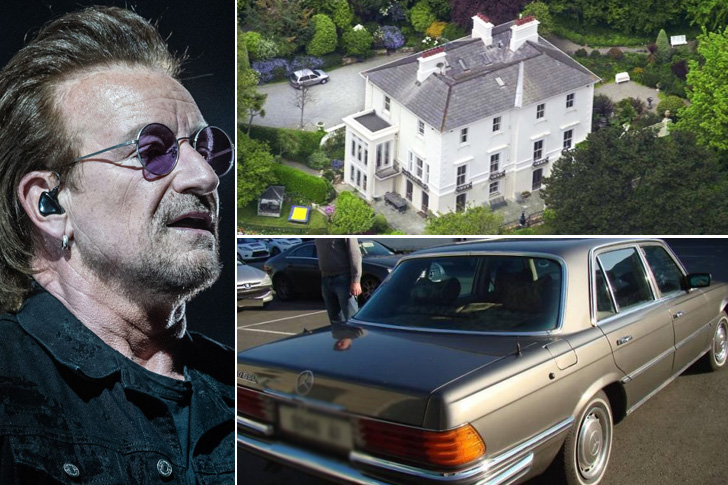 Bono is a known singer, activist, venture capitalist, and philanthropist.  Bono was born and raised in Ireland and was able to establish a reputation as the frontman of U2, a band he co-founded with his schoolmates. His lyrics were given credit for giving soul to the group's rebellious yet spiritual tone. He is also a known activist and has participated in various concerts and events promoting Africa.
With a net worth of $700 million, it is easy for Bono to give back to the community and he has not held back. He was even knighted by Queen Elizabeth for his humanitarian work and his contribution to music. His net worth comes from a combination of his earnings from music and his other business ventures. He has investments in the Forbes Media Group and he is also on the board of Elevation Partners, a private-equity firm.
Carmelo Anthony | $160 million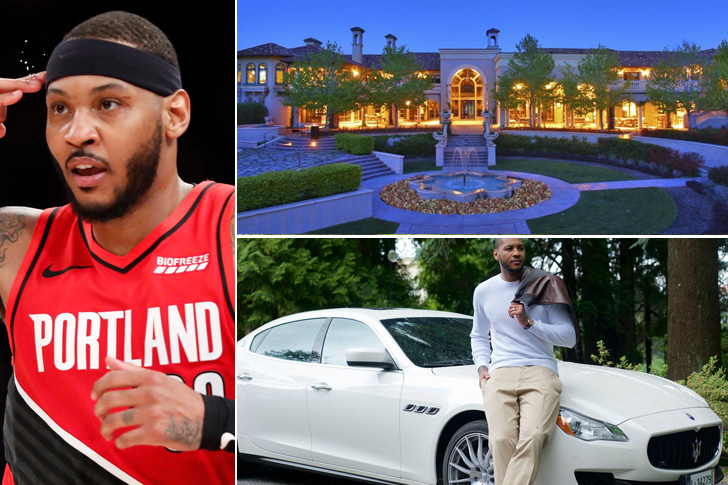 Ten-time NBA All-Star winner, Carmelo Anthony, was a freshman when he was named as the NCAA Tournament's Most Outstanding Player. He finally got into the NBA during the 2003 draft and was picked by the Denver Nuggets. He was able to lead the team to their first finals appearance since 1985. After playing with the Nuggets, he also played for the Knicks, Bobcats, and the Thunder. He is now with the Trail Blazers on a renewed one year contract, which his lawyers reviewed carefully.
During his tenure in the NBA, the basketball star was able to accumulate a net worth of $160 million. His salary for 2020 alone was at $2.159 million — interestingly enough, he earned $26 million during the 2017 to 2018 season. The Knicks paid him $80 million over a period of five years, and anyone on the team will attest that it was money well spent.
David Lee Roth | $60 million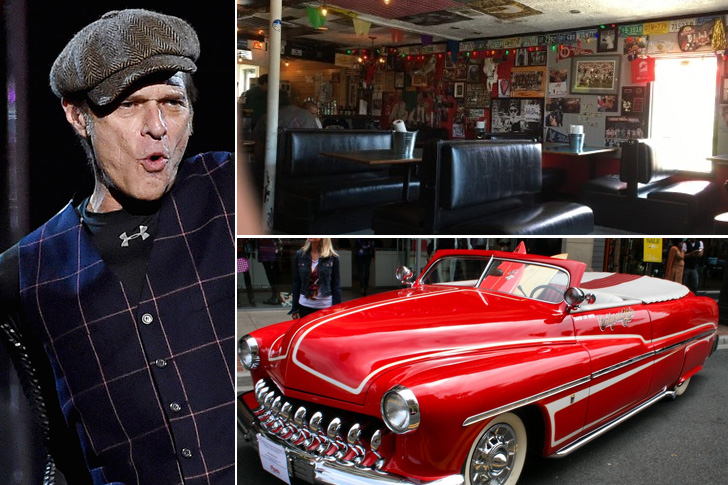 Former radio personality David Lee Roth is also a musician, actor, and singer. As the latter, he was given credit for his energetic persona on stage and as the lead singer of the band Van Halen. Roth was not only a band member, he also became successful as a solo artist. For his contribution to the music industry, Roth was inducted into the Rock and Roll Hall of Fame. He also wrote a 359-page memoir that became a bestseller.
With many sources of income, from royalties to income from his shows and tours, it is not surprising that Roth acquired a total of $60 million. What comes as a surprise is that Roth worked as an EMT in the late 1990s while he was on a music hiatus. This job allowed him to pay the necessary expenses, including insurance fees and house payments.
Forest Whitaker | $30 million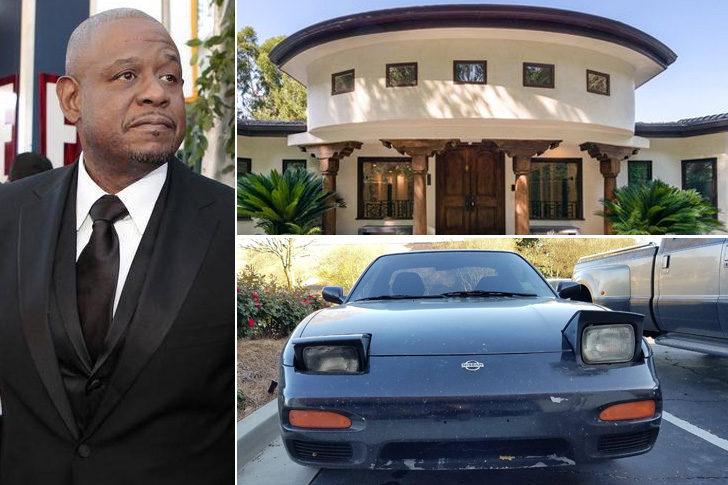 Actor Forest Whitaker has not limited the use of his skills to acting. He is also a producer, a director, and an advocate of the Sustainable Development Goals of the United Nations. The actor built his reputation on movies like The Great Debaters, Star Wars, and Black Panther. We know him as Saw Gerrera in Star Wars and Zuri in Black Panther. Given his excellent performance in The Last King of Scotland, the actor received an Oscar, a BAFTA, and a Golden Globe, among other awards.
Whitaker has a net worth of $30 million and a big part of this came from what he made from Black Panther. Some of it also came from his directing career. He started directing in the '90s and has been praised for films like First Daughter and A Rage in Harlem. With all his money, he could afford the mortgage on most homes and he does own two properties in Hollywood Hills.
George Lucas | $8  billion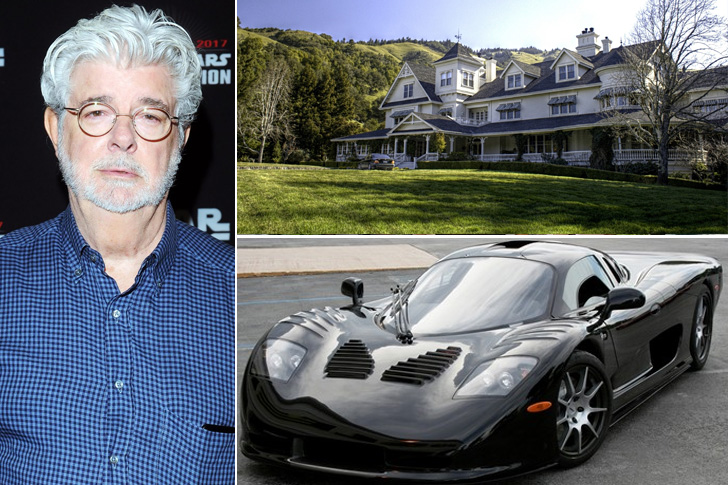 The director of Star Wars and the Indiana Jones franchise, George Lucas, is a huge name in Hollywood now. What we see, however, is just the tip of the iceberg. Because like everyone else, he also had his share of failures. For example, his film Electronic Labyrinth: THX 1138 4EB was a commercial failure, though it received critical acclaim. His next film, Star Wars, became his crowning glory and was a huge success despite trouble in production.
Over the years, Lucas has accumulated wealth from his excellent money management skills and his earnings from his films. In 1973, Fox offered Lucas an increased salary for Star Wars but he requested to retain the merchandising rights and the rights to the sequels instead. While it seemed like a good deal for the studio then, it ultimately became a better deal for Lucas, who earned so much from the sequels.
Jay-Z | $1 billion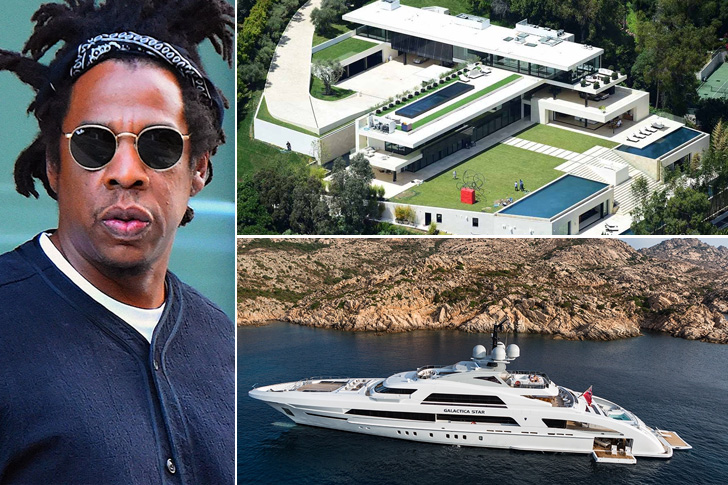 Jay-Z is one of the most influential hip-hop artists in the world today. He is a rapper, record executive, and producer. His fame started in the mid-1990s when he released his debut studio album Reasonable Doubt. He also made collaborative work with his wife Beyoncé and fellow rapper Kanye West. The rapper is not only into music but is also into business, having founded the luxury sports bar 40/40 Club. He has other businesses and investments that make his bank account fat.
Speaking of bank accounts, Jay-Z has an estimated net worth of $1 billion, and a huge chunk of it comes from both his business ventures and the sale of his albums worldwide. The Forbes magazine recognized him as the first hip-hop billionaire. With that money, he was able to afford different real estate properties and luxury vehicles.
Joan Rivers | $150  million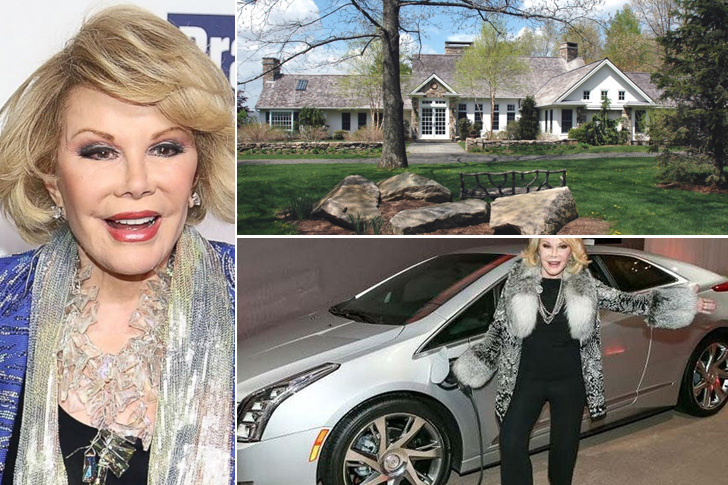 Joan Rivers is best remembered for her very controversial style of comedy. She was very sarcastic and direct, especially with regard to other celebrities. She was also heavily self-deprecating.  The actress started her career in comedy clubs, similar to how other comedians started in the 1960s. She was catapulted to fame following her appearance in The Tonight Show, which was hosted by her then-mentor, Johnny Carson. It was during this guest appearance that her comedic style was showcased and loved by the audience. She then went on to host The Joan Rivers Show and starred in the reality TV series, Joan & Melissa: Joan Knows Best?
She died in 2014, but she left a legacy and a lot of money. Her estate, perhaps without the insurance proceeds yet, was at $150 million. It was given to the people she loved, including her daughter, her staff, grandson, various charities, and her beloved dogs. Even in death, she made sure that her family was provided for.
Paris Hilton | $300 million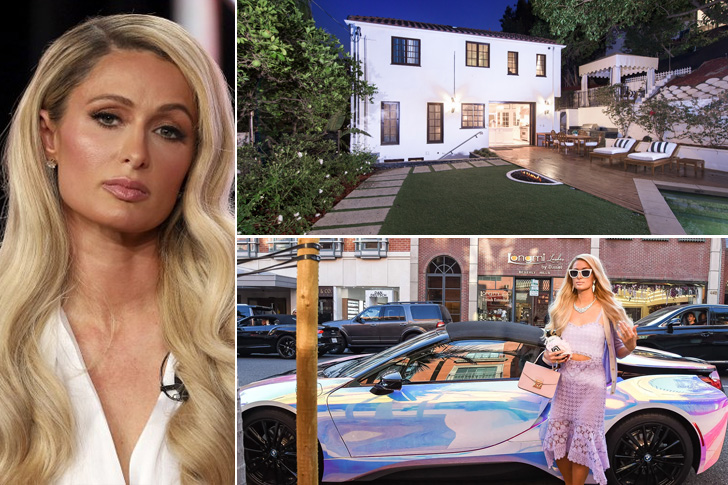 Hotel heiress Paris Hilton is a businesswoman, a model, and a socialite. While many may remember her for the many issues that plagued her youth, the great-granddaughter of Conrad Hilton has actually proved she's matured over the years. For example, in 2004, Hilton was able to publish a book, Confessions of an Heiress. She also released an album, Paris, as well as appeared in various movies and reality TV shows. During her spare time, she stays at her ranch, bonding with frogs—yes, frogs.
Hilton has a net worth of $300 million, mostly from her handbag and perfume collaborations. This is on top of what she receives as a DJ—a DJ who commands a whopping $250,000 per performance. You might wonder how she spends her money, right? Well, she realized that real estate is gold so most of her investments are on that — and of, of course, luxury cars.
Roman Abramovich | $13.9 Billion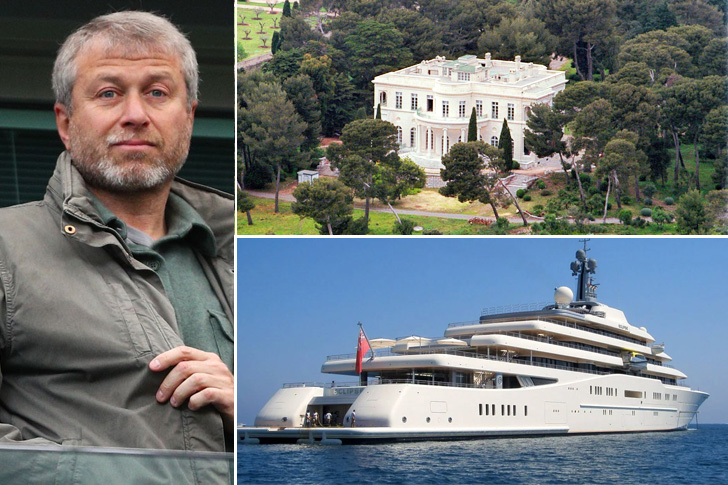 His first experience in business was when he worked as a street-trader, followed by a stint as a mechanic in a local factory. Since then, Roman Abramovich has become one of the many wealthy figures in the world today, thanks to his impressive net worth of $13.9 billion. Although he is the owner of his very own investment company, Millhouse LLC, Abramovich is often known for his involvement in soccer, being the owner of the Chelsea FC team.
With all the fortune he has earned, it would come as no surprise if Abramovich shared a portion of it with others. In fact, between 1999 and 2013, he donated over $2.5 billion for the building of schools, hospitals, and other infrastructures. Despite the generous act, though, Abramovich still has more than enough to be the world's most lavish spender on yachts. His currently-owned vessel, the Eclipse, is worth approximately $400 million and even has its own submarine!
Sir Richard Branson | $5.8 Billion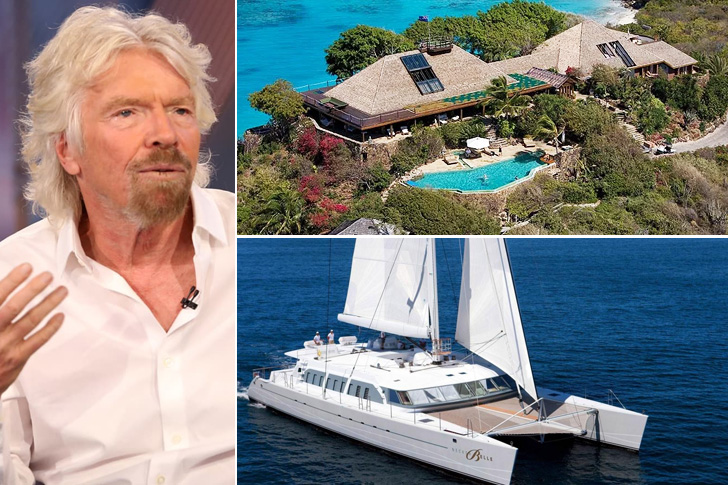 Born on July 18, 1950, Richard Branson began his journey to becoming a successful businessman at quite a young age. After failed attempts at selling Christmas trees, Branson finally found success with his magazine Student – he was 16 years old when he launched it. Since then, he has spent a significant portion of his investment money on other ventures, with the most notable being the Virgin Group, which now controls over 400 companies.
With his Virgin brand, Branson has since established businesses like the Virgin Atlantic airlines, Virgin Records, and even Virgin Galactic, a spaceflight corporation. Besides his numerous ventures, Branson has also left a lasting mark in the entertainment industry. Aside from the many characters based on his personality and, sometimes, likeness, Branson has also had the chance to appear in Friends, Baywatch, Tripping Over, and Around the World in 80 Days.
Celine Dion | $455 Million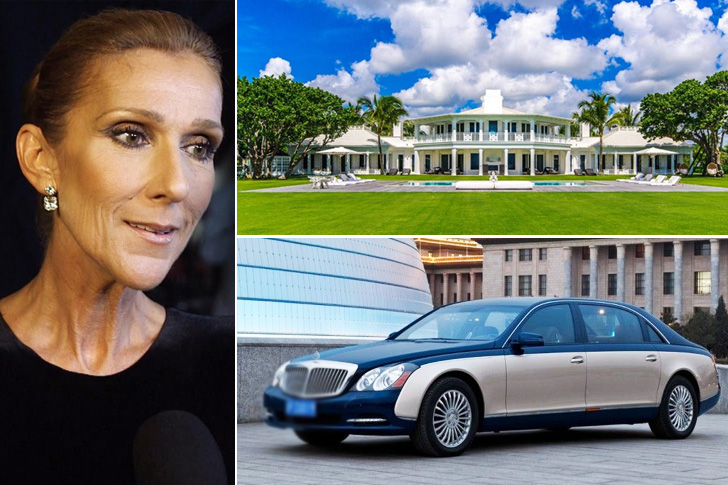 With music being an integral part of her family, paired with the fact her name came from a song, it comes as no surprise that Celine Dion eventually became a talented singer. During her childhood, Celine would perform alongside her siblings at a local piano bar owned by their parents. Today, she has taken credit for being one of the music industry's best-selling artists, with over 200 million records sold throughout her career.
Since her career's inception, Celine has since been known for releasing songs like The Power of Love, My Heart Will Go On, and Beauty and the Beast, the record that earned the singer her first Grammy award. Thanks to her successful career in the music industry, Celine has since accumulated a net worth of $455 million. With her fortunes, the singer has also spent a portion of it on several business ventures and philanthropic endeavors, with one of the most notable being the World Children's Day fundraising program.
David Geffen | $9.7 Billion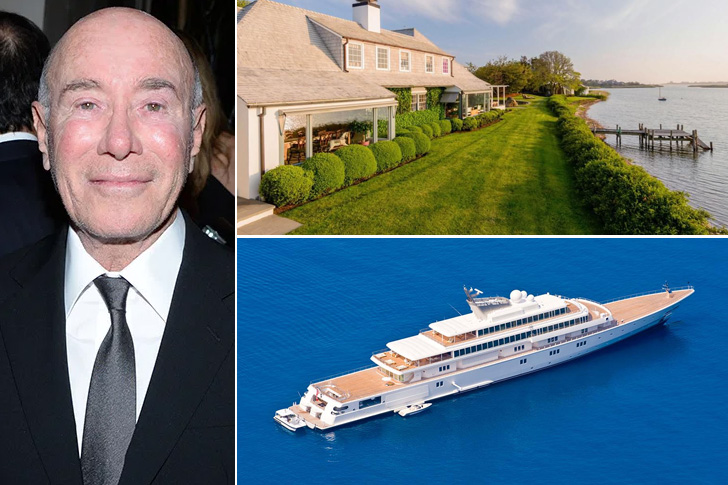 Although he began his career in the entertainment industry working at an agency's mailroom, David Geffen has since become a successful businessman. Along the way, he's had the chance to be the manager for artists like Laura Nyro and Crosby, Stills, and Nash. With that said, Geffen has also become known for spending his investment money on establishing Asylum Records, Geffen Records, and, alongside Steven Spielberg and Jeffrey Katzenberg, the DreamWorks studio.
Besides his many philanthropic efforts, Geffen has also spent a portion of his fortune on his prized collections. With a net worth of $9.7 billion, it comes as no surprise that he has his own yacht and art gallery, comprised of works by Jackson Pollock, Mark Rothko, and Jasper Johns. One piece he put up for sale in 2006, Pollock's No. 5, 1948, was purchased for the incredible price of $140 million, making it the most expensive painting ever sold.
Gwyneth Paltrow | $150 Million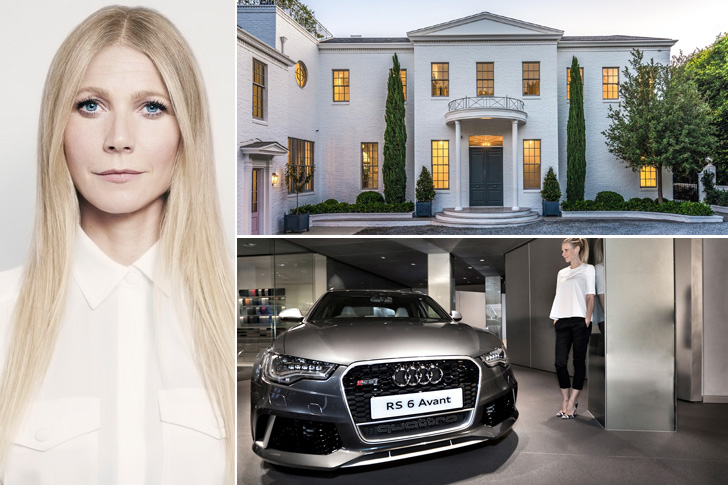 With her mother being an actress and her father being a filmmaker, it comes as no surprise that Gwyneth Paltrow later followed suit. Paltrow's debut was in 1989 when she starred in High, a TV film directed by her father. Since then, she has received widespread recognition for her acting credit in projects like Seven, Sliding Doors, Shakespeare in Love, and for recently portraying Pepper Potts in the Marvel Cinematic Universe.
Outside her career appearing in front of the cameras, Paltrow also dabbled in other ventures. Along the way, she narrated The Brown Bear & Friends, an audiobook based on a children's book, which also earned her a Grammy nomination. With that said, she's also written a few books, including Spain… A Culinary Road Trip and Notes From the Kitchen Table. Thanks to all the works she has done inside and outside the entertainment industry, Paltrow has since accumulated a net worth of $150 million.
Jimi Hendrix | $150,000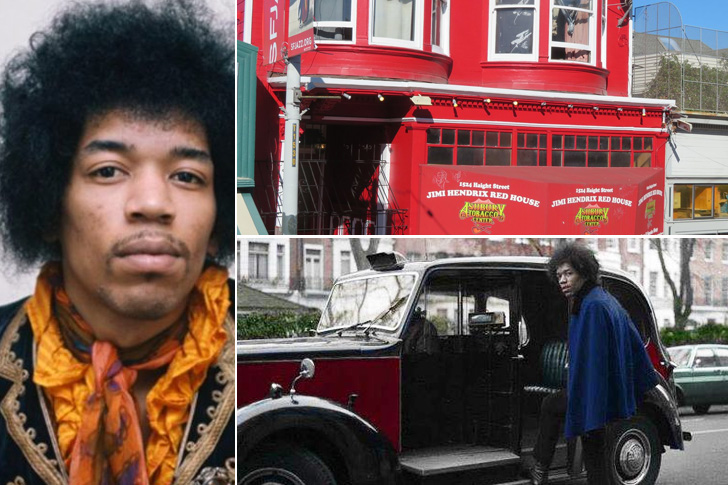 The music industry has introduced us to many great artists and musicians. With that said, it's safe to say that it would be a disservice not to acknowledge the achievements Jimi Hendrix made throughout his career. During his childhood, Hendrix already had a high degree of passion for music – he'd even play with a broom and pretend it was a guitar. At 15 years old, he finally got his first acoustic guitar, a milestone that undoubtedly started his journey to becoming one of the world's greatest guitarists.
Although his career on-stage and on the airwaves only lasted for four years, Hendrix still managed to leave a long and lasting mark in the industry. In fact, some of the artists he has influenced through the years include notable figures like Joe Satriani, Prince, Halsey, Stevie Ray Vaughan, and the Beastie Boys. Today, Hendrix is among the many talented artists inducted into the Rock and Roll Hall of Fame – he's also since found a spot on the Hollywood Walk of Fame.
Mike Tyson | $3 Million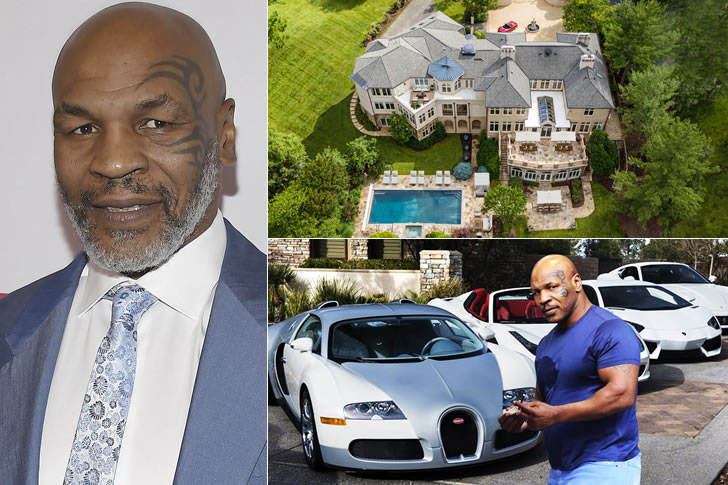 Mike Tyson is a retired American boxer who was the undisputed heavyweight champion of the world in the late 1980s. He was once one of the most famous and highest paid athletes in the world. Tyson was born on June 30, 1966 in Brooklyn, New York. He was only 18 years old when he made his debut in the boxing ring. With amazing talent and hard work, he won 26 of his first 28 KO or TKO games and quickly grew into a champion.
Tyson is the first heavyweight boxer to win the WBA, WBC and IBF championships at the same time, and the only heavyweight boxer to unify the three championships in a row. To this day, he is still considered one of the best boxers of all time. In his heyday, his wealth exceeded $300 million. But due to poor financial management and extravagant life, Tyson's current net worth is only $3 million. However, through multiple appearances in movies and TV, he is re-accumulating wealth.
Michael Douglas | $350 Million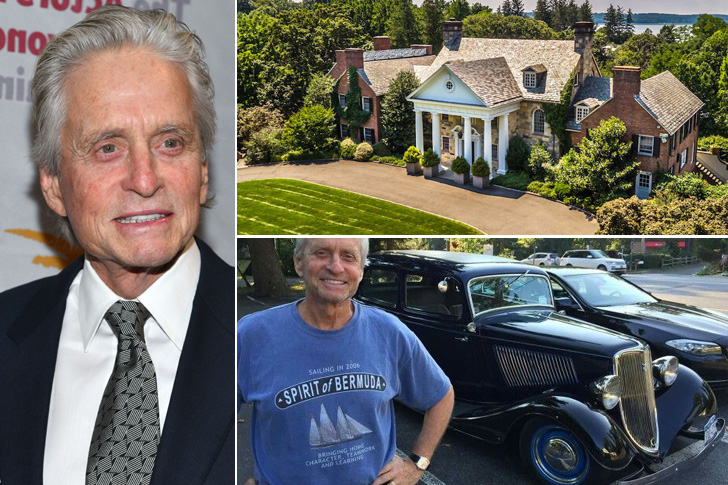 Born to a family of actors, Michael Douglas has also since made a name for himself in the entertainment industry. After taking acting classes and finishing his studies with a Bachelor of Arts degree in Drama, Michael's first stints in the business were mostly for minor roles. Despite the circumstances, his performance in Hail, Hero earned him a Grammy nomination for Most Promising Male Newcomer. Soon after, Michael found widespread recognition for starring in Romancing the Stone, a romantic adventure comedy he also produced.
Today, Michael Douglas has amassed an impressive net worth of $350 million. Over the years, he has become more and more well-known in the industry thanks to his work in titles like The Streets of San Francisco, Fatal Attraction, Wall Street, The Game, and The Kominsky Method. Along the way, he's also had the chance to star in the Marvel Cinematic Universe, portraying the original Ant-Man, Hank Pym.
Nicole Kidman | $250 Million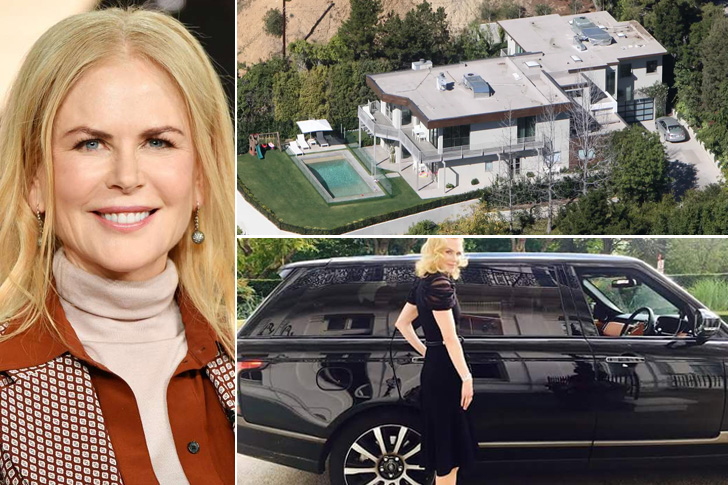 Nicole Kidman often credits Margaret Hamilton's portrayal of the Wicked Witch of the West in The Wizard of Oz for inspiring her to pursue a career under the spotlight. She later took up acting classes at the Australian Theatre for Young People and Sydney's Phillip Street Theatre, where she studied alongside fellow actress Naomi Watts.
Nicole began her acting career at 16 years old, starring in the remake of Bush Christmas. Since then, she has gained worldwide recognition for her role in films like Days of Thunder, Batman Forever, Bombshell, Aquaman, and Paddington. For all her hard work inside and outside the industry, Nicole Kidman has since accumulated an impressive net worth of $250 million. Besides the fortune she earned, the actress is also a proud owner of an Academy Award, five Golden Globes, and two Primetime Emmy Awards.
Shakira | $300 Million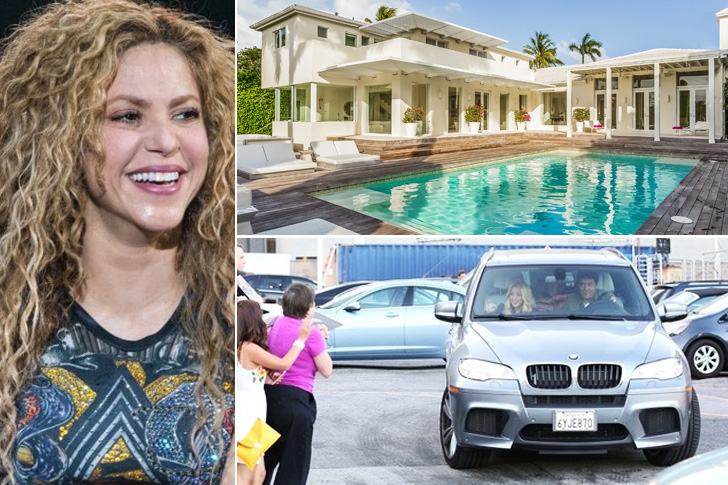 At only four years old, Shakira already made her first poem. Although it was just a hobby at first, this habit eventually blossomed into a passion for music and songwriting. At 13 years old, she landed her first record label deal. Today, with over 80 million records sold, Shakira has become one of the best-selling artists in the music industry. A few notable songs she released through the years include Whenever, Wherever, Hips Don't Lie, and Waka Waka.
Outside her singing career, Shakira is also known for her philanthropic endeavors. In 1997, she spent a portion of her investment money on the Barefoot Foundation, a charity that has since established five schools that provide education and food for around 4,000 children. Other works she has dabbled through the years include her very own beauty line, S by Shakira, and her voice-acting work for Disney's animated film, Zootopia.
Steve Wynn | $3 Billion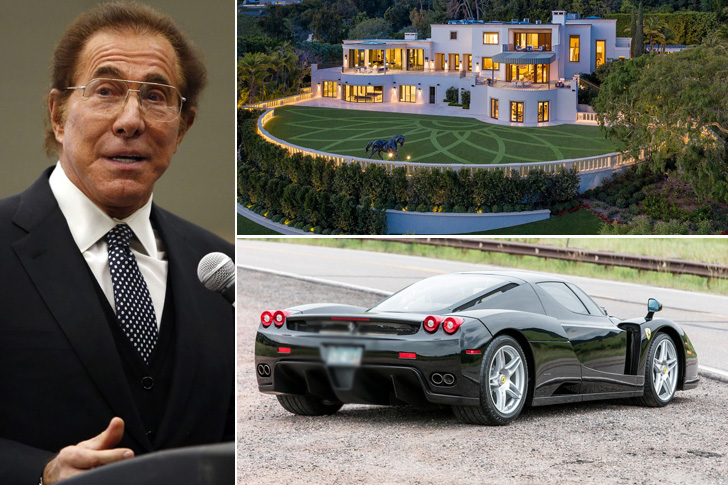 Although he once operated a wine and liquor importing company, Steve Wynn is often known for his investments in the casino and hotel industry. A few of the notable properties he worked on include the Golden Nugget, The Mirage, Treasure Island, and the Beau Rivage. Along the way, he also played an integral part in bringing back the Las Vegas Strip on the public's radar.
As of 2021, he has accumulated a net worth of $3 billion. With the fortune he amassed through the years, it comes as no surprise that Wynn decided to spend a portion of it on an art collection – a few of the pieces he purchased are displayed in his casinos and hotels. With that said, he recently bought two notable artworks, both made by Picasso, for a combined price of $105 million: The Woman with Beret and Collar and Jacqueline.
Bill Cosby | $400 Million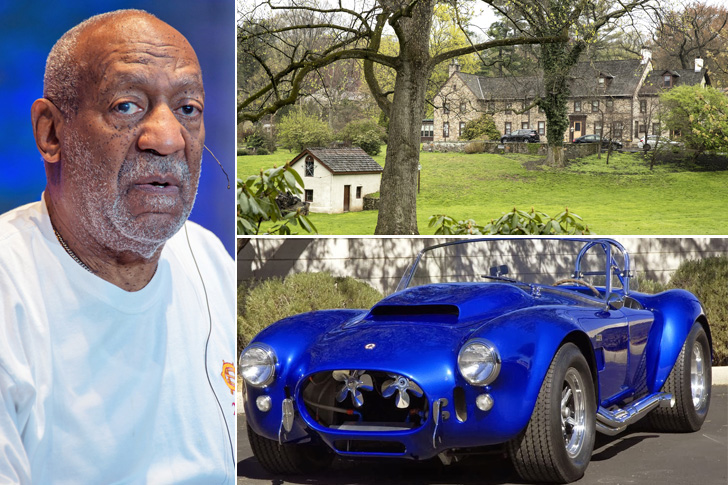 During his high-school days, Bill Cosby showed potential as a baseball and track and field player. Even so, he was often known for acting on the school's stage productions and, most especially, for being the class clown. With his talent for performing and entertaining people, Cosby pursued a career as a stand-up comedian before he found widespread recognition as an actor.  After starring in the espionage adventure series, I Spy, Cosby landed an acting credit in the now-iconic program, The Bill Cosby Show.
As of 2020, Bill Cosby has a net worth of $400 million. With Cosby owning 20% of The Bill Cosby Show's profits, he has since earned at least $300 million from its syndication deals alone. With that said, a portion of his wealth has been spent on the actor-comedian's art collection, which includes works by Picasso, Rembrandt, Thomas Hart Benton, and Matisse – his gallery alone is worth around $150 million.
Diana Ross | $250 Million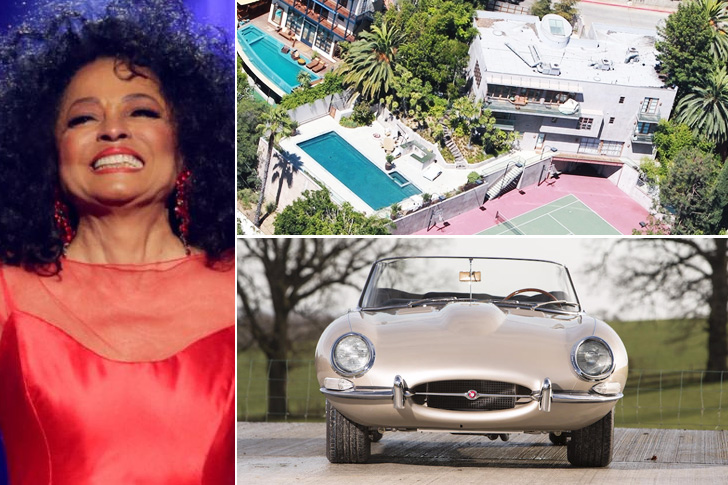 Today, Diana Ross is one of the most well-known singers in the industry. Even so, she started her career like many celebrities – in square one. To help with her family's home and personal loans, Diana once worked at a department store and as her neighborhood's hairdresser. Her first stint in the music industry was with the all-girl group, The Primettes, which was later rebranded to The Supremes. Although they eventually parted ways, The Supremes is still considered one of the best-charting female groups in the business.
Following her departure from the group, Diana continued with her career as a solo artist. Since her debut album's release, the singer has released many of today's hit records, like Ain't No Mountain High Enough, I'm Still Waiting, and Endless Love. Along the way, she also went into acting, with her most notable role being in 1972's Lady Sings the Blues, where she earned an Oscar nomination and a Golden Globe Award.
Gene Hackman | $80 Million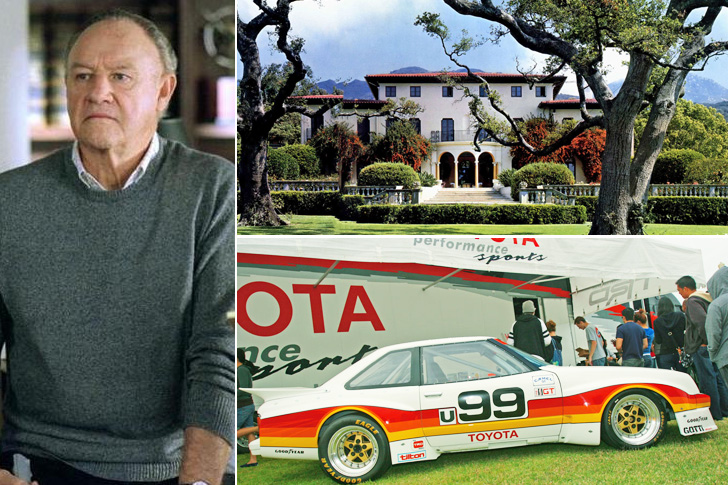 Despite being voted "The Least Likely To Succeed" by his classmates when he took acting classes, Gene Hackman has since become one of the many well-known figures in the film industry. During his earlier years, when he was still searching for his big break, Hackman worked as a doorman and at a restaurant. Thanks to his hard work and dedication, Hackman eventually received widespread acclaim for his acting credit as Jimmy Doyle in The French Connection, a role that earned him an Academy Award for Best Actor.
After a career that spanned over six decades, Gene Hackman bade farewell to the Hollywood spotlight in 2004. Since then, he has found success as a novelist, with his earlier works, Wake of the Perdido Star, Justice for None, and Escape from Andersonville, being a collaborative effort with undersea archaeologist Daniel Lenihan. With that said, Hackman has also made some solo works, like 2011's Payback at Morning Peak and 2013's Pursuit.
Lil Wayne | $150 Million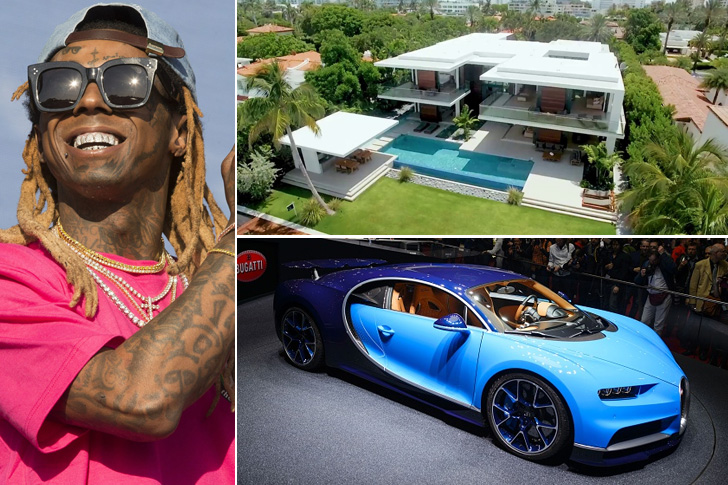 At eight years old, Lil Wayne already wrote his first rap song. Born Dwayne Michael Carter Jr., Lil Wayne began his journey under the mentorship of rapper Bryan "Birdman" Williams. With Birdman also being the owner of Cash Money Records, Lil Wayne got the chance to be featured in a few of the label's tracks. Soon after, he joined the group Hot Boys before he pursued a career as a solo artist.
Today, Lil Wayne is often considered one of the most influential hip hop artists in the music industry. Through the years, he has released widely-acclaimed albums like Tha Block is Hot, Tha Carter, Rebirth, and I Am Not a Human Being. Along the way, the rapper also wrote his very own memoir, Gone Til' November. With all the investments he has made through the years, Lil Wayne has accumulated an impressive net worth of $150 million as of 2020.
Nicole Bass | $500,000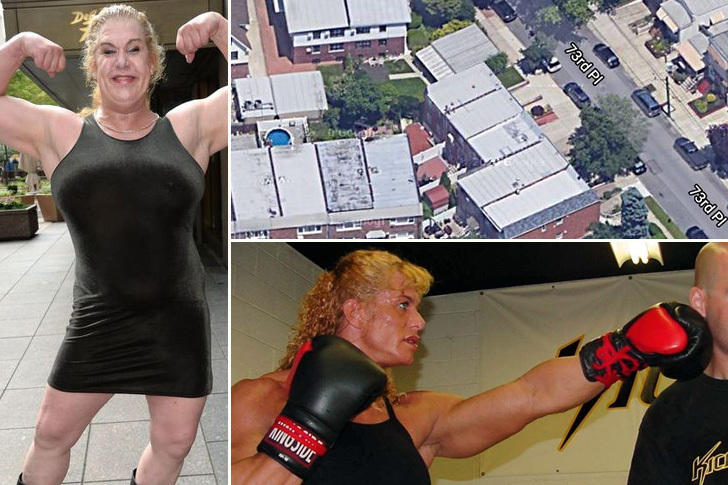 Through the years, numerous TV networks have spent a significant amount of investment money to provide their viewers with entertaining programs. With that said, one such program that has since garnered the same degree of popularity as many of today's series and reality shows is none other than wrestling competitions.
Nicole Bass was a competitive bodybuilder during the '80s and '90s. In 1997, she won the NPC's National Bodybuilding Championship. Soon after, Bass debuted her wrestling career in Extreme Championship Wrestling before transferring to the World Wrestling Federation. Thanks to the popularity she received, Bass eventually had the chance to appear in other shows like The Howard Stern Show, The Bold and the Beautiful, Days of Our Lives, and General Hospital. After she departed from the WWF, Bass continued to wrestle for independent wrestling circuits and accepted bookings for personal training sessions.
Paul McCartney | $1.2 billion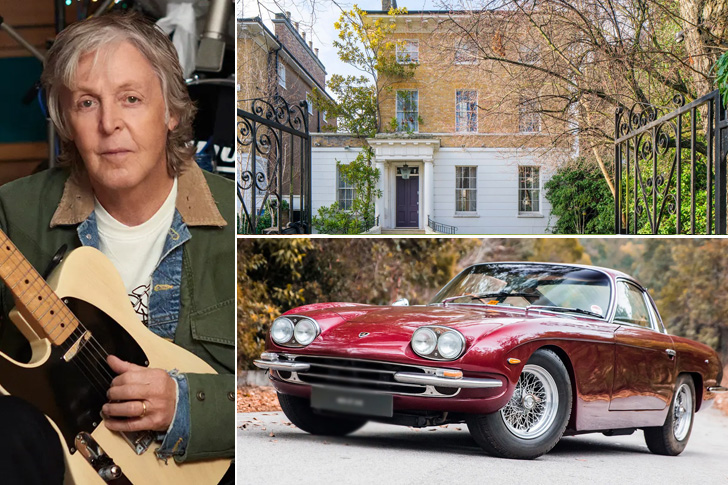 Sir James Paul McCartney gained worldwide fame during his time with The Beatles as the band's bassist and co-lead vocalist. His songwriting partnership with John Lennon is still considered the most successful of all time. When the band disbanded back in 1970, he went on to continue as a solo artist, eventually forming a band with his wife, Linda, and Denny Laine, called Wings. He cited Motown American rhythm and blues as a big influence in his playstyle.
Needless to say, McCartney is a highly successful musician, and it's no surprise that he has accumulated so much throughout his career. He now has a total net worth of $1.2 billion, which he credits to his tours, where he earns somewhere between $50 million to $70 million. Other than profiting from his tours, he also earns millions of dollars each year from licensing fees and royalties.
Peter Dinklage | $25 million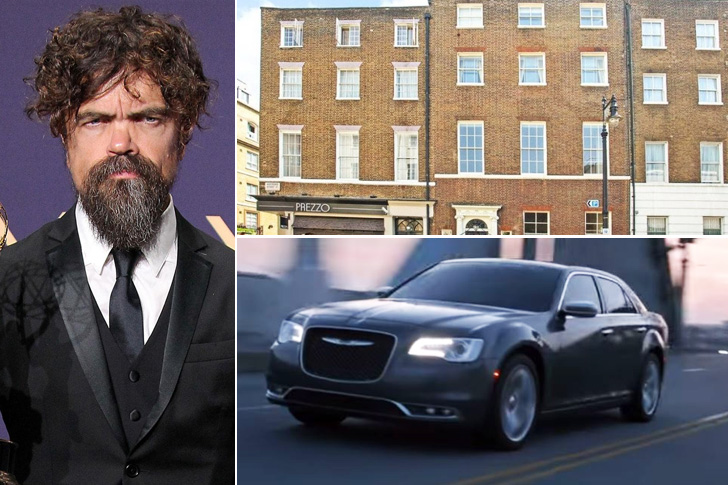 American producer and actor Peter Hayden Dinklage, who is better known for his role in the American fantasy drama TV series, Game of Thrones, as Tyrion "the imp" Lannister, received a record four Primetime Emmy Awards for Outstanding Supporting Actor in a Drama Series, a Screen Actors Guild Award, and a Golden Globe Award. With all the success he found in the series, he must have amassed a huge paycheck, right?
Dinklage has a total net worth of $25 million and had a salary of $1.1 million per episode of the series. That is $14.3 million for just two seasons from July 2017 to May 2019, which makes him the sixth-highest paid actor on TV. Other than acting, Dinklage, together with partner David Ginsburg, has also made investments in a production company called Estuary Films. Of course, he'll be earning more in the future given that he's become so in-demand.
Rupert Murdoch | $20 billion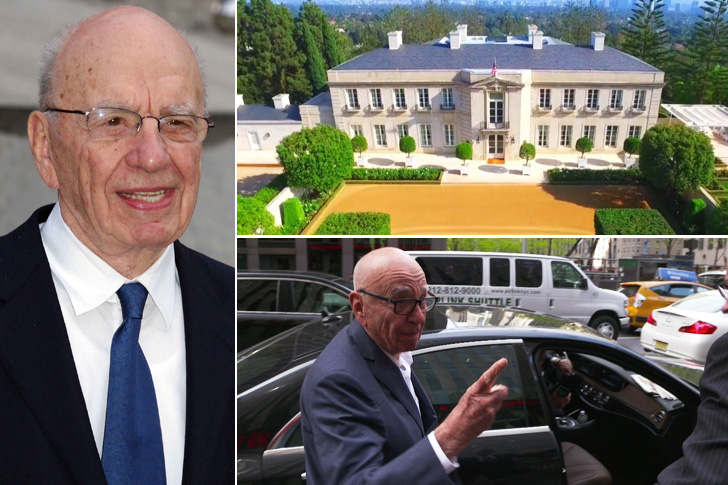 Australian-born media mogul Keith Rupert Murdoch got his fortune by being the founder of News Corp. His success as an entrepreneur began at an early age when he was shown the ins and outs of journalism. He owns hundreds of international, national, and local publishing outlets all around the world. After his father's untimely passing, Murdoch took over the reins of The News in 1952.
Murdoch's newspaper holdings expanded over time as a result of multiple acquisitions. He bought The Sunday Times back in 1956, a newspaper distributed in Western Australia, a couple of years after purchasing a failing daily newspaper in Sydney called The Mirror. As of writing, Murdoch now has a total net worth of $20 billion, which was the result of numerous investment planning strategies and knowing where to make investments. It certainly pays to know where to put your money — it certainly did for Murdoch.
Saddam Hussein | $2 billion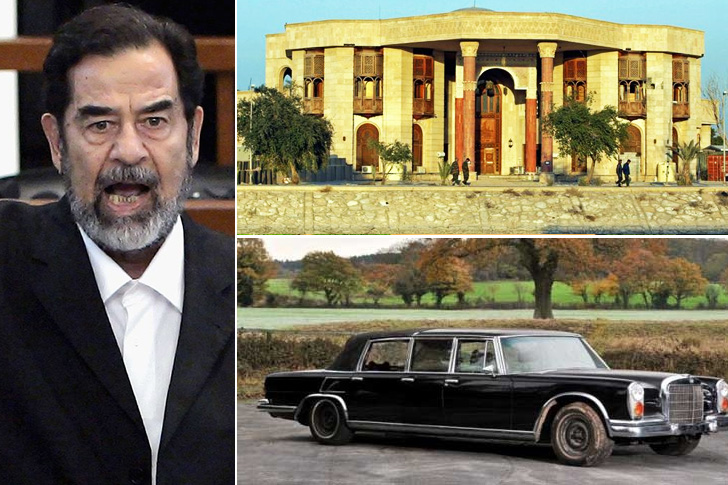 The fifth President of Iraq, who reigned from July 16, 1976, to April 9, 2003, Saddam Hussein Abd al-Majid al-Tikriti is part of the Baghdad-based Ba'ath Party and the Iraqi Ba'ath Party. Even though he formally rose to power in 1979, he was the de facto head of Iraq several years prior. Half a dozen military trucks were used to remove more than a billion dollars from the Central Bank of Iraq at some point before the invasion of America in Iraq. Back in the '60s and '70s, Hussein was the vice-chairman of the Revolutionary Command Council, eventually moving up the ranks in the Iraqi government.
At the time of his passing, Hussein had a total net worth of $2 billion. He is credited for building somewhere between 80 to 100 palaces all over the country. Clearly, he's had a very precipitous fall from grace, but nobody can say he didn't live like a king for a while.
Tyler Perry | $800 million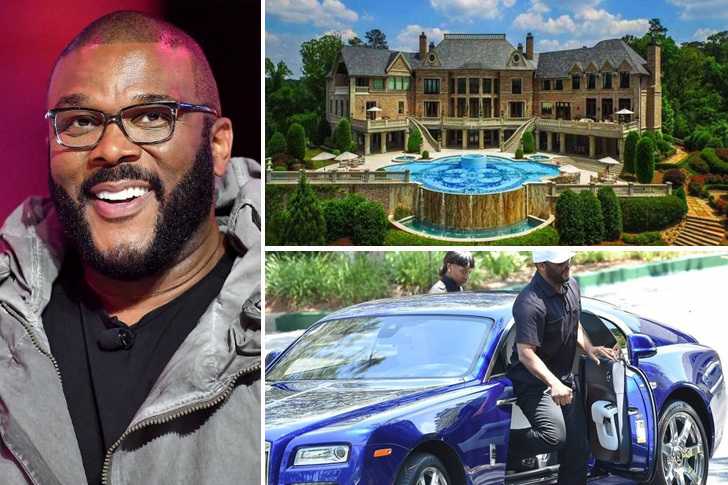 American director, actor, screenwriter, and producer, Tyler Perry, is famous for performing and creating the tough and elderly woman, Madea. He was listed by Forbes back in 2011 as the highest-paid man in entertainment, and his earnings from May 2010 to May 2011 was $130 million. The majority of Perry's stage-plays have been adapted to film and vary in style.
Having a reliable financial advisor and having good money management skills really pays well. Perry has a total net worth of $800 million and has an annual salary of $80 million. He also has a film production studio in Atlanta, the Tyler Perry Studios, which he founded back in 2006. His studio's new home is found in Fort McPherson, a former military base which he purchased four for $30 million. He also spent another $250 million on the studio to renovate and upgrade.
Whitney Houston | $20 million
Whitney Houston is an American actress and singer who's been certified as one of the best-selling recording artists of all time, as well as the most awarded female artist in history, by the Guinness World Records. She has sold more than 200 million records all around the globe. She released two soundtrack albums and seven studio albums, all of which have attained gold, multi-platinum, diamond, and platinum status by the RIAA.
Having nearly $20 million in debt to Sony when she passed away back in 2012, she now has, in fact, a negative net worth. It's a known fact that she has achieved so much success throughout her career, but maybe because of some bad investment planning strategies, she lost all her fortune. She was flat broke back in 2001 when she signed a contract with Arista/Sony for a whopping $100 million. It's a surprise to so many people that during the peak of her career, she was earning $30 million each year from tours.
Arnold Schwarzenegger | $400 million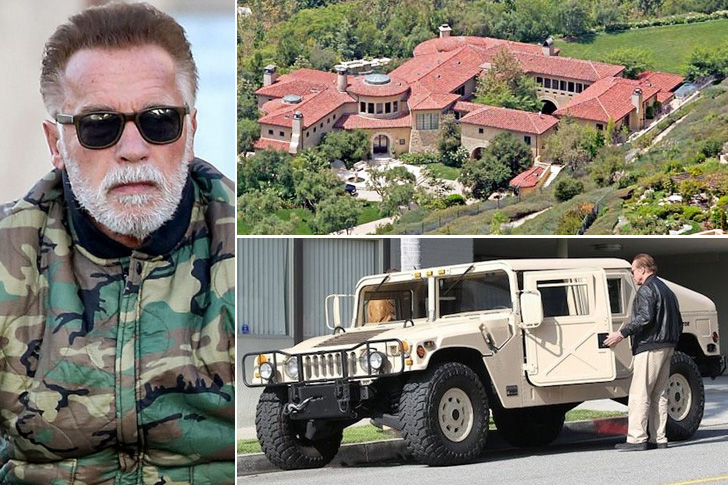 American-Austrian businessman, actor, and retired professional bodybuilder, Arnold Alois Schwarzenegger was the 38th Governor of the state of California from 2003 to 2011. Recently, he became the Republican Governor of California in 2021. He is regarded as one of the highest-paid and most famous actors in the entertainment world.
During the peak of Schwarzenegger's career, he was continuously earning somewhere between $20 million to $30 million per movie. Since stepping foot in the US in the '70s, he has made various investments, notably in real estate. His real estate alone is worth more than $100 million. From the start of his career until today, he has earned at least $400 million, before taxes, from his movie salaries alone. His highest paying film was  Terminator 3: Rise of the Machines, where he earned an estimated $35 million. We're sure he'll still be making films and raking in the moolah for years to come.
Bob Keeshan | $4 million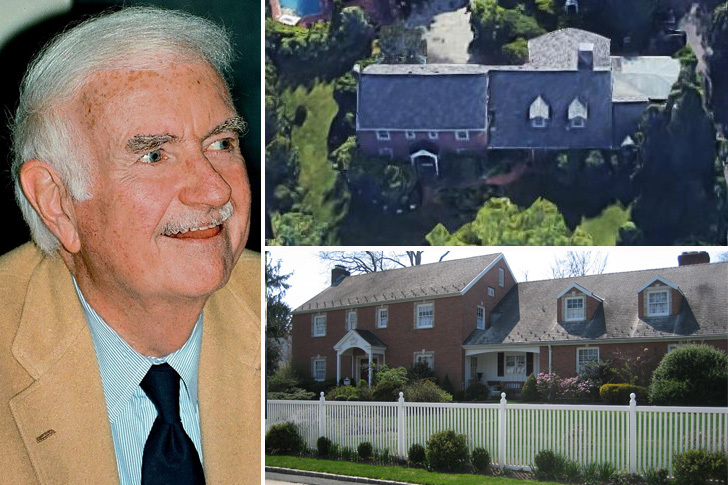 Robert James Keeshan is an American actor and TV producer who was born on June 27, 1927. He created the children's TV program, Captain Kangaroo, which aired from 1955 to 1984. It is given credit as one of the longest-running nationally broadcast children's TV shows during its time. The show brought education disguised in entertainment to all its young viewers. He also portrayed the original Clarabell the Clown in the American children's TV program, Howdy Doody, from 1948 to 1953.
Throughout the entirety of his career, he has accumulated a total net worth of $4 million. In 1976, he was given a star in the Hollywood Walk of Fame. He's also been the recipient of several awards, including a Primetime Emmy Award nomination, as well as four Daytime Emmy Awards for Captain Kangaroo. In 1984, 1983, and 1982, Keeshan received another three Emmy Awards for Outstanding Performer.
Djimon Hounsou | $12 million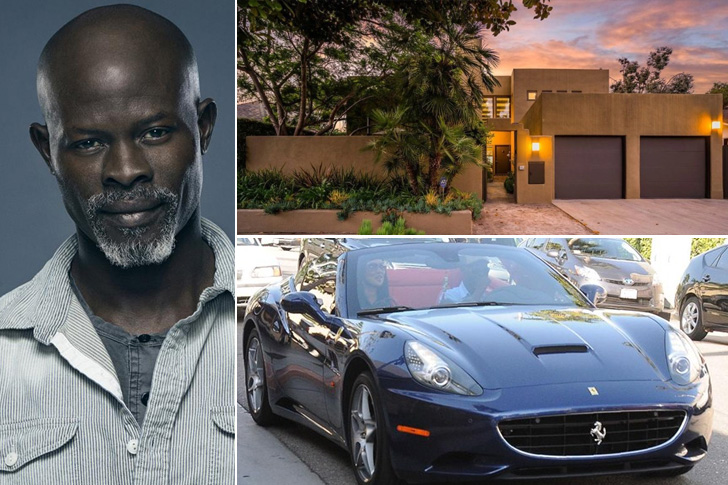 American-Beninese model and actor, Djimon Gaston Hounsou, started his career in music videos and later appeared in the 1990 American musical comedy film, Without You I'm Nothing. He acquired widespread recognition for his role in the 1997 American historical drama, Amistad — a film that was directed by Steven Spielberg. He also received several nominations, including three Screen Actors Guild Awards, a Golden Globe Award, and an Academy Award for Best Supporting Actor.
For all his success, he has picked up a $12 million net worth. He recently purchased a house in the Westchester neighborhood in LA back in January 2020 for $2.1 million. The house has the best amenities and a state-of-the-art home security system. With his success, it's probably safe to say he won't need to get a loan to keep the house, nor will he have trouble paying the maintenance costs.
Elin Nordegren | $200 million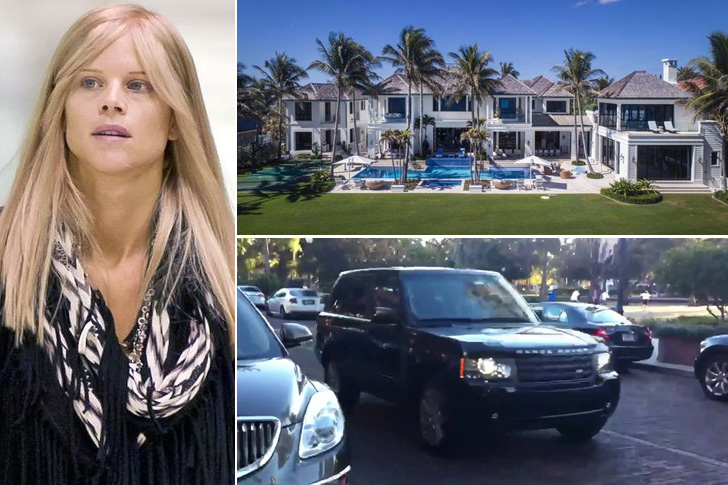 Widely known as the former wife of the professional golfer, Tiger Woods, Elin Maria Pernilla Nordegren has both worked as a nanny and a model. She was hired as a nanny for the children of Swedish golfer Jesper Parnevik after meeting Mia Parnevik while working a job in a Stockholm clothing store. It was then when she was introduced to Tiger Woods during the Open Championship in 2001. Woods and Nordegren eventually got married in October 2004 in Barbados.
Even after breaking up with one of the highest-paid athletes in the world and hiring a divorce lawyer, she still has so much in her. She has a total net worth of $200 million, which is probably from her divorce settlement of $750 million. Though she only received $100 million, or 20% of what Woods was worth, it was more than what Woods was worth at the time.
Ethan Hawke | $55 million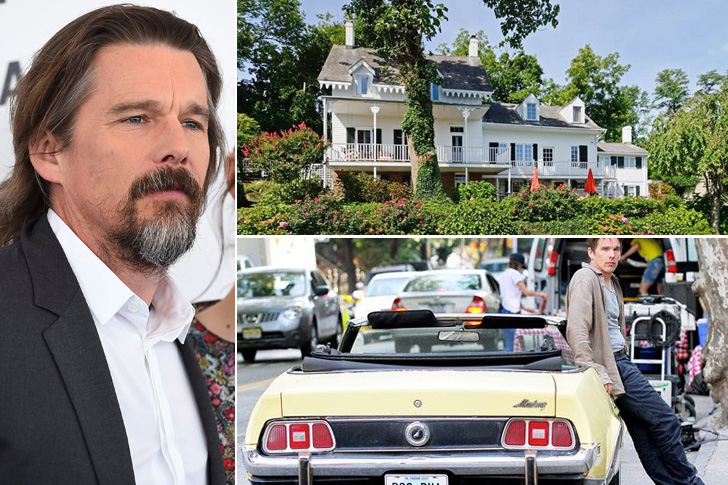 Recipient of four Academy Award and Tony Award nominations, Ethan Green Hawke has written one graphic novel and three novels. He has also directed three off-Broadway plays, three feature films, and a documentary. He had his film debut in the 1985 American science fantasy film Explorers before he had his breakthrough role in the 1989 American teen drama film Dead Poets Society. He attended Carnegie Mellon University in Pittsburgh but wasn't able to get his degree because he dropped out after he was cast in a film.
Hawke has racked up a total net worth of $55 million. He was made into a household name for his role and performance in Dead Poets Society and has appeared in over 50 films, including Alive, Waking Life, Gattaca, Snow Falling on Cedars, and many more. So, it's no surprise that he has amassed a huge net worth throughout his career.
Faith Hill | $165 million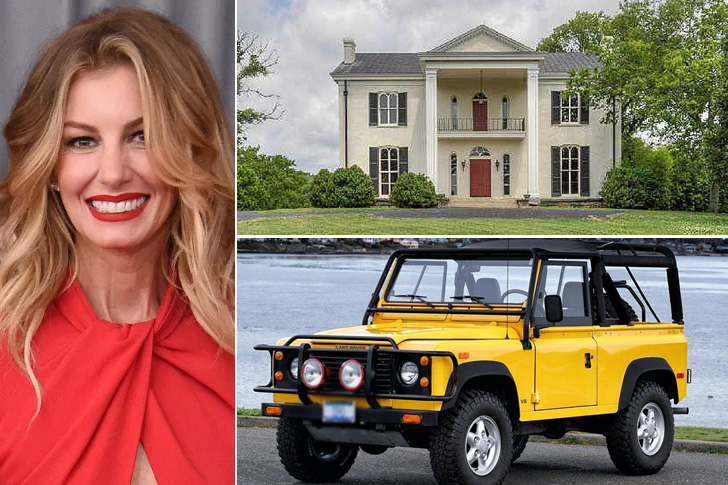 American record producer and singer Audrey Faith McGraw, or professionally known as Faith Hill, is one of country music's most successful artists, having sold over 40 million albums all over the world. Her first two albums, It Matters to Me (1995) and Take Me as I Am (1993), were both major successes, earning her three number ones on Billboard's country charts.
Other than her music career, she has also made investments in two fragrances, True and Hill Parfums. Hill also went into acting and appeared in one episode of Touched by an Angel and its spin-off series, Promised Land. In 2015, together with Riley Keough and Steve Earle, she starred in the crime drama Dixieland. Hill has a total net worth of $165 million, which is probably why she was able to expand her real estate portfolio to more than a few properties across the US.
Tim McGraw | $165 million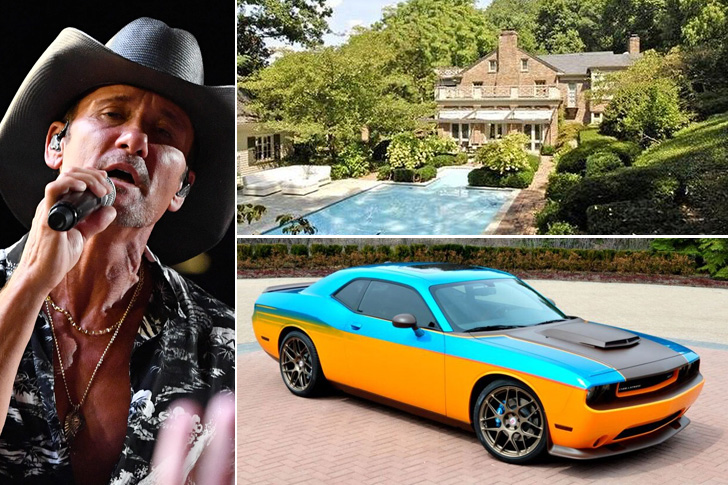 American record producer, actor, and singer, Samuel Timothy McGraw, has a total net worth of $165 million. Throughout his entire career, McGraw has sold over 80 million records worldwide and has released a total of 15 studio albums, 10 of which reached the number one spot in the Top Country Albums chart. Indeed, he is among the most successful country singers. He has also received three Grammy Awards, 11 Country Music Association Awards, three People's Choice Awards, and 14 Academy of Country Music Awards.
With all the accolades and success he has acquired throughout his entire career, it must not come as a shock as to why McGraw has so many credits to his name. Outside of his singing career, he has also ventured into acting and had a supporting role in The Blind Side, The Kingdom, Tomorrowland, The Kingdom, and Four Christmases.
Giorgio Armani | $9.6 billion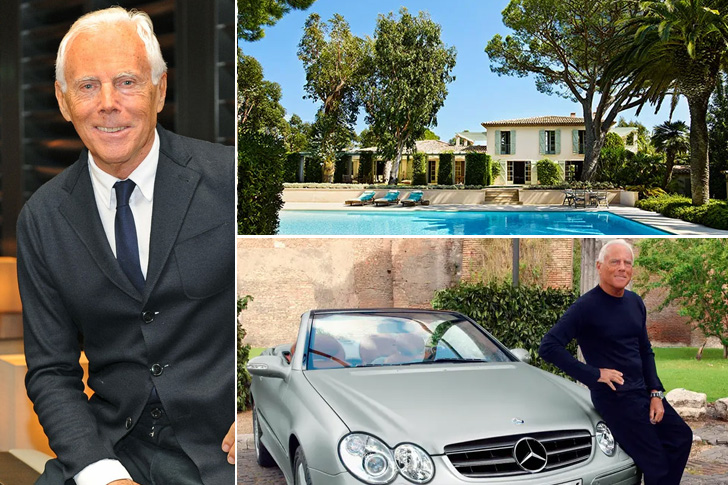 We think it's safe to say that everyone who is fashionable enough knows who Giorgio Armani is. For those who don't, he is an Italian fashion designer who is given credit for his popular men's suits. He reached new heights of popularity back in the '80s when his "power suits" started to frequently appear on the actors in Miami Vice. He started his business empire during the mid-'70s and it substantially grew over time.
Now, the 86-year-old fashion designer is a billionaire who has a total net worth of $9.6 billion. In 2001, he was regarded as the most successful designer of Italian wear and was regarded as one of the pioneers of red-carpet fashion. Armani signed an agreement with Emaar Properties PJSC in 2005 to operate and build no less than three vacation resorts and seven luxury hotels under the name of Giorgio Armani.
Lenny Kravitz | $80 million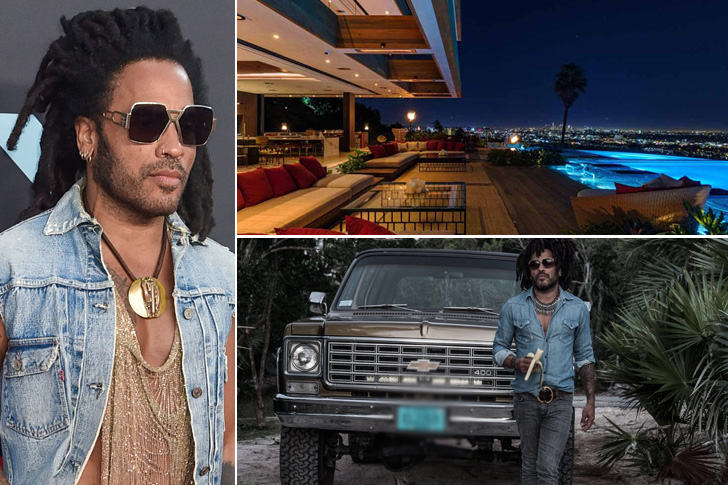 American multi-instrumentalist, actor, record producer, and singer-songwriter, Leonard Albert Kravitz, is famous for his style, which incorporates elements of ballad, folk, pop, psychedelic, hard rock, reggae, jazz, blues, soul, R&B, and rock. He is the recipient of four consecutive Grammy Awards for Best Male Rock Vocal Performance, from 1999 to 2002, breaking the previous record for most wins in a single category and setting a new record for the most succeeding wins in a single category by a male singer.
During his career, Kravitz sold over 40 million copies of his albums. His debut album, the 1980 Let Love Rule, achieved Gold in various countries, including the United States. He has a total net worth of $80 million and will therefore never be having trouble with mortgages and personal loans. Other than singing, he also founded Kravitz Design Inc. in 2003. A Hollywood Hills home designed by Kravitz was listed for a whopping $38 million in 2017.
AUSTIN "CHUMLEE" RUSSELL | $5 MILLION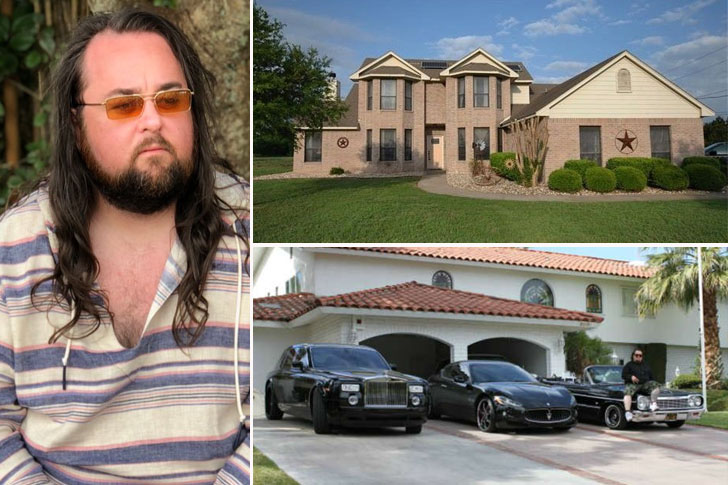 Austin "Chumlee" Russell is an American reality tv star who rose to prominence in History Channel's hit series Pawn Stars. Before rising to fame as a TV personality, he was already an established entrepreneur with investments in the antique business. The Nevada-born businessman is known in the series for his quick wits and humor. However, don't be deceived! He can close a deal just as impressively as he can crack a joke, which is why he is now worth $5 million.
So how does he spend his large fortune? Well, he collects things, of course! According to sources, the reality star is fond of collecting sneakers. In fact, he has over 200 pairs chilling in his closet. He's also into Pokémon and collects trading cards. However, he also likes the fancier things in life. Apart from his sneakers and trading cards, Russell also has an impressive array of cars, including a Rolls-Royce Phantom, a Range Rover, an SS Impala, and a Maserati Gran Turismo.
SIMONE BILES | $10 MILLION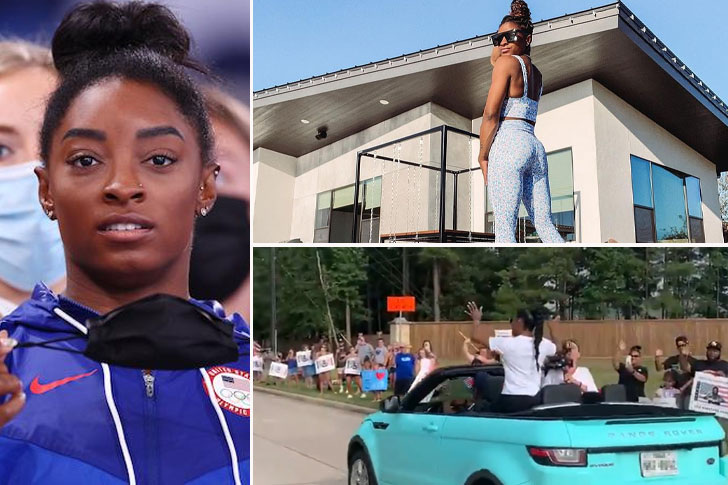 Record-breaking Olympic gymnast Simone Biles recently made headlines for backing out at the All-Around event at the 2020 Tokyo Olympics, but we doubt it will have any effect on her $10 million net worth. The Olympian started her gymnastic journey at the age of six during a school field trip. The instructors were impressed with her skills and suggested that she continue training. At eight years old, Biles' parents decided to enroll her in a training program under the guidance of coach Aimee Boorman.
The then-rookie gymnast spent years training rigorously until she finally became an elite gymnast at the age of 14. She made her senior international debut at the 2013 American Cup event, where she finished in second place. Today, however, Biles has a record number of 36 Olympic and World Medals, earning her the title of "The Greatest Gymnast of All Time." She's only 24 years old, and her career investments already paid off twice as much as she'd hoped.
Marlon Brando | $100 million (DECEASED)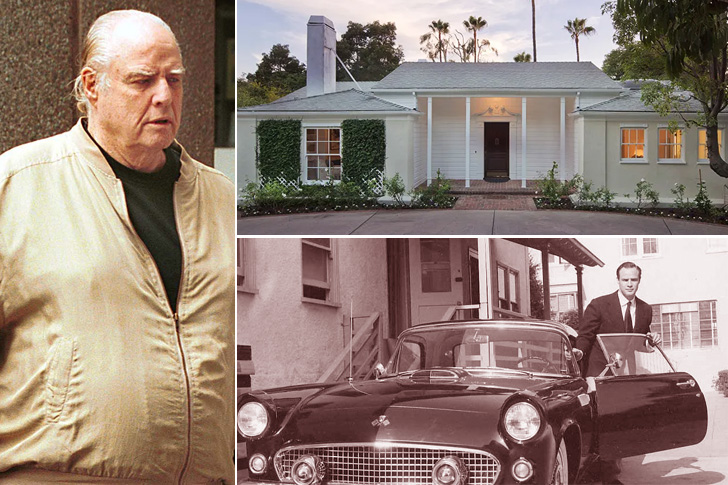 Marlon Brando was a well-known American actor and film director. He was able to star in numerous blockbuster movies during Hollywood's Golden Age. Some of Brando's notable works were A Streetcar Named Desire, Julius Caesar, The Godfather, and many more. His acting and directing credits spanned for over 60 years; he has won the Academy Award for Best Actor twice.
There surely are perks that come with being a handsome, influential, accomplished actor. Brando was able to accumulate a net worth of $100 million throughout his career. Note that $100 million during his time is equivalent to $130 million in today's dollars. Some of Brando's assets included a private island, luxury cars, and other real estate properties! Without a doubt, Brando's prestige was on another level of Hollywood royalty. In fact, Time named him the "Actor of the Century", a title we wholeheartedly agree with!
Mickey Mantle | $10 million (DECEASED)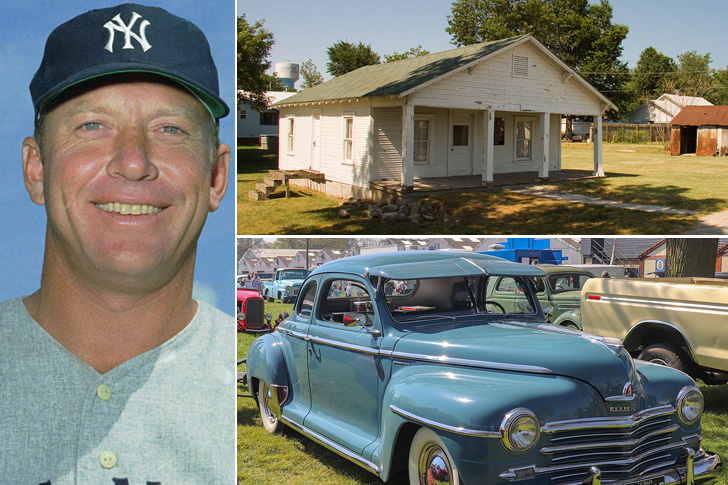 Mickey Mantle, nicknamed "The Mick" and "The Commerce Comet," was a legendary professional baseball icon. His entire MLB career spanned from 1951 up to 1968, during which he won several awards and accolades. Mantle played as a right fielder, center fielder, and first baseman and received credit as one of the best sluggers in baseball history. Through his accomplishments, he was able to secure a spot in the Baseball Hall of Fame back in 1974.
Of course, accomplishments as a celebrated baseball player will yield millions of dollars in the process. Mantle, one of the best baseball players in the 60s and 70s, was reportedly earning $100,000 per year. He made a combined $1.12 million throughout his career, which is approximately $9 million today after adjusting for inflation. Mantle certainly had royalties and investments working for him during his post-baseball career. At the time of his passing, his fortune was reportedly around $10 million.
Paul Allen | $20.3 billion (DECEASED)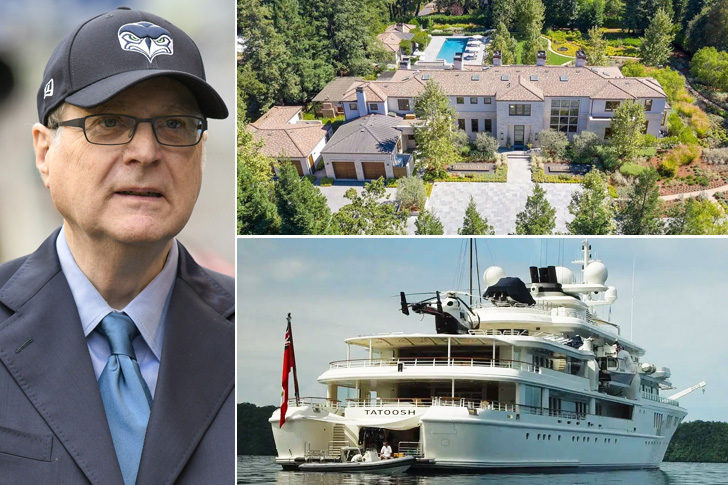 One could say that Paul Allen played a role in today's technological boom. He was a widely successful American businessman, investor, and philanthropist. Allen was best known as a co-founder of Microsoft together with his childhood buddy Bill Gates back in 1975. Gates and Allen were some of the brilliant minds that led the microcomputer revolution back in the '70s, '80s, and '90s. Throughout his successful businesses and investments, he was able to accumulate a fortune of $20.3 billion at the time of his passing.
When you'd talk about the luxuries in life, the billionaire tech magnate had it all. He had countless properties, real estate ownerships, yachts, basically the entire package. Allen also owned several sports teams. Known to be quite the sports fan, he purchased the Seattle Seahawks in 1997 and owned the Portland Trailblazers and the Seattle Sounders Football Club.
Roger Waters | $310 million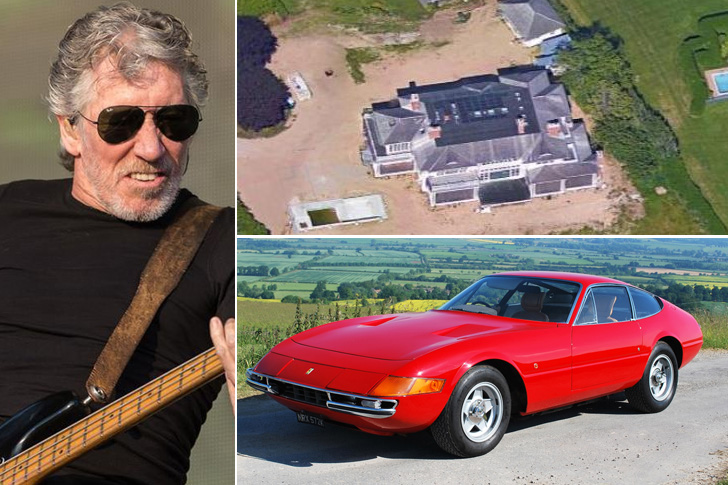 Roger Waters is one of the minds behind Pink Floyd and their celebrated studio albums. He was Pink Floyd's singer, songwriter, bassist, and composer. Waters wrote some of the most iconic albums in music history, such as Wish You Were Here, Dark Side of The Moon, Pulse, The Wall, and many more. His influence on the music industry during his time was truly unparalleled.
Besides being a widely successful musician, Waters is also an incredibly wealthy man. Roger Waters currently sits on a $310 million net worth. He got his fortune from doing musical tours and acquiring royalties from Pink Floyd's previous studio albums. Waters also acquired some of his wealth from various business ventures and investments. It's safe to say that he won't end up on the list of celebrities and former icons who went broke any time soon.
Samantha Bee | $7 million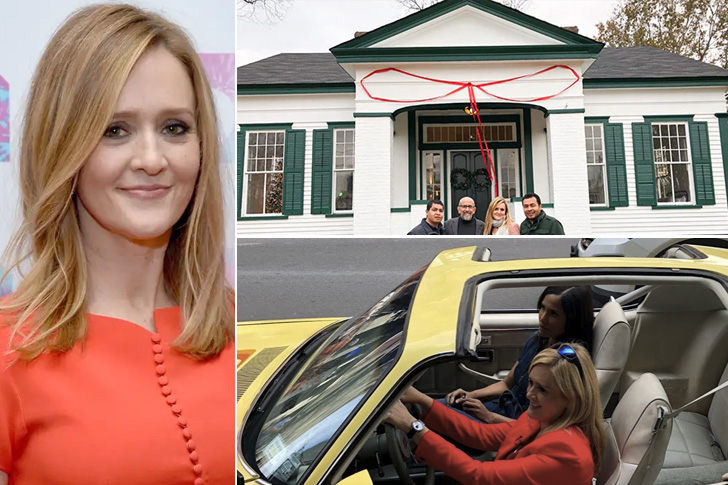 Samantha Bee is a well-known Canadian-American writer, comedian, actress, television personality, and producer. You might have seen Samantha as the blonde correspondent on the Daily Show with Jon Stewart. Besides being the longest-serving correspondent, Samantha also got her own show called Full Frontal With Samantha Bee. She later went on to do various film projects and television shows after her monumental breakthroughs.
Due to her long line of television and film projects, Samantha was able to accumulate a $7 million net worth. She made notable appearances in Law & Order, Ham & Cheese, and Bored to Death. Samantha is also widely known for her interviewing skills. One can say that Samantha has the ability to gently encourage her interviewees into making fun of themselves. Besides being an exceptional television personality, Samantha is also an author. She considers her book, I Know I Am, But What Are You, as one of her investments that generates passive income.
Stan Lee | $50 million (DECEASED)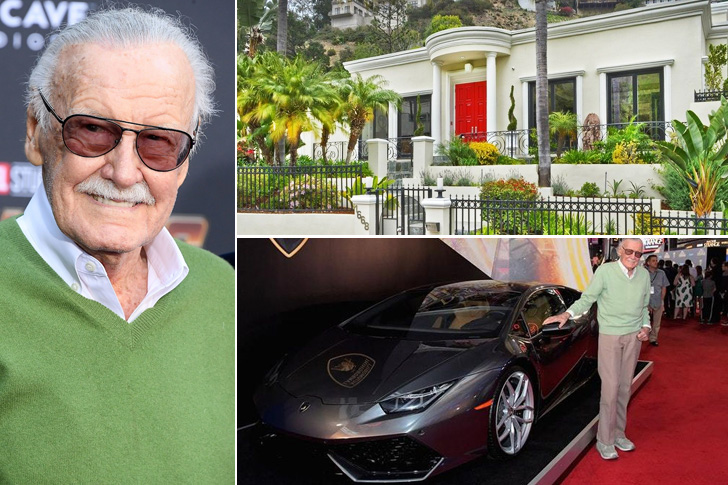 Stan Lee was an iconic and legendary American comic book writer, publisher, and producer. One cannot deny his impact on both the comic book and modern film industry. Lee gets credit for creating iconic superheroes like Spiderman, Thor, Ant-Man, and many more! Without him, we could have never been able to see superhero movies from Marvel, including the widely celebrated Avengers. 
There are perks that come with being the mind behind some of the most popular superheroes today. Throughout his entire career, Lee was able to accumulate a net worth of $50 million. It was even reported that he was making $1 million per year for his contributions to Marvel. Thanks to Lee and his creations, Marvel continue to dominate the comic book market as well as the multimedia and film market. Expect to see more of his superheroes on the big screen over the next few years, maybe even decades!
Steven Spielberg | $7 billion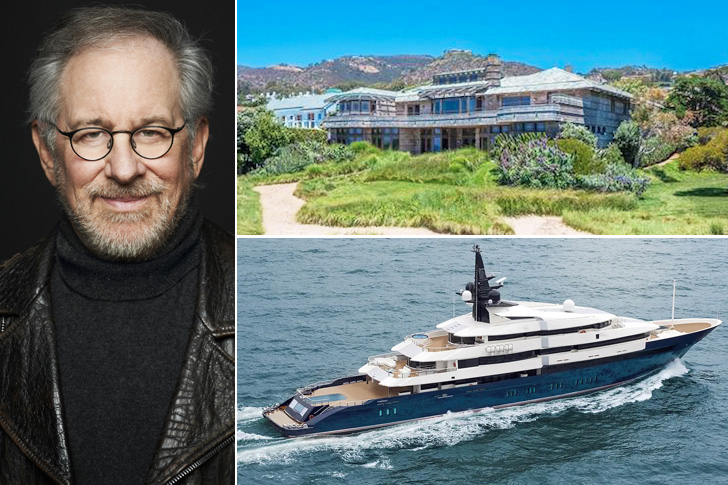 Steven Spielberg is one of the most notable figures in Hollywood, having worked as a film producer, director, and screenwriter. Throughout his entire career, Steven Spielberg has been able to achieve numerous accolades, including winning the Academy Award for Best Director twice. He was the mind behind iconic and legendary films like Jaws, Saving Private Ryan, E.T. The Extraterrestrial, and countless more. Expect to see more of Steven Spielberg's films over the next few years as he's still incredibly active in producing blockbuster flicks.
One cannot deny Steven Spielberg's influence and power in the entire film industry. Spielberg was able to earn over $7 billion from his numerous producing and directing credits. He's also known as the second richest celebrity on the planet, trailing his good buddy and fellow producer/director, George Lucas. We surely don't expect Steven Spielberg's $7 billion fortune to run dry anytime soon. He's still making $150 million per year, so he should hit another financial milestone very soon.
Alec Baldwin | $60 million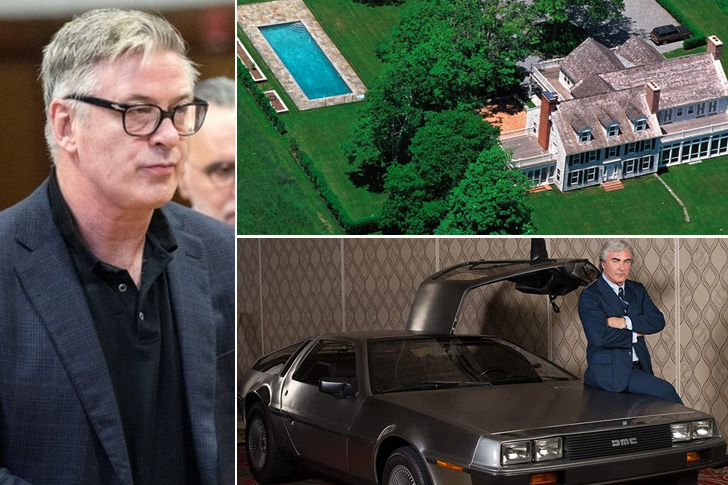 Alec Baldwin is a famous American actor, comedian, writer, and producer. He's a member of the famous Baldwin family, which consists of three other siblings, all of whom are actors. Baldwin got his breakthrough when he appeared on seasons six and seven of the popular CBS television drama Knots Landing. He has also appeared on Saturday Night Live!, 30 Rock, and other notable comedy shows.
Baldwin's Hollywood tenure has led him to become one of the most respected figures in the industry. He's also known for acquiring over $60 million throughout his career. Baldwin was also reportedly making around $300,000 per episode. Considering that he currently has numerous television shows on his slate, it's no wonder he's made so much money in the process. Baldwin recently started producing films. Expect to see him rack up more producing credits after his big producing breakthrough with Boss Baby.
 David Copperfield | $1 billion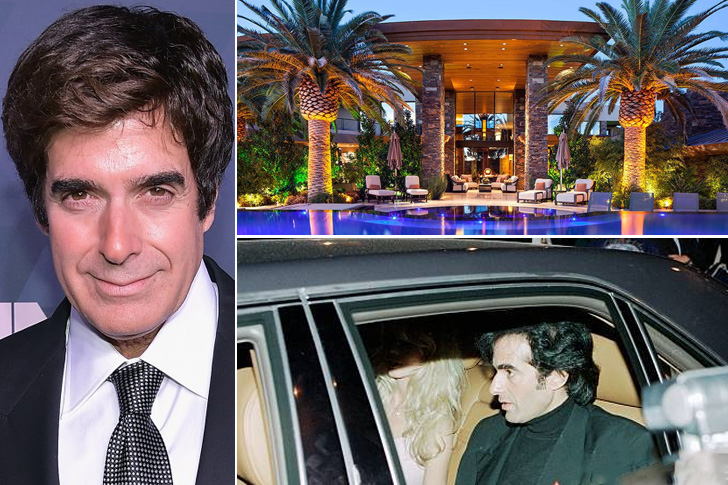 David Copperfield is a popular American illusionist and magician. Forbes calls him the most successful magician in history. Copperfield has been able to win numerous awards and nominations throughout his career. His television specials alone have bagged an astounding 21 Emmy Awards and 38 nominations. Copperfield also received credits for numerous world records.
Besides being the most commercially successful magician in history, Copperfield is also the wealthiest magician in history. He currently has an astounding net worth of $1 billion and is reportedly earning over $60 million per year. With this fact, Copperfield currently ranks as the 20th highest-earning celebrity in the world. Don't expect his fortune to run dry anytime soon as Copperfield continues to perform regularly. He also didn't lay off any of his staff members as he pays them using his salary. We're confident that this billionaire magician can easily pay his staff members without any problems.
Jimmy Iovine | $1 billion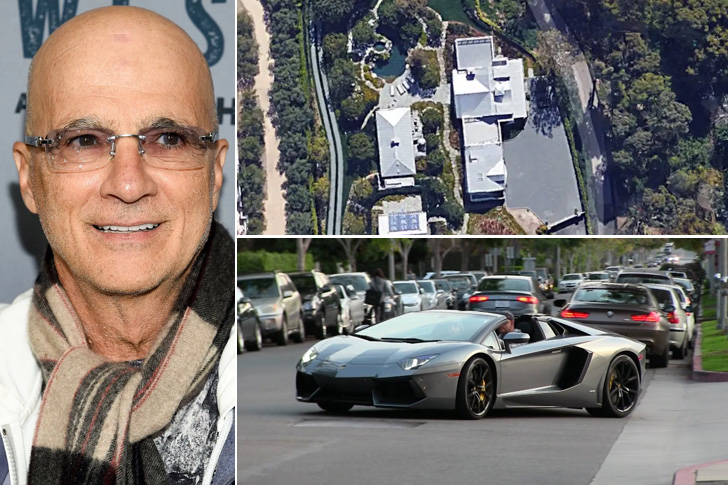 Jimmy Iovine is an accomplished American music producer and entrepreneur. He is known for co-founding Interscope Records and Beats Electronics together with friend Dr. Dre. As for his work as a producer, Iovine has countless music producing credits to his name. He has been known to work together with the most iconic artists like Eminem, Tupac, Snoop Dogg, Lady Gaga, and many more.
Iovine has made over $1 billion as a music producer and as an entrepreneur. His most profitable investment, Beats Electronics, was purchased by Apple back in 2014 for $3 billion. In turn, both Iovine and Dr. Dre took home $750 million from the sale. He has since taken a break from producing, and we're confident that he's not in a hurry to make a comeback. After all, it'd be pretty difficult to burn through a $1 billion fortune in such a short time.
Larry Ellison | $84 billion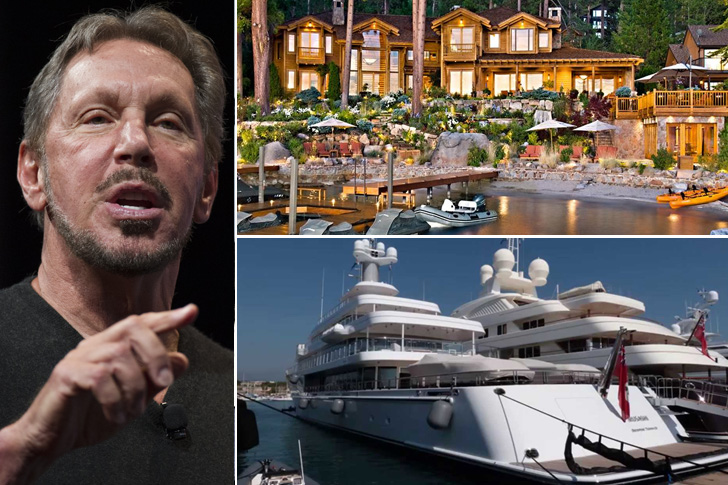 Larry Ellison is an entrepreneur who currently sits on an $84 billion fortune. He made his astounding net worth from founding the software giant Oracle. He served as the CEO of Oracle until September 2014. With his current net worth, Ellison belongs to the list of the ten richest people in the world, trailing tycoons like Jeff Bezos, Bill Gates, and Warren Buffet.
With an $84 billion fortune comes a lifestyle that's worth $84 billion. Ellison has countless real estate investments and properties spanning Hawaii, Japan, Malibu, San Francisco, Lake Tahoe, and Rhode Island. His primary residence is a 45-acre property in Woodside, California, that is worth $200 million. Ellison is so rich that he purchased 98% of the Hawaiian Island called Lanai from the Castle and Cook company. The 2% left is owned by the state of Hawaii.
Michael Bloomberg | $60 billion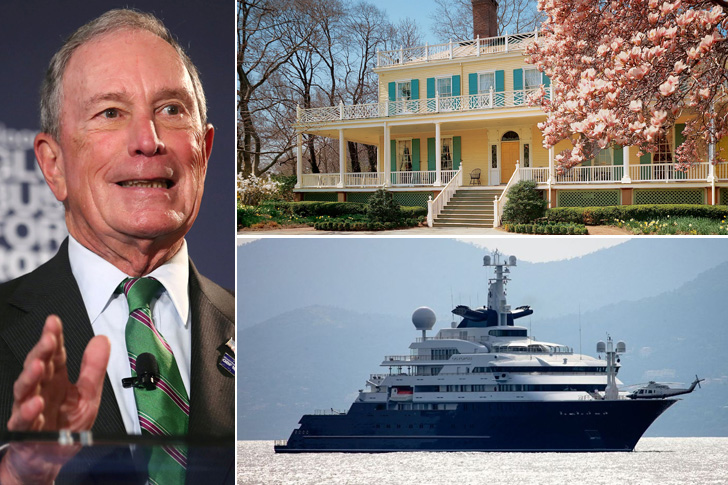 Michael Bloomberg is an American entrepreneur and politician that has a current net worth of $60 billion. He earned his massive fortune through his ownership of Bloomberg LP, a financial news and information services media company. Bloomberg owns 88% of the company. He is also known for being the New York City Mayor from 2002 to 2013.
Bloomberg is the 8th richest American and the 12th richest person in the world. He has joined The Giving Pledge campaign and given away millions of his fortune. He seems to be managing his portfolio of investments and his political career well. In 2019, Bloomberg entered the Presidential race. Although he did not win, expect to see Bloomberg run for president in the next election again. He certainly has a good number of supporters backing him up. Bloomberg can also easily cover all the costs that a campaign might bring.
Nicolas Cage | $25 million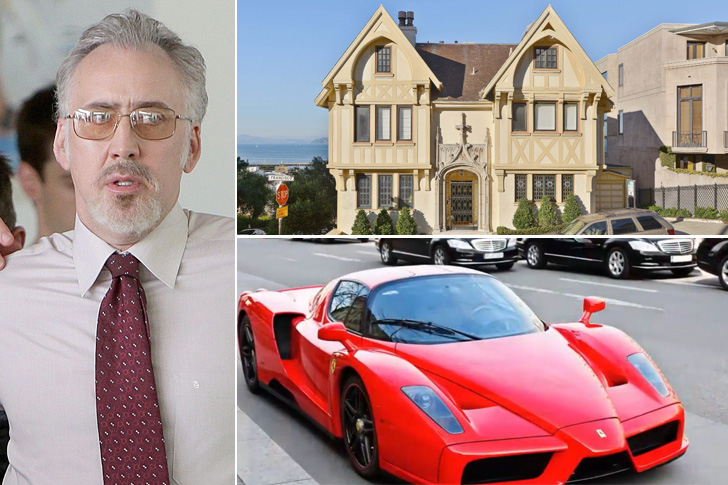 Nicolas Cage is one of the most popular American actors and filmmakers in modern film history. He's received a good number of awards for his numerous film appearances and performances. Some of Cage's notable films were National Treasure, Gone in 60 Seconds, Leaving Las Vegas, and Adaptation. Besides acting, he has also started producing movies and television shows.
Cage's net worth currently sits at $25 million. However, his net worth used to be at least $100 million. Cage once earned $200 million from his salaries alone. However, his exceptional spending habits led him to lose a ton of money in the process. Some of his notable purchases were luxury yachts, a private island, expensive pieces of art, 15 personal homes, two castles, jewelry, and many more. He eventually fell into debt, which he's still paying off as of May 2017. We hope that Nicolas Cage already sought out the services of a financial advisor to help fix his bad spending habits.
Benicio Del Toro | $45 million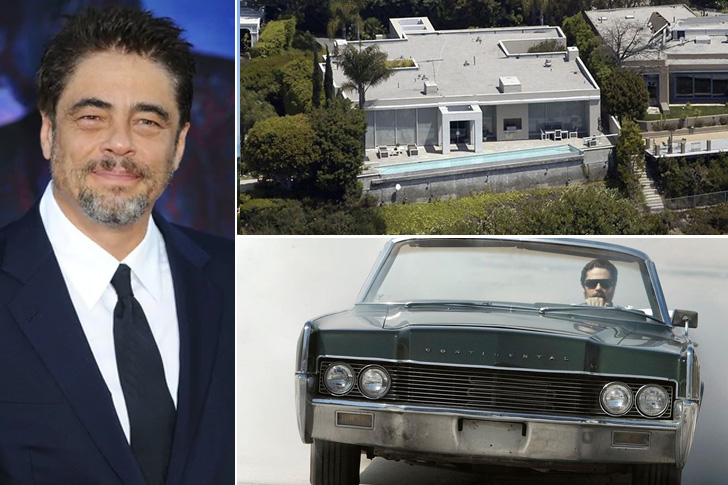 Benicio del Toro is an actor and producer who has won several accolades and awards. The Puerto Rican actor is one of the only actors who has won an Academy Award, a Golden Globe Award, a BAFTA Award, and a Screen Actors Guild Award. Del Toro is best known for his performances in Traffic, 21 Grams, and Sicario. He currently sits on a $45 million net worth. Impressive, right?
Don't expect del Toro's net worth to depreciate any time soon. He has numerous film projects lined up for him in 2021 and 2022. Del Toro will be starring in The French Dispatch as Moses Rosenthaler and Jamie Foxx's film All-Star Weekend as Dr. Phill. He will also continue earning from various investments and endorsements. The actor is a brand ambassador for companies like Heineken beer and Campari, an Italian liquor company.
David Brinkley | $2 million (DECEASED)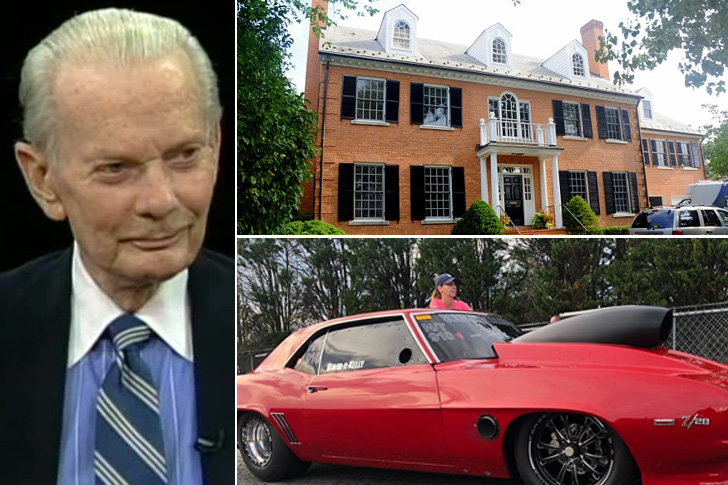 American television truly had some of the most iconic and influential news reporters in its time. One of them was David Brinkley, a respected veteran and personality in the news. He had a very authentic style of delivery which made him relatable and popular with the audience. His style of writing also captivated the attention of anyone who was listening to him. Indeed, he deserves credit for helping shape the newscasting platform to the way that it currently is today. He earned over $2 million throughout his entire career.
Brinkley went to college at Vanderbilt University before joining the United States Army in 1940. He later came home in search of a radio job only to take a job at NBC News. Brinkley later got his career breakthrough at NBC News as he became its White House correspondent. He then made a move to shift into ABC, wherein he hosted his own show called This Week with David Brinkley until his retirement in 1997. For his outstanding work, Brinkley received the Presidential Medal of Freedom in 1992.
Elizabeth Taylor | $600 Million (DECEASED)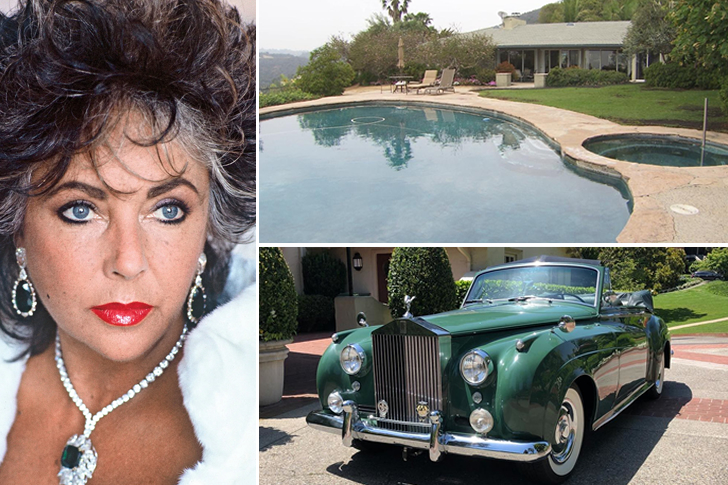 Elizabeth Taylor, or "Liz", as some people fondly call her, was perhaps one of the most iconic actresses of the 20th century. She embodied the perfect Hollywood actress: kind, beautiful, intelligent, and talented. She was also one of the most recognizable faces of Hollywood's so-called Golden Age, where American filmmaking flourished into the most dominant style in the world. She rose to stardom for her credit roles in films such as Butterfield 8, Cleopatra, and Who's Afraid of Virginia Woolf, for which she won an Academy Award for Best Actress.
Given her megastar status in the industry, it only follows that she was one of the highest-paid as well. Indeed, at the time of her passing, her estimated net worth was around $600 million. In fact, she was the first actress in history to have been paid $1 million for a single film.
Fred Rogers | $3 Million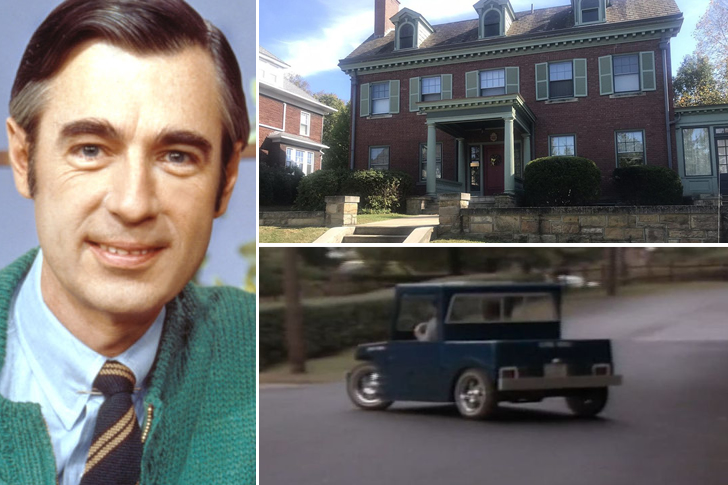 Fred Rogers was one of the most beloved television personalities in America. It is perhaps accurate to say that entire generations knew and adored him during the latter half of the 20th century. His fame was, in large part, due to the enormous success of his TV show Mister Roger's Neighborhood, which ran for an amazing three decades.
Throughout his career, he was able to make certain investments, and at the time of his passing, he was worth $3 million. He and his wife of nearly five decades lived in a humble house in Pittsburgh. The also owned a house in Winter Park, Florida to escape cold Pennsylvania winters. Although his net worth is quite modest compared to others on this list, it's fair to say he was able to live a decent and comfortable life and provide sufficiently for his family.
John Lennon | $620 Million (DECEASED)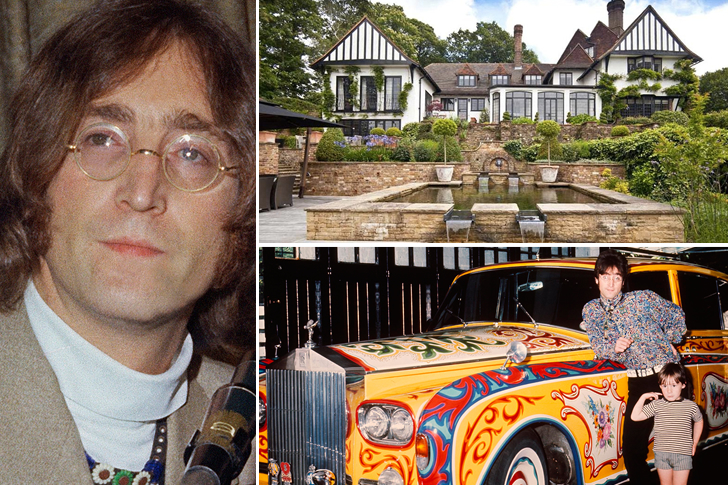 Who doesn't know of the so-called "greatest band in the world", the Beatles? Perhaps today's generation might have overlooked this iconic musician, but during the latter half of the 20th century, John Lennon was not only one of the biggest musicians, but he was also one of the most famous men on the planet. As a member of the legendary band the Beatles, he and his bandmates produced some of the most beloved hits in history. As a solo artist, he still enjoyed prominence for his hit singles such as Imagine, Woman, Happy Xmas, and many more.
It comes as no surprise, then, that his bank account was incredibly substantial. Lennon's net worth was $620 million. With that much money, he was able to acquire a lot of investment properties, which included his lavish apartment in New York City and his estates in England and Wales.
Linda Kozlowski | $10 Million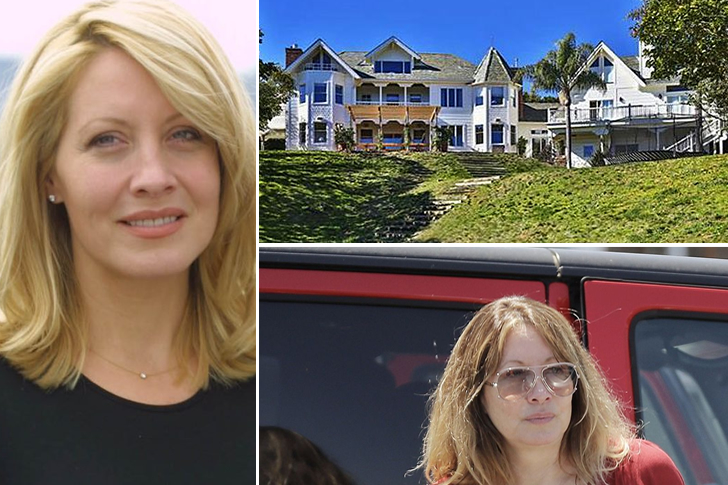 Linda Kozlowski is an actress who rose to fame for her credit role in the Crocodile Dundee film series. She also appeared in other successful movies such as Death of a Salesman, Pass the Ammo, Almost an Angel, Backstreet Justice, and The Neighbor. She also had projects in television and appeared in TV shows such as The Favorite Son, Shaughnessy, and Nurse.
Kozlowski has earned a net worth of $10 million throughout her career. Unfortunately, she is now retired from the industry because she is reportedly unhappy with the projects she's being offered. The good thing is that she was able to acquire real estate properties across the country, one of which was her $3.8 million abode in Malibu, California. She later sold the property to the Hollywood heartthrob Chris Hemsworth. She must be enjoying the money she earned from the sale.
Mario Puzo | $20 Million (DECEASED)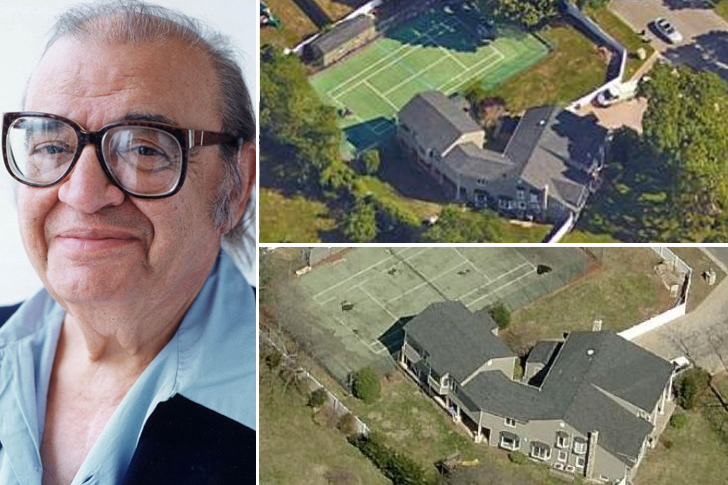 Mario Puzo was an author, screenwriter, and journalist who rose to international stardom for penning The Godfather novels, which were later adapted into a film trilogy by the great Francis Ford Coppola. He was also offered to write the screenplays for both films, for which he won twice in the Best Screenplay category at the Academy Awards. He also wrote the screenplay for blockbuster films such as Superman and the film adaptations of his other novels.
Throughout his long and storied career, he was able to accumulate a substantial fortune. His net worth at the time of his passing was $20 million, which he got from different streams of income such as his salary as a screenwriter and royalties from his published novels. When he was still alive, there's no doubt that he had an impressive credit score, considering his wide and numerous achievements.
Roberto Cavalli | $500 Million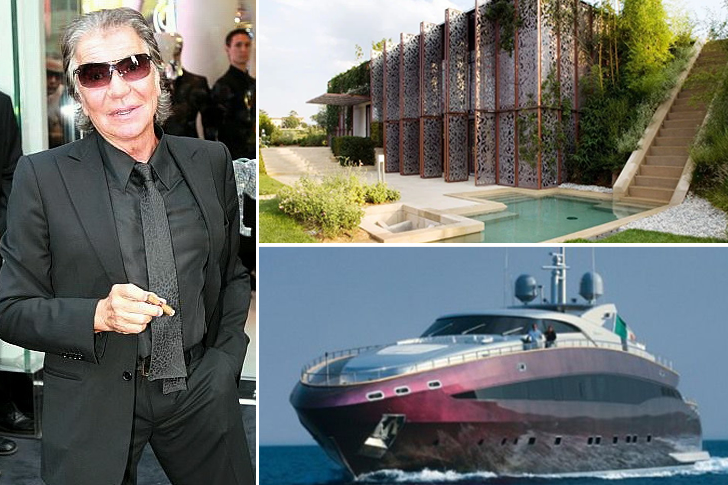 Roberto Cavalli is one of the most enduring and iconic fashion designers in history. Some would even claim that his label predates that of Versace. What's amazing about his story, however, is he remained in relative obscurity until the 1990s when he was finally catapulted as a mainstay in the red carpet. His style was characterized by its wild elegance and was extremely popular among A-list celebrities. Indeed, icons such as Brigitte Bardot and Sophia Loren were among those who sported Cavalli's clothing back in the day.
It goes without saying that the fashion industry is a lucrative business, especially if you're master designer like Cavalli. Throughout his career, he was able to amass a massive net worth of $500 million, which he spent on various investment properties and luxurious goods such as a helicopter, a yacht, racehorses, clubs, and a vineyard, among many others.
Sean Combs | $885 Million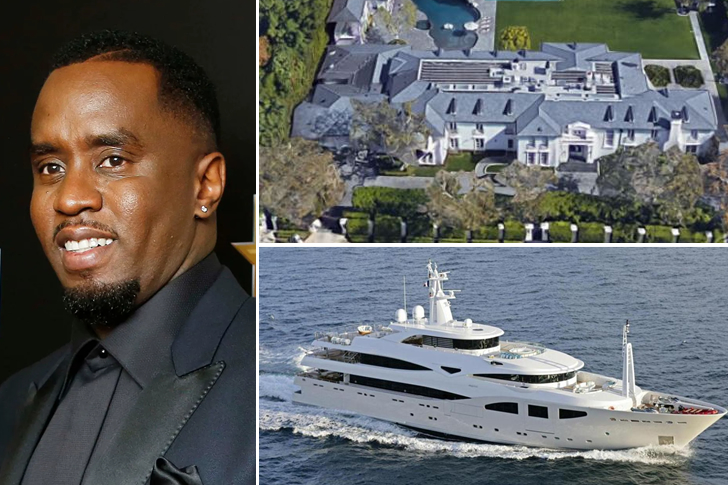 Sean Combs, who is also known as P. Diddy, is one of the foremost pioneers of hip hop. Aside from being a multi-awarded rapper, however, he is also a successful record producer, having won three Grammy Awards and two MTV Video Music Awards in his career. He is the CEO of Bad Boy Entertainment Worldwide, which is an umbrella company for all of his business ventures such as the record label Bad Boy Records, a movie production company, two restaurants, and his own clothing line.
With such a wide array of investments under his belt, Combs was able to accumulate a massive fortune. His net worth is an astounding $885 million. With that amount of money, we're quite sure that he will live comfortably, or even lavishly, for the rest of his and his family's life. His story is really an inspiring one considering that he came from humble beginnings.
Steve Jobs | $10.2 Billion (DECEASED)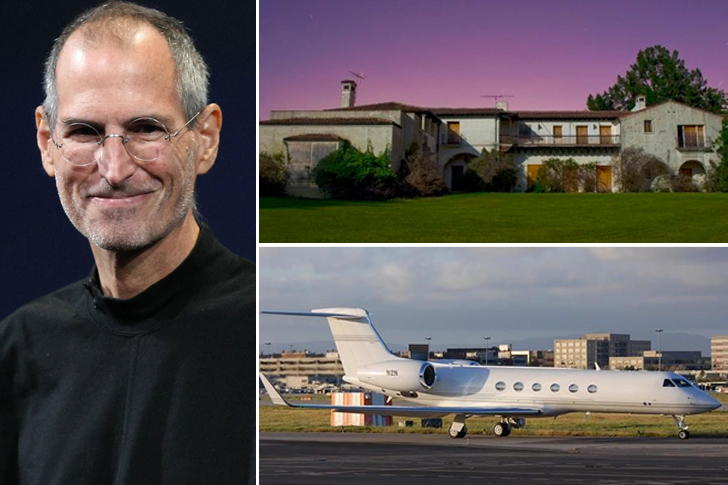 Very few people in the world are branded as a genius, and Steve Jobs was certainly one of them. The Apple co-founder is responsible for revolutionizing not only the computer world, but also the music and smartphone industry as well. He is credited for bringing us some of the most beloved technologies that we still use today such as the MacBook, the iPod, and the iPhone. Moreover, he also had a major role in the development of the beloved animation studio Pixar, which delighted us with many wonderful films.
Being a business magnate, you wouldn't really be surprised to learn that his net worth at the time of his passing was a mindboggling $10.2 billion. He truly was one of the all-time greats in the world of technology and his legacy will continue to inspire people not to be afraid to think differently.
Tiger Woods | $800 Million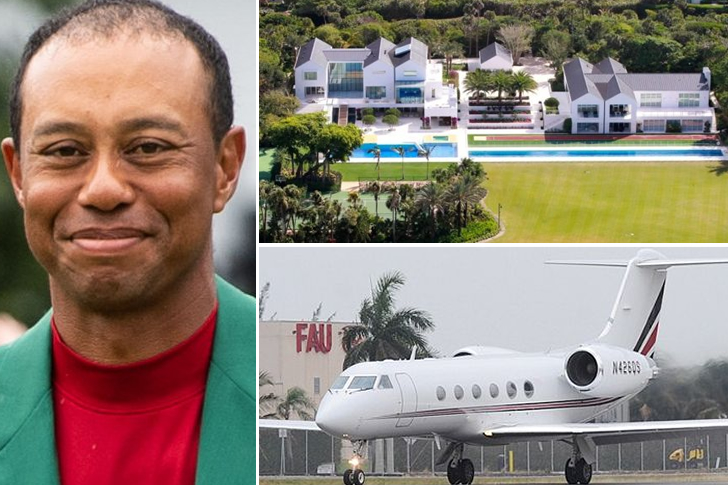 When you think about professional golf, who is the first person that comes to mind? We're guessing that it's probably Tiger Woods as he is considered to be one of the most successful players to have ever played the game. He is also the highest-earning golfer of all time and was the highest-earning athlete on the planet for many years. He has won countless awards and trophies such as 15 professional major tournaments, 81 PGA Tour wins, 41 European tour wins and five Masters wins.
Because of his long and glorious career in golf, his net worth has reached a staggering $800 million. Using his money, he made some considerable investments such as a $25 million yacht, a $54 million private jet, and a 12-acre oceanfront property in Florida worth around $55 million. Woods lives quite an extravagant lifestyle indeed.
Dr. Dre | $820 Million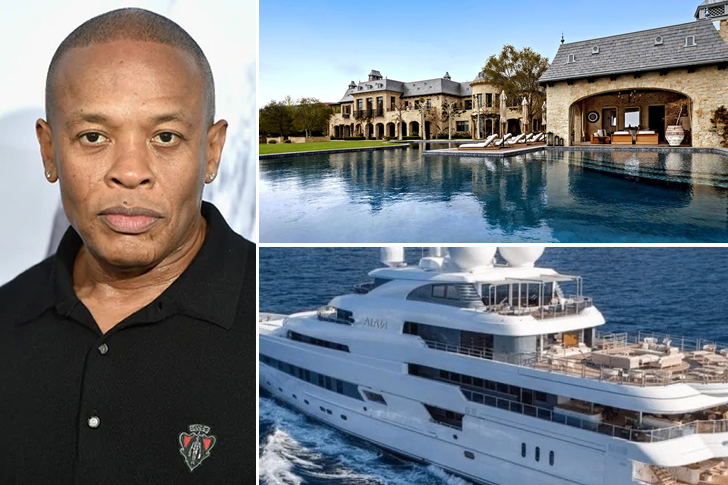 Dr. Dre is like a demigod in the hip hop world. He was a member of World Class Wreckin' Cru and N.W.A. Aside from being a talented and hugely successful rapper, he is also an award-winning producer and record executive who's responsible for introducing other legendary artists such as Eminem and 50 Cent. Needless to say, he has earned hundreds of millions of dollars from his music career and even more through his various business endeavors. He is the CEO of Beats Electronics and Aftermath Entertainment.
With a net worth of $820 million, real estate was one of his lucrative business ventures. In the late 1990s, Dr. Dre spent $2.4 million to acquire a mansion in Woodland Hills, California, which he sold for $4.5 million. He also sold his Hollywood Hills mansion for $32.5 million, which he previously bought in 2001 for $15.4 million.
Eric Clapton | $450 Million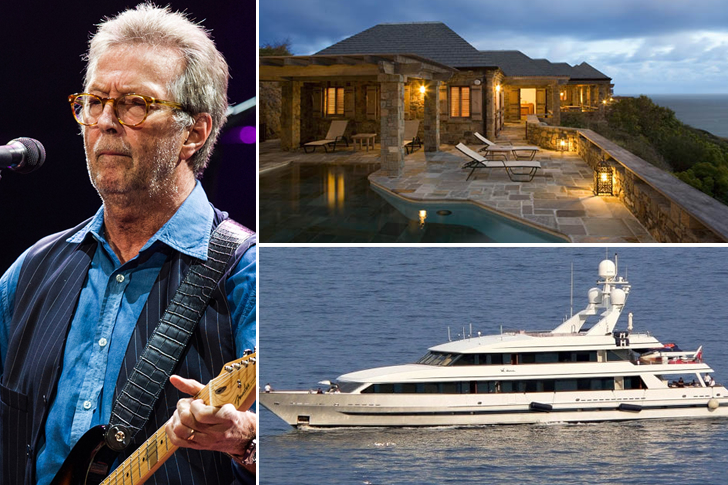 If there is a Mt. Rushmore of guitar heroes, we argue that Eric Clapton should be included among them. He single-handedly revolutionized the way we listen to acoustic and electric guitars. His romantic, melodic, and emotional rhythms have captured the hearts of lovers around the globe. Clapton is perhaps best known for his extremely popular hits such as Wonderful Tonight, Layla, and Tears in Heaven. He is undoubtedly a true music legend and a certified rock and roll hall of famer.
With a net worth of $450 million, the musician spent lavishly on investment properties such as his $14 million Antigua home known as "Standfast Point". He is also proud of his car collection, which is comprised mostly of Ferraris and has a standing value of around $100 million. He is known as well for his art collections that is worth around $77 million.
Johnny Depp | $150 million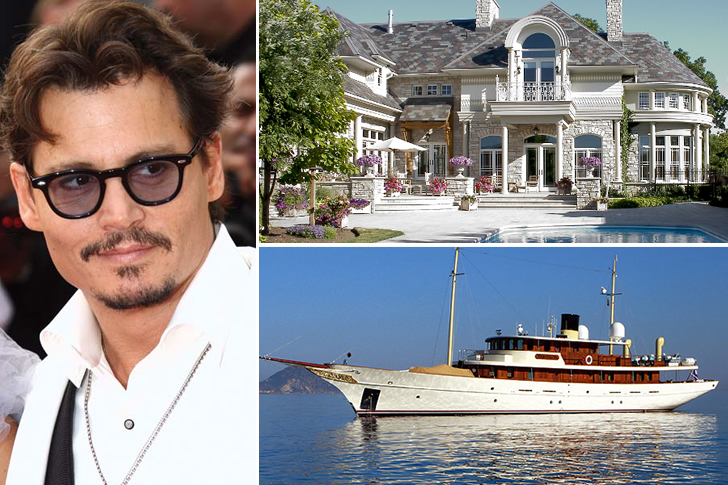 There are perhaps only a few actors who are as versatile and chameleon-like as the iconic Hollywood superstar Johnny Depp. Johnny has proven that he is more than just good looks, as can be seen in the vastly different roles that he has played over the years. He is best known for his blockbuster and award-winning films such as Blow, Charlie and the Chocolate Factory, Finding Neverland, and of course, the Pirates of the Caribbean film series, which have grossed over $8.7 billion dollars across the world.
Since his films have earned so much at the box-office, it is not so hard to imagine the kind of lifestyle he lives. Indeed, with a net worth $150 million, he reportedly spent $75 million to purchase more than 14 investment properties around the world including a 45-acre chateau in France, a horse farm in Kentucky, and several islands in the Bahamas.
Kris Jenner | $170 million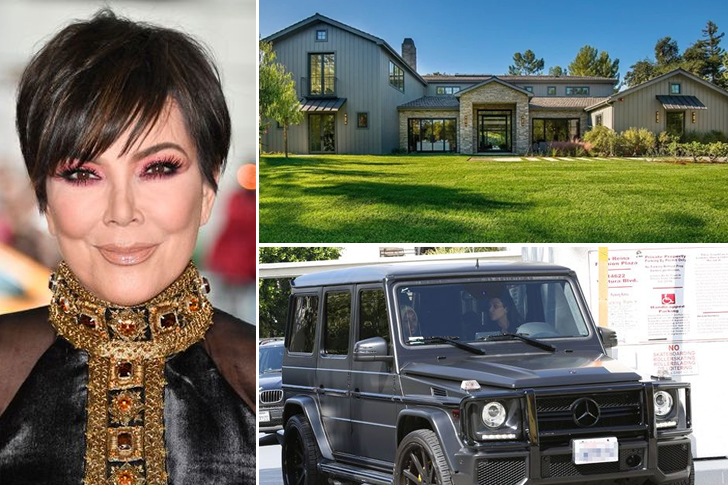 Kris Jenner personifies the ultra-successful mom. Indeed, her daughters are some of the most successful and wealthiest celebrities in the world. Kim, Kourtney, Khloe, Kylie, and Kendall have a combined net worth that is over a billion dollars. However, the matriarch can also hold her own. Jenner, who is famous for appearing in the hit reality TV show Keeping Up with the Kardashians, has a net worth of around $170 million.
She also has substantial investment properties, which include a six-bedroom mansion in Calabasas that she bought in 2017 for $9.9 million and sold for $600 million in 2020. She owns a $12 million luxurious mansion in La Quinta, California. With such a hefty amount in her bank account, she is perhaps one of the most enviable women in the world.
Mel Gibson | $425 Million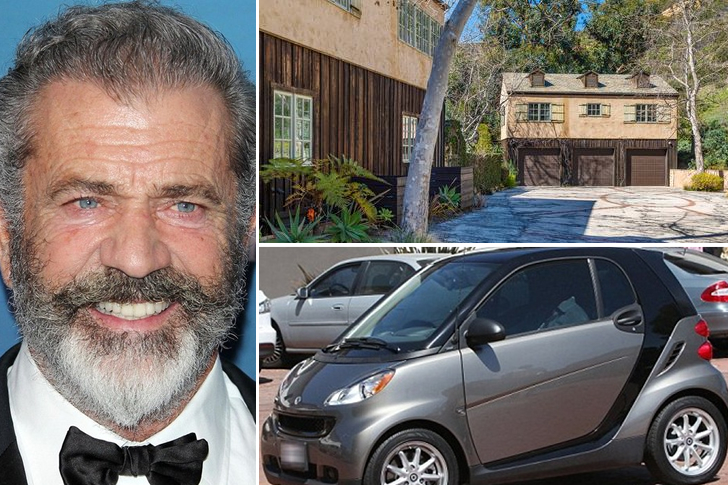 Aside from being a heartthrob actor during the 1980s, Mel Gibson made a name for himself as a successful filmmaker as well. He was first known as the lead star of the hugely successful Lethal Weapon film series, but he finally received international acclaim upon the release of the Academy-Award winning film Braveheart in 1995. However, Gibson proved to the world that his talents don't only lie in acting. He is also widely regarded as a successful director, who made memorable films such as Apocalypto and The Passion of the Christ.
Unsurprisingly, Gibson has used his wealth to improve and diversify his real estate portfolio. He has multiple properties in Malibu, Costa Rica, Fiji, and throughout Australia. He sold his Kiewa Valley farm for $6 million in 2004 and bought his own private island in Mago Island, Fiji, for $15 million. We're sure he didn't need to take out any personal loans for these assets.
Naomi Campbell | $80 Million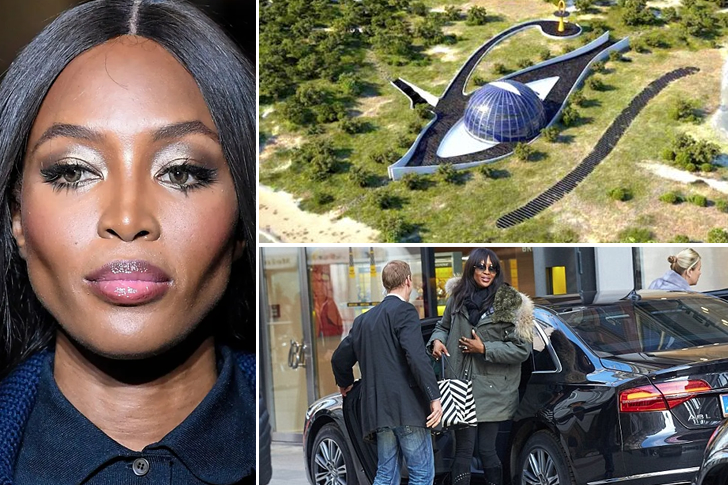 Naomi Campbell is one of the most enduring icons in the fashion industry. She is one of the most successful and highest-paid supermodels of all time and was extremely popular in the late 1980s and 1990s. However, Campbell is also a talented singer and actress, having recorded an R&B-pop album and acted in movies and TV shows. She is also a known activist, which makes her even more beautiful, not only as a model but as a person as well.
For her efforts in the fashion and entertainment industry, the supermodel was able to amass a massive net worth of $80 million. As such, she is no stranger to the luxurious lifestyle. Campbell loves using her investment money to purchase real estate. She used to own a $260 million futuristic mansion in Moscow and a 25-bedroom vacation home on Turkey's Cleopatra Island. Campbell also paid $4 million for a Manhattan duplex in 2005 and sold it for $4.5 million the following year.
Prince | $200 Million (DECEASED)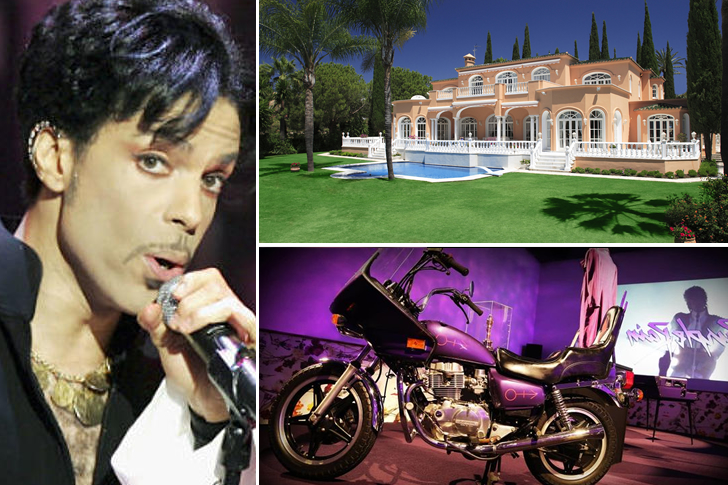 Music was undoubtedly an integral part of Prince's family. After all, his father was a pianist and songwriter while his mother was a jazz singer. At seven years old, Prince already wrote his first song, Funk Machine, on his family's piano. From that point onward, his talent and inclination for the art continued soaring to greater heights. In fact, by the time he released his first album, For You, Prince took credit for writing, arranging, and playing all 27 instruments on the record.
Today, Prince is often considered one of the best musical artists of his generation. He released many hit albums like Controversy, Sign o' the Times, 1999, and, of course, Purple Rain, the soundtrack for his film debut of the same name. For all his contributions to the music industry, Prince received an Academy Award, a Golden Globe Award, and a spot in the Rock and Roll Hall of Fame and the Rhythm and Blues Music Hall of Fame.
Vince Carter | $110 Million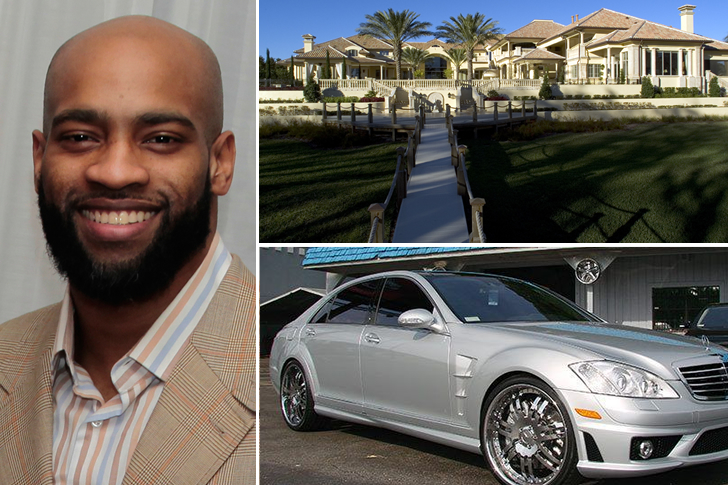 Like other programs airing on TV, basketball competitions, especially the NBA, often bring millions of viewers. Through the years, the sport has introduced us to numerous talented athletes. With that said, one such player that has made a name for himself is Vince Carter. Throughout his 22-season run in the NBA, he has had the chance to play for teams like the Golden State Warriors, the Toronto Raptors, the Dallas Mavericks, and the Atlanta Hawks, the last team he played for before retiring.
Thanks to his career on the court, along with his endorsement deals, Carter has since accumulated an impressive net worth of $110 million. With the fortune he has earned, the basketball player also tried making investments in his own restaurant in 2010, which he eventually sold seven years after for $4.3 million. Since he retired from basketball, Carter has worked as an NBA and college basketball analyst for ESPN.
Eli Manning | $150 Million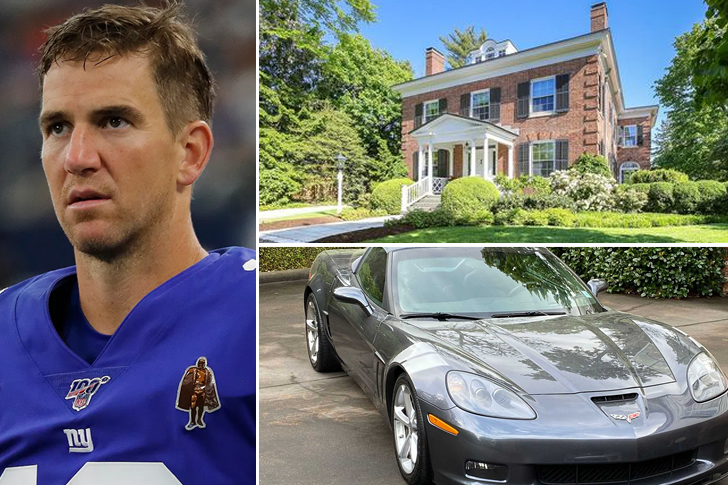 With his father and older brother being experienced football players, it comes as no surprise that Eli Manning eventually followed suit. Like many athletes, he began his journey in high school. By the time he was a college senior, Manning already had numerous achievements, including a Maxwell Award for Best All-Around Player and an SEC Most Valuable Player Award. To top it all off, the athlete also finished his studies with a degree in marketing and as a Dean's Honor Roll.
Manning has spent his 15-year-long career in the NFL playing for the New York Giants. After retiring from the sport in 2020, he has since shifted his focus to other ventures, one of which is a bourbon business alongside his brother Peyton. Along the way, the siblings and their father also wrote a children's book titled Family Huddle, a story revolving around the trio. As of 2020, Manning has accumulated a net worth of $150 million.
Jorge Garcia | $5 Million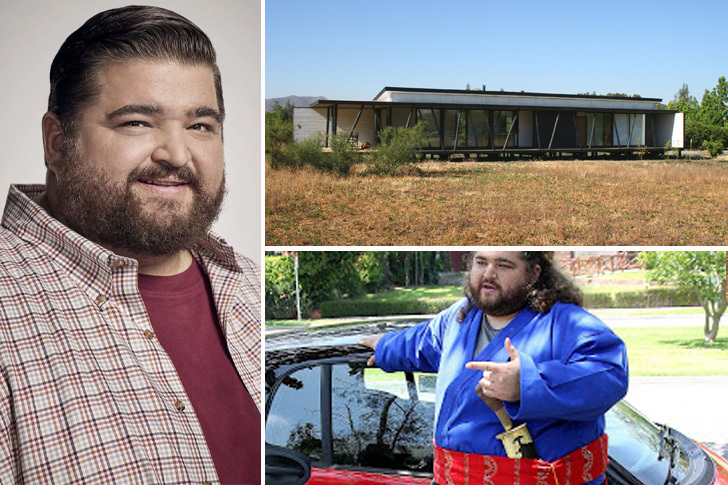 The thought of pursuing an acting career came to Jorge Garcia during his college years. Besides majoring in communication studies, he also took some acting classes. His earlier stints in the industry were often for roles in commercials. Soon after, he finally landed a spot in the TV show Becker. Despite the recognition he garnered from it, Garcia is primarily known for his acting credit on the series Lost.
Along the way, he also got to work on other projects like Alcatraz, Once Upon a Time, Hawaii Five-0, and The Ridiculous 6. Outside his acting career, Garcia performs as a stand-up comedian. He also launched a podcast in 2016 called Kaiju Podcast, where he talks about notable fictional creatures like Godzilla and King Kong. Thanks to all the work he has done in the entertainment industry, the actor has since accumulated a net worth of $5 million.
Meryl Streep | $160 Million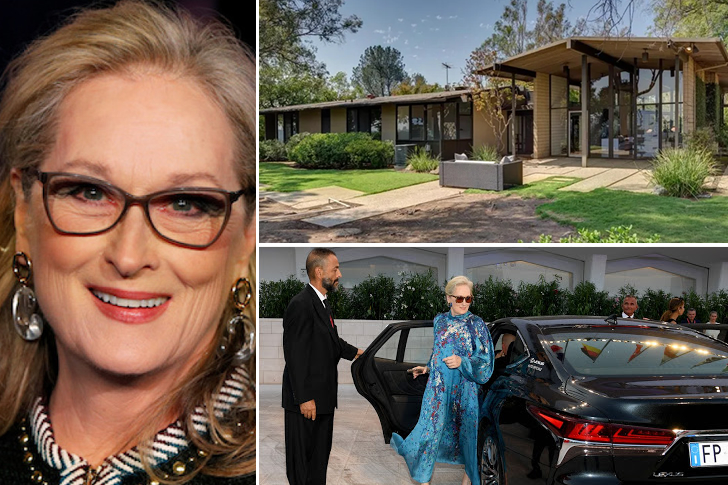 Despite performing in a few of her high school plays, Meryl Streep only realized her love for the art when she was in college. To help pay her student loans, Streep worked a variety of jobs, including as a waitress, typist, and performed in numerous stage productions. Soon after, her career as a professional began with Trelawny of the Wells, followed by her Tony-nominated performance in 27 Wagons Full of Cotton and A Memory of Two Mondays.
Streep eventually found her way in front of the camera, her debut being in the 1977 film Julia. Since then, she has starred in other projects like The Deer Hunter, Sophie's Choice, Out of Africa, The Devil Wears Prada, and The Post. Besides her impressive net worth of $160 million, Streep also won three out of her 21 Academy Award nominations and nine Golden Globes Awards.
Robin Williams | Estimated $100 Million (DECEASED)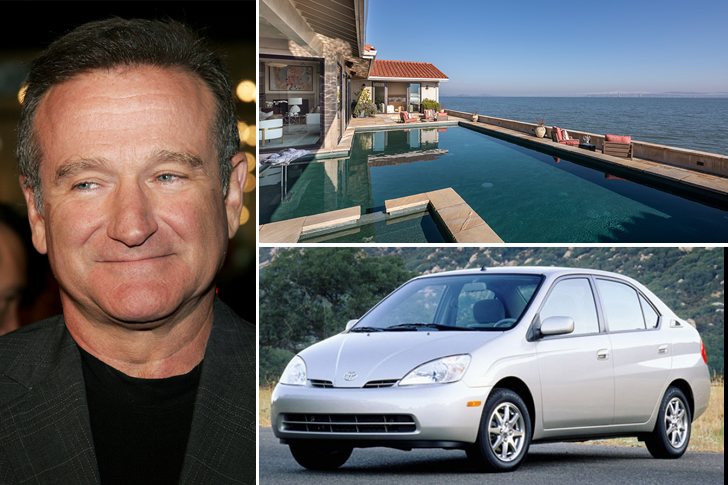 "Laughter is the best medicine" is perhaps one of the most well-known quotes today. With that said, one such talented figure who cured people with his comedic chops was none other than Robin Williams. During his time taking acting classes, he was already often regarded as energetic as a ball of electricity by his classmates, one of which was his life-long best friend, Christopher Reeve.
He began his career as a stand-up comedian before gaining widespread recognition portraying the alien Mork on the TV sitcom Mork & Mindy. Besides his comedic and improvisational skills, Williams was also quite an all-around actor, showcasing his talent for dramatic roles in movies like Dead Poets Society, Good Will Hunting, Awakenings, and Insomnia. Throughout his career, he won an Academy Award out of his four nominations, two Primetime Emmy Awards, and six Golden Globe Awards.
Kim Kardashian | $750 Million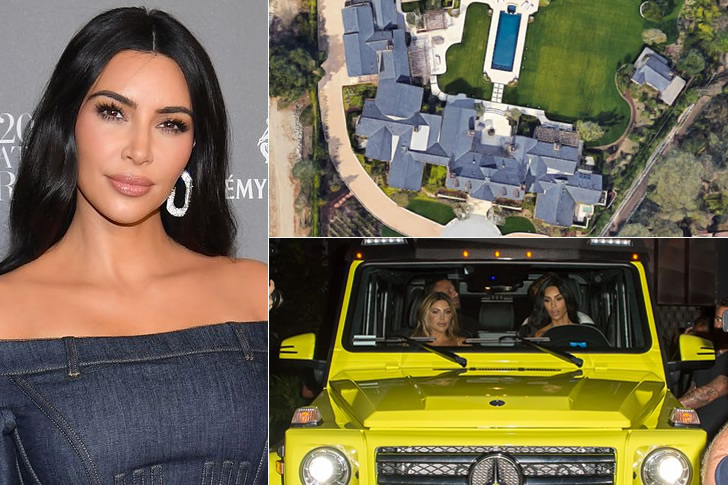 Who else doesn't know American reality TV star Kim Kardashian? She is one of the most famous and highest paid celebrities on the planet. Kim was born on October 21, 1980 in Los Angeles, California. She started her career in Hollywood. She was an assistant and stylist of socialite Paris Hilton. During this time, she set foot in the show business for the first time, as a guest starred in Hilton's reality TV series The Simple Life.
In 2007, she and her family began to appear in a reality TV series Keeping Up with the Kardashians that airs on the E!. Although this show has received negative reviews, we cannot deny that it has maintained a high ratings and is one of the most successful programs on the network.
The reality show made the Kardashian family famous. Kim also began to accumulate a lot of wealth. As of 2020, her net worth is $750 million. One of her most valuable businesses is KKW Beauty Line. For some time, a large part of Kim's annual income has been attributed to the mobile game Kim Kardashian: Hollywood.
Bill Maher | $140 Million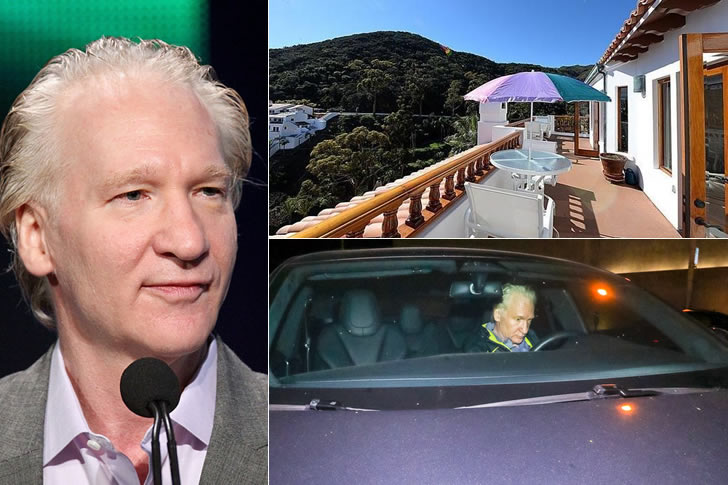 Bill Maher is an American comedian and TV presenter with a net worth of $140 million. Maher was born in New York on January 20, 1956. He graduated from Cornell University in 1978 with a double degree in English and History. His career began in 1979, when he served as the host of Catch a Rising Star, a New York comedy club. In 1983, he starred in the comedy film DC Cab. What really made Maher stand out was his late-night political talk show Politically Incorrect with Bill Maher. In 2003, he began hosting the HBO talk show Real Time with Bill Maher.
As a host, Maher has an annual salary of $10 million. But this is by no means the only way for him to accumulate wealth. A large part of his net worth today is actually due to his wise investment in New York Mets in 2012. He made a wise investment and donated money to charities. The fact that Maher serves on the board of PETA proves his passion for charity. He owns 3.2 acres of property in Beverly Hills, which he bought from Ben Affleck in 2003.
ALAIN DELON | $200 MILLION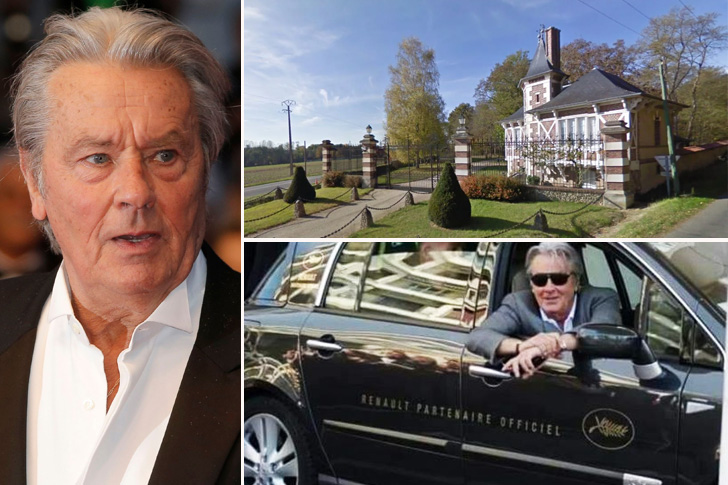 Alain Delon used to be the talk of the town during the '60s and '70s. He is a famous actor who dominated the big screen with his critically-acclaimed credit roles in Rocco and His Brothers, Plein Soleil, L'Eclisse, The Leopard, The Yellow Rolls-Royce, Los Command, and Le Samourai. In his time in the business, the now-85-year-old star has worked with some of the best directors, like Luchino Visconti, Jean-Luc Godard, Jean-Pierre Melville, Michelangelo Antonioni, and Louis Malle—you name it, and he has worked with them.
While busy making a name in the entertainment world, Delon was also tending on his business career. After the success of having a perfume label in his name, the French actor started selling different products under his name, from wristwatches to clothing to eyewear and more. His rare vintage sunglasses also gained huge success in Hong Kong when Chow Yun-fat wore them. From here, Delon didn't only make it big in the entertainment scene but in entrepreneurship, too.
Kenny Rogers | $250 Million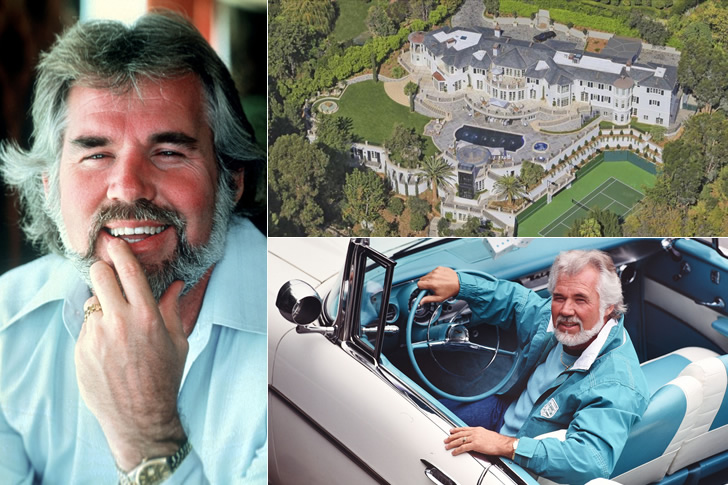 Kenny Rogers is one of the singers who have the greatest influence on country music. This legend has left an indelible mark in the history of American music. Kenny started his music career in the 1950s, experimenting with various music styles. In 1967, he founded his own band "the First Edition", which achieved great commercial success. Throughout the 1980s, Rogers collaborated with Dolly Parton, Lionel Richie and Lynda Carter to create many popular works.
The three-time Grammy Award winner has a huge net worth: $250 million. In his lifetime, he sold more than 100 million records worldwide. He shared his wealth with his wife Wanda Miller and five children. He has an enviable ranch in Georgia. This luxurious estate includes a mansion, swimming pool, tennis court, golf course, and even an equestrian center. In addition, Kenny has a pet goat named Smitty, which is said to help him ease his emotions after a long trip.
Elinor Donahue | $3 Million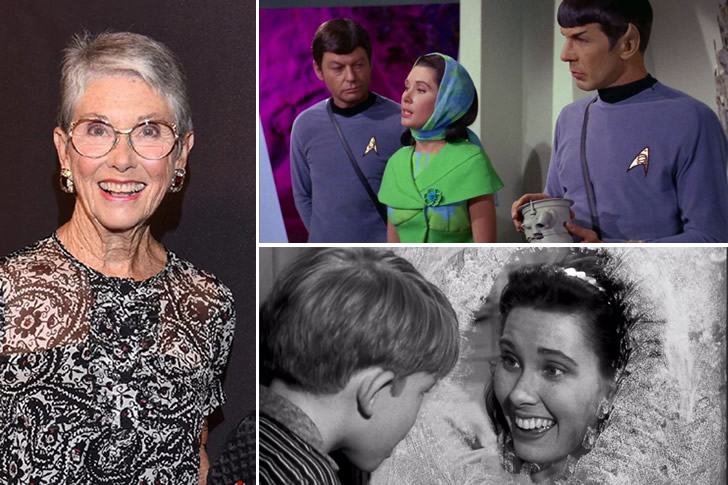 Elinor Donahue is Best known for her portrayal of Robert Young's eldest daughter Betty "Princess" Anderson in the TV series Father Knows Best. Although she is now recognized as a legendary actress, her childhood was full of challenges. Her weekly income was equivalent to the monthly income of her mother, she has been the main breadwinner of the family since she was a child. Elinor has been working in her hometown radio station since she was five years old.
In 1943, she collaborated with Donald O 'Connor on her first film Mister Big. Later, she appeared in TV series such as The Andy Griffith Show and The Odd Couple. From the 1960s to the early 1980s, she also guest-starred in dozens of TV series, including Star Trek.
Elinor Donahue has brought entertainment to the audience for more than 60 years. Until 2011, she decided to quit acting. Now, she has $3 million net worth and lives peacefully with her husband.
Jaleel White | $8 Million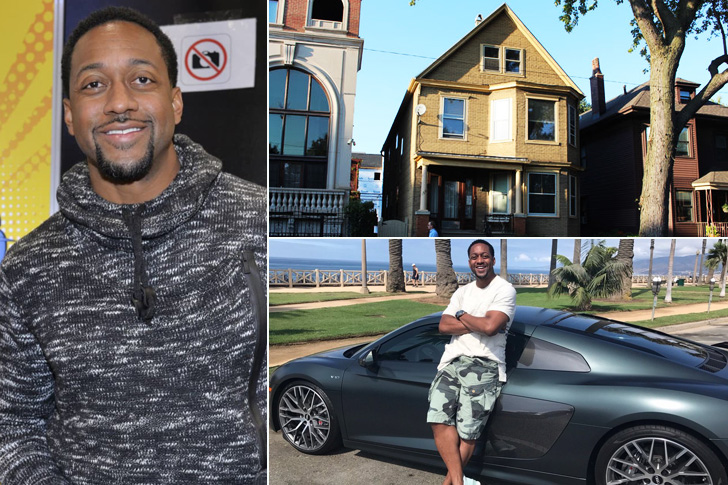 American actor and screenwriter Jaleel White has a net worth of around $8 million. He is best recognized for his role as Steve Urkel on the hit TV sitcom Family Matters. The show ran for almost 10 years and it is without a doubt that his role in it helped increase his credit score. White earned $180,000 per episode and he was actually on 204 of the 215 episodes of the show. If we add all that up, the actor would have earned an approximate amount of $8 million per season!
Aside from the show, the actor has also appeared in more than 20 films and has won numerous awards. Including Dreamgirls and Who Made the Potatoe Salad in 2006, Call of the Wild in 2009 and The 15:17 to Paris in 2018. He also voiced Sonic, the popular video game character. Given that he has earned so much, we hope he's thought about making proper investments as well.
Regis Philbin | $150 Million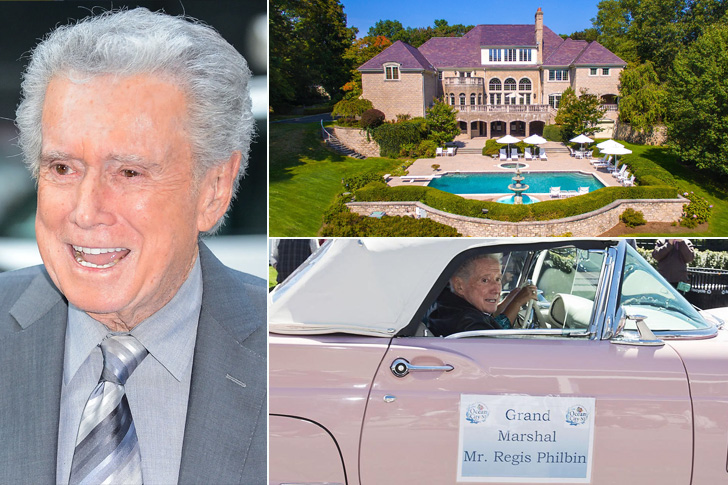 Regis Francis Xavier Philbin was an American TV presenter, actor and singer. He was believed to have earned a net worth of $150 million before he passed away. This doesn't come as a shock to many as Philbin is known to be one of the most hardworking men in show business. His hard work has earned him numerous awards and honors. Philbin has won seven Daytime Emmys and was inducted into the National Association of Broadcasters Hall of Fame and Television Hall of Fame in 2006.
In fact, not many know this, but the actor holds the Guinness World Record for the most hours recorded on US television. The game show host is most known for his time as a host on Who Wants to Be a Millionaire. With a net worth as big as his, Philbin really knew where to put his investments and spent it on lucrative properties. Sadly, the industry lost such a hardworking man.
Samuel L. Jackson | $250 Million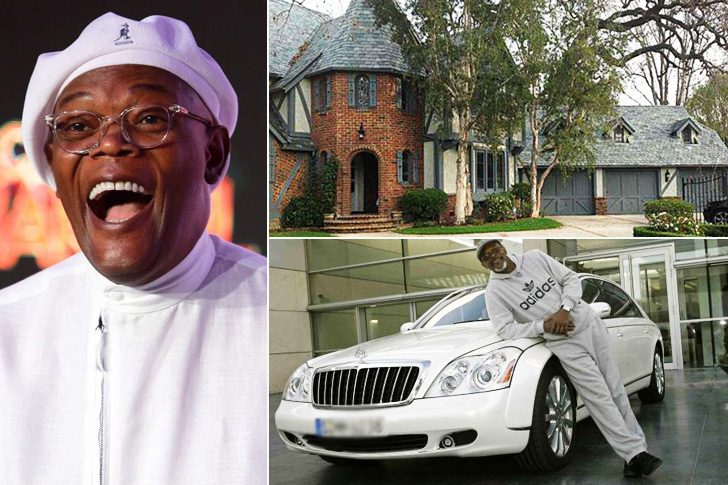 American actor and producer Samuel L Jackson is known by many of today's generation as Nick Fury of the Marvel Cinematic Universe. Before this role, he was best known for his outstanding performance in the film Pulp Fiction. For it, he received a nomination for the Academy Award for Best Supporting Actor. Jackson has over 150 films under his belt, He is one of the highest-grossing actors of all time.
Excluding guest appearances, his films have grossed more than $16.7 billion worldwide, So it isn't too surprising that he has a net worth of $250 million. Most of the movies the actor has starred in is usually a big hit and he probably doesn't need to hesitate whenever he has to invest in or purchase something. He wouldn't even need loans for it. Other than starring in movies, the actor has also starred in various TV shows.
Chuck Norris | $40 Million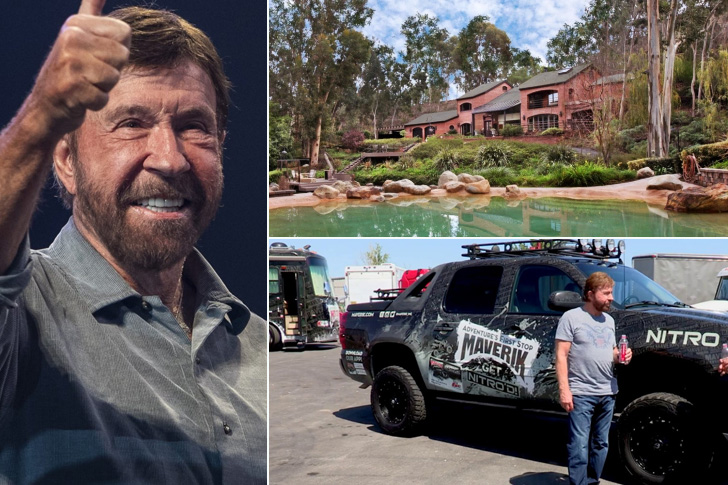 American martial artist, actor, film producer, and screenwriter, Carlos Ray "Chuck" Norris is one of cinema's finest action stars. Norris had served the United States Air Force and had won many martial arts championships before he went into acting. He has even founded his own discipline called, Chun Kuk Do. Norris is also known to have trained many celebrities in martial arts and has also appeared in many roles. In the beginning, the actor didn't really take being in movies seriously.
Fortunately for his fans, his friends were able to convince him to give it a try. He is best known for his fight with Bruce Lee in the Roman Arena in the 1972 film Way of the Dragon and has been hailed as one of the most memorable scenes in the martial arts film world. With his talent and his performances, Chuck found success. While he has mostly retired now, his hard work earned him a net worth of $40 million.
Barbara Walters | $150 Million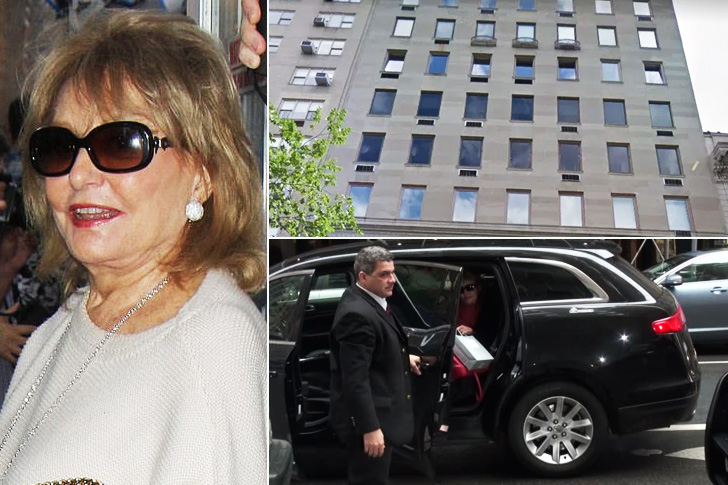 Barbara Jill Walters is a well-known American broadcast journalist, author, and TV personality. Most of us have probably seen her as a host on numerous TV programs such as Today, The View, 20/20 and the ABC Evening News. The broadcast journalist is well-respected for her interviewing ability and her popularity with the audience. Walters has given us the latest and most factual news since 1951, until her retirement in 2015.
Walters has been awarded many awards during her impressive career. The TV Guide ranked her 34th on its "50 Greatest TV Stars of all Time" list in 1996. Her career lasted for about six decades and earned her a net worth of $150 million. After dealing with some health issues, and admitting to having an open heart surgery, the broadcast journalist is now happily retired and is probably busy spending her hard-earned money on life's luxuries and of course, her health insurance.
Kelly Ripa | $120 Million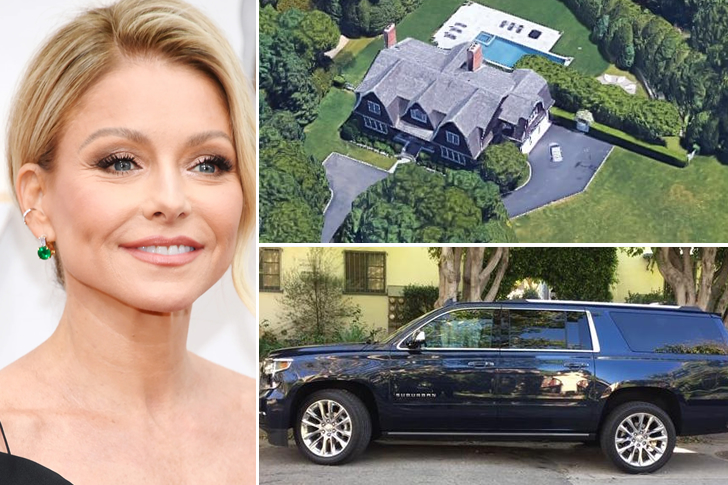 Kelly Ripa has made herself known for so many things. She is an actress, dancer, talk show host, journalist, and TV producer. There are a lot of things that this 50-year-old actress can do, so it is no surprise that Ripa has managed to save $120 million net worth. Ripa rose to fame as party girl Hayley Vaughn Santos on ABC Soap opera All My Children, where she also met her future husband, co-star Mark Consuelos.
Her annual salary is a whopping $22 million, and she probably needs the help of a financial advisor to guide her with her finances. Of course, Ripa also gets the help of her famous husband, Mark Consuelos. Together, the power couple built a legacy that has made them one of the most affluent couples in the industry. They are both busy making a living in their own fields, cashing on their professions as an actor and a host.
Ron Howard | $200 Million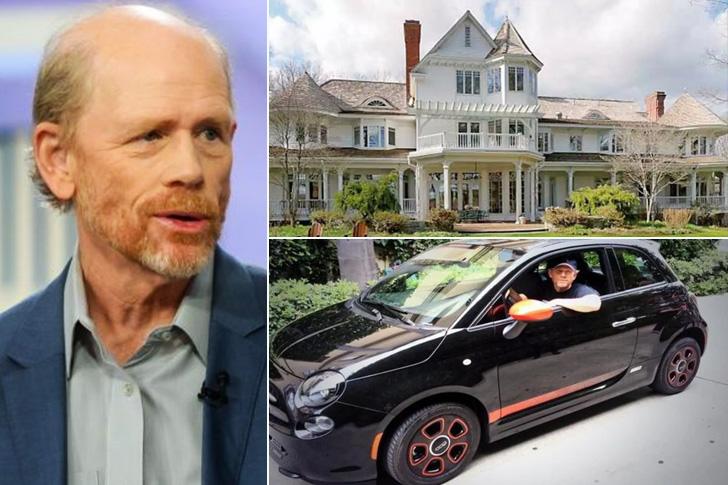 Ron Howard is an American actor, director and producer. Howard started acting from a young age. His first role that received much recognition was in the sitcom The Andy Griffith Show. Although he has received good reviews and awards for his performances, even appearing in classics like "American Graffiti," his interest has always been in directing. When he was 18 years old, he was already shooting videos with super 8mm machines.
Howard reportedly has a net worth of $200 million and he has investments in his own film and TV production company Imagine Entertainment. He also invests in real estate, including a $5.6 million apartment in Eldorado Building located in New York. Aside from their New York apartment, Ron and wife Cheryl Alley also own a 33-acre estate by a lake in Greenwich, Connecticut. This property is worth $27.5 million. All wise investments for the talented director.
Monica Lewinsky | $1.5 Million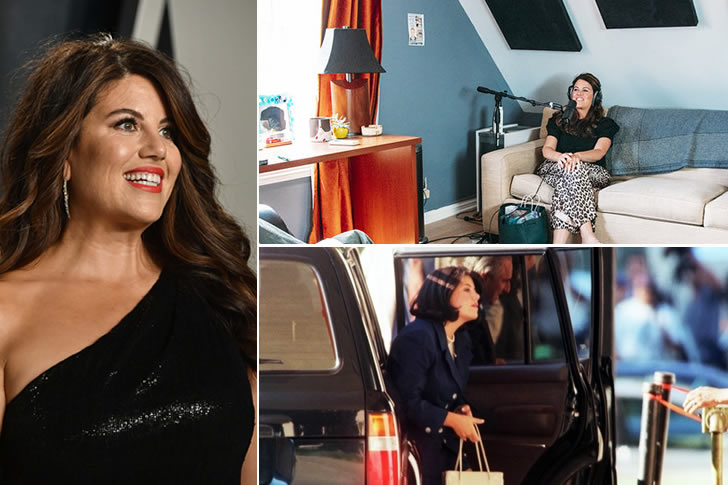 It's not the first time that Monica Lewinsky has made social headlines, but the less glorious things have gone with the wind. She is now an American activist and TV personality against bullying, with a net worth of $1.5 million. Monica was born on July 23, 1973 in San Francisco, California. After becoming infamous in the 1990s, she disappeared from public view for more than a decade and then obtained a master's degree in social psychology from the London School of Economics in 2014.
In 2014, she wrote articles for Vanity Fair and began to return to the public eye as a social activist against social bullying. She also appeared in the National Geographic Channel's special programs The 90s: The Last Great Decade and Forbes in the "30 Under 30" event to convey to the public: against cyberbullying. In addition, she published Monica's Story and became the producer of the third season of American Crime Story. She kept working and accumulated a lot of wealth for herself.
Snoop Dogg | $150 Million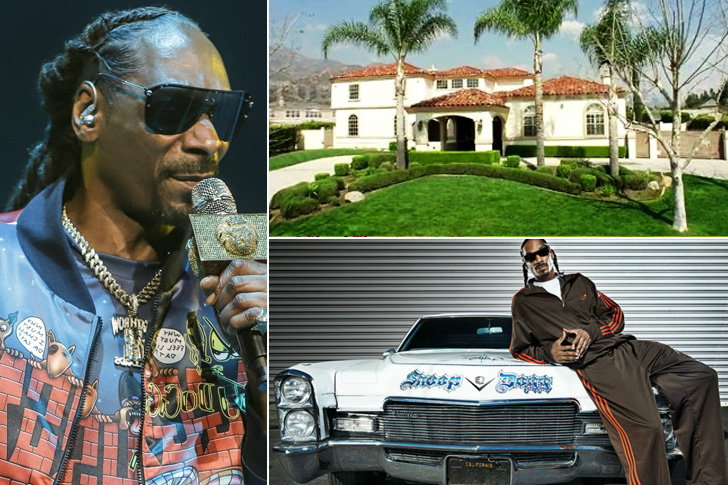 One of the most successful rappers of the 1990s is Snoop Dogg. The West Coast based rapper, singer, songwriter, producer, media personality, entrepreneur, and actor was discovered by Dr. Dre. Before Dr. Dre got his foot in The door on The Chronic, Snoop Dogg was just a slum-like poppy, so it's true that chance makes a man. Their first collaboration was The origin of gangster rap. Snoop Dogg paints a new American dream for his listeners in his own style.
With the number of skills and talents Snoop Dogg has, it only follows that he managed to earn a net worth of $150 million, as well as a good credit score. He has a number of business ventures and also invested $2 million into his own home. The rapper had it extended, from 3,500 square feet to 6,500 square feet. Aside from real estate, he is also known to have a collection of luxury cars, including a Parisienne, a Phantom, a Coupe Deville, and a Challenger SRT8 to name a few.
Pat Sajak | $70 Million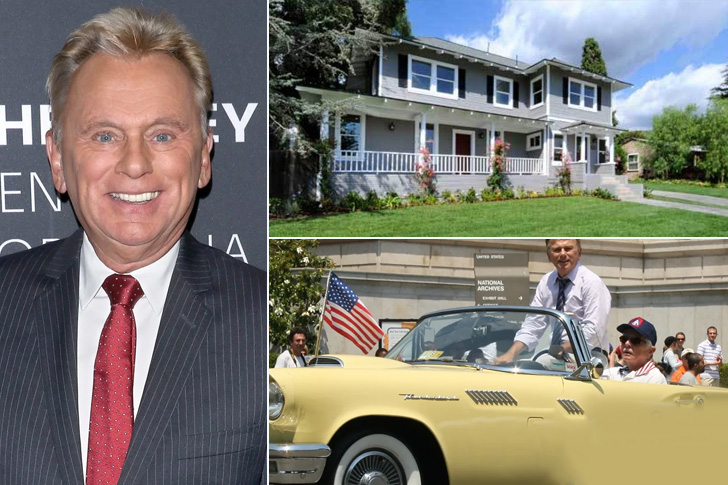 Pat Sajak formerly initially worked as a weatherman before becoming the TV personality, actor, and game show host we know today. He is reported to have a yearly salary of $15 million. Over the course of his career, he managed to earn a net worth of $70 million. Sajak is most known as the host of the popular game show Wheel of Fortune, for which he has been the host of this show since 1981 and has now aired 34 seasons.
He now records four days a month, or 48 days a year. On a per-show basis, Sajak earned $52,083 per show. Sajak started his career in the industry as a news anchor for a local radio station, while he was still studying for his college degree. He made the right decision to get into broadcasting since it opened up many opportunities for him. Including the ones he has at present.
Tom Selleck | $45 Million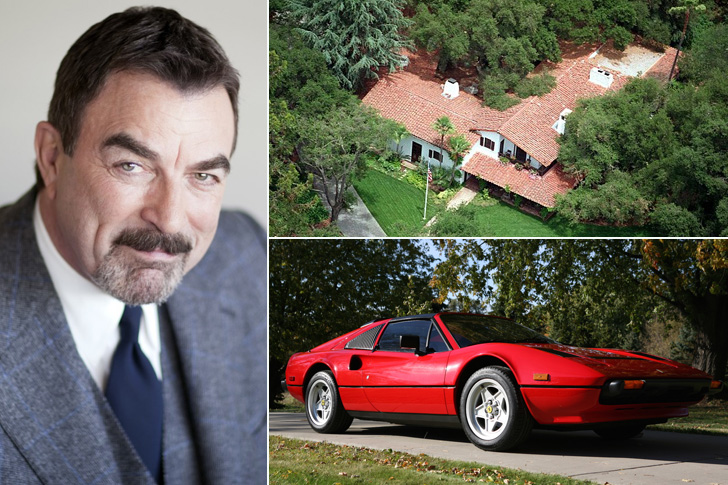 American actor and film producer Tom Selleck has a net worth of $45 million. Before getting into acting, Selleck lived in California with his family. The actor took up a degree in Business Administration at the University of Southern California where he had a basketball scholarship and played for the USC Trojans men's basketball team. Selleck didn't finish his senior year, though. He dropped out after a drama coach suggested he try acting and went on to study at the Beverly Hills Playhouse.
The actor had appeared in commercials before landing movie roles. His great performances led to bigger opportunities, which established his name as one of the most accomplished actors in the industry. His film resume says it all! Selleck and Jillie Mackay have been married since 1987. They currently live in California and have real estate in Maine. In addition, Tom Selleck, who owns his own avocado plantation, says he prefers working out on a plantation to working out in an indoor gym.
Joel Osteen | $100 Million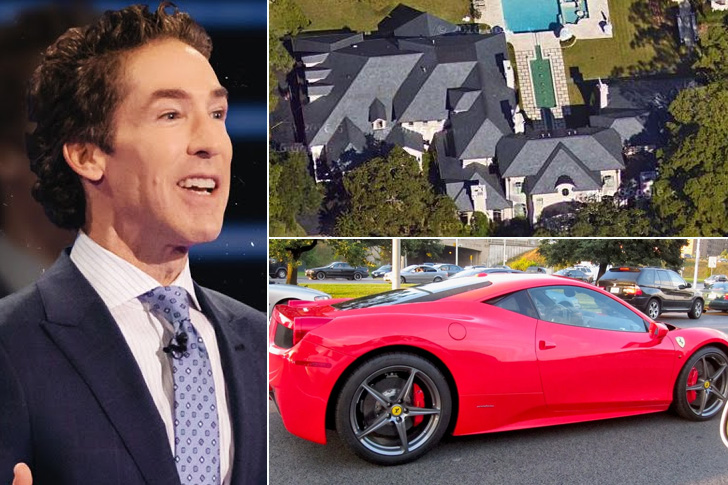 Joel Osteen is often talked about for his net worth of $100 million. Osteen has earned this from preaching as a televangelist and his work as an author. The pastor has greatly influenced Christians especially in the United States with his teachings about the way of the Lord. Osteen has often emphasized that individuals shouldn't be possessed by human wealth, but at the same time is believed to own plenty of luxurious and expensive assets.
According to reports, Joel Ostern's book sales, radio shows, public speaking fees, and church donations can bring in more than $70 million in total annually.
The pastor owns three homes, a River Oak mansion which cost $10.5 million, a Tanglewood home worth about $2.9 million, and he also owns a vacant lot near it that is worth $1.1 million. All these investments are shared with his wife Victoria Osteen and their two children.
John Travolta | $250 Million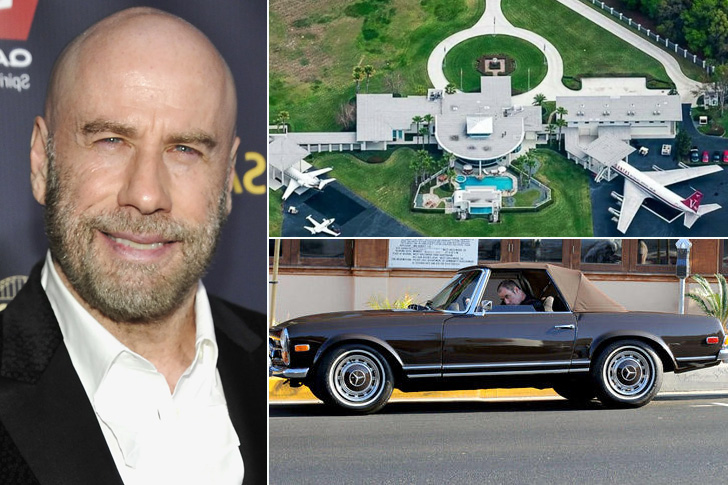 American actor, singer, producer, and dancer John Travolta is famous around the world. His most notable films include the musical film Grease (1978), Pulp Fiction (1994), and Hairspray (2007). These are still often watched by fans to this day. Prior to his TV and film career, Travolta was a theater performer in New York.
His success has brought him a net worth of $250 million. Dropping out of high school and opting out of getting a degree was a risk worth taking for the actor.
Travolta currently owns different estates in LA's Brentwood neighborhood, Calabasas, Maine, Clearwater, Florida and Ocala, Florida. The family used to stay and vacation in their many different properties, especially since Travolta can easily fly them there.
His estate in Ocala is unique, llocated in a community called Jumbolair Aviation Estates. This community is a working private airport for large aircraft. They were some of the first purchasers of this land.
Clint Eastwood | $375 Million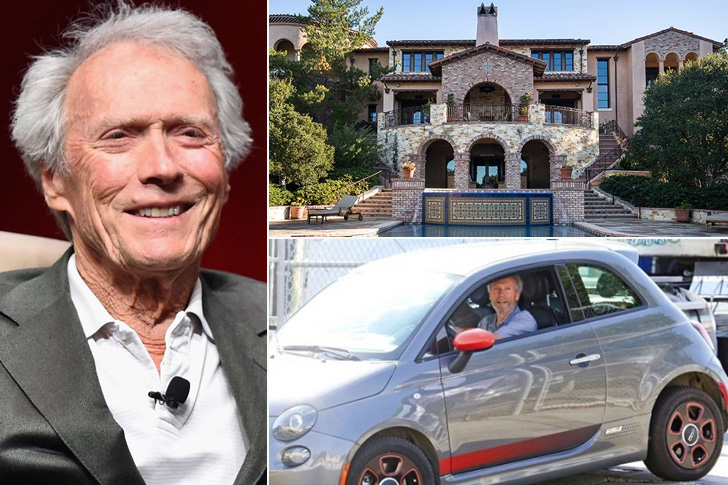 Clint Eastwood is an American actor, musician, and filmmaker. Eastwood has been in numerous films. His role as the Man with No Name on the Dollars Trilogy by Sergio Leone helped his rise to international fame. He has also directed a number of successful movies, including the award-winning Million Dollar Baby in 2004 and Gran Torino in 2008.
The actor has a net worth of $375 million and is known to put some of his money into buying cars.
Eastwood owns a Ford Roadster, a Lincoln K-Series Convertible, an Austin Healey, a Cadillac Elardo Series 62 Convertible, a Jaguar XK150 Roadster, a Morris Mini Countryman 'Cooper S', and a Ferrari 275 GTB to mention a few.
The 1992 GMC Typhoon was one of Eastwood's favorite cars. "Typhoon" can reach a speed of 60 miles per hour in 5.3 seconds, which was very fast in the 1990s. As a limited-production car, its value will certainly soar. He has ample home security for this collection!
Janet Jackson | $190 Million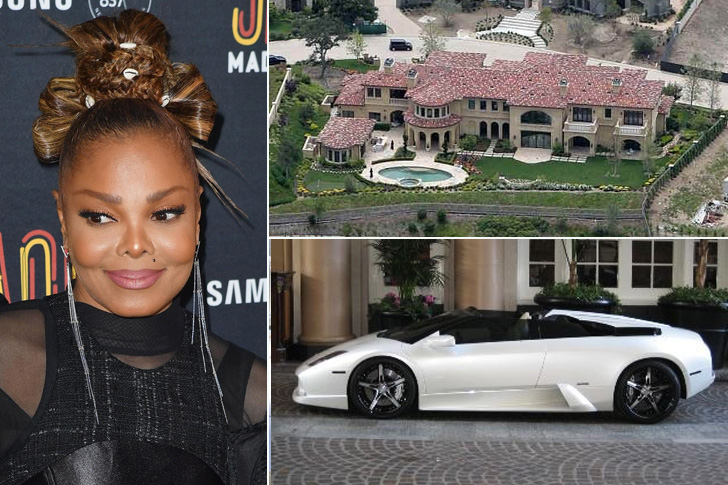 With soul music and vigorous dance as her capital, Jenny is recognized as one of the most commercial and artistic pop female singers in the 1980s and 1990s, and a super queen of Western pop music.
With how long Janet Jackson has been in the industry, not only has she established herself as an icon, she has also earned millions. The youngest Jackson is reported to have a net worth of $190 million.
After her rise to fame with The Jacksons, she decided to go solo and found success for herself in the industry as well.
The singer's 2,094 square feet apartment in the Trump International Hotel & Tower building costs around $30 million. This is known to be one the most expensive New York apartments, only second to the $44 million purchase of media mogul Rupert Murdoch. If this does not speak of her success, maybe her other properties, business investments, and luxury cars would.
Ali Macgraw | $6 Million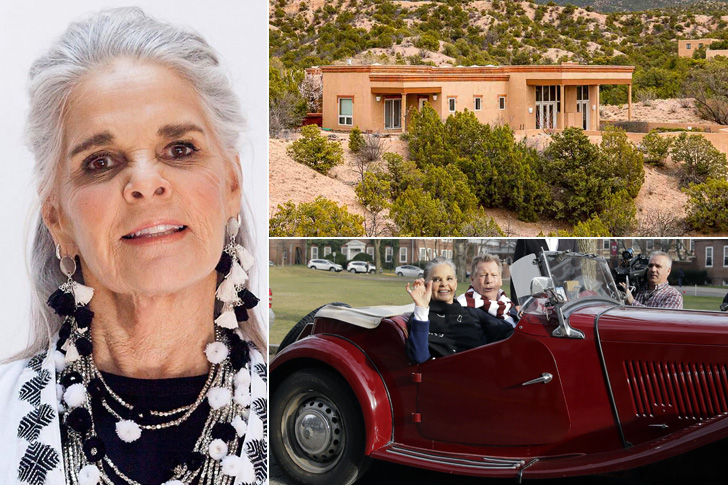 Ali Macgraw is known in the industry as an actress, author, and animal activist. She began her career in fashion, as a photo assistant, before receiving an opportunity to try out modeling. From a successful career in the fashion industry, she eventually began landing acting roles. Prior to this, she had been very passionate about studying art and was pursuing a degree at the prestigious Wellesley College in Massachusetts. As an actress, she won an award for her impressive performance in Goodbye, Columbus in 1969.
She reportedly has a net worth of $6 million. Macgraw has an impressive film resume and is one of the most well-known actresses of her generation. The actress now lives in Tesuque, New Mexico, where she lives a low-profile life.
Macgraw has her own point on net worth. She believes that if you want to improve your financial situation, there is no other way than to work hard.
O.J. Simpson | $3 Million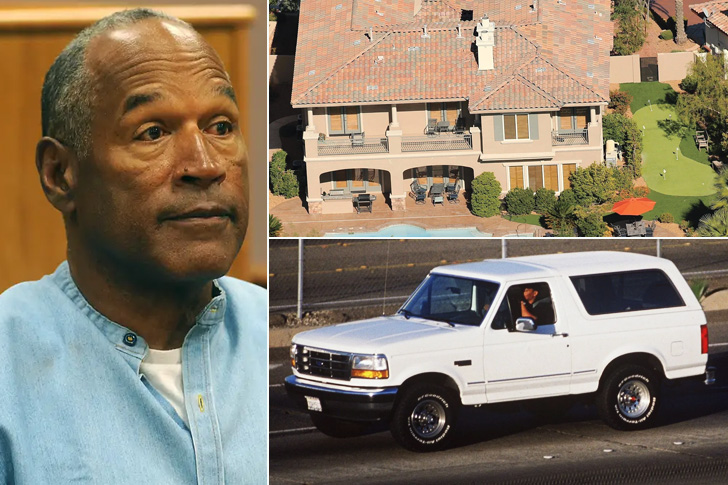 Former professional football player, sports commentator, and actor OJ Simpson has a net worth of $3 million. Simpson had a rather rough childhood, but things later changed for the better. He later met Willie Mays, a baseball star who inspired him to get his act together. By changing the path that he was on, Simpson found much success and even played football for the University of Southern California under a scholarship.
In 1969, Simpson was drafted by the Buffalo Bills as the No. 1 player and negotiated a five-year $650,000 contract.
It was the largest contract in professional sports history at the time, which, adjusted for inflation, would be worth about $4.8 million today.
His career with the NFL is legendary and he still remains a favorite for many fans, even after he has retired. While he has faced a number of difficulties in recent years, which have cost him a significant amount of investment money, things are slowly looking up for the former athlete.
Parker Schnabel | $8 Million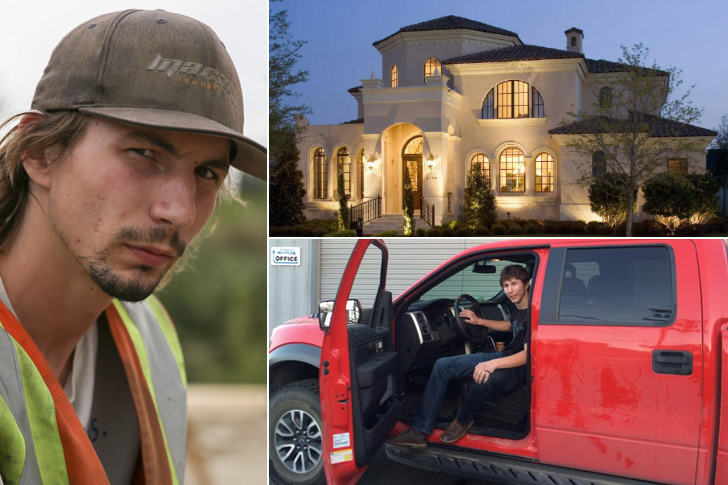 American gold miner and reality-TV star Parker Schnabel is known to have a net worth of $8 million. Schnabel is one of the youngest members of the reality-TV Show Gold Rush, but he is also one of the richest cast members on the show.
Not many may know about this, but Parker has been in the mining business since he was young. In fact, he apprenticed under his grandfather, John Schnabel, who was also on the show before he passed away.
Being an heir to this immeasurable investment, it is without a doubt that Schnabel is set for life. He took over the family business at the age of 16 years old and despite being quite young, his knowledge and experience helped him achieve great things.
Later he decided to leave his family and start his own business. In his first year running his own mining business, Parker discovered a staggering 1,029 ounces of gold. By age 24, Parker had mined more than $13 million worth of gold.
Phylicia Rashad | $55 Million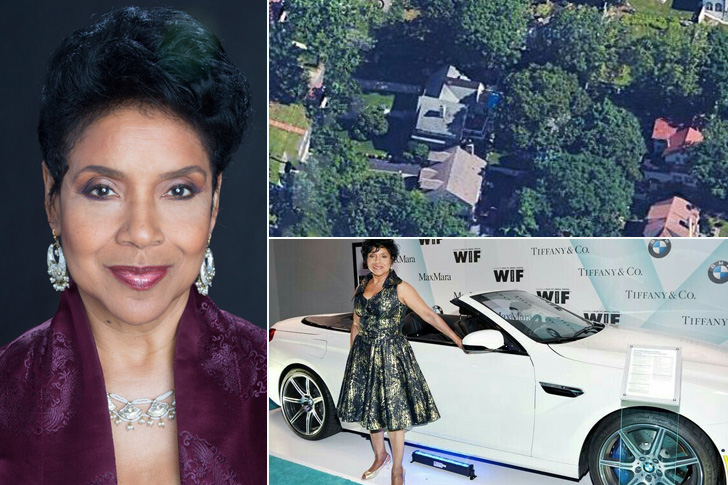 Phylicia Rashad is an American actress, stage director and singer. Rashad is well known for her role as Clair Huxtable on the long-running sitcom The Cosby Show, which lasted from 1984 until 1992. The actress is also the first African-American to have won a Tony Award for Best Performance by a Leading Actress in a Play, for her role as Lena Younger in the remake of A Raisin in the Sun in 2008.
Aside from receiving accolades, she has also managed to create more opportunities for herself.
Her roles in plays, films and television have brought her much wealth. Rashad's current net worth is estimated at around $60 million. Her role in The Cosby Show is widely admired and loved. To her credit, she also managed to establish her name as one of the industry's best actresses.
There is also a lot of income from her royalties which have been growing in value and look set to grow.
Wendy Williams | $40 Million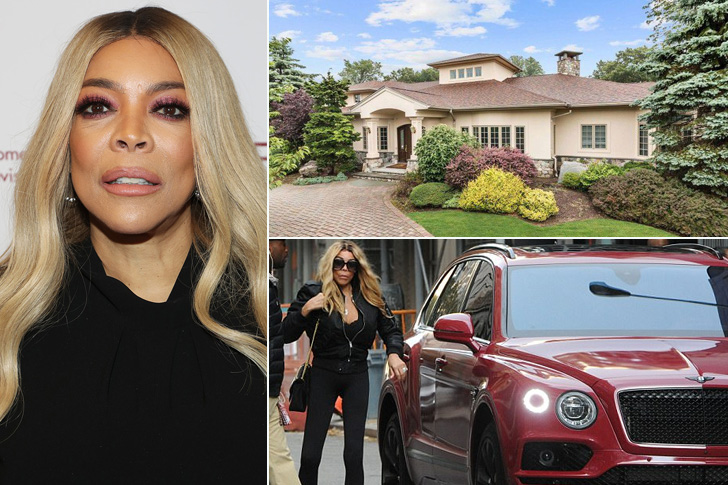 Wendy Williams is an American TV host, businesswoman, media personality and author who is known to earn $10 million every year. She reportedly has a net worth of $40 million. The actress made use of her Bachelors of Science degree in communications from Northeastern and turned it into a lucrative career.
Williams used to be a radio DJ before she became the host for The Wendy Williams Show. She has earned multiple Daytime Emmy nominations since the show's debut in 2008.
Her show has been very popular and achieved great success, with more than 1,500 episodes aired so far. The show ranked no. 1 among American women ages 25 to 54 in viewership in 2015.
The actress has also tried out film, theater, and even stand-up comedy. Her recent split with Kevin Hunter meant that she lost a number of assets during the process, but we're sure her finances won't take a nosedive because of it.
Tom Brady | $180 Million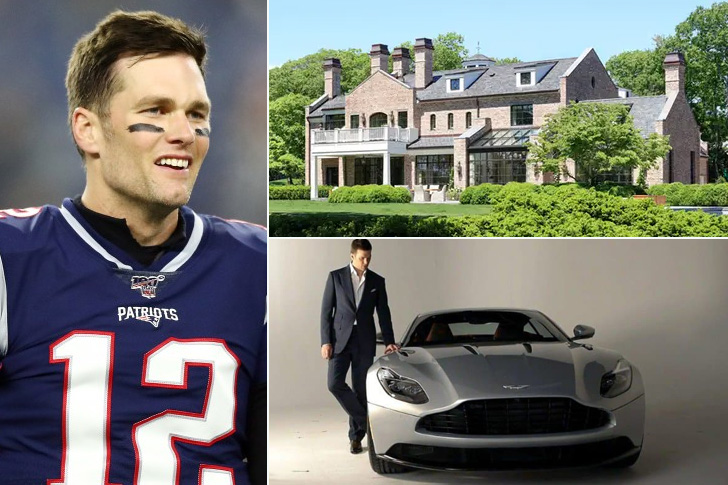 American football quarterback and model Tom Brady has absolutely no problem splurging on luxuries. He need not worry about his credit score, because he can always pay everything off. The professional athlete has a net worth of $180 million, after all. His wife, model Gisele Bundchen, also has a net worth of around $360 million. Having such wealth as a couple, we can be certain that they have great finance management skills.
Brady and Gisele Bundchen met through a mutual friend in 2006. They held a small wedding in California in February 2009, and in April 2009, the couple had a second ceremony in Costa Rica.
Brady is known to be one of the greatest NFL players to date and receives a salary amounting to about $30 million. This is on top of his numerous partnerships and endorsement deals. Being as dedicated in your career and always choosing to work hard will really get you far in life.
Matt Damon | $170 Million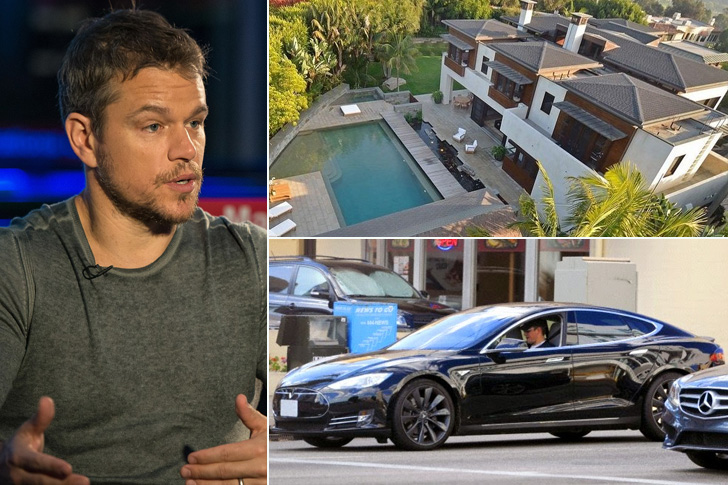 American actor, writer, producer, and philanthropist Matt Damon has worked hard to achieve his net worth of $170 million. The actor, who has received multiple credits for his performances in movies, continues to be very in demand in the industry. Damon has been active in film since the mid-1990s and is known for having been part of major box office successes. The actor has received plenty of awards and even has his own star on the Hollywood walk of fame.
Damon has also earned critical acclaim and a handsome salary for his work in George Clooney's Ocean's trilogy and as Jason Charles Bourne in the Bourne series.
He takes risks by performing his own stunts, which have left insurance companies nervous, but it earned Damon a great reputation in the industry. Damon reportedly owns a mansion in the Pacific Palisades area of Los Angeles, which cost him around $15 million. He is also known to keep a few luxurious cars.
Magic Johnson | $600 Million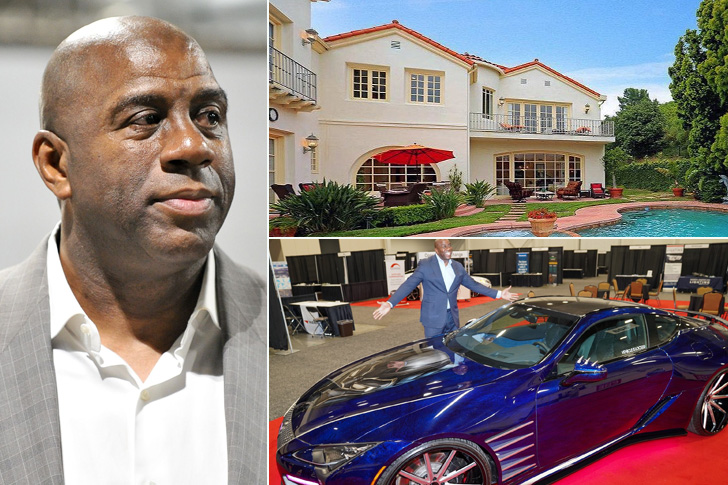 Magic Johnson is a retired American professional basketball player. He was born Earvin Johnson Jr. but earned the nickname 'Magic' for his undeniably magical skills on the court. Despite the fact that he has been out of the game for years now, he remains one of the sport's legends. It was he who brought more ideas, wisdom and skills to the basketball court, making the game watchable and competitive to a new level in the 1980s.
It isn't too surprising that Johnson has managed to earn a net worth of $600 million. What sets him apart from other retired professional basketball players is his wise decision to put his investments into different businesses. Johnson is now one of the wealthiest African-Americans to date. The retired baller also continues to have partnerships with multiple brands such as Starbucks, AMC Theaters, T.G.I. Fridays and 24-Hour Fitness to name a few.
Bruce Willis | $250 Million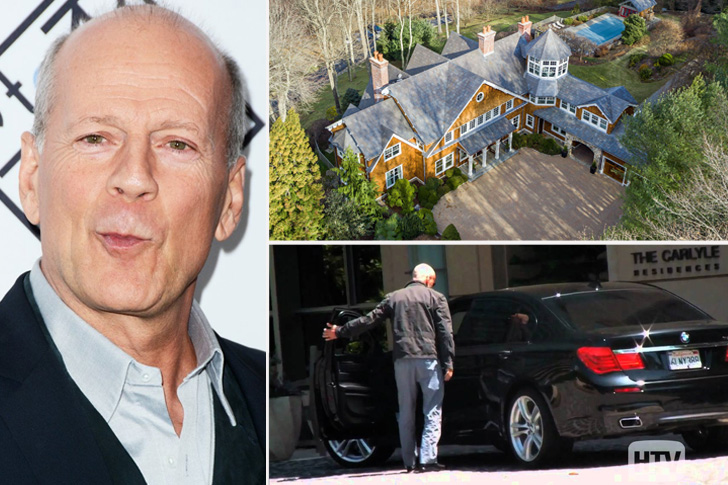 Bruce Willis is a well-known American actor and film producer, whose career began on the off-Broadway stage in the 1970s. He started gaining fame after landing the leading role in the comedy-drama series Moonlighting, which ran from 1985 until 1989. He has since won numerous awards and has been given credit for a great number of blockbusters. The actor is known to many for his roles in action films. Through his work, he has managed to earn a net worth of $250 million.
During the height of his career, Willis was also one of the highest-paid actors in the industry, earning a total of $100 million from his movie The Sixth Sense which was released in 1999.
In 1988, he began playing John McClane in Die Hard, a role that further consolidated his status as a television and film star. Regardless of inflation, Willis earned at least $52 million from the "Die Hard" series. Today, he remains one of Hollywood's brightest.
Ben Affleck | $105 Million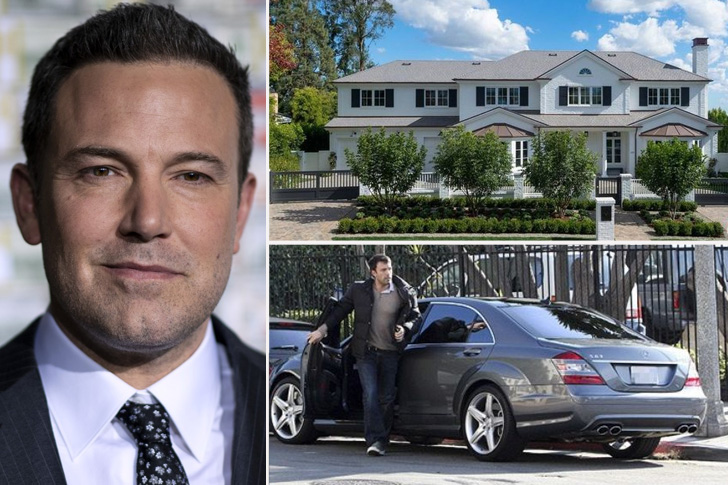 Ben Affleck is an American actor, screenwriter, producer, film director, and philanthropist who started his career on the PBS educational series The Voyage of the Mimi. From child actor, he has managed to slowly work his way up to more mature roles.
These days, he's one of Hollywood's most sought-after leads and has received many accolades for his work. He and Matt Damon won the Academy Award for best original screenplay for Good Will Hunting and best Picture for Argo, Affleck starring in both films.
He reportedly has a net worth of $105 million. This is from his many blockbusters, as well as for his work as a director. The actor also supports causes, such as the Paralyzed Veterans of America, the Eastern Congo Initiative, the A-T Children's Project, and Feeding America. Aside from philanthropy, he also put investments into a $19 million mansion in the Pacific Palisades.
Vanna White | $70 Million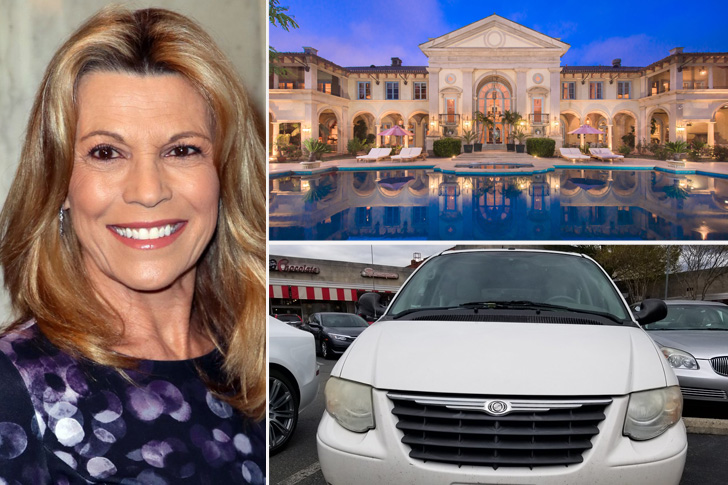 American TV personality, model, actress, and game show host Vanna White earn $10 million a year. The TV personality is best known for her work on Wheel of Fortune, which she has been part of since 1982. White started her career in acting during the 1980s. This was after joining Miss Georgia USA in 1978. That's quite a journey to where she is now! Did you know that she has even received a Guinness World Record credit? This is for having clapped an estimated number of 3,480,864 times on the 30 seasons of the game show!
White reportedly has a net worth of $70 million and a number of assets to her name. Given her work on the show, we're sure there's plenty more to achieve for the beautiful hostess!
White invested her earnings in apartment buildings. She bought a house in Sherman Oaks, California, for $1.125 million in 2013 and put it up for rent in May 2020, with a monthly rent of $20,000.
Lebron James | $450 Million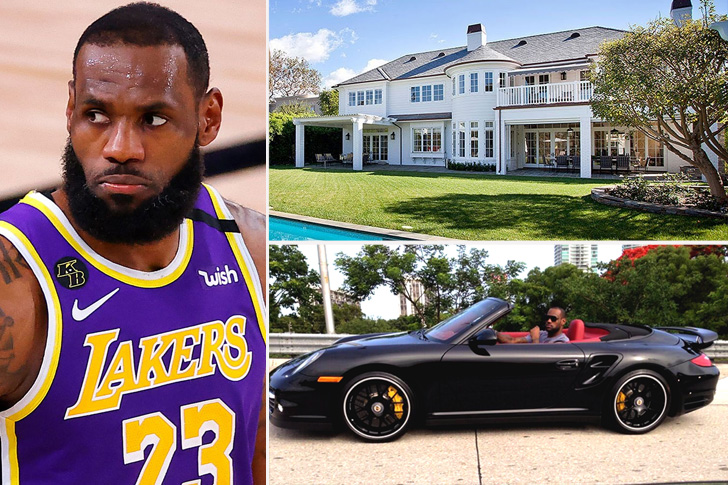 Lebron James is, arguably, one of the most successful athletes of this generation. He was drafted first pick overall by the Cleveland Cavaliers in 2003. He has three NBA championships, three Finals MVPs, and four NBA MVPs to his credit. He is expected to surpass fellow legends Kareem Abdul-Jabbar, Karl Malone, and Kobe Bryant who are all ranked at the top of the league's all-time scoring list.
James is also the 6th highest-paid NBA player and received a salary of $37.4 million during the 2019 to 2020 season. According to Forbes, back in 2018, James' estimated net worth was at $450 million. He earned more than $765 million from his business ventures, which includes a minority ownership stake in the English football club Liverpool.
Lebron James has signed a two-year, $85 million contract extension with the Lakers. By the time that his contract is up in 2023, LeBron's annual salary will reach $428 million.
JK Rowling | $1 Million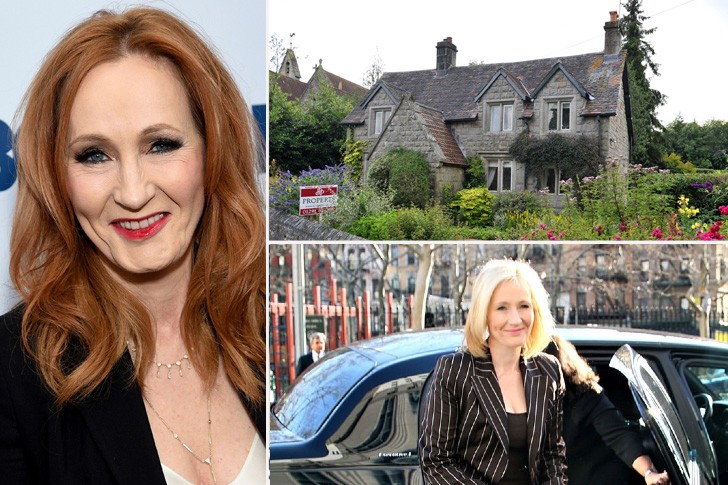 Joanne Kathleen Rowling, popularly known by her pen name JK Rowling, is the world-renowned author of the hit fantasy book series Harry Potter. Rowling finished her manuscript for Harry Potter and the Philosopher's Stone in 1995 and immediately began her search for a publisher. The book was submitted to twelve publishing houses, all of which rejected the manuscript. After the incessant defeat, Rowling, a single mother who was then living on income support of £70 almost gave up.
A £4,000 money loan from a close friend gave her hope to continue writing the series. To date, Rowling became one of Britain's richest private citizens and the first writer in the world with a net worth of US$1 billion. She was the world's highest-paid author for 2019 according to Forbes. Good on her for never giving up! Rowling is also using her wealth and power to support a number of charities and charities.
Max Von Sydow | $16 Million
Max Von Sydow was one of the most renowned actors during his day. His career spanned almost 7 decades and he has worked in European and American cinema, TV and theatre. Since Sydow's debut, he has worked on The Ingmar Bergman project. In the following ten years, he has filmed more than a dozen works by the director, most of which have become immortal classics. He is the only screen actor who has played both Jesus and the devil.
The Swedish-French actor appeared in hit films such as Shutter Island (2010), The Exorcist (1973), Citizen X (1995), and as the Three-Eyed Raven on the hit American fantasy drama series Game of Thrones.
Over the course of his long and illustrious career, Sydow had managed to earn a net worth of $16 million. With more than 150 films to his credit, Von Sydow has cemented his name as a legend in the industry. Sadly, he passed on at the age of 90 years old in his home in Provence, France.
Floyd Mayweather | $450 Million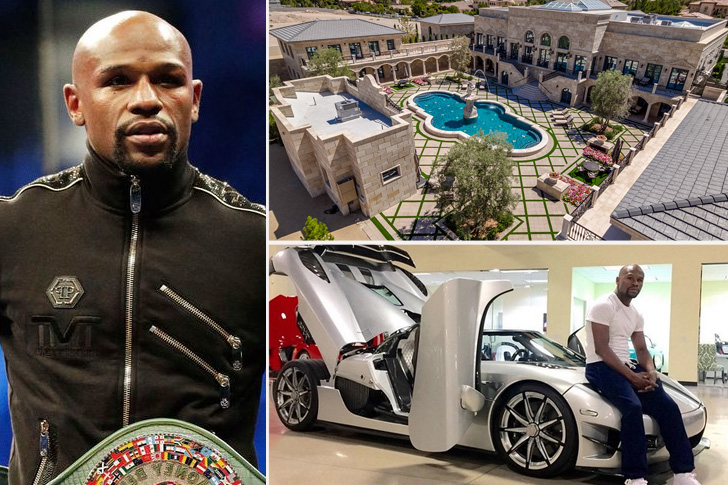 American professional boxing promoter and former professional boxer Floyd Joy Mayweather Jr. is known to have a net worth of $450 million. The boxer has fought other champs, including Manny Pacquiao, Oscar De La Hoya, and even defeated the famous mixed martial artist and boxer Conor McGregor. Floyd is the fifth highest-paid athlete of all time and one of only six athletes with a career income of more than $1 billion.
Given his aptitude for the sport, Mayweather has certainly earned the luxuries he indulges in.
Among these are the private jets that he personally owns. Mayweather is also known to be the highest-paid athlete in the world. The boxer is known to have money in various real estate located in Las Vegas, Beverly Hills, and New York. His chosen sport sometimes puts his health at risk, so we hope he has ample insurance as well.
Keanu Reeves | $350 Million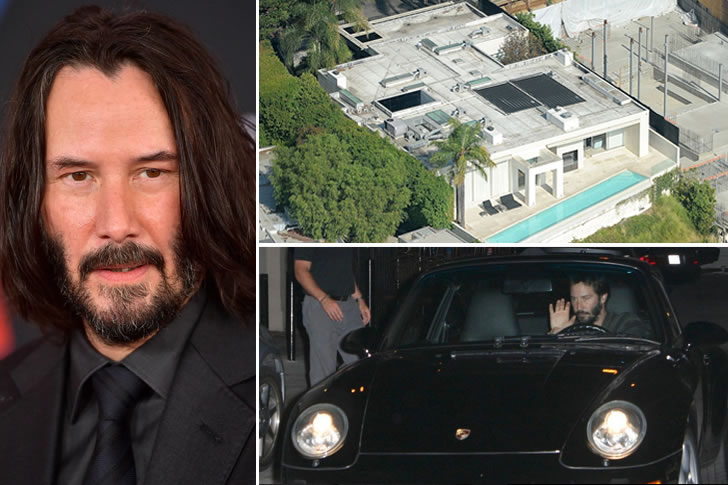 Keanu Charles Reeves is a Canadian actor who is loved by fans all over the world. The actor isn't just great at acting but is also known to be one of the kindest and most humble people in the industry. Reeves started by appearing in theatre productions before his film debut in Youngblood (1986). His career wasn't great at the beginning and he experienced numerous box office failures. When Reeves starred in the thriller The Devil's Advocate back in 1997, he caught the eye of many and it opened the door to more notable film roles.
He later received more praise after playing Neo in The Matrix, which grossed $1.6 billion.
Reeves currently has a net worth of $350 million thanks to the degree of hard work he puts into his roles. Keanu Reeves is definitely an outcast in the glitz and glamour of Hollywood, always a maverick, always unexpected … No matter what, The name Keanu Reeves will be firmly tied to the "The Matrix" and will last forever.
Will Smith | $350 Million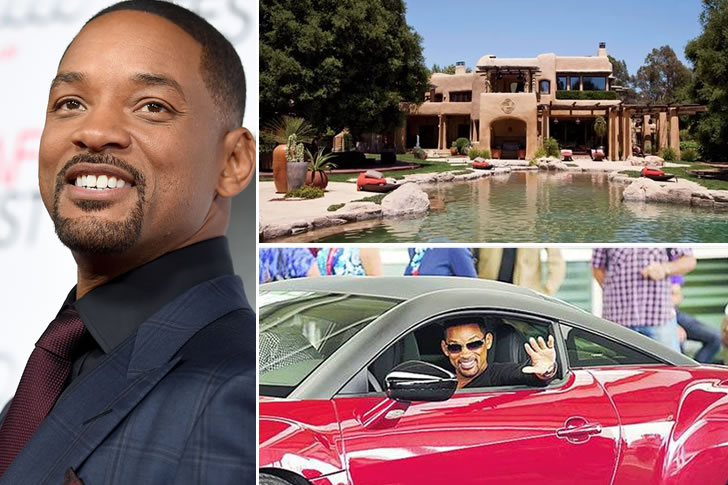 American actor, producer and rapper Willard Carroll Smith Jr., more famously known as Will Smith, got his big break after starring in the popular show The Fresh Prince of Bel-air, which ran for 148 episodes over 6 seasons. The actor is known to be one of the most influential people in the world. Smith has released albums as a rapper and has also gone into vlogging. His account gets millions of views and every video features a glimpse into their family's lifestyle.
His film career took off in 1995 when he co-starred in the hit action-comedy Bad Boys, for which he earned $2 million. Years later, he appeared in a sequel and earned $20 million. His film earnings now easily exceed $300 million.
Smith is known to have a net worth of $350 million, ensuring that his kids wouldn't have to worry about student loans if they ever choose to study. To this day, Smith remains one of the most bankable Hollywood stars with unmatched versatility.
Eddie Murphy | $200 Million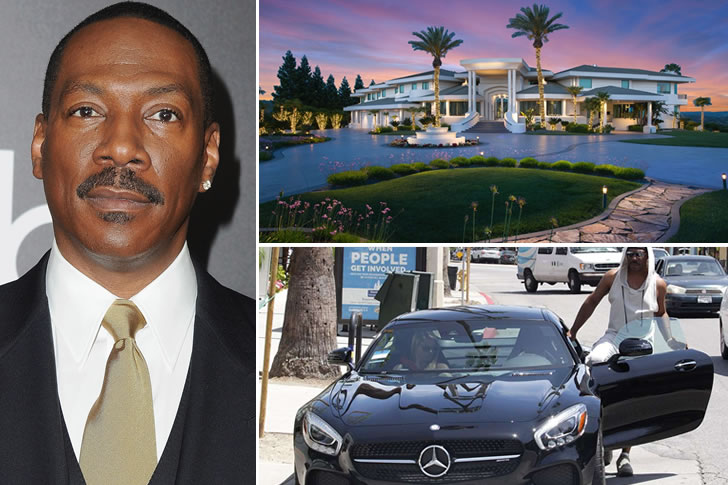 American actor, comedian, producer, and director Eddie Murphy did a great job with winning the world over with his great humor. He showed his talent for acting as a harlequin since childhood and was voted the "Most Popular Student" by the whole school in high school. In 1980, at the age of 19, Eddie Murphy joined "Saturday Night Live", established a unique street gangster acting with his self-consciously self-defamed, yet satirical and witty style.
His ability to tickle people's funny bones led to plenty of acting opportunities and a net worth of $200 million. The comedian is known to be one of the highest-grossing actors in the history of film, with his movies earning $6.7 billion over the years.
This makes also makes him among the highest-paid in Hollywood. During his four-decade-long career, he has maintained his reputation as one of the most bankable actors who can earn $20 million per movie. Murphy has a number of investments in real estate and is known to flip houses, which helps him earn more.
Drew Barrymore | $125 Million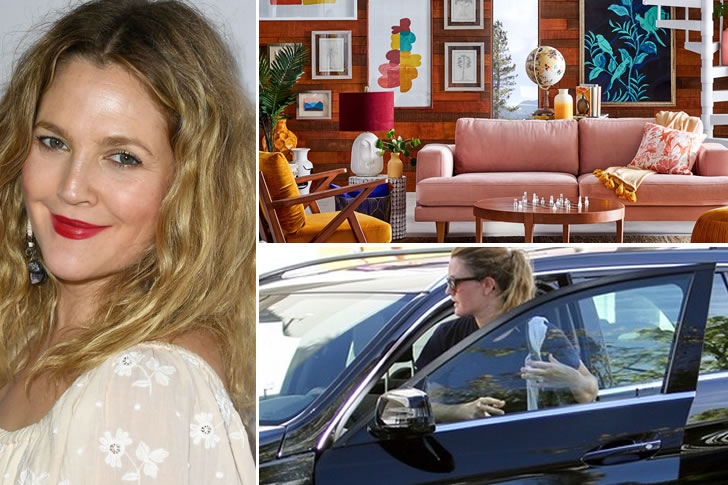 Drew Barrymore is an actress, producer, model, film director, screenwriter, author, and voice actor who has worked in the film and TV industries since she was a child. She is a member of the Barrymore family, a famous Hollywood acting family whose legend has lasted for 130 years.
Having been in the spotlight her entire life, it doesn't come as a shock that for the year 2020, the actress reportedly had a net worth of $125 million.
She started way back, making her debut in the film ET at the age of 6 years old. Barrymore was fortunate enough to have maintained her career even through adulthood. A feat not many actors can achieve.
In 2000, her first appearance in the Charlie's Angels series earned $9 million, and the sequel grossed $14 million. Over the years, Drew Barrymore has made headlines for various real estate deals. At present, the actress has put a lot of investments in business ventures such as her own cosmetic line, clothing brand, and even a signature wine.
Barbra Streisand | $400 Million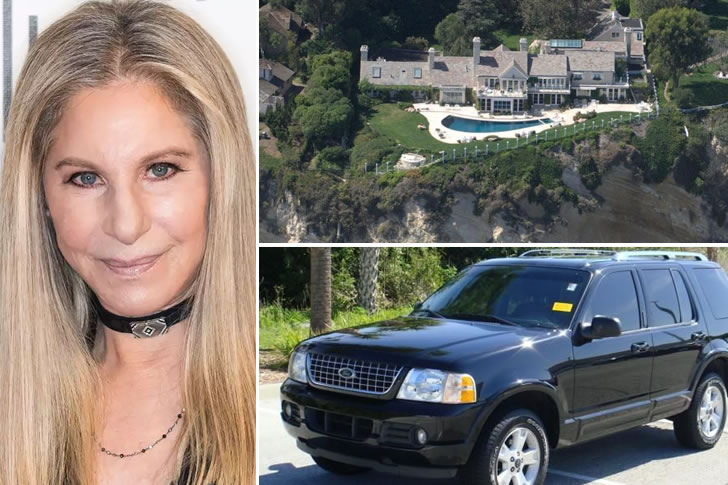 Barbara Joan Streisand is a legend in the music industry. The American singer, actress, and filmmaker reportedly has an estimated net worth of $400 million. The singer is the only one in history who has managed to release multiple number one albums over six consecutive decades.
In addition to her studio success, Streisand also set box-office records for touring. It is worth noting that her 2006 American Streisand: The Tour, including 20 performances, earned a total of $92,457,062.
Streisand probably never had to worry about personal loans since she isn't just successful in music, she's also an award-winning actress. Streisand is among the very few entertainers who have won an Emmy, Grammy, Oscar, and Tony Award. Her accomplishments are only a dream for many other artists. These show that all the hard work and sacrifices she has made since the age of 16 was well worth it. Streisand continues to wow crowds and fans to this day.
Leonardo DiCaprio | $260 Million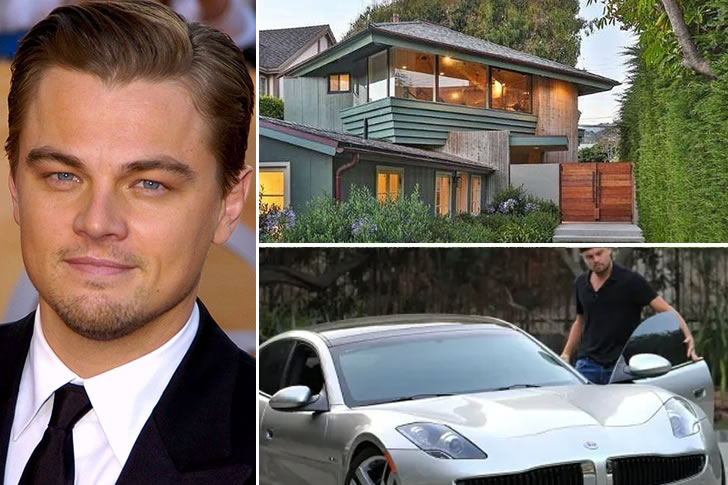 People used to poke fun at Leo for taking so long to win an Oscar, but we're sure he was relieved of this pressure after finally landing one during the 88th Academy Awards. The Oscar-winner isn't just a fantastic actor, however. Perhaps, he is best known for his work as environmentalist who supports various causes at his own expense.
After the success of Titanic, Leonardo established the Leonardo DiCaprio Foundation in 1998, which is a non-profit organization focusing on environmental protection.
Over the past two decades, the Leonardo dicaprio Foundation has supported more than $80 million in more than 200 environmental projects in 50 countries and all five oceans.
This shouldn't be a problem, given that all of his film roles and other businesses have led to a net worth of $260 million. The decision to forego pursuing a degree in marine biology paid off for him. He was barely an adult when he started acting, but he is now known as one of the best and highest-paid actors in the world.
Harrison Ford | $300 Million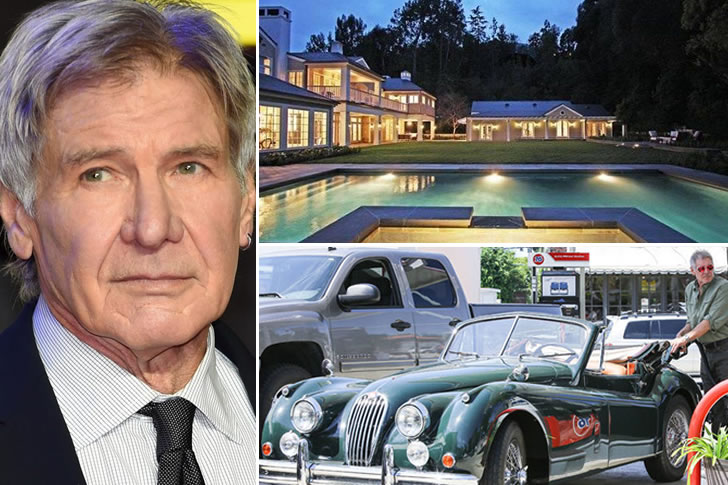 Actor and film producer Harrison Ford has an estimated net worth of $300 million. As a young adult, his introverted nature led him to try out drama classes to overcome his shyness. This was during his last year of college. The drama class he attended helped with bringing out the actor in him.
It certainly changed his fate, too. Ford started out as an extra during the 1960s and appeared on the big screen in 1967 on A Time for Killing.
Harrison had some small but memorable roles in Coppola's 1974 film The Conversation and 1979 film Apocalypse Now. But it was George Lucas's space epic Star Wars that made Harrison Ford an international superstar.
Seven of the films Harrison starred in have set the highest record in movie box office history. The actor earned $20 million per film during his peak and his movies are also known to have box office profits of $3.5 billion.
Von Miller | $40 Million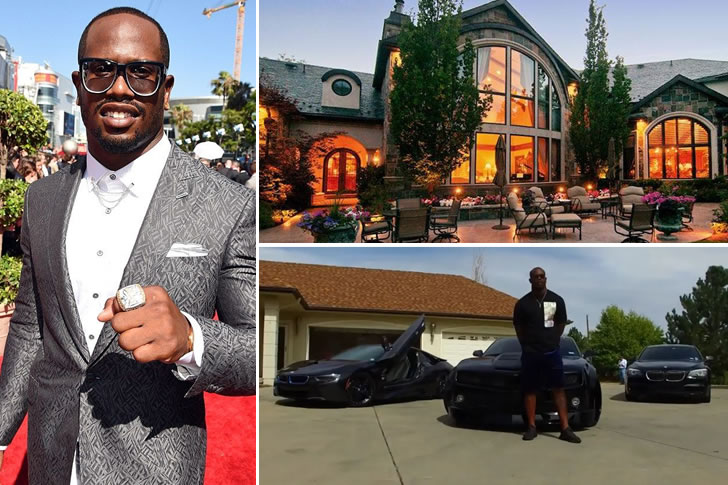 Von Miller is an American football linebacker who plays for the Denver Broncos. The athlete is known to earn a yearly salary of $15 million from his team and has a net worth of approximately $40 million. Miller played college football and pursued a degree at Texas A & M University. He was a renowned player, even back then. In his sophomore year, Von Miller played the jack position, a hybrid of defensive end and linebacker that allowed him to make the most of his superior passing ability. During his senior season, Miller played a 3-4 outside linebacker position.
After university, he started playing professionally during the 2011 NFL Draft. The football linebacker has since been signed with the Denver Broncos and is known to be a two-time Pro Bowl selection. He even managed to receive awards as a rookie. Through his salary and endorsements, he managed to earn $35 million between 2017 and 2018, an amount which is almost as big as his net worth.
Jessica Biel | $250 Million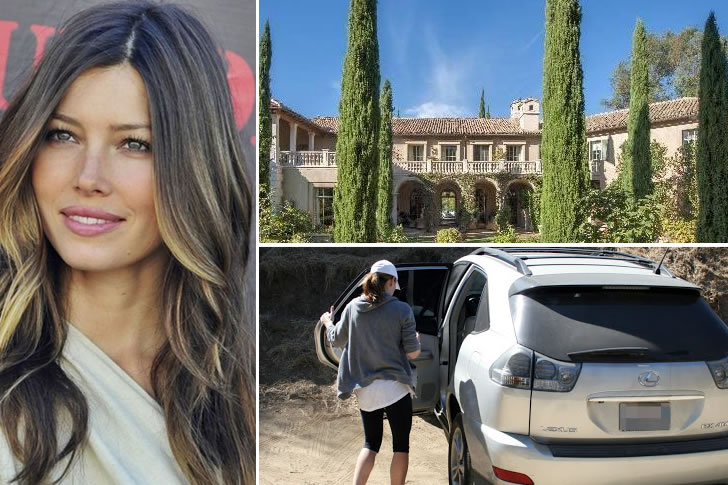 American actress, model, singer, and producer Jessica Biel reportedly has a net worth of $250 million. The actress, who is married to singer and performer Justin Timberlake, enjoys traveling with her family. They are also prolific when it comes to investments and never have to worry about mortgages when it comes to buying real estate.
Biel's acting career began at the age of 14 when she appeared in Ulee's Gold starring Peter Fonda.
The actress first rose to fame after starring in the long-running WB TV show 7th Heaven as the rebellious preacher's daughter, Mary Camden. This role is just one of her many memorable performances throughout the years.
When not working on film and TV projects, the actress spends time doing charity work, especially those that concern the environment. Like other celebrities on our list, she is generous with her blessings.
Kevin Costner | $250 Million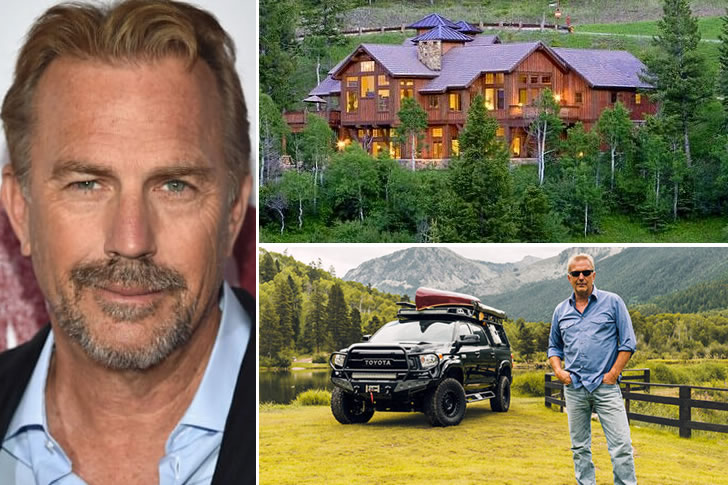 Kevin Michael Costner is an American actor, film director, and producer. Over the years, he has received Academy Awards, two Golden Globe Awards, a Primetime Emmy Award, and two Screen Actors Guild Awards. The actor began his career starring in Sizzle Beach, U.S.A. back in 1981. While he struggled in the beginning, he now has an estimated net worth of $250 million.
Prior to acting, Costner graduated with a Bachelor's degree in marketing and finance. Richard Burton was the push he needed to decide to chase his life-long dream of becoming an actor. He had very little money then so he did numerous odd jobs while attending acting classes. Costner had a slew of failed auditions, but his perseverance certainly paid off.
In 1990, he directed and starred in Dancing with Wolves and won seven Academy Awards including best film and best director.
Jim Carrey | $180 Million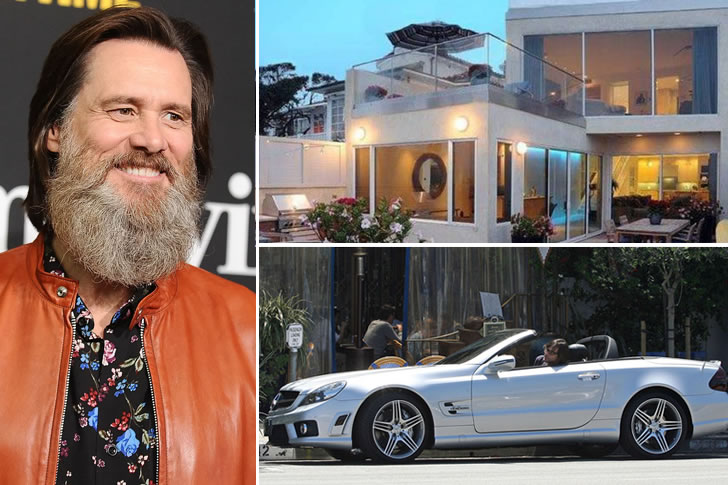 Canadian American actor, comedian, and producer Jim Carrey reportedly has a net worth of $180 million. The actor, best known for his contributions to comedy, was one of the highest-paid entertainers in the world during the 1990s and 2000s. He put the reality of life into the comedy performance, making the humor full of irony and mockery.
He is also the first actor who earned $20 million for a single film. Carrey didn't just make a name for himself in Hollywood, he also gets credit for raising the bar.
In terms of wealth, he makes smart choices. The actor has investments in real estate, owning a number of homes in the United States, one in Malibu, Brentwood and New York to name a few. He also owns a private jet, a Mercedes Benz SL63, and a Porsche Panamera.
The Buildings in the Brentwood area of Los Angeles are his longtime primary residence.
Jimmy Kimmel | $50 Million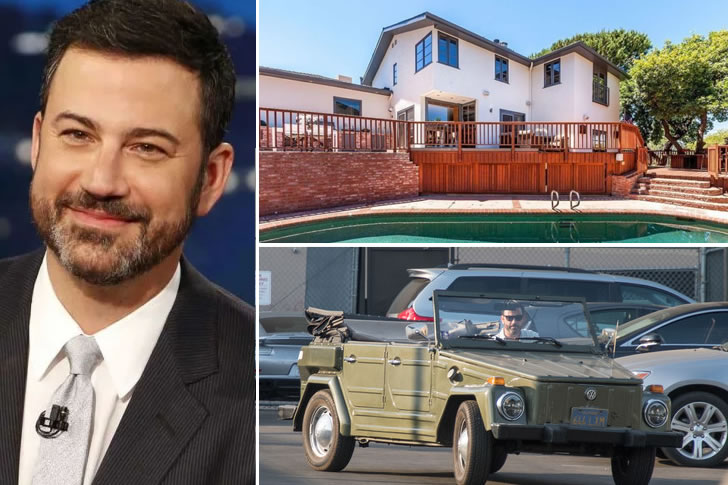 American TV host and comedian, Jimmy Kimmel reportedly earns $15 million every year. He is best known for hosting the late night comedy talk show Jimmy Kimmel Live. The highly-popular program first debuted back in 2003, just after he co-hosted The Man Show. Jimmy is widely admired for his witty, maverick hosting style. His most influential hosts are David Letterman and Howard Stern. Jimmy has also served as guest hosts for "Larry King Live" and "Live with Regis and Kelly".
Aside from having his own namesake program, another badge of honor that Jimmy Kimmel has is hosting the 2018 Oscars Awards. Kimmel was reportedly paid $15,000 for hosting the prestigious event, which is relatively low, but simply being there must have made up for it. Did you know that Kimmel initially had no interest in working in TV? We're glad he changed his mind because he now has an estimated net worth of $50 million just from hosting.
James Lipton | $6 Million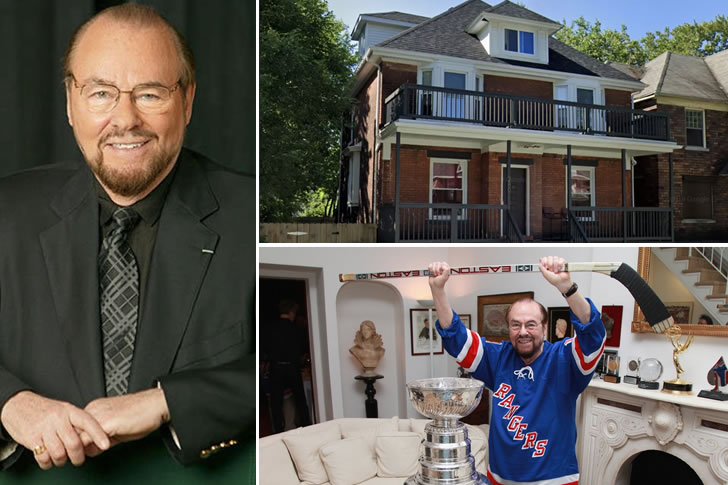 James Lipton lived as an actor, screenwriter, TV producer, choreographer, writer, pilot, presenter, and voice actor during the 94 years of his life. The well-known actor, who hosted Inside the Actors Studio, also won the respect of his colleagues and his audience. The show premiered in 1994 and was broadcast to 89 million homes in 125 countries through cable TV networks. In 17 years, more than 200 show business stars visited, including 74 Oscar winners.
Before he passed away, he was known to have earned an estimated net worth of $6 million. The actor, prior to entering show business, was actually on his way to becoming a lawyer. In fact, he merely used acting as a way to pay his bills while studying. Little did he know, he was meant to perform. Lipton was well-loved and received countless accolades during his time on the stage. His legacy will forever live on in the industry.
Michael B. Jordan | $25 Million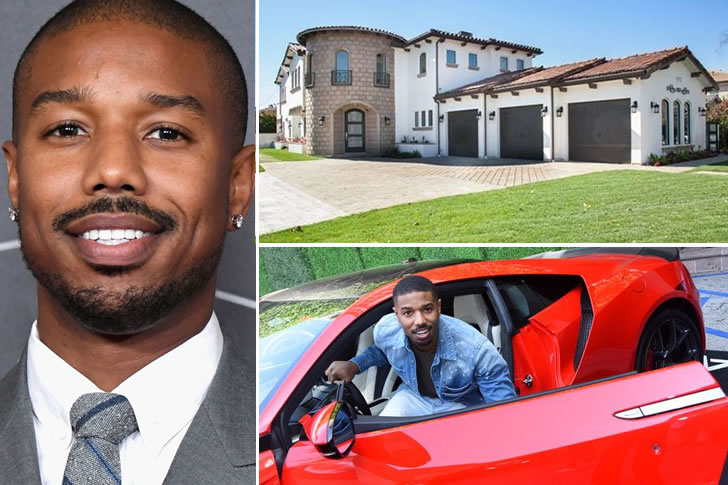 American actor Michael B. Jordan has an estimated net worth of $25 million, which is quite an increase from his 2019 net worth of $8 million. Jordan started out his career modeling for Toys 'R' Us and several other companies as a child, before he landed an acting role at the age of 12 years old.
In 2003, the 16-year-old Jordan replaced his future partner Bosman in the movie "Black Panther" and joined the ABC soap opera "My Children" to play the role of Reggie Porter. Bosman was fired from the show for refusing to play a racially biased role.
He has started out in small roles, but eventually saw more opportunities in bigger productions.
His career has visibly grown. The actor has put investments in a production company, has multiple films in the works, and has bought real estate properties in Sherman Oaks, California. We're sure his net worth will eventually rise further, given all the smart financial moves he has been making.
Reba McEntire | $95 Million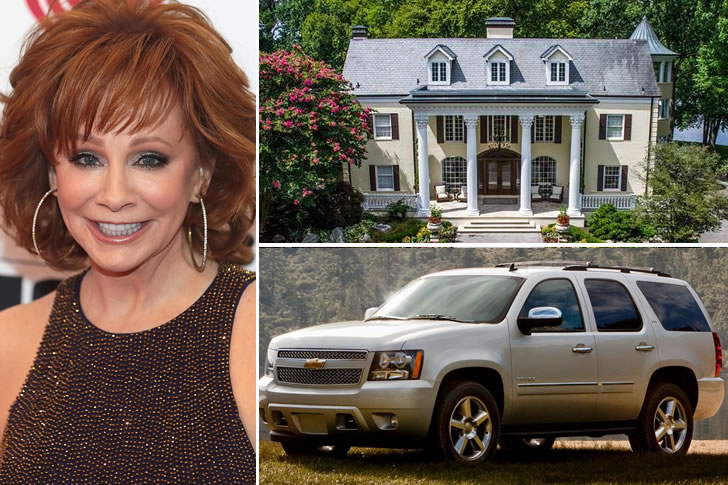 Reba Nell McEntire is a world-renowned country singer, songwriter, actress, and record producer. She started her career singing in the Kiowa High School band and performing on local radio shows, as well as at rodeos. McEntire later sang the National Anthem at the National Finals Rodeo in Oklahoma City while she was still pursuing a college degree at Southeastern Oklahoma State University. Her performance caught the attention of Red Steagall, a country artist, and she was brought to Nashville, Tennessee where she signed a contract with Mercury Records.
She has since released many albums and was given the title 'The Queen of Country'. Fifty million copies of her album have been sold, making Reba McEntire the most successful female singer in the country music industry after 28 years on the road. Not only that, she's also handy in Broadway, film and television. With her success, along with a number of business ventures, she has earned an estimated net worth of $95 million.
Julia Roberts | $170 Million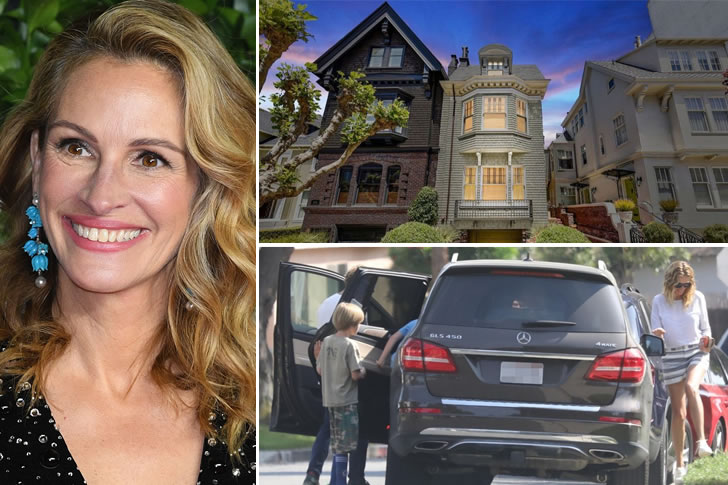 Julia Fiona Roberts is an American actress and producer who has won the world over with her role in Pretty Woman, which was released in 1990. This breakout role is responsible for the fortune and the big credit score that the actress currently enjoys. It also opened more doors for Roberts in Hollywood. The movie was reported to have grossed $464 million and made her one of the most in-demand leading ladies during the 1990s.
Today, she is still known to be the most bankable actresses. In addition to her salary and endorsements, she typically earns $20 million to $30 million a year. She may have laid-low over the years, but Roberts still has a net worth of $170 million. The actress also took her million-dollar smile quite literally—did you know her pearly whites are insured?
In March 2012, Roberts insured her smile for $30 million.
Cher | $360 Million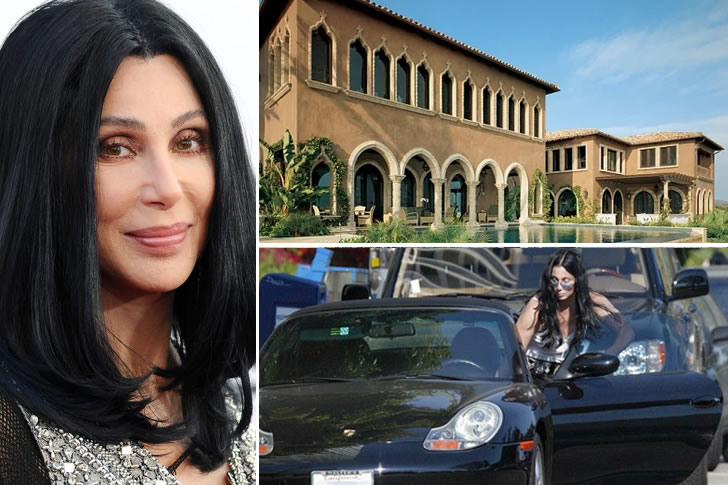 American actress, singer, TV personality Cher has a net worth of $360 million. With a career spanning almost 6 decades, the performer has been labeled by the media as the 'Goddess of Pop'. Her influence on the current pop culture is undeniable and her style and voice are truly unique. Prior to becoming Cher, she was known as Georgia Holt. She had minor roles in films and on TV, while also working as a waitress. Starting in 2008, she has starred in the Colosseum at Caesars for three years, which reportedly earned $180 million in revenue from the series.
The singer had no idea that she was going to take Hollywood by storm and amaze the world.
She also used to be a part the duo Sonny & Cher, before she took a chance at going solo. Cher also has investments in various businesses, which reflect her personal style. In the early 1990s, she made an estimated $10 million selling health, beauty and weight loss products in various ads.
Brad Pitt | $300 Million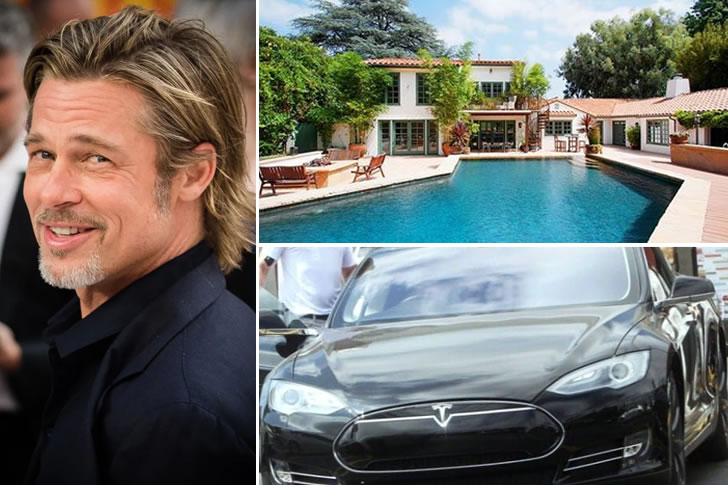 William Bradley Pitt is one of the highest-paid American actors and film producers. He has received numerous awards during his career and also starred in many box office films.
In 1991, Pitt's small role in Thelma & Louise earned just $6,000. But by the end of the 1990s, his base film salary had increased to $17.5 million. When Brad co-starred in Ocean's Eleven in 2001, he accepted a lower base salary in exchange for a percentage of the backend income, which he eventually made $30 million from.
Pitt was an athlete when he was in high school and had been a member of the tennis, swimming and golf teams, while also participating in debates and musicals. He pursued a degree in journalism at the University of Missouri, but later realized his love for film. Pitt then decided to move to Los Angeles to take acting lessons and worked odd jobs, while trying to break into Hollywood. He started out with small roles, which led him to become one of the best. Pitt reported has a net worth of $300 million.
Charlize Theron | $160 Million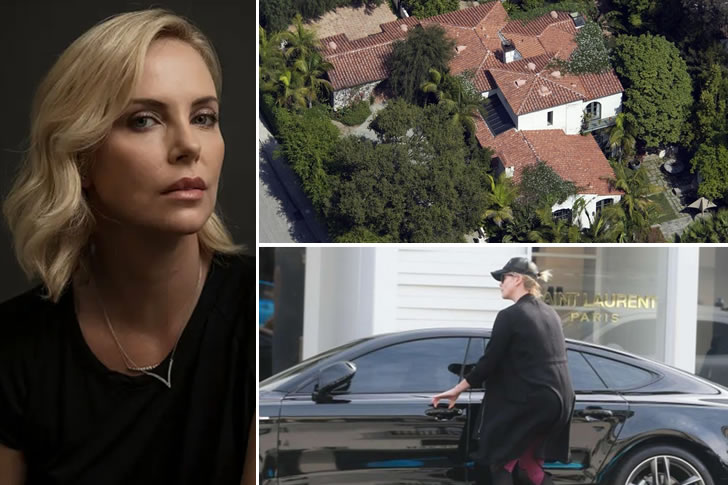 South African actress and producer Charlize Theron is known to have an estimated net worth of $160 million. She is one of the highest-paid actresses in the world and for goods reasons. Theron has received a number of accolades for her varying performances in films. She has been honored with an Academy Award and a Golden Globe Award. The actress was even named as one of the 100 most influential people in the world by Time in 2016.
Theron gained fame back in the 1990s, after playing the female lead in films like The Devil's Advocate (1997), Mighty Joe Young (1998), and The Cider House Rules (1999). The actress has garnered much credit for her perfect portrayal of her roles, no matter how difficult they may be.
In addition to her acting career, Charlize's endorsement earnings make her one of the highest-paid artists in the world, with an annual income that could easily exceed $30-40 million.
Georgina Chapman | $30 Million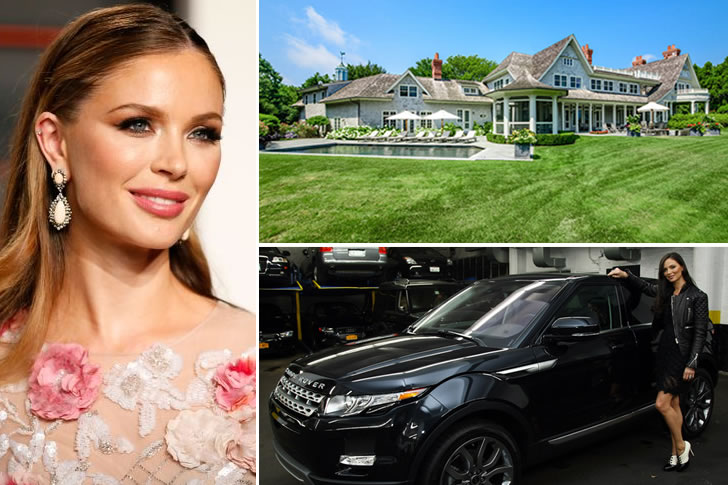 English fashion designer Georgina Chapman owns the brand Marchesa with her business partner Keren Craig. In 2004, the brand Marchesa, a collaboration between two designers, was born. Although their focus was different, their collaboration was seamless. In 2006, Marchesa was awarded the CFDA/Vogue Fashion Fund award. Her investments in the brand have brought her fame and fortune, on top of her other ventures. If the brand sounds familiar, this is because it is a favorite for many female actresses.
They are often spotted wearing her beautiful creations on the red carpet, at award shows, and other important engagements.
So it comes as no surprise that she has earned estimated net worth of $30 million. Other than managing her business, the fashion designer also occasionally appears on Project Runway: All Stars as a judge. With the amount of work that she does, we certainly home she's taking time off to care for herself as well.
Antonio Banderas | $50 Million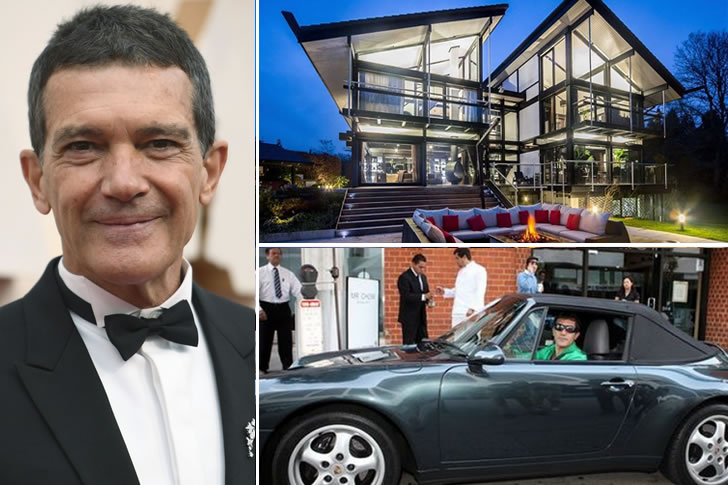 Antonio Banderas is a well-known Spanish film actor, director, and singer, he has a semi-primitive and wild sexy charm that is rare in modern men. Banderas is widely recognized for his appearances in Hollywood films such as Interview with the Vampire (1994), Philadelphia (1993), and The Mask of Zorro (1998). The actor is also beloved for his roles in various Spanish language films, in collaboration with director Pedro Almodovar.
Banderas reportedly has a net worth of $50 million. He first earned international attention for his role as a love-struck kidnapper in the controversial comedy Tie Me Up! Tie Me Down!, which was released in 1990. Since then, he has become a Hollywood mainstay. The actor has also starred with Madonna in Evita, which earned him $4 million in 1996.
In addition to his acting career, he also owns half of Anta Banderas, a winery in Burgos, Spain. He is also a veteran of the perfume industry.
Smokey Robinson | $100 Million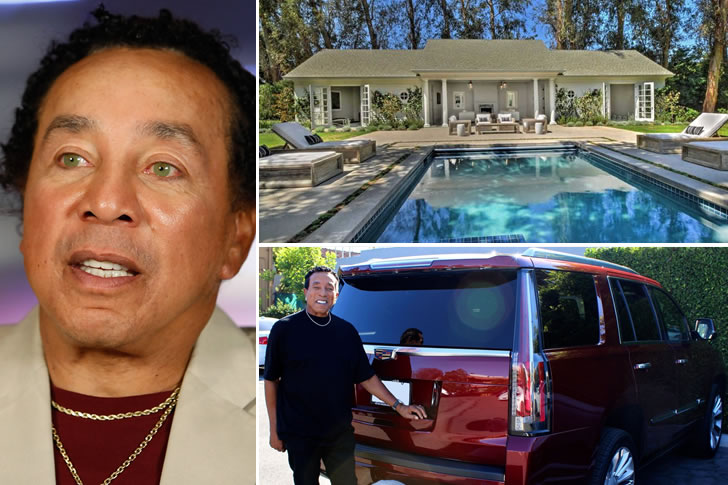 American singer, songwriter, actor, and record producer Smokey Robinson was a former record executive. He is the man behind multiple hit records and has worked with some of the biggest names in music. The singer has a net worth of $100 million and is also given credit for developing and popularizing the Motown sound. Robinson grew up in a poor family in northern Detroit and was passionate about music since he was a child. He listened to music from various artists on the radio.
In high school, he started a doo-wop group called the Five Chimes, which eventually became Matadors. Robinson was at the peak of his popularity during the 50s until the 70s. He used to be a part of the vocal group the Miracles, which was formerly named the Matadors. The singer was inducted into the Rock and Roll Hall of Fame in 1987 in recognition for his contributions in the field of music. Robinson also owns a winery, among other real estate investments across the U.S.
Robert De Niro | $500 Million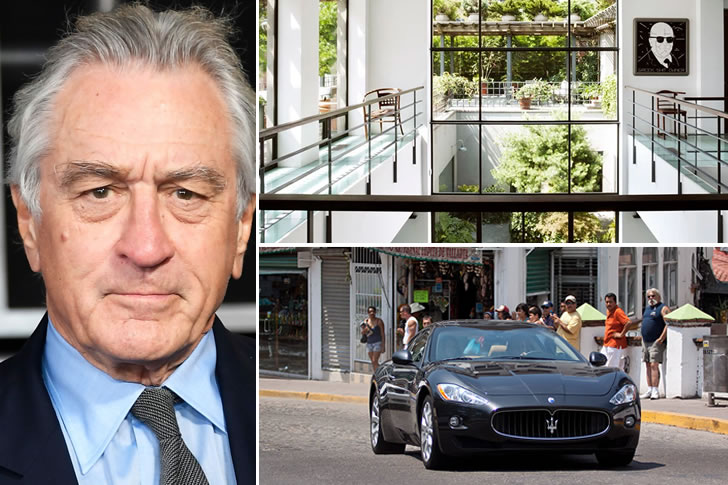 Robert De Niro is an American actor, producer, and director. Many look up to the Hollywood veteran, thanks to his amazing performances. The actor has been in the industry since 1963 and his career has spanned decades. Among the many characters Robert De Niro has created, the most famous are the young Don Corleone in The Godfather part II and the boxer Jake LaMotta in Raging Bull. His most famous line is "Are you talking to me?" in Taxi Driver.
In that time, not only has he starred in blockbusters, he has also been honored with two Academy Awards, a Golden Globe Award, the Cecil B. DeMille Award, and a Screen Actors Guild Life Achievement Awards.
For all his contributions to the industry, he was also awarded by President Barack Obama with a Presidential Medal of Freedom in 2016. His work has earned him an estimated net worth of $500 million. While he has slowed down in terms of film appearances, he has enough investments to lead a comfortable life.
Salma Hayek | $115 Million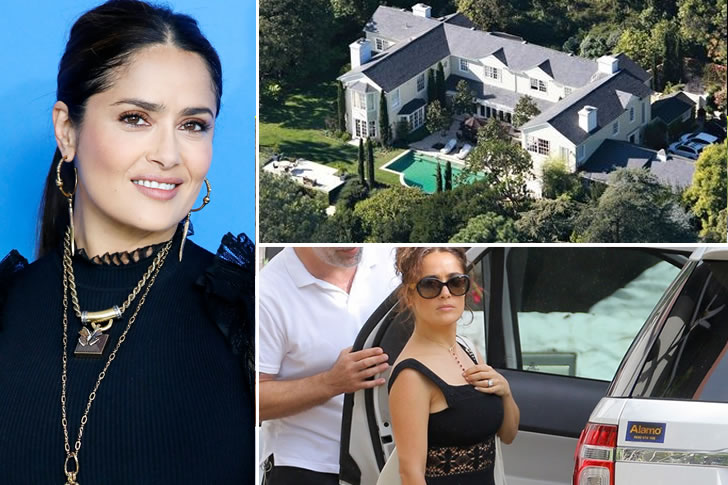 Mexican-born actress Salma Hayek is known for her talent and her beauty. Hayek's early appearances in Mexican soap operas began to make her mark. Then she moved to Los Angeles and in 2002, she successfully played the Mexican surrealist female painter Frida Kahlo in the biopic Frida. Hayek is married to one of the wealthiest people in the world.
Her marriage with husband Francois-Henri Pinault is often judged by the public, but that doesn't affect Hayek as she is a self-made woman who has her own investments.
In fact, aside from her acting career, the actress is known to have other businesses such as her own makeup line and a brand of organic juices. Hayek is one of the most successful stars in Hollywood and has a net worth of $115 million. That's the fruit of all her hard work throughout the years. No wonder she's able to live luxuriously and confidently with her lovely daughter, and her supportive husband.
Patrick Dempsey | $80 Million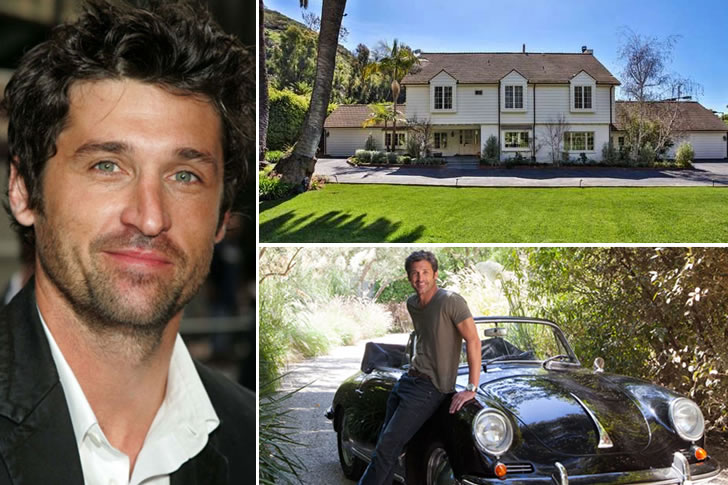 American actor, producer, and race car driver Patrick Dempsey reportedly has a net worth of $80 million. He is known by many for his role as Derek Shepherd aka McDreamy on the long-running medical series Grey's Anatomy (2005-2015). It is reported that Dempsey received a salary $350,000 per episode from the show. He was on it for a total of 244 episodes. The series has greatly contributed to his fame and, of course, his wealth.
The actor, who was born to a school secretary and an insurance salesman, began his career appearing in teen romances during the 1980s. He later evolved to the leading man we know today. While he has taken time off of acting, his fans still anticipate his return.
Dempsey is also a racing enthusiast, he has an impressive collection of vintage cars and sports cars. He has taken part in several pro-AM events and achieved good results in the competition.
Colin Kaepernick | $20 Million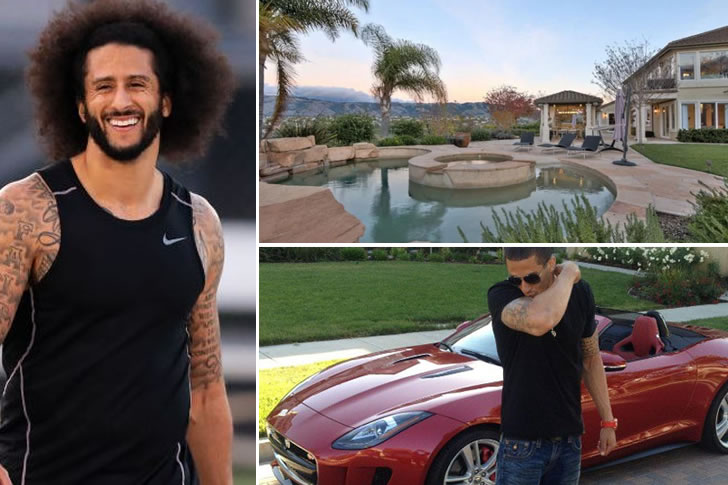 Colin Kaepernick is an American professional football player who has played six seasons in the NFL and has earned a total of $43 million in salary. Kaepernick has since become a free agent. Currently, it is reported that he has a net worth of 20 million dollars, while still earning a yearly salary of 12.4 million dollars. Kaepernick has plenty of endorsements with some of the biggest brands.
Nike is reportedly still paying him a contract equivalent to the current NFL star athletes, worth millions of dollars a year, including royalties from the Kaepernick clothing line.
Other than his love for the sport, Kaepernick is also a political and civil rights activist who was among those who knelt down during the national anthem as a form of protest to social issues happening at the time. He may have lost money after it, but Kaepernick has earned the respect of many young athletes around the world.
Jeff Probst | $50 Million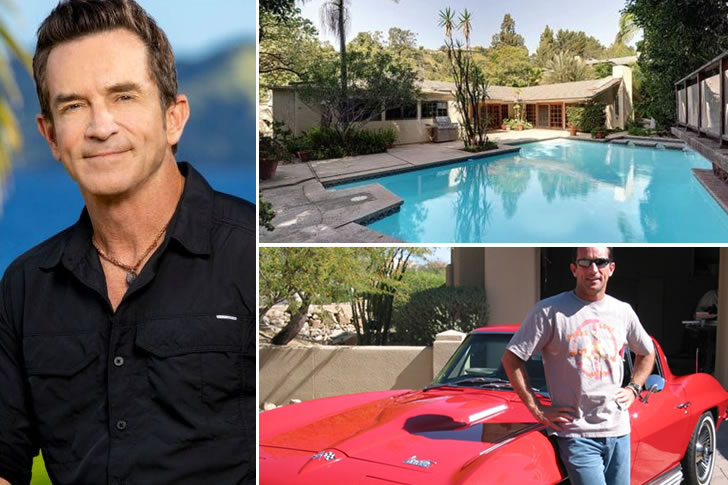 Jeff Probst is an American reporter, producer, and reality show host who has also won multiple Emmy Awards throughout the years. Probst is best known for being the host of the hit reality0TV show Survivor. He reportedly has a net worth of $50 million. His yearly salary from the TV show amounts to $8 million dollars.
Prior to Survivor, Probst started out as a host on FX, answering letters from viewers on a show called Backchat and working on music-related content on another show.
He later worked as a correspondent for Access Hollywood.
Probst also had a namesake show back in 2012, but it was sadly canceled after one season. Aside from these, he has also received credit for writing and directing the film Finder's Fee, which starred Ryan Reynolds. The film received positive reviews and allowed the public to recognize the host for his other talents.
Kate Hudson | $80 Million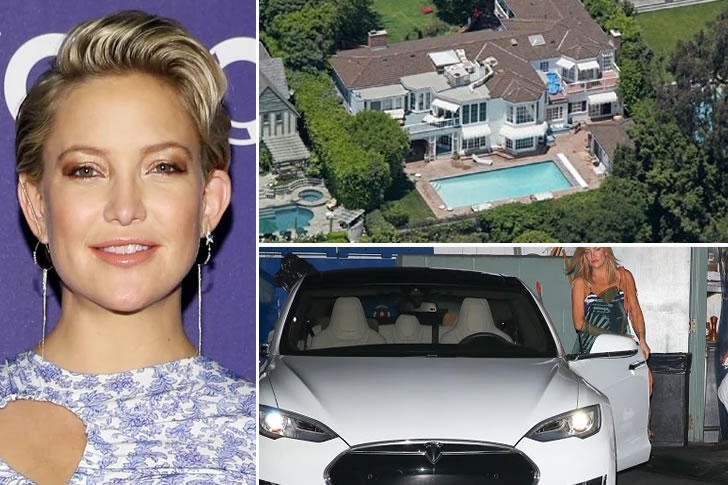 Kate Hudson is an American actress, producer and entrepreneur. Hudson has been in the industry for a while now and rose to prominence after starring in the film Almost Famous, which was released in 2001. Her father is an actor, comedian, and musician Bill Hudson. Her mother, of course, is the beautiful and equally talented actress, Goldie Hawn. While she came from such a prestigious background, her success is all her own.
She first debuted on TV in 1996 and appeared in the Fox TV series Party of Five, which lasted from 1994 until 2000. Hudson has come a long way since and has even put investments into her own athleisure brand called Fabletics. This is a subscription-based sports and casual apparel company founded by Hudson and two partners in 2013. The company has grown from initial e-commerce to operating 22 retail stores.
The actress has an estimated net worth of $80 million.
Hilary Duff | $25 Million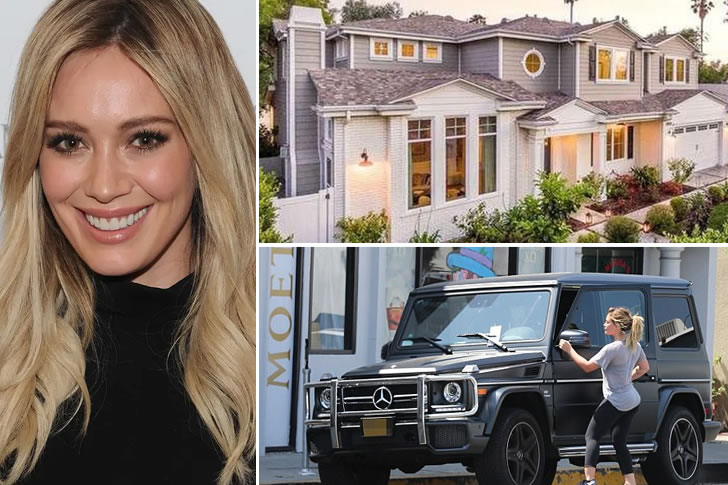 Hilary Duff is an American actress and recording artist who started out as a child star for Disney. She played the lead role in the TV show Lizzie McGuire and went on to star in the movie follow-up. The actress and her sister Haylie were both enrolled in singing, acting, and ballet classes from a young age. This helped them get into commercials and land roles on TV. The actress has since graduated from teenybopper productions.
Duff was paid $15,000 per episode for her role in Lizzie McGuire. In 2003, she earned $1 million by starring in Cheaper by the Dozen and in 2005, she starred in the sequel of that movie and received $2 million in pay.
Duff has also released numerous hit singles and is even a published author.
She has investments in two clothing lines and has even collaborated with Elizabeth Arden for a line of perfumes. The actress has an estimated net worth of $25 million from all the work she has done.
Alex Trebek | $75 Million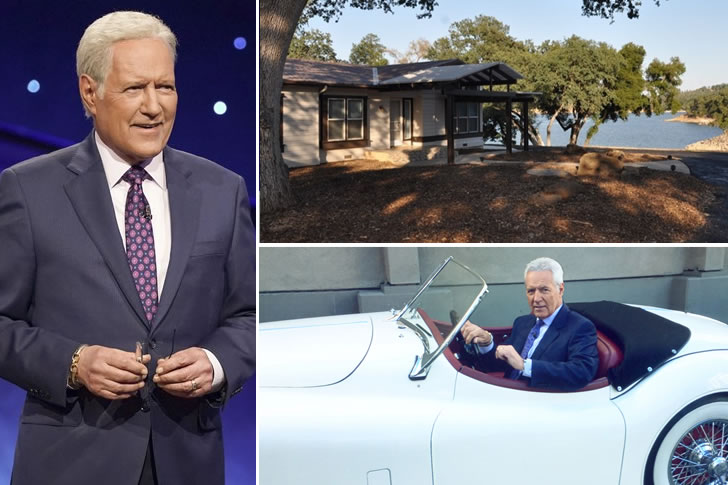 Canadian-born American game show host Alex Trebek was best known as the host of Jeopardy! He had been on the show for decades and even received a Guinness World Record for most game show episodes hosted.
Trebek hosted the show from 1984 until his death in November 2020. He was diagnosed with stage IV pancreatic cancer in March 2019 and unfortunately died at the age of 80 after a year of battling cancer.
Trebek managed to hit 6,829 episode on Jeopardy!, beating The Price is Right Host, Bob Barker. He was reported to have an estimated net worth of $75 million. Trebek earned $18 million a year just from his hosting gigs. In 1991, he made history after becoming the first person to host three American game shows at the same time. This includes, To Tell the Truth, Classic Concentration, and Jeopardy! He got much credit for his skill and tenacity towards the job. No wonder he was so well-loved!
You've Reached The End