Online Trailblazers: Top Celebrity Influencers On Social Media
When the internet first emerged, very few of us knew what to make of it. At first, it was a place for innocent and sometimes mundane entertainment. It was also, of course, a tool to reach out to people on the opposite side of the globe. But as years went on, the internet became more than just a tool. It is now a place for great learning, communication, unlimited entertainment, and of course, a place for infinite influence. To a certain degree, the internet remains a privilege, but it is where our entire lives revolve. From our relationships down to our work, everything about it can now be done within the infinite limits of social media. It indeed plays a big role in how our lives unravel day by day, and no one knows this better than celebrities. Since it's a platform of great influence, it can be a powerful tool to market oneself in setting new trends.
Here are some of the biggest celebrity internet trailblazers who have mastered the art of social media:
TAYLOR SWIFT
Facebook: 71 Million
Twitter: 87.2 Million
Instagram: 140 Million
Youtube: 39.9 Million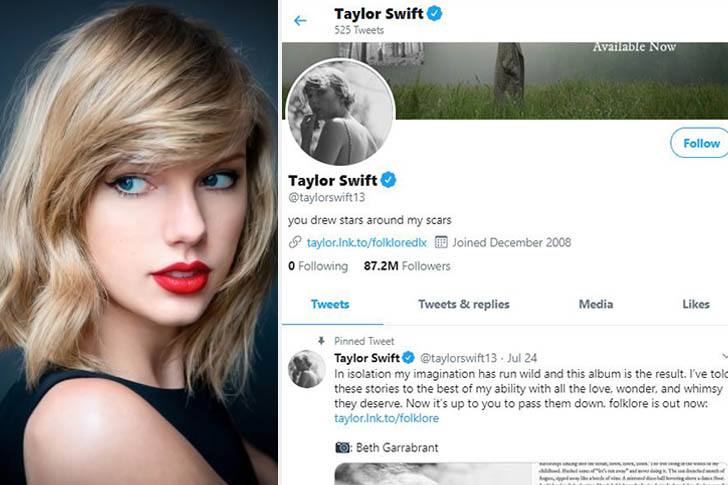 For musical giant Taylor Swift, the realm of social media has been both a blessing and a curse. At the start of her career, social media played a big part in getting Taylor to a higher position in Hollywood. She used her platforms to get in touch with fans, even going as far as messaging them on Twitter, Instagram, and Tumblr. It was definitely a smart move on Taylor's part as it contributed to her degree of influence and quickly shot her up the celebrity social ladder. But it was not without consequence, of course. As more and more information about Taylor became available online, more and more hate comments were hurled her way. But Taylor is not dubbed the "Queen of Comebacks" for nothing. After a slew of online rivalries with haters and musical rivals, Taylor was able to redeem herself by using her platforms to surprise her fans with new content and music. Today, Taylor is back, a little more private than before, but definitely stronger than ever.
BRITNEY SPEARS
Facebook: 36 Million
Twitter: 55.7 Million
Instagram: 26.4 Million
Youtube: 7.87 Million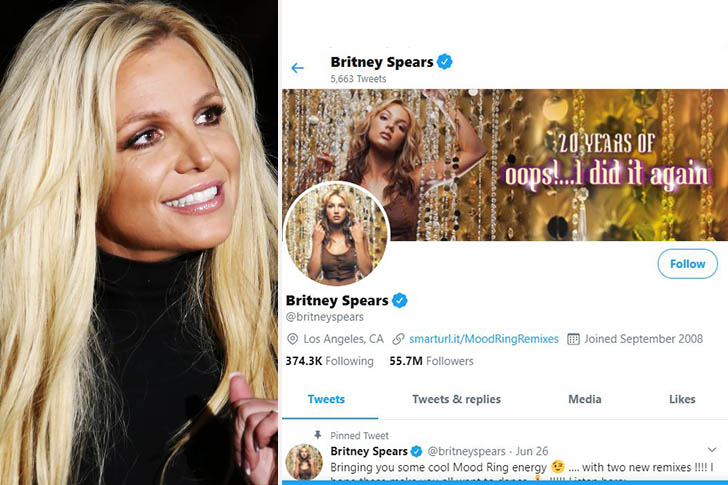 American pop icon Britney Spears has surely had her fair share of Hollywood fame. Her days as the tabloids' favorite celebrity may be somewhat over, but that doesn't mean Britney has retired from being a media influencer. In fact, the Toxic singer is still very much active on social media, with over 36 million Facebook likes, 55.7 million Twitter followers, and 26.4 million Instagram followers. As you can see, Britney is still very much an important figure on social media. As for her content, the singer lets her fans in on more personal events through her Instagram. Her feed consists mostly of art and selfies that the singer wants to share with the rest of her fans. And thanks to Instagram and Facebook's "Live" feature, Britney is also able to host Q&A sessions with her fans. For the most part, though, Britney's social media platforms run with a more professional approach, which might be upon the advice of her publicists and team of lawyers.
LIL WAYNE
Facebook: 47 Million
Twitter: 34.7 Million
Instagram: 12.8 Million
Youtube: 9.5 Million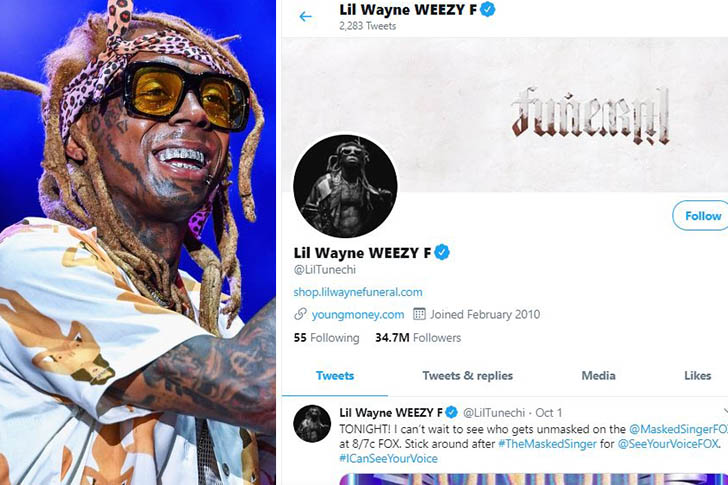 Hollywood rapper Lil Wayne also boasts a large number of social media followers. Collectively, the How To Love singer/rapper has a total of 94.5 million followers spread out across three of his major social media platforms. Since Lil Wayne is known for his music, much of his content focuses on it. If he's not promoting his new songs, albums, and music videos, Lil Wayne posts his merchandise, which he put his investment money in, and campaigns for initiatives that he's supporting. Most recently, the singer used his Twitter and Instagram to put a spotlight on the causes he's supporting. He also shares some personal contents such as photographs of him and his lovely girlfriend, his family, friends, and of course, his fans.
RIHANNA
Facebook: 79 Million
Twitter: 98.6 Million
Instagram: 87.4 Million
Youtube: 35.4 Million
Rihanna may not be a star born out of social media, but she sure has one of the strongest online presence today. From being a singer to becoming a respected entrepreneur, Rihanna has shown it all on social media for fans and critics to see.
Rihanna's career started after talent agent Evan Rogers scouted her in her home country of Barbados back in 2003. After being impressed with Rihanna's audition performance, Evan invited the young Rihanna to record some demo music back in the United States. From then on, Riri's career slowly climbed up the ladder and got her to where she is today.
However, after 16 years in the music industry, Rihanna decided to put much of her investment money into establishing her beauty line known as Fenty Beauty. Thanks to her products' top-notch quality and her already strong social media presence, it did not take Rihanna very long to get her brand off the ground.
LADY GAGA
Facebook: 57 Million
Twitter: 82 Million
Instagram: 44.2 Million
Youtube: 18.3 Million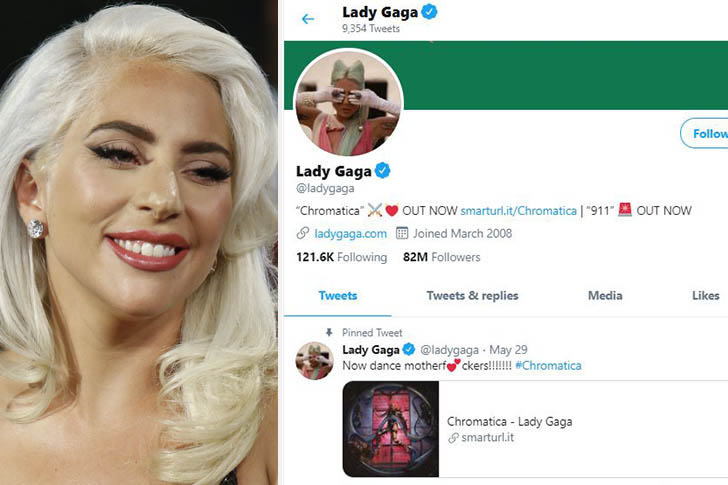 Lady Gaga is probably one of the very first celebrities to use the internet as a tool for widespread influence. The first few years of Gaga's career was wild, to say the very least, and it was thanks to the power of social media that she was able to attain the degree of influence she has today. Gaga's social media, especially her Instagram, is a window into the world of legendary music and fashion. And just like the rest of us, her Instagram is filled with laidback selfies occasionally interrupted by professionally produced photographs. Gaga also uses her Twitter, Instagram, and Facebook to promote a variety of things: her music, her films, and her opinions. Since social media is a powerful tool against injustice, Lady Gaga has utilized it to counter several social issues she's passionate about.
JUSTIN BIEBER
Facebook: 76 Million
Twitter: 112.6 Million
Instagram: 148 Million
Youtube: 57.3 Million
Tiktok: 17 Million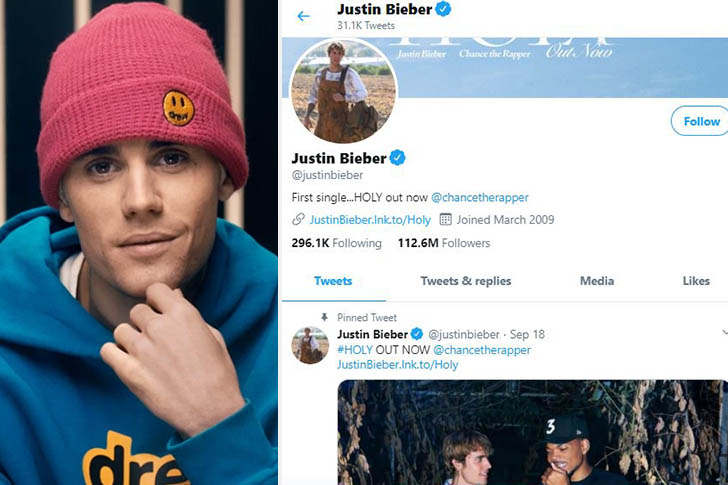 Just like Taylor Swift, Justin's time on social media has also been marked with some ups and downs. Since he started his career at such a young age, the media and the fans saw how Justin grew up publicly on social media. As you can imagine, that wasn't always a good thing. Fortunately, the Canadian singer was able to pull through some rocky patches and is now using his reach to promote positivity and awareness. Of course, he still treats fans to snippets of his private life courtesy of his Instagram stories and Tiktok videos. Nowadays, Justin and his wife Hailey Bieber, accommodate fan questions through the use of Instagram and Facebook live. Justin also has a few business investments, which he so eagerly shares with his fans on social media.
KATY PERRY
Facebook: 65 Million
Twitter: 108.5 Million
Instagram: 107 Million
Youtube: 38.7 Million
Tiktok: 4.8 Million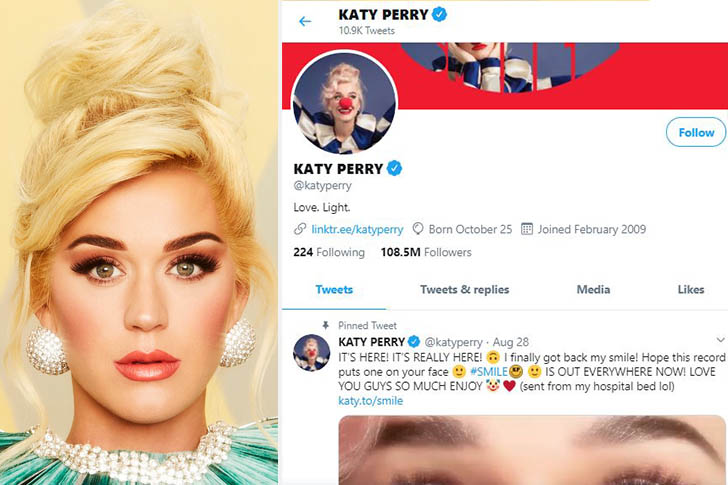 Back in the 2010 era of the internet, Katy Perry was among the biggest and brightest celebrities on social media. That doesn't mean that her sparkle has now dimmed as she still has a whopping 65 million likes on Facebook, 108.5 million followers on Twitter, and 107 million followers on Instagram. Katy also likes to share some personal moments with her fans through her social media accounts. Recently, the singer announced the birth of her first daughter with British actor Orlando Bloom via Instagram. The announcement also went viral on Twitter and Facebook, with thousands of fans sharing and retweeting the news. Other than that, Katy uses her platform to share photographs of art made by her fans and her team, backstage videos of her tour, and several other intimate contents. Katy also has a number of fashion investments that she shares with her fans on social media.
SHAKIRA
Facebook: 99 Million
Twitter: 52.3 Million
Instagram: 68.6 Million
Youtube: 30.5 Million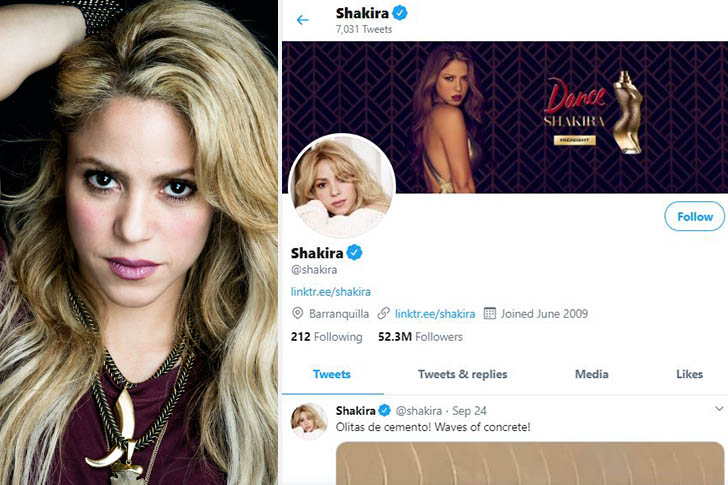 Colombian singer Shakira is, by far, one of the most important figures in Latin music today. So it makes absolute sense that she has a huge fan following on social media. Collectively, the singer has 219.9 million followers spread out across her three major social media platforms. Shakira also uses her social media accounts for various reasons. For the most part, she manages her platforms to promote her music with occasional photos of her and her beautiful family. And much like other celebrities, Shakira also uses social media as a medium to express her views and opinions. Overall, Shakira's large number of followers proves that the singer's degree of influence stretches far beyond the borders of the US and Latin America.
LIONEL MESSI
Facebook: 101.4 Million
Twitter: 2.9 Million
Instagram: 167 Million
Youtube: 900,000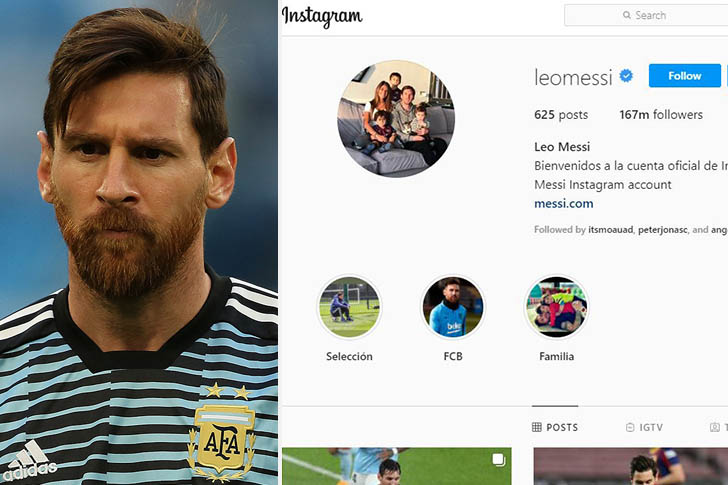 When it comes to the world of professional football, there is no bigger star than Lionel Messi. The Argentinian football legend built much of his fame and fortune playing for Spain's FC Barcelona. Leo has helped his team achieve twelve major league titles throughout his career, making him one of the greatest players of all time. As a result of his success, Leo amassed a large number of fans not only in Europe but all over the world. Today, he is one of the highest-paid athletes and one of the most influential figures in the entire sports industry. One look at his social media accounts, and you will see the degree of influence this man has. However, despite the fame and the fortune, Leo remains a very private man. Aside from the occasional photographs of his wife and kids, Leo's social media account mostly consists of professional videos and photographs of his team and his endorsements.
RYAN REYNOLDS
Facebook: 6 Million
Twitter: 16.5 Million
Instagram: 36 Million
Youtube: 2.19 Million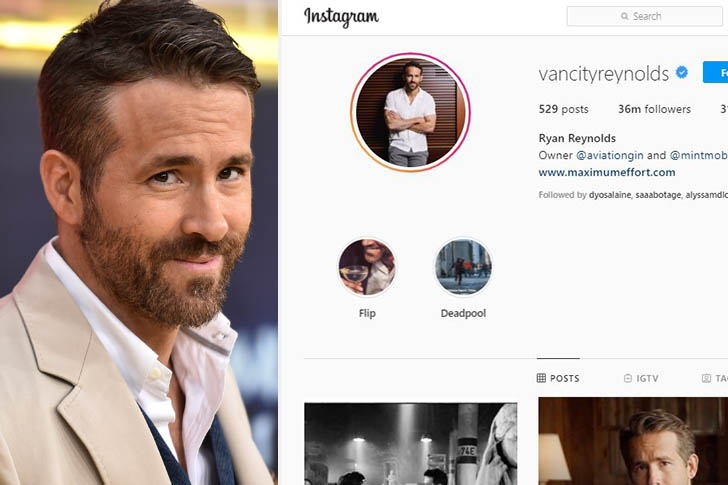 Ryan Reynolds has been very successful at building a career simply for being funny. Fortunately for us fans, we get to enjoy his humor for free courtesy of his Instagram and Twitter. The Deadpool star is notorious in the online community for being just as funny as his characters. His Instagram alone is filled with seemingly ordinary photographs of him and other celebrities until you read Ryan's witty captions. His Twitter is no exception, either. Fans of the actor know that he frequently responds to fans with silly and sometimes, sarcastic responses. But hey, that's what makes Ryan Reynolds lovable. However, it's not always fun and games. Ryan also uses his social media accounts to promote awareness about several social issues like children's healthcare and women's rights. He also used it to promote his business investments like Aviation Gin.
JUSTIN TIMBERLAKE
Facebook: 36 Million
Twitter: 64.2 Million
Instagram: 59.4 Million
Youtube: 8.94 Million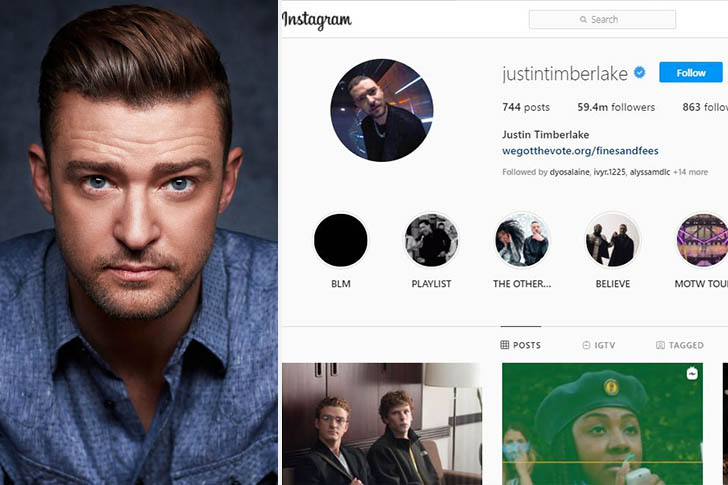 Sexy Back singer Justin Timberlake has been in the entertainment industry since he was a child. He began his career as a child actor on Disney's Mickey Mouse Club, where he acted alongside Britney Spears, Cristina Aguilera, and Ryan Gosling. As a teenager, Justin ventured into the world of music and became part of the iconic American boy group, NSYNC. Since Justin hopped between singing and acting, he was able to build a very successful career in Hollywood. That success also led him to a greater degree of influence. Today, Justin uses that influence to promote himself and several causes that are closest to his heart. For instance, Justin used his platform to advocate against discrimination.
EMINEM
Facebook: 86 Million
Twitter: 22.8 Million
Instagram: 30.8 Million
Youtube: 44.5 Million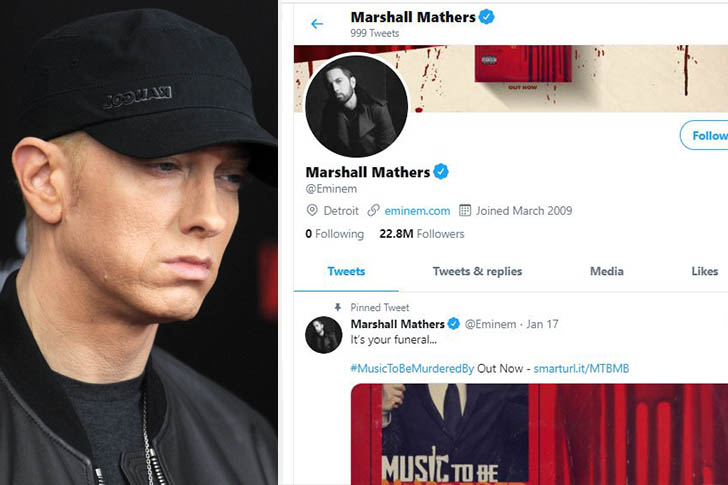 Marshall Mathers, better known as Eminem, is probably one of the most influential people in the rap industry today— and for good reason! For over three decades, he has been creating some of the most socially conscious songs this generation has ever heard. Because of that, he was able to reach his fans on a more personal level giving him a deeper degree of influence. Although the rap industry has seen an influx of new rap talents, he still holds a high position in the hierarchy of artists. So much so that his social media accounts boast a total of 139.6 million followers. However, not a lot of Eminem's posts are about his personal life. Instead, he fills his social media accounts with music-related content such as promotional posters of him and the artists he supports, advocacy posters, and clips from his music videos.
ZAC EFRON
Facebook: 18 Million
Twitter: 15.6 Million
Instagram: 44 Million
Youtube: 1.38 Million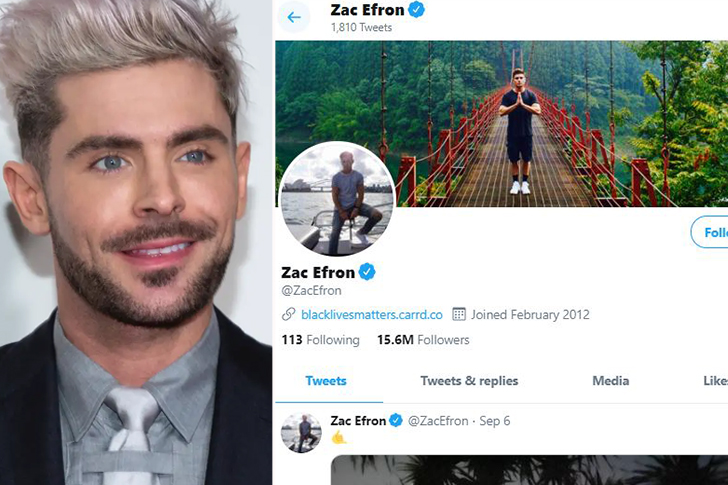 High School Musical star Zac Efron has seen his career grow by a large degree over the years, with his fan base growing along with it. Today, the actor boasts 18 million likes on Facebook, 15.6 million followers on Twitter, and 44 million followers on Instagram. And just like other celebrities, he uses his online influence for a variety of reasons. Most of the time, the actor lets us in on his personal life with pictures and videos of him with his family, friends, and co-stars. If we're lucky, we could even take a glimpse behind the inner workings of his latest projects. But that rarely happens though. Zac also likes to post photographs of his travels and gym workouts as evidenced by his IG story highlights.
NICKI MINAJ
Facebook: 41 Million
Twitter: 20.9 Million
Instagram: 123 Million
Youtube: 21.5 Million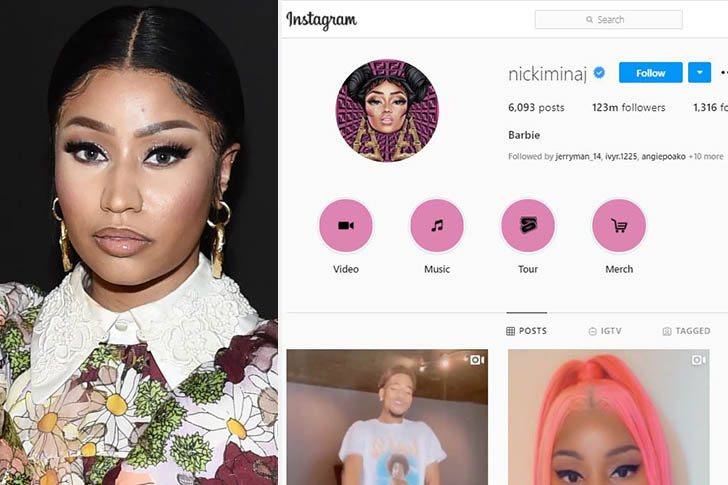 Nicki Minaj is known for her bold and daring music just as much as her unapologetic attitude. Today, she is one of, if not, the most successful female rappers in the industry. Her influence, however, goes beyond the borders of music. At the beginning of her career, she donned several outlandish fashion ensembles, which started a very distinct trend in the industry. Even to this day, she can still take credit for many of the fashion trends we see. And because of her music and unique fashion style, she was able to gain millions of followers on social media, particularly on Instagram. True to her bold and daring image, Nicki continues to fill her online platforms with colorful and unique content while occasionally sharing personal pictures of her and her family.
CRISTIANO RONALDO
Facebook: 123 Million
Twitter: 51 Million
Instagram: 239 Million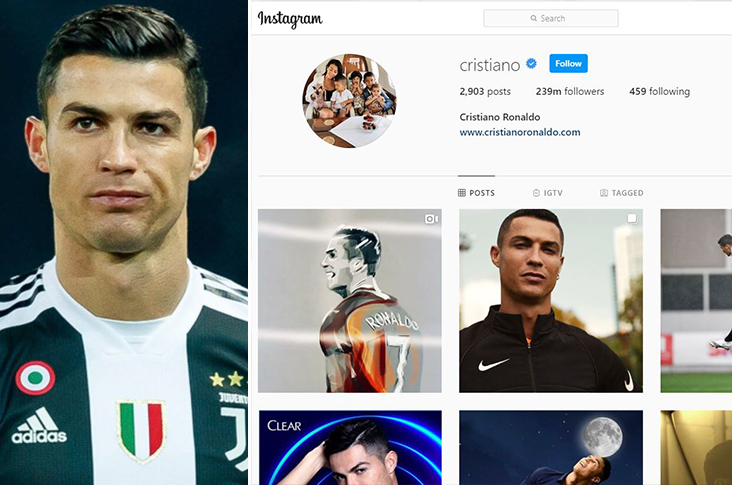 After Lionel Messi, Portuguese football player Cristiano Ronaldo certainly comes close to being the greatest football player of this generation. But when it comes to fame, the two are certainly on even platforms. Like Messi, Cristiano also rose to fame playing for some of Europe's most elite football teams, including Manchester United, Real Madrid, and Juventus. He also captains Portugal's National Football Team. However, when he's not busy, he likes to spend time with his family, especially his children. He so graciously shares some of those precious moments with his fans on social media — and boy, does he have a lot of fans! On Instagram alone, Cristiano boasts 239 million followers, followed by his Facebook with 123 million likes, and his Twitter, with a little over 51 million followers. He has definitely come a long way in his career, and it's even better to see him make worthy investments for his family.
BRUNO MARS
Facebook: 55 Million
Twitter: 43.1 Million
Instagram: 22.3 Million
Youtube: 28.3 Million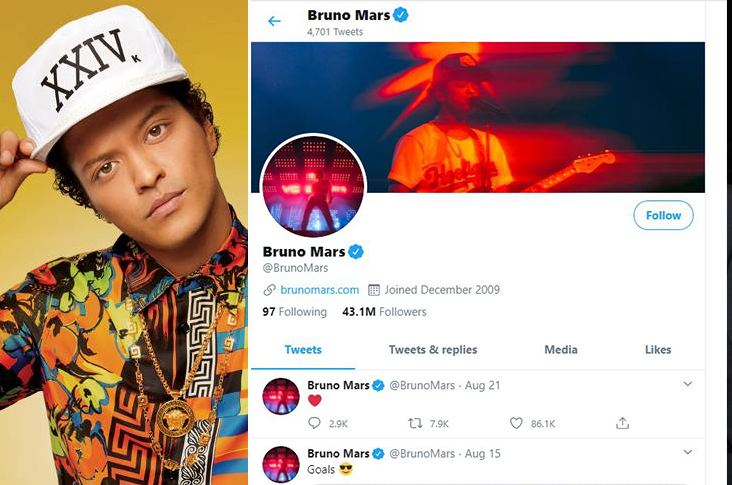 Asian-American singer Bruno Mars has been making everyone move to his groovy and sultry beats since the start of his career in 2010. Today, Bruno is one of the most respected singers in Hollywood with nine American Music Awards, seven Billboard Awards, and eleven Grammy Awards to his name. As a musical producer, Bruno has been given credit for several popular songs, including The Vamps' Can We Dance, Cobra Starship's Hot Mess, Matisyahu's One Day, and so much more. In order to promote his music and collaborations, he often turns to his fans on social media. With over 22.3 million followers on Instagram, 43.1 million on Twitter, 55 million likes on Facebook, and 43.1 million subscribers on Youtube, Bruno has all the influence he needs to catapult his singles up the charts.
SELENA GOMEZ
Facebook: 61 Million
Twitter: 62.8 Million
Instagram: 194 Million
Youtube: 26.8 Million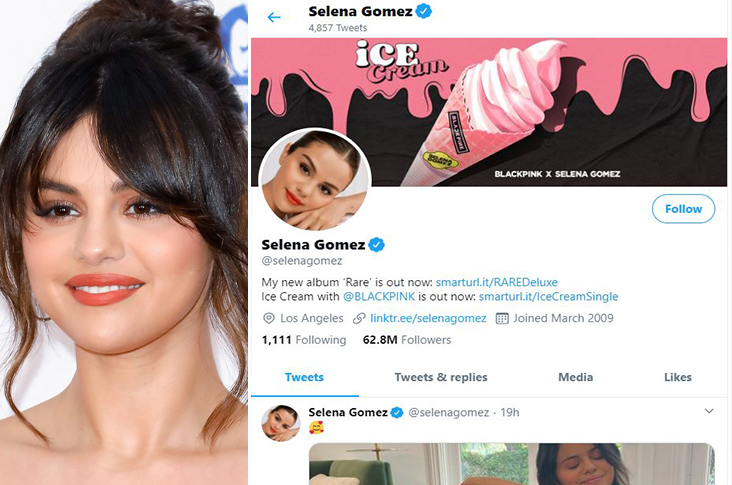 Once upon a time, Selena Gomez was the most followed celebrity on Instagram. During her reign as the Queen of Instagram, Selena was able to catalyze a series of trends. Today, however, she has lost that title to football star Cristiano Ronaldo. But although she's no longer the Queen of Instagram, Selena still has a huge number under her belt. She's still standing strong at 194 million followers on Instagram, 62.8 million on Twitter, 61 million likes on Facebook, and 26.8 million subscribers on Youtube. Just like other celebrities, she uses her social media platforms to promote several things like her new music, advocacies, and most recently, her cosmetic business investment. However, similar to the rest of us, she likes to use her social media platforms to share some of her most cherished moments. From lazy coffee dates to birthday celebrations to huge victories, Selena shares it all with her loyal fans.
BEYONCE
Facebook: 60 Million
Twitter: 15.7 Million
Instagram: 155 Million
Youtube: 21.7 Million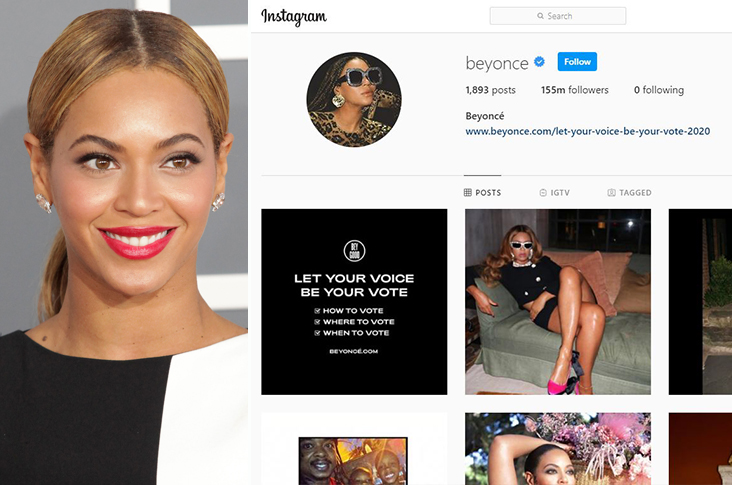 There's no denying the fact that Beyonce sits at the very top tier of Hollywood's most influential artists. With over 60 million likes on Facebook, 15.7 million followers on Twitter, 154 million on Instagram, and 21.7 million subscribers on Youtube, Beyonce has more than enough internet fans to let her trailblaze her way through the industry. Because of that, she has been given credit for a number of trends over the past decade. Several celebrities have also followed Beyonce's footsteps of barely posting any content that would give away much of their personal life. Unlike most celebrities, she uses her social media mostly just to promote her music and her advocacies. Not many details about her personal life are available on her social media accounts that include a few momentous milestones. But whether she posts content daily or not, there is still no denying the fact that Beyonce's influence on social media goes far and beyond the internet.
BILL GATES
Facebook: 21 Million
Twitter: 52.1 Million
Instagram: 6.1 Million
Youtube: 2.38 Million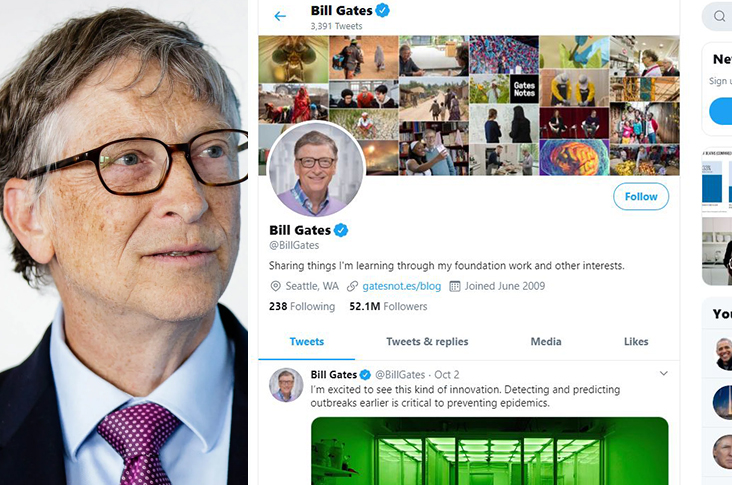 Calling Bill Gates an influential figure on the internet is definitely an understatement. As the man behind Microsoft, Bill is rightfully the founding father of the digital revolution. However, when it comes to internet fans, he falls a couple million short for a spot on the top tier. But that doesn't mean the tech mogul couldn't boast an impressive number of internet followers. In fact, Microsoft's big boss has amassed over 21 million Facebook likes, 52.1 million Twitter followers, 6.1 million Instagram followers, and 2.38 million Youtube subscribers throughout the years he's been on social media. He also uses his social media platforms like a true philanthropist by raising awareness on several social issues like health care issues in developing countries, women's rights, proper waste disposal, and so much more. Bill is also a huge book lover and is known to share his most recent read among his fans, proving that knowledge is a great investment!
ASHTON KUTCHER
Facebook: 17 Million
Twitter: 17.5 Million
Instagram: 4.2 Million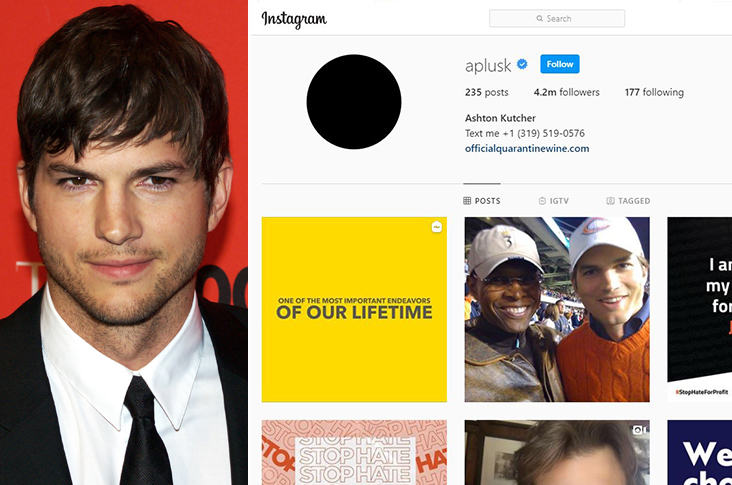 Ashton Kutcher's career has been a huge rollercoaster ride. He initially pursued a degree in biochemical engineering before dropping out to pursue a career in modeling. While modeling, Ashton also went out on auditions in the hopes of landing a major acting role. Finally, in 1998, he was able to score a role in the show That 70s Show, which later catapulted him into superstardom. Today, he is one of Hollywood's biggest names with millions of fans staying loyal to him across several social media platforms. He's quite generous with them, too. The actor occasionally treats his fans with photos and videos of him and his family going on trips and poking fun on annoying tabloid headlines. As you can tell, Ashton still has that charming humor we all loved him for.
WILL.I.AM
Facebook: 13 Million
Twitter: 12.4 Million
Instagram: 1.3 Million
Youtube: 4.58 Million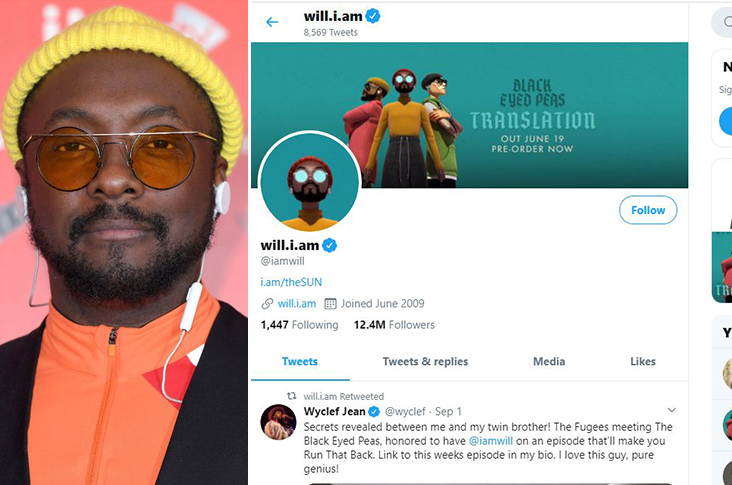 Singer, producer, and former Black Eyed Peas frontman Will.I.Am saw his career grow together with the internet. At the beginning of his career, the internet was in its infancy stage, so Will and his bandmates then had to rely on the old-timey radio and TV for marketing. However, despite not having the luxury of social media, he and his band were able to establish a lasting impact on the industry that can still be felt today. Now, Will is among the biggest names in the music world with several investments across the industry, and despite entering the digital sphere at the later part of his career, he still managed to rake in millions of followers. Like other celebrities, Will also likes to use social media to promote his projects, advocacies, and merchandise.
CHRISTINA AGUILERA
Facebook: 23 Million
Twitter: 16.9 Million
Instagram: 7.1 Million
Youtube: 4.39 Million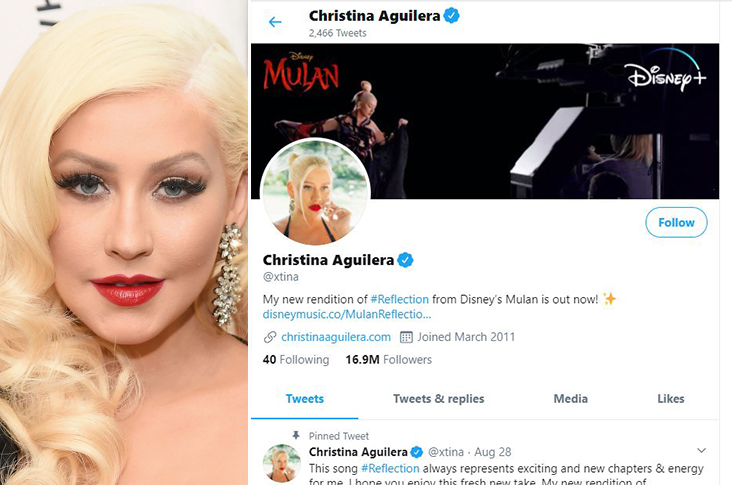 Colorful is one word to describe Christina Aguilera's career as an actress and singer. As a child, Christina worked as an actress alongside Ryan Gosling on Disney's Mickey Mouse Club. However, as a teenager, she decided to heed her heart's calling by venturing into the music industry. Since then, she went on to win several awards, start new trends, and create several hits. Today, Christina maintains her influence on the industry by maintaining an active presence in the digital world. Like her career, her social media platforms are nothing short of colorful. Just take a look at her Instagram and the wonderfully curated photographs of her. But she's not all about aesthetics. She also uses her platform to campaign for causes she believes is important, like women's rights and many more. With her degree of fame and influence, we're sure she'll be able to reach more audience.
AVRIL LAVIGNE
Facebook: 48 Million
Twitter: 21 Million
Instagram: 8.1 Million
Youtube: 10.3 Million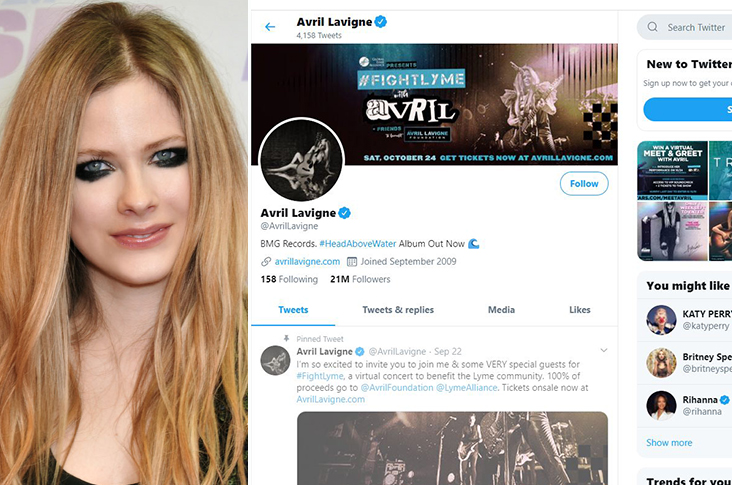 Another musical siren who uses her social media influence for the greater good, is the original punk princess, Avril Lavigne. In the early 2000s era, Avril's music became the anthem of every single teenager. After enjoying years of being on the top, she noticeably went off-grid from Hollywood to focus on her personal affairs. But during her break from the industry, she used social media to stay connected to the world. Now, Avril has over 87.4 million followers/subscribers across her four major social media accounts. As for her content, it's everything you'd expect a punk siren would post. Her Youtube mainly houses her music videos and anything related to such. Whereas her Facebook, Twitter, and Instagram house her behind the scenes photos and advocacy campaigns. It's good to have celebrities with a large degree of influence like her, do everything in their power to help address important issues in our society.
BEBE REXHA
Facebook: 2.5 Million
Twitter: 1.9 Million
Instagram: 10.3 Million
Youtube: 7.84 Million
Tiktok: 4 Million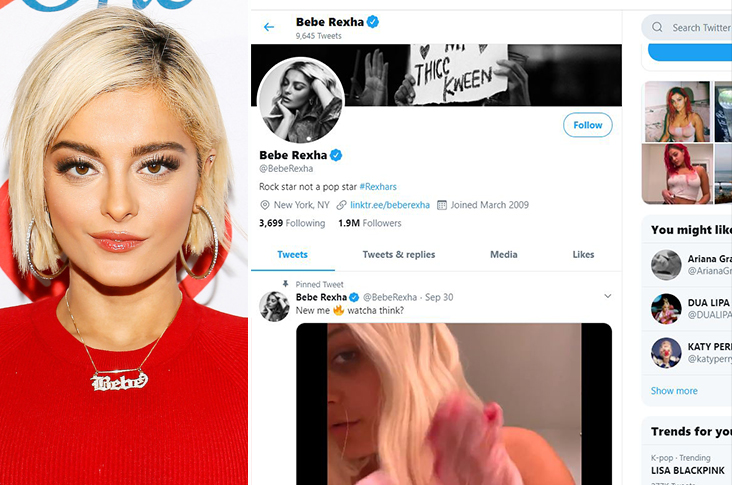 Compared to other celebrities on this list, Bebe Rexha has only recently arrived in the music scene. But despite being a rookie, she has already produced a number of hits like Meant To Be and Me, Myself, and I. She has also managed to amass millions of followers across all major social media platforms. As a certified influencer, Bebe Rexha likes to use her platform as her own personal museum to showcase photographs of herself, her music, her fashion, her advocacies, and everything in between. And being an emerging artist, her presence on social media plays a crucial role in leveraging her into a higher degree of influence. She is undoubtedly fortunate to have a huge fan following this early in her career, and with the way things are going for her, we can only expect to see her gain a lot more.
DRAKE
Facebook: 35 Million
Twitter: 39.1 Million
Instagram: 72.2 Million
Youtube: 22.9 Million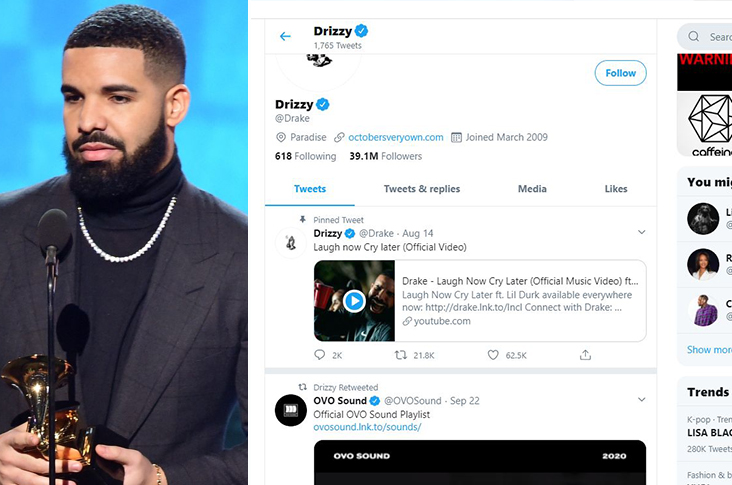 Canadian rapper Drake is a true pop culture icon. Not only is he a successful singer and rapper, but he is also a record producer, an entrepreneur, a visionary, and an overall trailblazer. He is also quite the trendsetter, having started several trends both in music and in fashion. Out of all the trends he's given credit for, popularizing the Toronto sound in Hollywood has got to be his biggest contribution. When it comes to his social media handles, however, the award-winning rapper likes to keep it low-key with laidback pictures of him and his family but occasionally decorating his feeds with promotional contents of his music, latest projects, events, and of course, his merch. Drake is also a big sports guy, and he makes sure his fans know it by regularly posting courtside pictures of him and his gang.
OPRAH WINFREY
Facebook: 12 Million
Twitter: 43.2 Million
Instagram: 19.3 Million
Youtube: 4.43 Million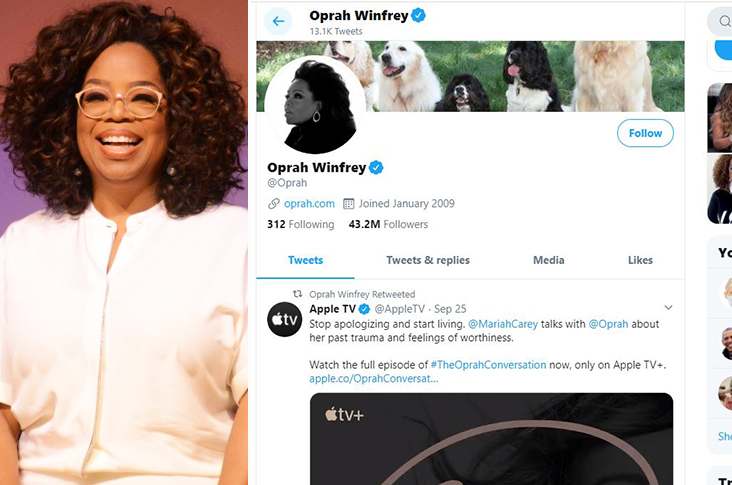 Legendary TV host Oprah Winfrey didn't just conquer the world of television, but she conquered the digital world as well. That's right, everyone's favorite talk show host now boasts 12 million Facebook likes, 43.2 million Twitter followers, 19.3 million Instagram followers, and a whopping 4.43 million Youtube subscribers. Given Oprah's degree of fame, this is no longer surprising. But despite being a big star, she remains accessible to her fans as evidenced by her frequent interactions with fans on Twitter, and her live Instagram shows where she entertains questions from her viewers. The digital platforms have certainly opened up a new avenue for ordinary people like you and me to communicate with superstars like Oprah Winfrey.
MARIAH CAREY
Facebook: 19 Million
Twitter: 21.5 Million
Instagram: 9.5 Million
Youtube: 6.21 Million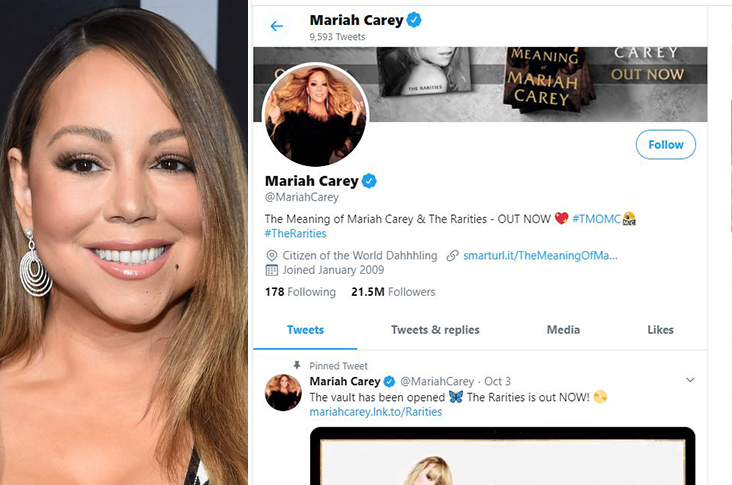 Mariah Carey was once the golden girl of Hollywood music. Today, she is a certified living legend with luxurious investments to boot. And as we all know, being a living legend comes with its own perks like a huge internet fan base. Mimi's Twitter alone boasts 21.5 million followers, Facebook comes second with 21.5 million likes, Instagram with 9.5 million, and her Youtube channel with 6.21 million subscribers. The numbers are definitely not humble, good thing she knows how to keep her fans entertained with behind the scenes snippets of her personal life and throwback pictures from her peak years. She's also a celebrity advocate who regularly campaigns for changes in the system involving the minorities in the United States.
ALICIA KEYS
Facebook: 32 Million
Twitter: 21.5 Million
Instagram: 20 Million
Youtube: 4.68 Million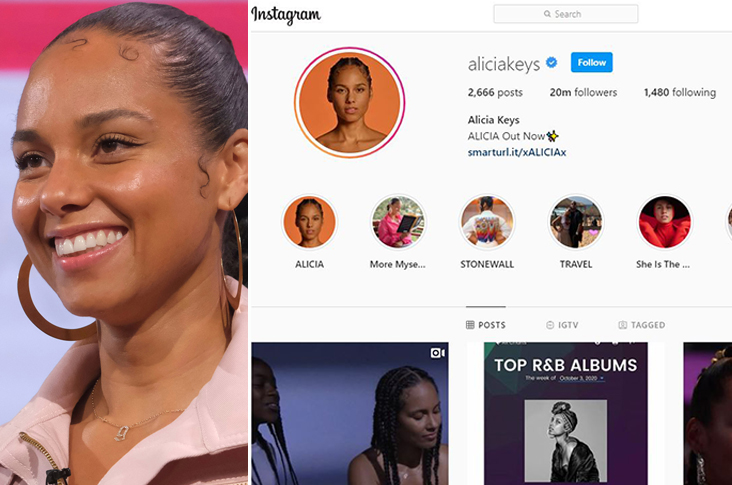 For the longest time, Alicia Keys' musical artistry has put her on a pedestal higher than most of her peers in the industry. Because of this, she has been given the title "Queen of R&B" and was also named as one of Time Magazine's Top 100 Most Influential People. Of course, her influence did not unfold overnight. It took her years of hard work to get to where she is today. She has also been given credit for various trends in music, but she is best known for her youthful and original approach to the R&B genre. She has also been honored on several occasions for her work as a philanthropist campaigning for the rights of artists belonging to the minority. This passion of hers is evident across her social media platforms as the Empire State of Mind singer constantly campaigns using her digital channels.
ADELE
Facebook: 61 Million
Twitter: 26.8 Million
Instagram: 39 Million
Youtube: 22.2 Million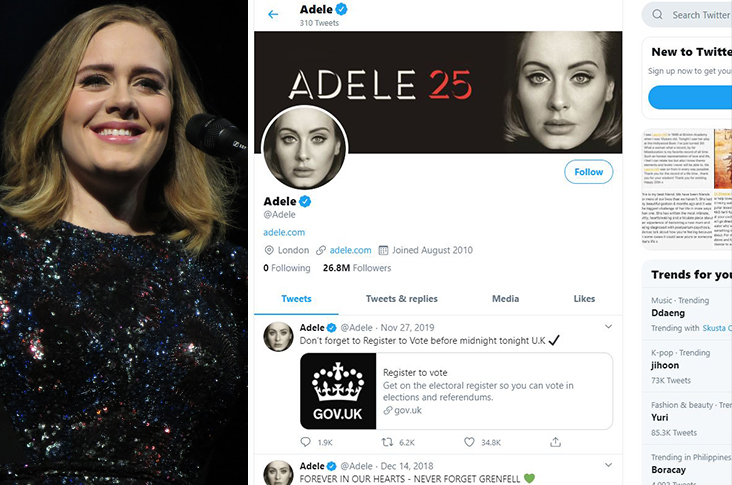 Adele, a.k.a. the "Queen of Breakup Songs," has been giving us quality music to cry to for several years now. At only 19 years old, Adele took the world by storm with her song Rolling In The Deep. Fast forward to 2020, and Adele is now a living legend with a huge footprint on the industry. We're also sure she has a couple of high profile investments. But besides her music, her appeal to the public can also be credited to her easygoing and relatable character. No wonder she has millions of fans across her social media platforms! Although she hasn't released any new music in the past couple of years, Adele remains connected with her fans via Twitter and Instagram, giving them small snippets of her life away from the recording studious and jam-packed stadiums.
50 CENT
Twitter: 12.2 Million
Instagram: 26.1 Million
Youtube: 10 Million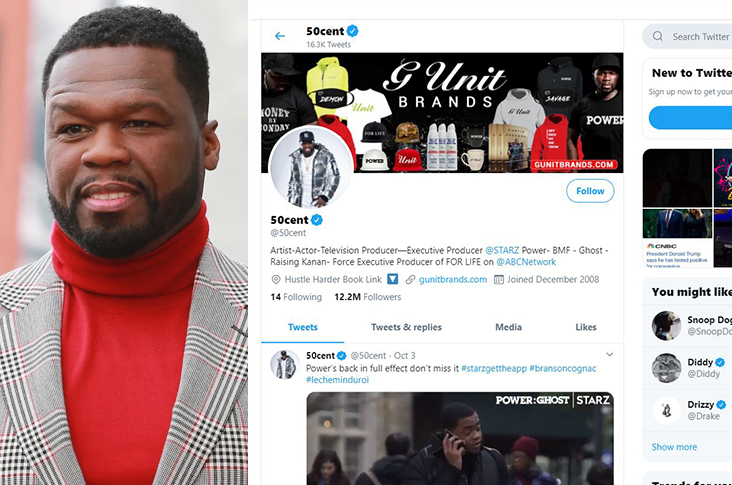 Curtis James Jackson, professionally known as 50 Cent, is a man of many talents. When he's not busy busting hits, he's producing or acting on films. If he's not doing that either, then maybe he's busy manning his business investments. But the man did not achieve that kind of success overnight. He was born and raised in the South Jamaica neighborhood of Queens, New York, and had to work odd jobs at the tender age of 12. After years of trying to make it, he finally signed a record deal with Eminem and Dr. Dre in 2002. After releasing his debut album, he became an instant hit. Today, he enjoys the luxury of being a wealthy man, as documented in his extravagant Instagram posts.
DAVID GUETTA
Facebook: 50 Million
Twitter: 20.7 Million
Instagram: 8.5 Million
Youtube: 22.1 Million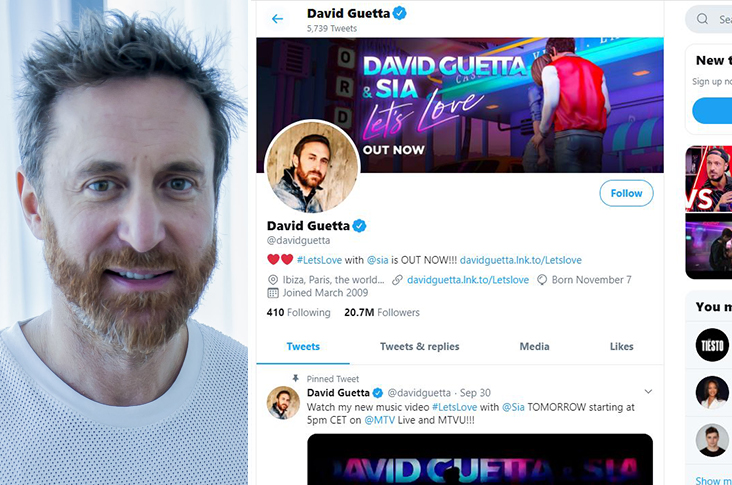 French DJ David Guetta has been dubbed as the "Grandfather of EDM" after ferrying the genre to mainstream success in the late 2000s and early 2010s. His emergence in the industry paved the way for several EDM DJs in Hollywood. Because of that, he was able to achieve a large fan base in the digital world. Today, he brags 50 million Facebook likes, 20.7 million Twitter followers, 8.5 million Instagram followers, and 22.1 million Youtube subscribers. As you can tell from the numbers, his degree of fame has not dwindled in the past few years despite keeping a more humble profile. Although his name is no longer plastered to almost every song is the music industry, David continues to build his career by touring around the world and pumping life into every major rave party.
LEBRON JAMES
Facebook: 23 Million
Twitter: 47.6 Million
Instagram: 72.7 Million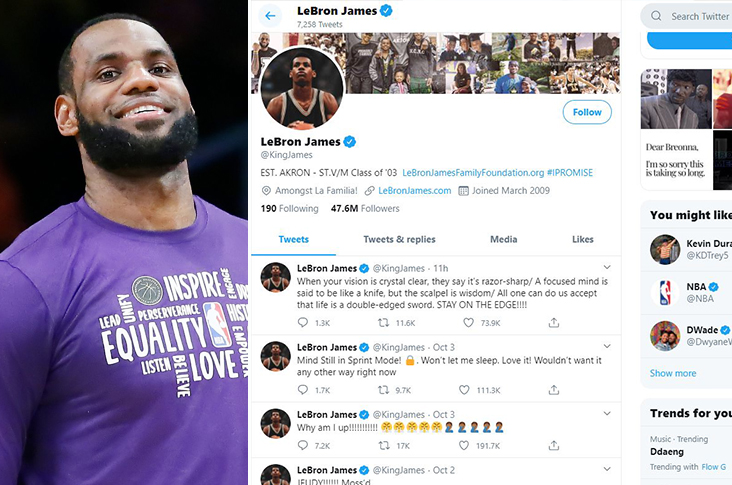 King James, or Lebron James, has been successful in conquering the court and the internet. He might be better known as an elite basketball player, but beyond the borders of the court, he is a legitimate influencer. With over 23 million Facebook likes, 47.6 million Twitter followers, and 72.7 million Instagram followers, there's no denying the degree of influence this man has. But besides being a massive celebrity, Lebron is also a doting family man. His Instagram alone is very telling of his love and dedication to his wife and kids. He is also a staunch supporter of several advocacies related to equality. He recently joined movements and has helped campaign for justice against brutality in the United States.
MILEY CYRUS
Facebook: 43 Million
Twitter: 45.1 Million
Instagram: 115 Million
Youtube: 14.1 Million
Tiktok: 5.4 Million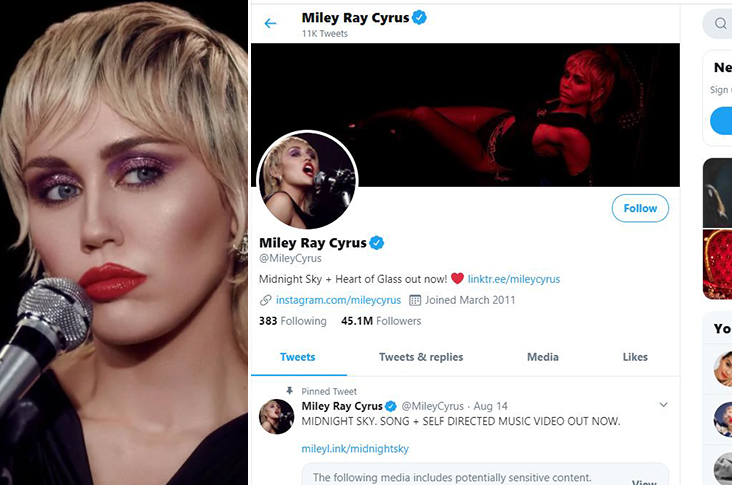 Miley Cyrus has come a long way from her Hannah Montana days and is now enjoying the best of the digital world. After graduating from Disney Channel, Miley immediately started the process of reinventing herself, going from a Disney cookie-cutter to a full-blown pop and rock songstress. The transformation may have shocked many of her Disney fans, but they were still in full support. Because of this, her fan base and influence increased quite rapidly. It's a brand new Miley, so of course, everyone was interested. Today, she has climbed up the ladder of the most digitally influential celebrities having over 115 million followers on Instagram alone! Within Instagram, her bold and daring artistry shines through. There are a couple of laidback photographs, of course, but it is the artistic photos of her that proves that she truly treats her craft as an investment.
TREY SONGZ
Facebook: 15 Million
Twitter: 13.9 Million
Instagram: 12.2 Million
Youtube: 4.14 Million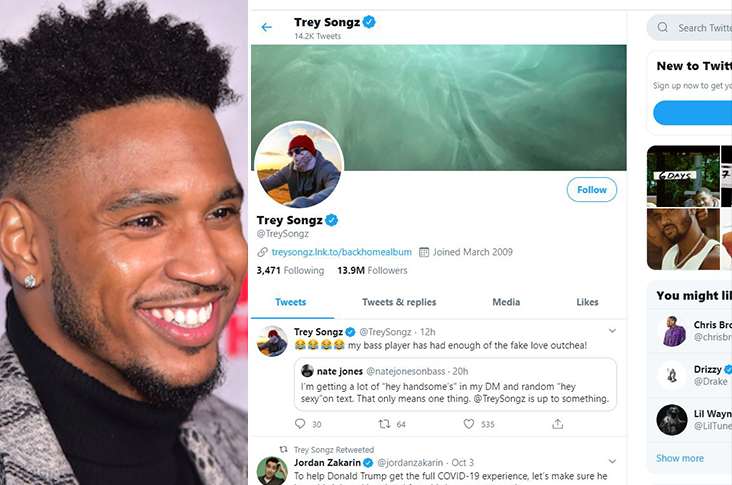 Trey Songz is an American singer, rapper, actor, and producer who gained widespread recognition back in 2005. He initially started his career as rapper/singer under Atlantic Records, and later added actor and producer to his resume. He is also considered to be one of R&B's original stars after earning three Grammys very early in his career. After achieving huge success, his influence rose to a large degree. He used this influence to campaign for justice and equality. Recently, Trey used his Twitter to encourage US citizens to exercise their right to suffrage. He is clearly using his platform responsibly, and we hope he achieves whatever goal he has in mind.
JIMMY FALLON
Facebook: 3.9 Million
Twitter: 51.7 Million
Instagram: 18 Million
Youtube: 26.2 Million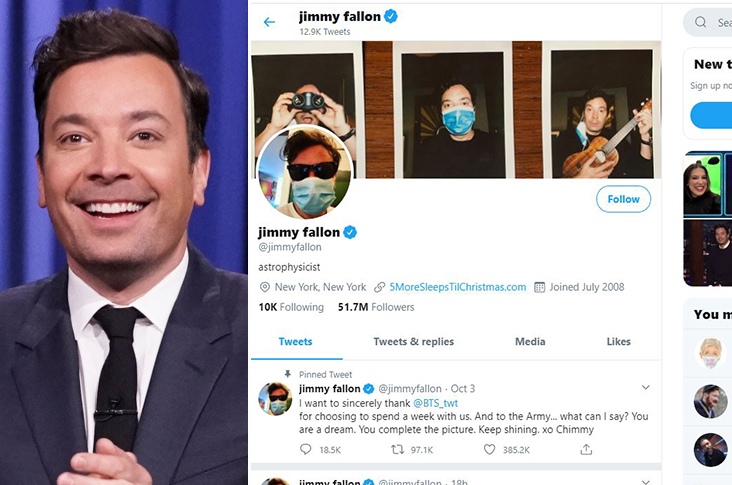 After tickling our funny bones in Saturday Night Live, Jimmy Fallon has now evolved into a certified Hollywood host with his own late-night talk show, The Tonight Show. He's also a social media superstar. His Twitter alone boasts over 51.6 million followers from all over the world. It's not surprising, though, considering that he is pretty hilarious with his Twitter punchlines. However, when it comes to his Instagram, the host seems to be a little more laidback. But if you want to enjoy the full extent of his humor, then your best bet would be his Youtube channel, where you'll find all of his iconic interviews and awkward moments. There is clearly no doubt that Jimmy is one funny man who put a lot of effort and investment into building his career, and his entire social media presence is a testament to that.
TERRY CREWS
Facebook: 8.1 Million
Twitter: 1.7 Million
Instagram: 7.2 Million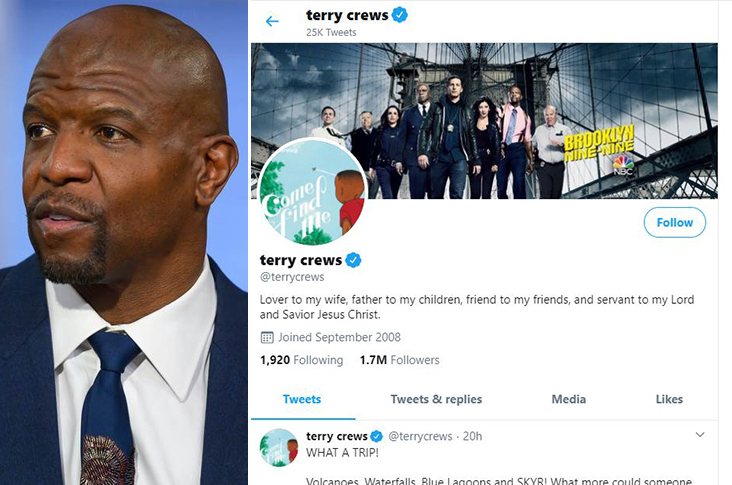 Terry Crews is known for a variety of different reasons. However, he became an icon thanks to his Thousand Miles rendition in the comedy film White Chicks. It's been over 16 years, but the internet is still going wild over that one unexpected scene. This probably explains why he is still a huge star despite maintaining a low-profile in Hollywood for quite some time. He is quite active on social media, though, and constantly treats his fans with videos and photos of him traveling and doing all sorts of silly antics. Recently, he shared a video of him drinking water straight from a stream somewhere in Iceland. However, Terry is not always about fun and games. Now and then, he uses his platform to advocate for causes relating to domestic abuse and discrimination. Terry surely deserves credit for standing up for the marginalized.
JASON DERULO
Facebook: 17 Million
Twitter: 3.7 Million
Instagram: 7.2 Million
Youtube: 13.9 Million
Tiktok: 36.2 Million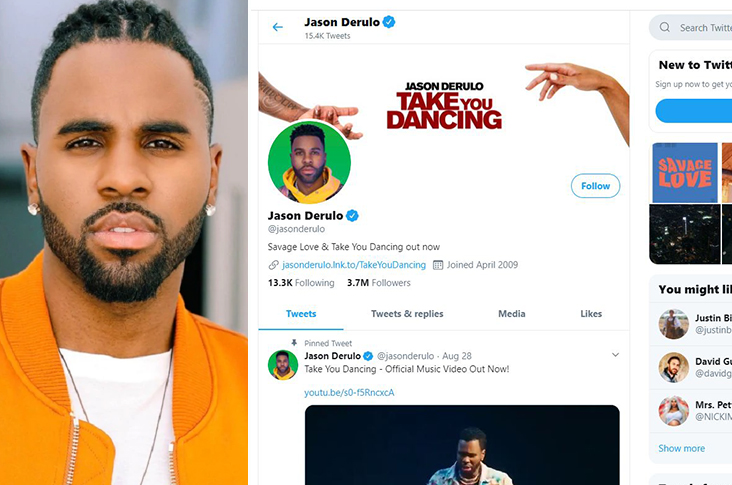 Before he joined Tiktok, Jason Derulo's social media career was doing alright but not quite marvelous compared to other superstars. Fortunately for him, he was able to boost his social media prowess by uploading 15-60 second videos. Today, he is one of Tiktoks biggest stars with around 36.2 million followers. He definitely was not struggling with his music career, but since settling into the app, his audience grew by a large degree. Even his new song Savage Love is a product of his time on Tiktok. Jason has not forgotten about his other social media handles, though. His Instagram is still filled with the latest updates from the singer, as well as his Twitter and Facebook. He just spends most of his time dancing and vibing to the latest Tiktok trend.
MEGHAN TRAINOR
Facebook: 2.8 Million
Twitter: 2 Million
Instagram: 11.3 Million
Youtube: 11.3 Million
Tiktok: 6.2 Million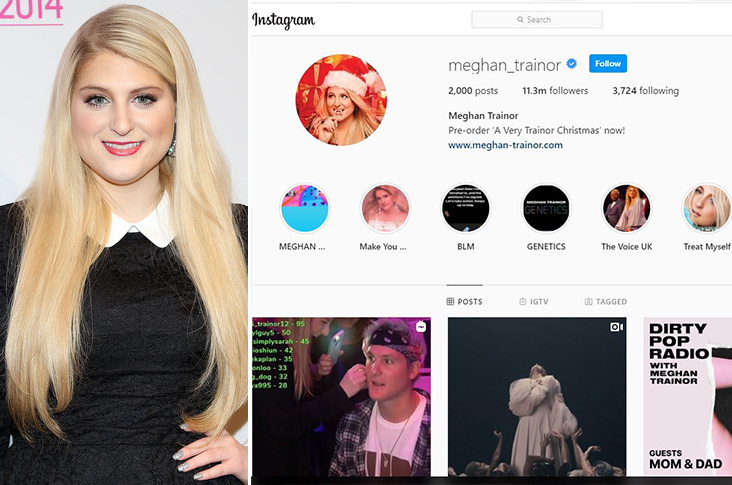 Meghan Trainor is definitely more than just that bass. After skyrocketing to superstardom with her song All About That Bass, Meghan Trainor has gone on to become a true Hollywood icon. Besides being a skilled singer, she is also notorious in the industry as a talented songwriter. Some of you may not know this, but Meghan can take credit for writing Fifth Harmony's Sledgehammer, Jason Derulo's Painkiller, J.Lo's Ain't Your Mama, and so much more. The singer is also an up-and-coming social medial influencer with a growing social media fan base. Right now, her social media handles may be at its early stages, but give it some time, and we're sure she'll blow up. You never know, maybe the next time she releases an album, her follower-count will zoom past the biggest celebrities.
CAMILA CABELLO
Facebook: 4 Million
Twitter: 11.8 Million
Instagram: 14 Million
Youtube: 14 Million
Tiktok: 9 Million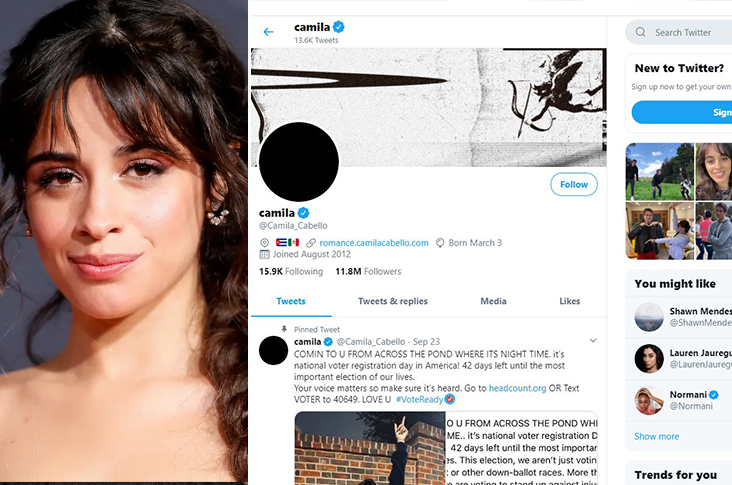 Former Fifth Harmony member Camila Cabello has surely mastered the art of social media. Since the singer started her career at a relatively young age, she has mostly relied on the powers of social media to up her game in the industry. And it was definitely a success! Today, her followers and subscribers have far exceeded the one-million-mark, making her a bonafide social media influencer. As a singer, she uses her wide reach on the internet as an advantage to promote her music, projects, and advocacies. She also likes communicating with her fans via Instagram Live and Twitter. She is also on Tiktok, meaning she has, at some point, participated in a large trend. As you can tell, Camila is handling social media like a pro, and we believe she deserves some credit for it.
ASHLEY TISDALE
Facebook: 18 Million
Twitter: 12.7 Million
Instagram: 12.9 Million
Youtube: 1.85 Million
Tiktok: 5.3 Million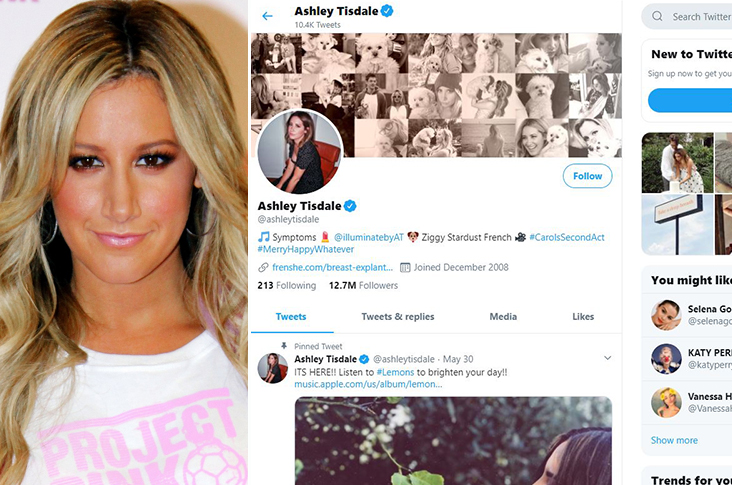 After leaving her Disney days behind, actress Ashley Tisdale turned to social media and Youtube to boost her digital presence. Ashley's Youtube channel, in particular, gained some attention after she invited her former High School Musical co-stars to do a series of song covers with her. It surely did not take long before die-hard fans of the series flocked her channel. Ashley also maintains a steady presence in her other social media accounts. Her Instagram, for example, is filled with bits and pieces of her life outside of the spotlight. She has also used that platform to share exciting news with her fans like her recent pregnancy. It is indeed an exciting time for Ashley, and we're glad she's putting in the effort and investment into building her singing and acting career.
DEMI LOVATO
Facebook: 35 Million
Twitter: 55.5 Million
Instagram: 93.2 Million
Youtube: 16.4 Million
Tiktok: 1.2 Million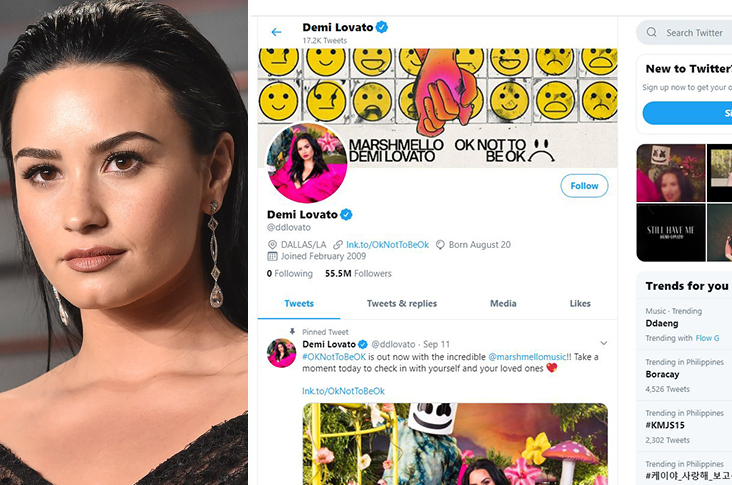 Demi Lovato's career was never a walk in the park. Silently, she dealt with several struggles and challenges that almost cost her her career. However, with every struggle that came her way, Demi has always managed to pull through. Today, Demi has a thriving music and acting career that's only growing stronger and stronger. She's also a massive internet influencer with a large internet fan base under her belt. Her Instagram, for example, is only a couple million short of 100 million. And just like any other good-intentioned celebrity, she also uses her platform to promote awareness on several causes while promoting and marketing her personal career. One of the many advocacies that Demi takes to her social media is the campaign for a better understanding of mental health issues. She often emphasizes the importance of mental health on her Instagram with powerful videos and photographs portraying several manifestations of mental health. It's a commendable initiative, and we believe Demi deserves some credit for standing up for the cause.
RICKY MARTIN
Facebook: 11 Million
Twitter: 20.4 Million
Instagram: 14.7 Million
Youtube: 5.78 Million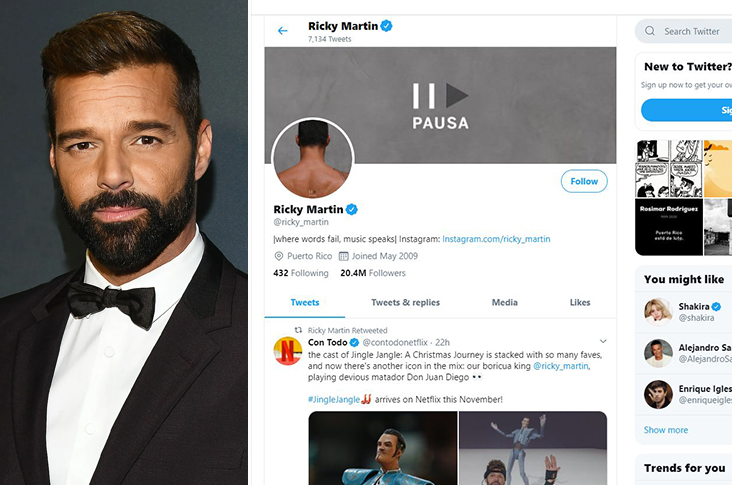 Puerto Rican singer Ricky Martin may have been around the industry for quite some time now, but he definitely does not show signs of slowing down. In fact, the King of Latin Pop recently announced an upcoming extended play album via his very artistic Instagram. But apart from promoting his music and investments, he also uses his platform to inform and educate people about causes he's passionate about. Ricky makes it a point to inform people about the struggles the members of marginalized cultural groups face that normal people typically don't experience. It's a great way to use his platform and influence, and we're hoping to see more people like Ricky in the near future.
LIZZO
Facebook: 462,000
Twitter: 1.5 Million
Instagram: 9.2 Million
Youtube: 2.03 Million
Tiktok: 10.8 Million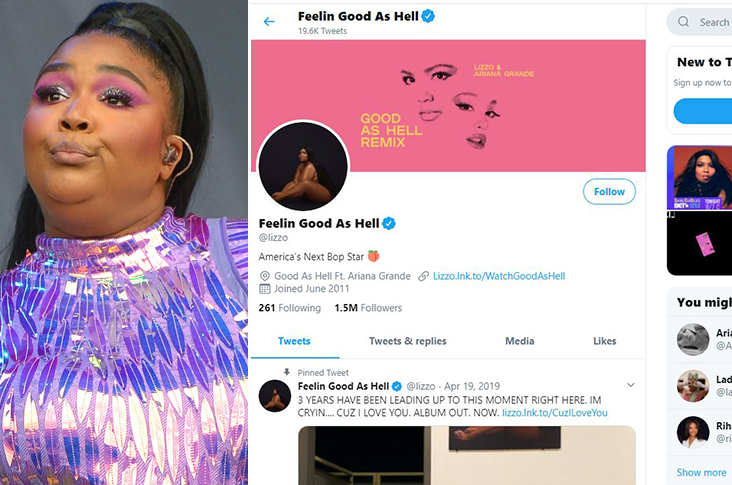 Lizzo's career recently just blew up, and it seems like her follower count is catching up. The singer rose to prominence after her hit single Good As Hell topped the charts in late 2019. Since then, her career and internet following have been growing like crazy. She's also a massive star on Tiktok with over 10.8 million followers. But aside from her music and entertaining social media content, she is also admired by many for her body-positive attitude. The singer has been actively advocating against body-shaming and has told her fans, again and again, to never be ashamed of the body that they are in. In an industry that over-values unrealistic beauty standards, her bravery to embrace her body is a rare move. Thankfully she has her social media influence to help her spread the word. We definitely give credit to Lizzo for using her platform in a positive way.
JESSIE J
Facebook: 17 Million
Twitter: 8.4 Million
Instagram: 9.3 Million
Youtube: 9.53 Million
Tiktok: 91,200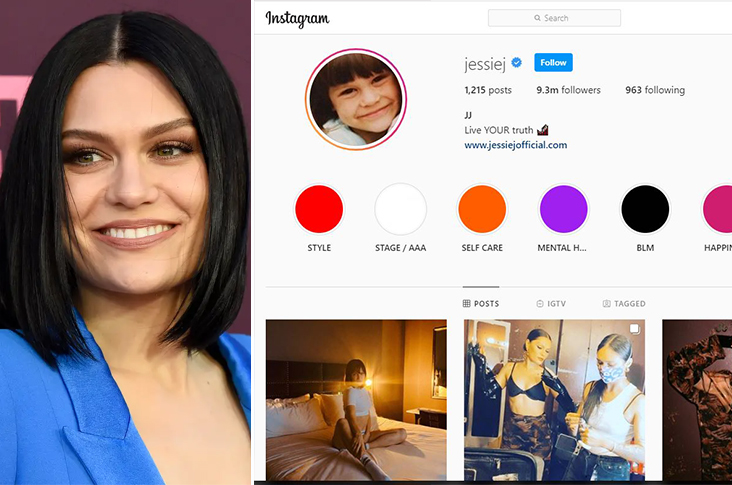 Jessie J is a British singer best known for her hits Price Tag, It's Okay Not To Be Okay, and Domino. She initially got into the field of music by joining stage plays and musicals at the age of 11. After pursuing an arts degree at London's BRIT School, Jessie J was quickly signed to a record label. In 2011, her big break came after her song Price Tag shot up the international music charts. Today, she is among the biggest and the brightest names in Hollywood and an emerging social media superstar. Her social media handles attest to her growing popularity with 17 million likes on Facebook, 8.4 million followers on Twitter, 9.3 million on Instagram, and 9.53 million on Youtube. The star also recently joined the Tiktok bandwagon, although her followers are still nowhere near one million. But hey, maybe in time Jessie's Tiktok will blow up.
KELLY CLARKSON
Facebook: 14 Million
Twitter: 12.2 Million
Instagram: 5 Million
Youtube: 3.18 Million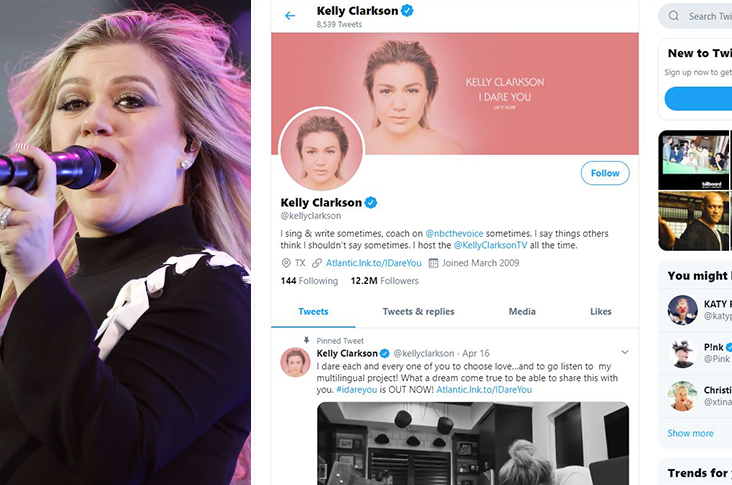 Kelly Clarkson is, by far, the most successful American Idol graduate ever. Not only did she manage to beat out thousands of hopefuls during the first season of the reality show, but she also managed to maintain a strong and steady career a decade after she won. This goes to show that the Texas native was always meant to be more than just a one-hit-wonder. Today, it's her turn on the judge's chair as she becomes one of the four celebrity judges on America's Got Talent. Given her strong and steady presence in Hollywood, it's no wonder Kelly's fans are still growing by the millions. If you take a look at her social media accounts, you'd see that Kelly does not fall short of loyal followers supporting her every move. And in return, she treats them with snippets of her life behind the camera and recording studios. She also shares her latest endeavors with her fans, like projects, advocacies, and investments.
HALSEY
Facebook: 2.8 Million
Twitter: 13.5 Million
Instagram: 21.3 Million
Youtube: 9.72 Million
Tiktok: 2 Million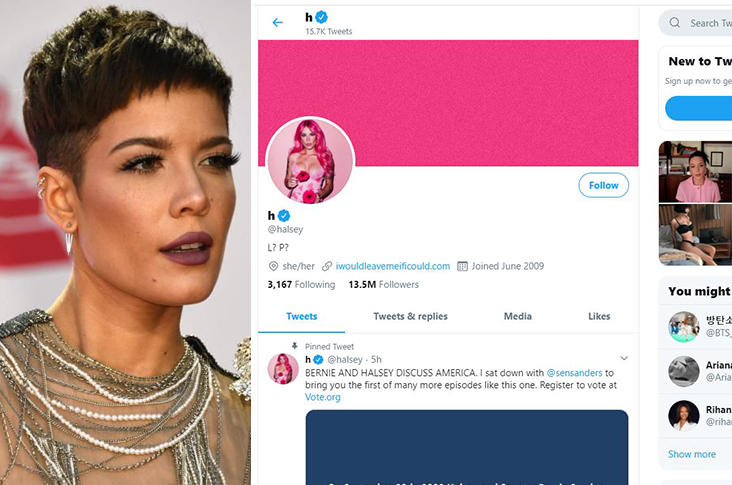 Nowadays, launching your music career can be as easy as uploading a file on the internet for the rest of the world to see. To a certain degree, social media gives artists control over how they market themselves. One of those artists happens to be American singer-songwriter Halsey. As a digital native, she knew she had the tools she needed to kick-start her singing career, so she went online and uploaded her songs across her digital platforms. Shortly after gaining attention on the internet, Halsey was able to land a deal with the recording label, Astralwerks. Until today, Halsey acknowledges the power of social media and often uses it to stay in touch with her fans and to promote advocacies she's passionate about. This time, however, she has bigger chances of making a change thanks to her millions of fans.
VICTORIA JUSTICE
Facebook: 14 Million
Twitter: 10.2 Million
Instagram: 19.6 Million
Youtube: 940,000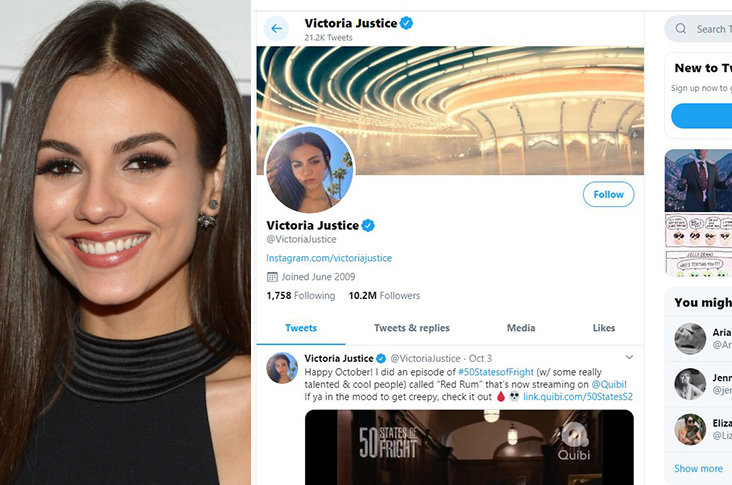 American singer/actress Victoria Justice really did spend the first few years of her career being victorious. After scoring the lead acting credit on Nickelodeon's Victorious series, Victoria went on to star in several other film and TV projects like American Housewife, Naomi and Ely's No Kiss List, Summer Night, and so much more. Besides being a singer and an actress, she is also notorious for her social media presence. On Instagram alone, Victoria boasts over 19.6 million followers and she likes to share carefully curated pictures of herself and her friends. She also uses her social media accounts as an avenue to promote her endorsements and advocacies. Given that, we can say that Victoria has evolved from being a teen star to a hybrid celebrity influencer.
JESSICA ALBA
Facebook: 5.3 Million
Twitter: 8.9 Million
Instagram: 18.5 Million
Youtube: 155,000
Tiktok: 5.6 Million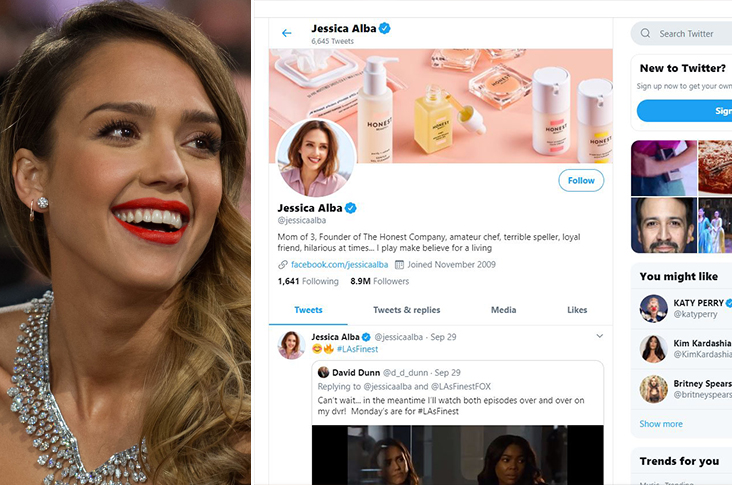 Jessica Alba's Hollywood career blossomed long before the internet became a massive self-marketing tool. However, that doesn't mean that the mom of three does not know how to work her way around the trendiest social media craze. In fact, she recently became viral on Tiktok after she posted a video of her dancing with her husband and her daughter. She's also quite witty with her Tiktok writing "Yo Mama" as her app username. Say what you want about this actress turned business mogul, but you can't deny the fact that the lady's got some humor. But speaking of her business, Jessica also uses her social media to promote her investments, particularly her Honest Company products. I guess you can say that Jessica is now a certified internet influencer.
ENRIQUE IGLESIAS
Facebook: 48 Million
Twitter: 14 Million
Instagram: 15.4 Million
Youtube: 19.9 Million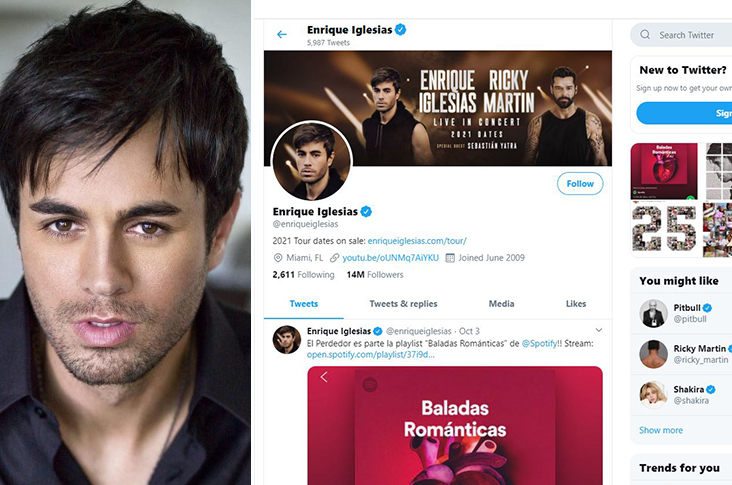 Spanish-Filipino singer Enrique Iglesias has been melting hearts with his music since the mid-1990s, so it's not surprising that his social media accounts are still teeming with fans from all over the globe. During his heyday, he contributed several trends to the industry which later earned him the title, "King of Latin Pop Music." He was also successful in bridging Latin/Spanish music to Hollywood. Today, Enrique makes his career transparent to his loyal fans by constantly updating his social media handles to show his latest projects, albums, and maybe even investments. Given that his career is showing no signs of slowing down, then we can only expect to see more of him in the digital stratosphere in the next few years.
NOAH SCHNAPP
Twitter: 876,000
Instagram: 17.9 Million
Youtube: 3.54 Million
Tiktok: 13.2 Million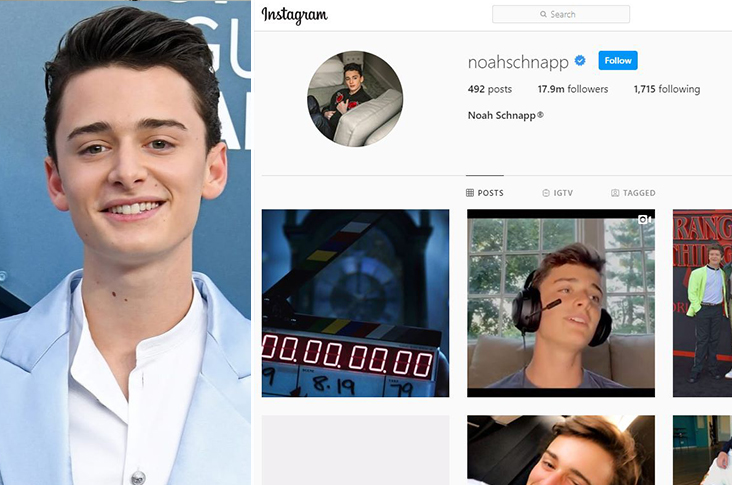 Stranger Things star Noah Schnapp belongs to the generation of kids raised mostly on the internet. So, it makes sense that this 15-year-old superstar knows how to work his way around the exciting and sometimes complex labyrinth of social media. With over 13.2 million followers on Tiktok and another 3.54 subscribers on Youtube, Noah is, for sure, on his way to becoming a massive social media star. And just like every other teenager, he likes to have fun with digital platforms. He knows how to uphold the responsibilities that come along with being a huge influencer. We can surely say that Noah is up to a good career start. If all goes well, then we can expect more acting credits from the young actor in the future.
TROYE SIVAN
Facebook: 2.6 Million
Twitter: 9.2 Million
Instagram: 11.3 Million
Youtube: 7.29 Million
Tiktok: 884,900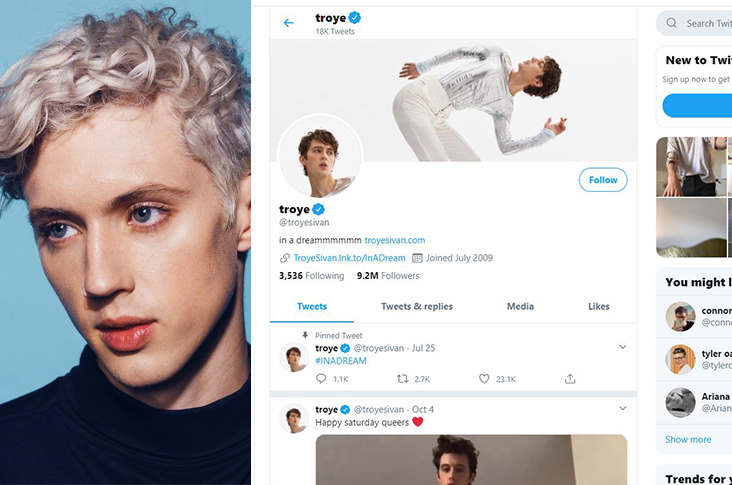 Just like Halsey, Troye Sivan also had his start on social media. His musical journey started with a few cover songs uploaded on the online streaming site, Youtube. As his internet fan base grew bigger and bigger, more agencies started to notice his talent and potential. Then finally, in 2013, Troye signed with an Australian record label and released his very first EP the following year. Since then, he has made tremendous career strides like collaborating with big names in Hollywood, going on world tours, and earning film credits. Today, Troye is a legitimate Hollywood and internet sensation with a thriving musical career. However, his career is only starting, and there's so much more in store for him. We're definitely excited to see him grow!
NEYMAR
Facebook: 59 Million
Twitter: 49.8 Million
Instagram: 142 Million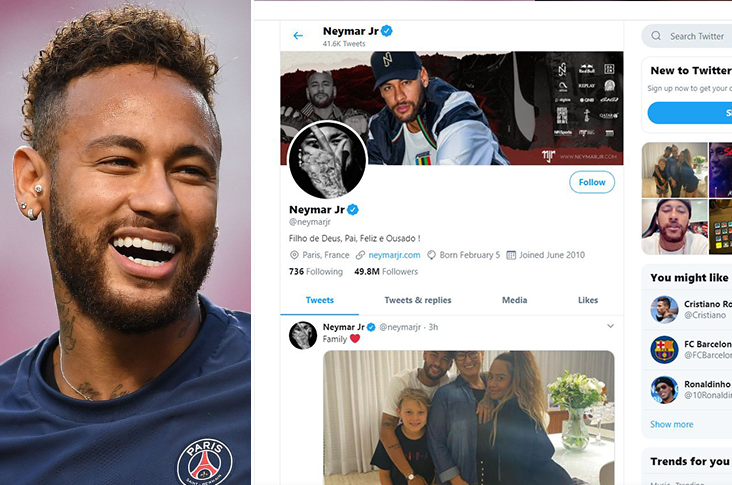 Brazilian football star Neymar Jr. rose to prominence playing for Brazil's Santos Football Club. After displaying exceptional skills on the field, he was recruited to play for FC Barcelona with fellow football giant, Lionel Messi. After a few years with the club, Neymar transferred once again to Paris Saint-Germain in a move that reportedly cost $260 million. Today, he is among the best players in the premier league. And besides his fame and fortune, he could also boast a massive internet following. He's only on three major social media platforms, but he's not short of followers. His Instagram alone has over 142 million followers, followed by his Facebook page with 59 million likes, and finally his Twitter with over 49.8 million followers. Neymar has, no doubt, an incredible degree of influence in the football community.
PINK
Facebook: 30 Million
Twitter: 32 Million
Instagram: 8 Million
Youtube: 10.1 Million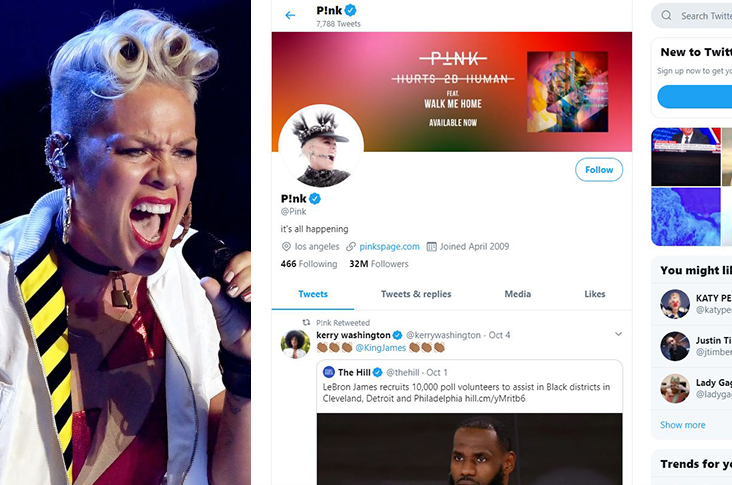 Pink's career in Hollywood has been nothing short of exciting. She started her journey as a member of a girl group but later transitioned into a solo artist after being offered a solo contract. During the first few years of her solo career, Pink produced a number of hits like Most Girls and There You Go. Her career and influence grew even further after she collaborated with some of the biggest singers of her time like Cristina Aguilera, Lil Kim, and Mya. However, it was her song Get The Party Started that solidified her name in Hollywood. Now, Pink has added the title "activist" on her resume and has been using her degree of fame on social media to promote awareness on a number or social issues.
DWAYNE JOHNSON
Facebook: 57 Million
Twitter: 14.9 Million
Instagram: 199 Million
Tiktok: 29 Million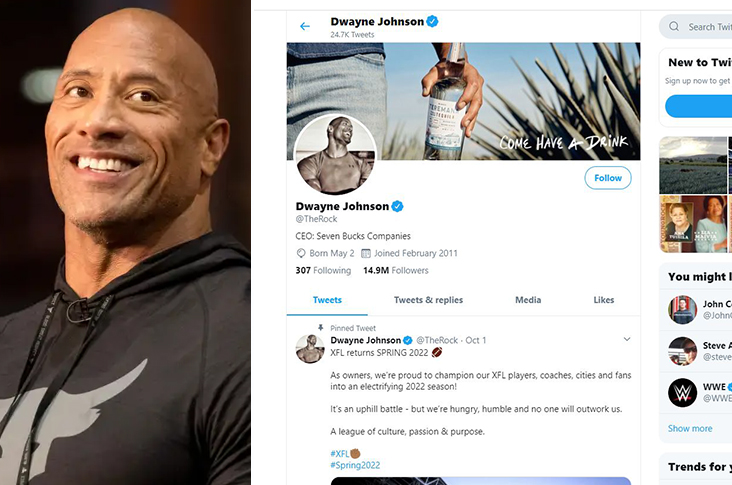 When it comes to versatile careers, Dwayne "The Rock" Johnson has got it all nailed down. While pursuing a degree at the University of Miami, Dwayne started a football career. However, after a few years, he shifted his focus to wrestling and ultimately build a solid career. Despite having a thriving career as a wrestler, he still wanted to expand his resume to include the title "actor." Today, he is one of the highest-paid actors in Hollywood with films earning up to $10.5 billion worldwide. Outside of acting, The Rock busies himself with being a father, a businessman, and an internet star. With millions of fans following him on social media, Dwayne has no shortage of people to market his projects and business investments to.
EMMA WATSON
Facebook: 33 Million
Twitter: 29.2 Million
Instagram: 58.1 million
Youtube: 269,000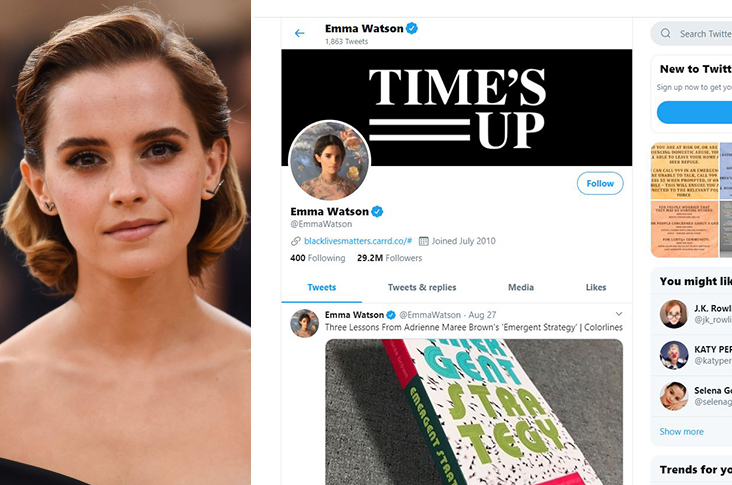 There is no doubt in anyone's mind that Emma Watson is one of the most influential millennials in Hollywood today. Apart from being an actress, Emma is also a well-respected advocate and activist. For years now, she has been using her massive reach on social media to promote awareness on several key issues. One particular movement that she is known for is the He For She movement which she helped popularize together with the United Nations. She has also campaigned for other causes in the United States. Today, Emma continues to work with various organizations promoting women's rights all while maintaining an active career in Hollywood. She surely is one hard-working woman and deserves every bit of credit for her efforts.
ARIANA GRANDE
Facebook: 33 Million
Twitter: 77.5 Million
Instagram: 203 million
Youtube: 43.4 Million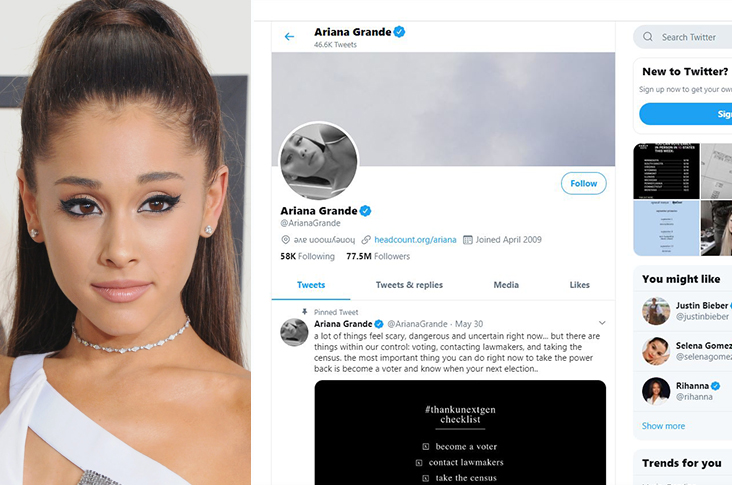 When it comes to social media followers, Ariana Grande falls a couple million short from being on the top spot. However, despite not being number one (on Instagram, at least), Ariana still has millions upon millions of fans supporting her every move. In return, she treats her fans with aesthetically pleasing photographs of her life behind the spotlight. Not only that, but she also likes to stay connected with her fans and would sometimes take the time to respond to their tweets or entertain questions via Instagram live. She surely deserves more credit for being an accommodating celebrity. If Ariana continues to devote this much time and effort to stay connected with her fans, then we don't doubt her career will take off further than it already has.
MARSHMELLO
Facebook: 18 Million
Twitter: 2.3 Million
Instagram: 30.2 million
Youtube: 48.8 Million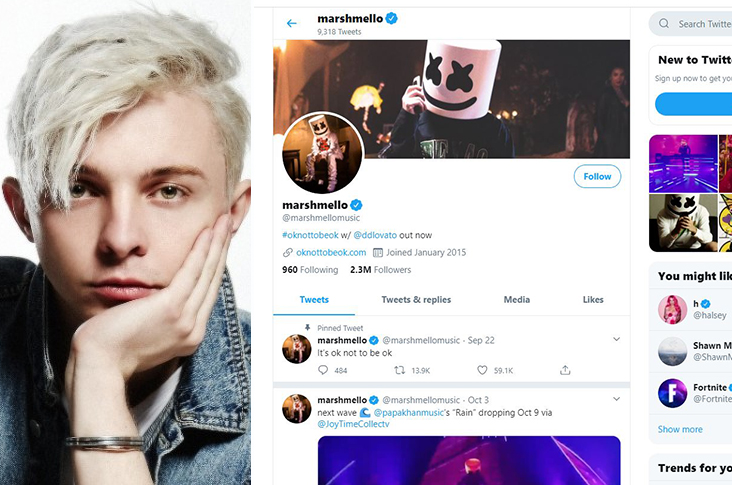 American DJ Christopher Comstock, better known in the industry as Marshmello, rose to prominence after his remix tracks with Jack U and Zedd shot up the international EDM charts. As a solo artist, Marshmello is responsible for hits like Wolves, Alone, Silence, and Happier. Since achieving international success, Marshmello has been sharing production credits with big artists in Hollywood which, in return, turned him into an internet celebrity. And much like his career, his internet platforms are also filled with stylish and exciting content. His Instagram for example bears witness to his lavish lifestyle and wild concert tours. Today, Marshmello has millions of followers on the internet and his definitely using it to his advantage by promoting his shows and projects.
JENNIFER ANNISTON
Facebook: 1.5 Million
Instagram: 35.7 million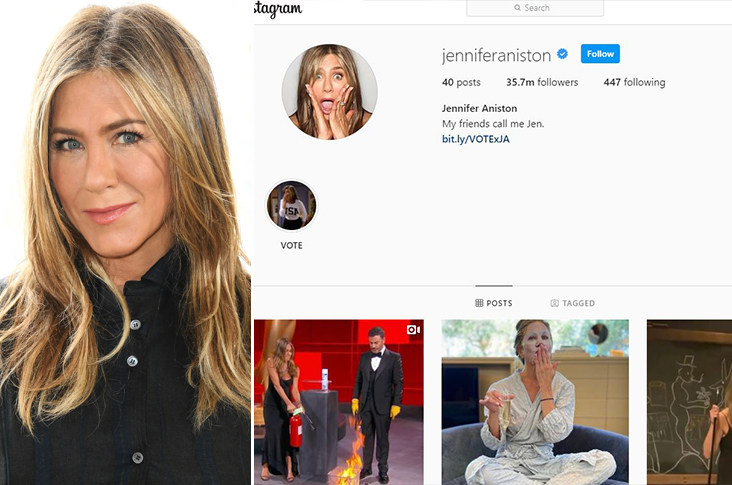 You probably would not believe it, but Hollywood A-lister Jennifer Anniston only has two social media accounts on the entire internet. With the number of times, we see her name fly by our timelines, you'd think that she has every single app installed on her phone. Apparently, the actress only has Facebook and Instagram. But because of her lack of social media presence, Jennifer was able to break an unlikely record when she joined Instagram. The actress earned the credit of being the fastest celebrity to hit one million followers back in October of 2019 after only five hours and sixteen minutes. The record has since been broken by yet another legend by the name of David Attenborough. Anyway, back to Jen's Instagram. It's now filled with personal pictures of the actress, her pets, her projects, and much to her fan's delight, pictures of her occasional reunions with her Friends co-stars.
JENNIFER LOPEZ
Facebook: 43 Million
Twitter: 45.2 Million
Instagram: 132 million
Youtube: 13.4 Million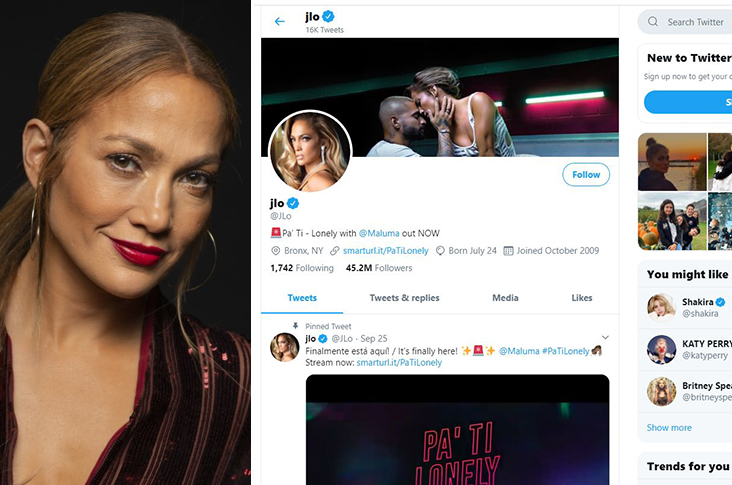 Latina singer Jennifer Lopez surely has a knack for the lavish and the stylish. This is evident in her social media content. On Instagram alone, J.Lo likes to flaunt her stylish lifestyle, enviable fashion, and luxurious investments. However, she also uses it as an avenue to promote her music, as well as her advocacies. On occasions, the singer would help campaign for causes like women's rights and equality on the internet. Given her huge fan base, we're sure she won't have a hard time reaching a bigger audience. J.Lo also likes to stay in touch with her fans and would sometimes entertain their questions and comments either on Twitter or Instagram. Given that she still has tons of plans for her career in the future, it surely pays to stay connected with fans.
REESE WITHERSPOON
Facebook: 3.8 Million
Twitter: 2.8 Million
Instagram: 24.3 million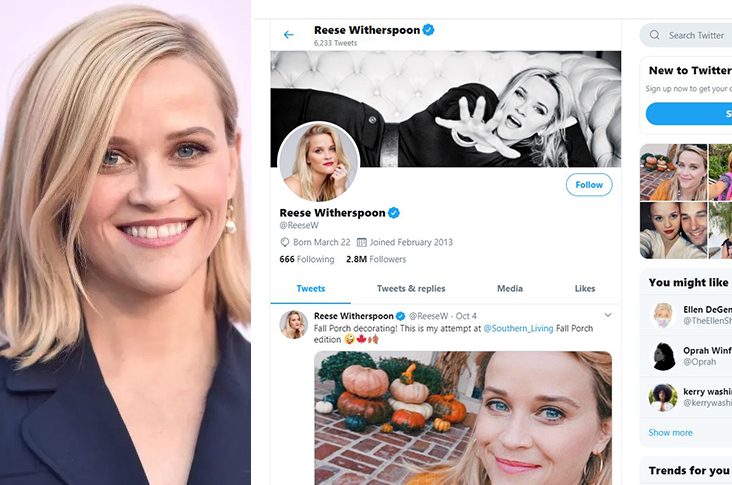 I don't know if you've heard, but Reese Witherspoon recently became an internet superstar, thanks to her hilarious and entertaining videos on Tiktok. The actress, just like every other celebrity today, joined the app just shortly after being put under quarantine. She made the most of it by enlisting the help of her 16-year-old son Deacon who's definitely more well-versed on the internet than she is. But Tiktok is not the only platform Reese is good at using, she's also quite the charmer on Instagram. The Oscar winner often posts snippets of her family life, her home (which is quite a lovely investment, by the way), and book suggestions to her 24.3 million followers. She also uses the platform to voice out her opinion on certain matters affecting society.
Gordon Ramsay
Facebook: 20 Million
Twitter: 7.5 Million
Instagram: 11 Million
YouTube: 16.8 Million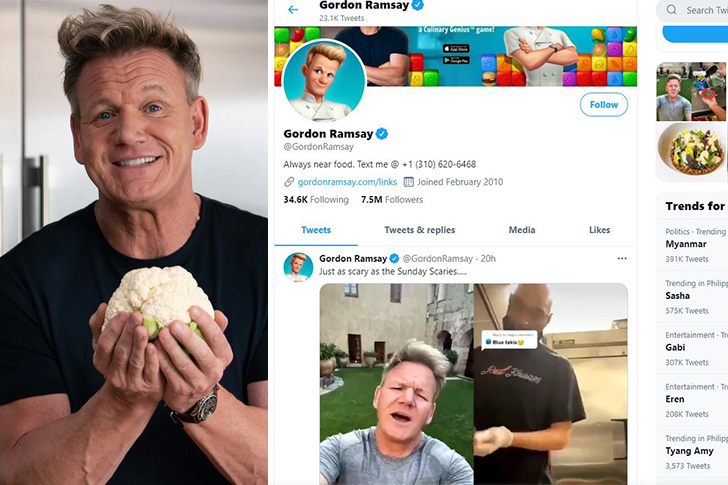 British chef, food critic, and restaurateur Gordon Ramsay had a humble beginning. Before starring in Hell's Kitchen, he grew up in a struggling family until he decided to move out and later developed an interest in cooking. He was only 19 years old when he attended North Oxfordshire Technical College and earned a degree in hotel management. Ramsay worked in a series of restaurants, including a stint with the temperamental chef Marco Pierre White at Harvey's. From there, the young chef moved to Paris to work with Michelin-starred chefs Guy Savoy and Joel Robuchon. His first foray into television was through the documentaries Boiling Point and Beyond Boiling Point.
Since then, he has gained stardom and had television shows of his own. He also continues to post on his social media countless recipes. On his YouTube, you can see videos of him and his family cooking together.
Iggy Azalea
Facebook: 10.5 Million
Twitter: 7.8 Million
Instagram: 14.4 Million
YouTube: 7.7 Million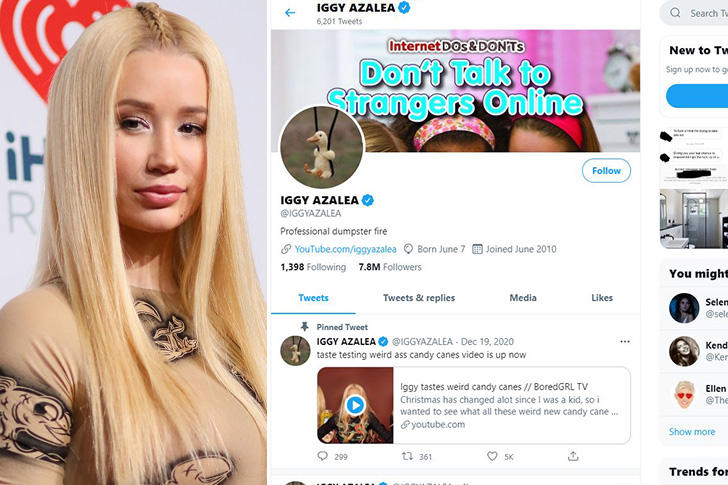 Born Amethyst Amelia Kelly in Sydney, Australia, to Brendan and Tanya Kelly, Iggy Azalea became a household name when her single Work became an international hit in 2013. Now considered one of the top female MCs in the hip-hop industry, Azalea gives credit to rapper Lisa "Left Eye" Lopez of the girl-band TLC as her inspiration for pursuing a music career. If you're curious about where she got her stage name, she put together the name of her dog, Iggy, with the residential area she grew up on, Azalea Street. The 30-year-old rapper's career saw a significant rise when she started uploading her freestyle videos on YouTube.
Today, she continues to make waves in the scene and has gained multiple millions of followers on her social media. She has 10 million followers on Facebook alone, where she posts updates of her singles and promotes her merchandise.
Kanye West
Facebook: 8.4 Million
Twitter: 30.7 Million
Instagram: 4.6 Million
YouTube: 6.6 Million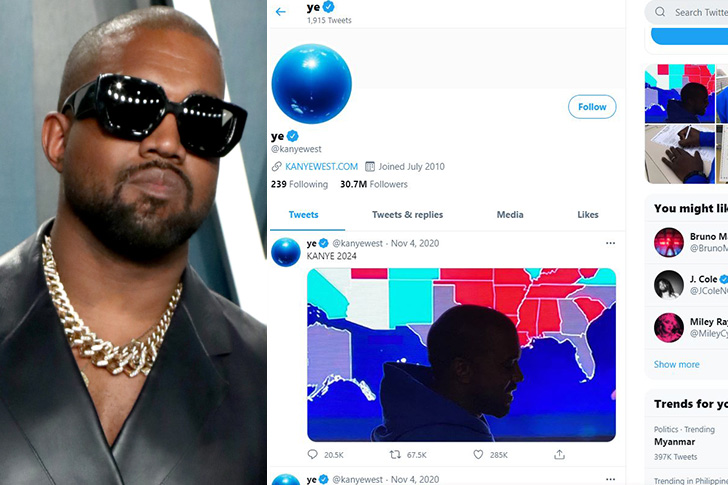 American rapper and producer turned fashion designer and entrepreneur Kanye West gained widespread recognition in the early 2000s after releasing his album called The College Dropout. The 43-year-old rapper is now one of the most awarded music artists, with a portfolio of 69 Grammy nominations and 21 Grammy wins as of writing, making his credit score increase over the years. West has also pivoted away from the music scene towards entrepreneurship. His Yeezy brand, in partnership with Adidas, has earned him a sizable fortune, and he's now reportedly worth $3.2 billion. He is also a noted philanthropist.
West has garnered 30.7 million followers on his Twitter account, where he posts controversial updates of his life and his whereabouts. He is also known to publish government-related topics and even announced his bid for the U.S. presidency, but later bowed out of the running.
Sean Paul
Facebook: 11.4 Million
Twitter: 25.7 Thousand
Instagram: 1.2 Million
YouTube: 3.4 Million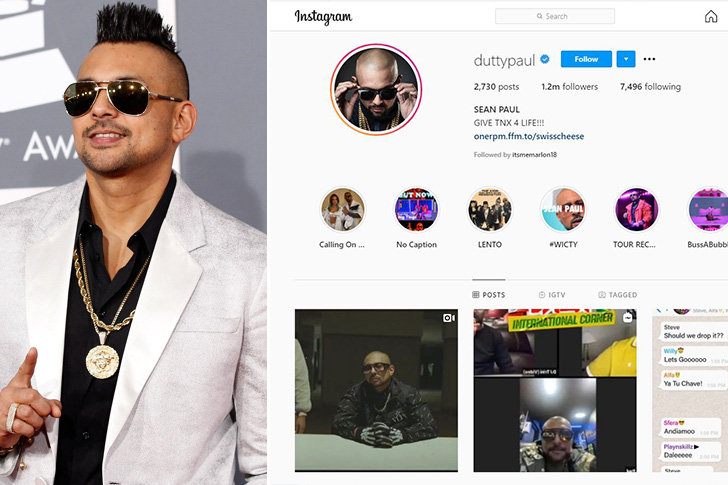 Grammy-winning Jamaican reggae artist and rapper Sean Paul became a worldwide phenomenon in the early 2000s. Widely credited for bringing the dancehall music genre to the international scene, he has received considerable praise from listeners and critics. Most of Paul's albums have been nominated for Grammy Awards, including winning the Best Reggae Album for the 2002 studio album titled Dutty Rock. He has also collaborated with Beyoncé on the song Baby Boy and Enrique Iglesias on his ultra-popular track that made us dance on the flooring, Bailando. During his peak, Paul's music was playing just about everywhere.
Having 11 million followers on Facebook is no easy feat, but Sean Paul made it look simple. He continues to make music and post updates of his songs on his account. He even shares funny TikTok videos to his fans, which receives thousands of likes and comments as well.
Ben Schwartz
Facebook: 76.3 Thousand
Twitter: 1.2 Million
Instagram: 849 Thousand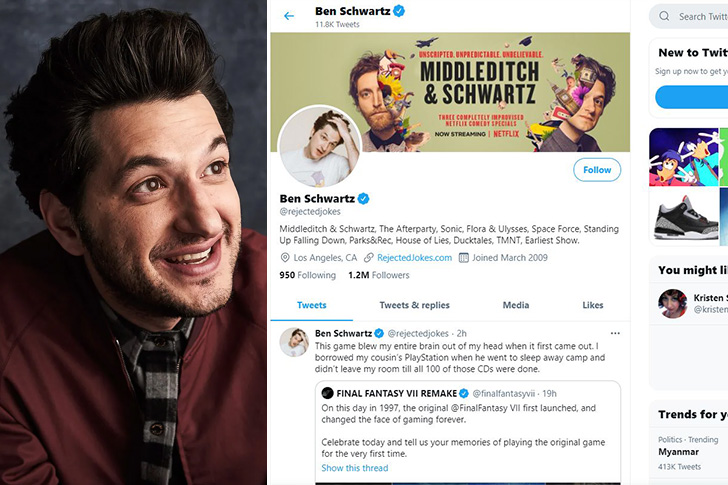 Ben Schwartz is an actor, director, and comedian who starred as Evan Mintz on Mayne Street from 2008 to 2009. Another of his famous roles is Jean-Ralphio on the comedy series Parks and Recreation from 2010 to 2015. Schwartz also provided voice work for several shows such as DuckTales and Rise of the Teenage Mutant Ninja Turtles. In 2009, he bagged the Emmy Award for Outstanding Original Music and Lyrics for co-writing actor Hugh Jackman's opening number for the Academy Awards. Today, he has a few projects lined up, including the television series The Afterparty and the film Rumble.
With his investments in the show business, he has gained a huge number of followers on social media, with his Instagram gaining more than 800,000 audiences. He publishes hilarious videos there, and for sure, he'll continue to gain even more fans and followers in the future.
Cole Sprouse
Facebook: 17 Thousand
Twitter: 9.9 Million
Instagram: 34 Million
YouTube: 15 Thousand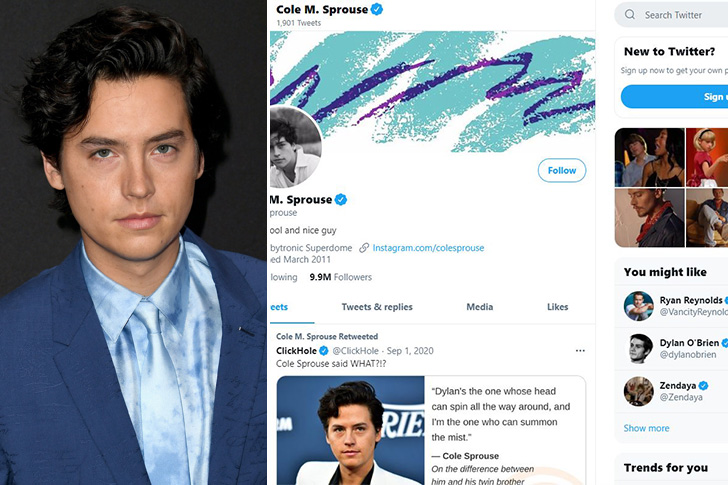 Cole Sprouse is one half of the twins known as the Sprouse Brothers. He and his brother, Dylan, are both actors and the two began acting when they were still babies. They appeared in sitcoms such as Grace Under Fire and in various television commercials. The twins also received acting roles in Big Daddy, That '70s Show, and Eight Crazy Nights. Cole also appeared on the hit show Friends without his brother. In the mid-2000s, the twins were cast in the television show that would make them international stars. The show, titled The Suite Life of Zack and Cody, became a global hit and made the Sprouse brothers two of the wealthiest teenage actors of their generation. After their work on the show, Cole attended New York University and pursued a degree in archaeology.
Today, Cole remains to be an influential icon in the mainstream media and has 34 million followers on Instagram.
Hugh Jackman
Facebook: 32 Million
Twitter: 14.4 Million
Instagram: 29.5 Million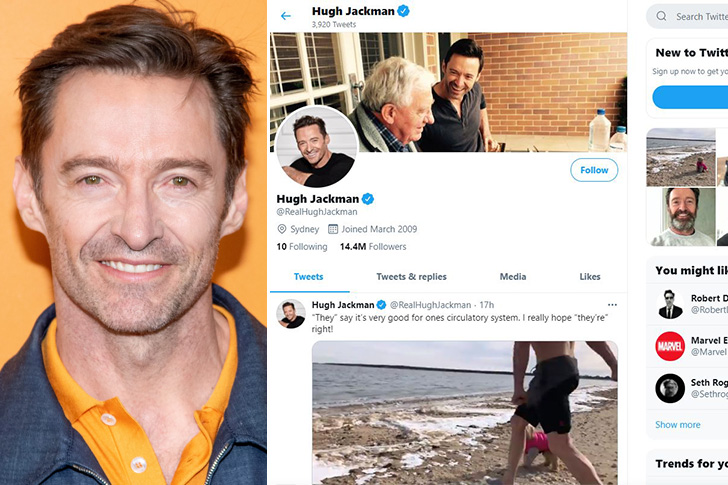 Hugh Jackman catapulted to fame after portraying Wolverine in the X-Men film franchise. He earned $20 million per movie as a base salary for this iconic role. The actor also bagged a Tony Award for his performance in The Boy from Oz and appeared in other blockbuster films such as Les Misérables, Van Helsing, and The Greatest Showman. During his younger years, Jackson has always shown a keen interest in acting and he even completed a one-year course at the Actors' Centre in Australia. He then performed on stage and won an Olivier Award nomination for Best Actor in a Musical for his portrayal in Oklahoma! When he landed the role of Wolverine, it was the gas needed to ignite his career. Then, the rest is history.
Now in his 50s, the renowned actor likes to keep his fans updated with his current and upcoming projects. He has over 29.5 million followers on Instagram.
Kenneth Cole
Facebook: 792 Thousand
Twitter: 196.9 Thousand
Instagram: 40.5 Thousand
YouTube: 3.1 Thousand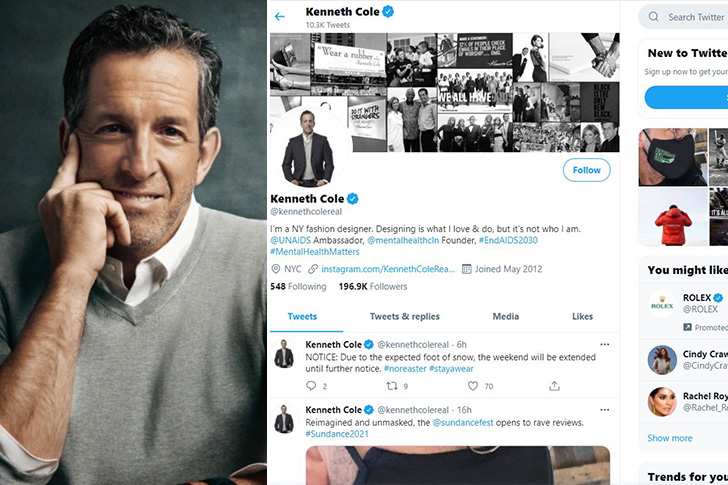 This time, we'll feature a business mmogul instead of an actor. Nevertheless, he has been living a celebrity status, especially in the fashion scene. Born in Brooklyn, New York, Kenneth Cole initially wanted to become a lawyer, but later joined his family business of shoemaking. From there, he built his own company called Kenneth Cole Productions, which sold 40,000 pairs of shoes in just over two days upon its startup. He then ventured into three lines of shoes, accessories, and clothing called Kenneth Cole Reaction, Unlisted, and Kenneth Cole New York, respectively.
Cole's company is also acknowledged for being socially conscious, donating large sums to various organizations devoted to ending homelessness and poverty. It's no wonder that countless people have shown their support for the brand. The fashion designer has also gained almost 800,000 followers on Facebook and more than 40,000 on Instagram.
Megan Thee Stallion
Facebook: 8.3 Million
Twitter: 5.7 Million
Instagram: 19.6 Million
YouTube: 3.79 Million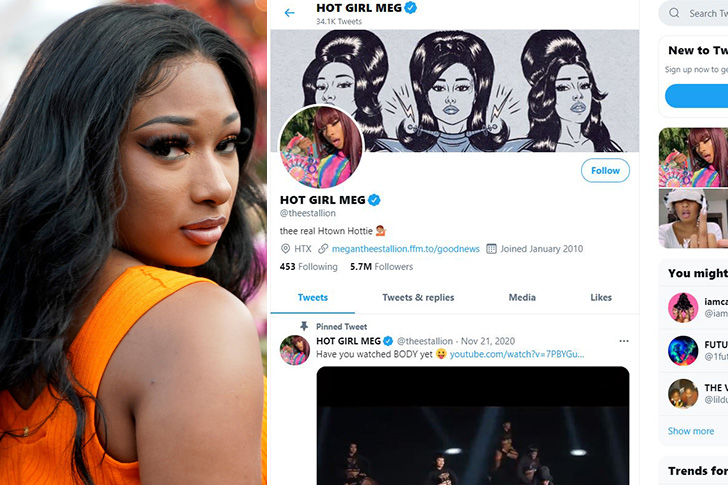 Born in Bexar County, Texas, Megan Thee Stallion skyrocketed to fame when she published her freestyling videos on social media. In 2018, she signed to 300 Entertainment, where she released the extended play Suga, the mixtape Fever, and her debut album, Good News -all of which have hit the top 10 of the Billboard charts. Her most well-known song is Hot Girl Summer, which featured Nicki Minaj and Ty Dolla Sign. The 25-year-old American rapper credits Beyoncé, The Notorious B.I.G., Pimp C, and her mother as her biggest musical influences. Just recently, Time magazine included her in their list of 100 most influential people in the world.
The future remains bright for Thee Stallion, and even though she just began her career, she has bagged several awards already and garnered millions of followers on her social media. Her Instagram follower count is now nearing 20 million.
Sarah Silverman
Facebook: 1.1 Million
Twitter: 12.5 Million
Instagram: 2 Million
YouTube: 171 Thousand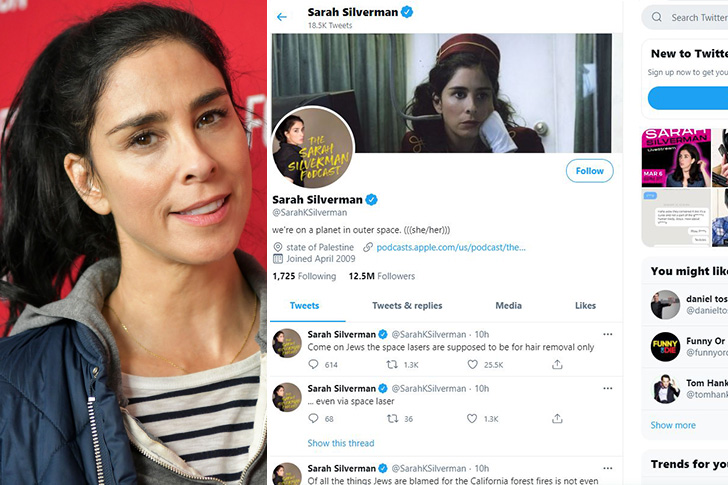 Sarah Silverman is one of the most popular female comedians of the present time, and she is known for her work in stand-up comedy. She is also vocal and not afraid to address controversial topics and express her personal views. Throughout her career, Silverman had won two Primetime Emmy Awards for her works in Sarah Silverman: We Are Miracles and an episode of Jimmy Kimmel Live! Born to Beth Ann Silverman, a theater company founder, and Donald Silverman, a social worker, the comedian began her standup career in 1992. Afterward, she got her big break in Saturday Night Live and later started starring in films.
When she's not appearing in TV or movies, Silverman makes funny videos and uploads them on her social media. Her investment planning toward using the internet as her platform has worked well for her as she now has over 12 million Twitter followers.
Amanda Bynes
Facebook: 184 Thousand
Twitter: 2.6 Million
Instagram: 36.8 Thousand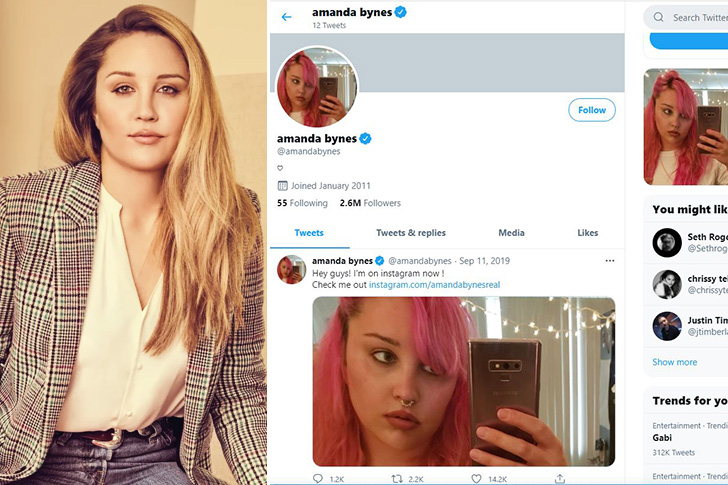 Amanda Bynes was one of the biggest female stars in the late '90s and early 2000s. After facing multiple issues concerning her personal life, her film career also dwindled. However, she proved to be good when it comes to money management and established a fashion line called Dear. Born in Thousand Oaks, California, in April 1986, Bynes started her acting career when she was only seven years old. She appeared in television commercials and stage plays until she was discovered by a producer for Nickelodeon and was cast in the show All That. She was also given her own namesake show, which aired from 1999 to 2002. Since then, she's mostly led a private life.
It's a good thing we have the internet nowadays, so we can have a sneak peek of our favorite celebrities' daily lives. Bynes keeps us well-updated with her Twitter and Facebook accounts too.
Bill Cosby
Facebook: 542 Thousand
Twitter: 3.3 Million
Instagram: 56 Thousand
YouTube: 16.4 Thousand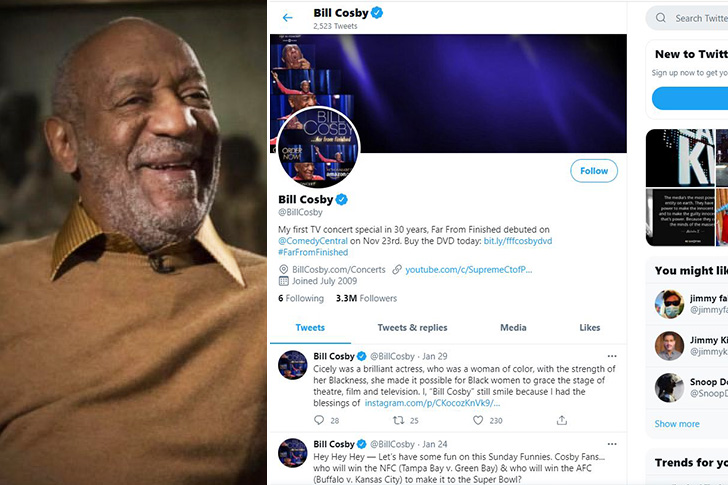 Back then, Bill Cosby was a huge name in the show business. He is best known for starring and creating the highly-successful The Cosby Show. At the pinnacle of his career, Cosby was named the highest-paid television actor, with a base salary of $1 million per episode of the said show. He also owned 20% of the show's equity, which gained him hundreds of millions in syndication royalties. With this huge amount of money, his financial advisor must have had a hectic schedule managing his bank accounts. However, Cosby experienced a downfall in both his career and personal life. This has led to losses, including in his finances.
Despite being in his mid-80s, Cosby has learned to be tech-savvy and used social media as his platform to connect with his fans. He now has 3.3 million followers on Twitter, half a million subscribers on Facebook, and more than 50,000 fans on Instagram.
Christopher Lloyd
Facebook: 1.6 Million
Twitter: 39 Thousand
Instagram: 413.4 Thousand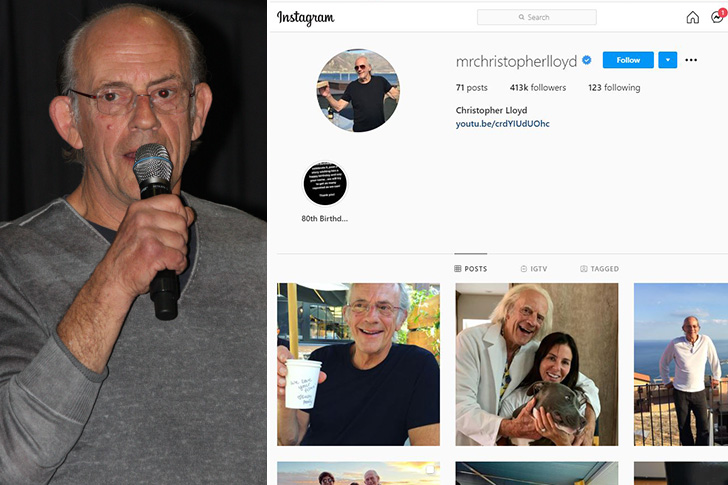 If you're a fan of the Back to the Future trilogy, then you surely know who this actor is. Christopher Lloyd portrayed Emmett "Doc" Brown in the blockbuster film, and he subsequently became a pop culture icon for the role. He also received widespread recognition for his performance in the comedy series Taxi, for which he won two Emmy Awards. Lloyd first pursued his passion for acting at the age of 14. By age 19, he was studying at the New York City's Neighborhood Playhouse School of the Theatre under renowned acting teacher Sanford Meisner. Lloyd's most memorable role to date remains to be Doc Brown.
The actor is now 82 years old, and would you believe he's still quite active on social media despite his age? Yes, his credit reports even remain on the rise and he has over a million followers on Facebook.
Hulk Hogan
Facebook: 2.2 Million
Twitter: 39 Thousand
Instagram: 1.7 Million
YouTube: 11.5 Thousand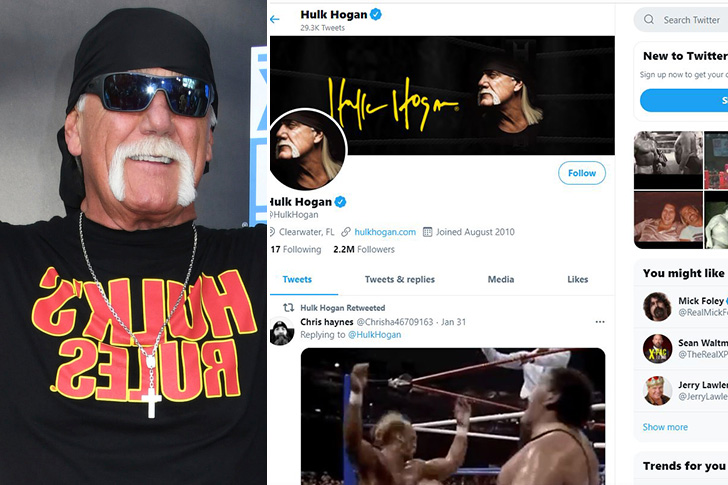 It's quite fascinating that the retired professional wrestler Hulk Hogan remains a Hollywood icon. Hogan was one of the forerunners in turning professional wrestling into sports entertainment, bringing electricity from the wrestling stage to the home television. After his work in wrestling, he ventured into acting and appeared in several films like Suburban Commando and No Holds Barred. Aside from working in television and movies, he also branched out into the food industry and opened a beachfront restaurant called Hogan's Hangout. Even today, he maintains his signature white hair and beard.
Staying relevant is no easy feat, but he manages to do so through social media. He likes to publish old photos of himself and reminisces his heydays in the sport. We think it's his way of letting the young generation know why the name Hulk Hogan is part of wrestling and Hollywood history.
Keke Palmer
Facebook: 8.4 Million
Twitter: 1.9 Million
Instagram: 10.2 Million
Youtube: 779 Thousand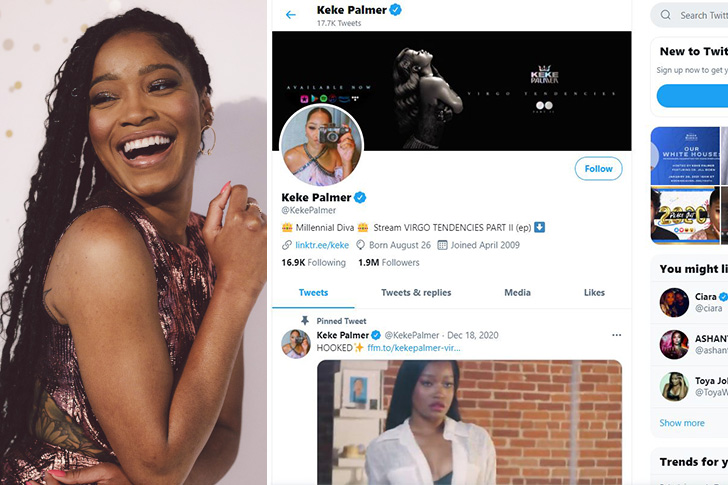 American actress and singer-songwriter Keke Palmer is famous for her movie soundtracks for the films Akeelah and the Bee and Night at the Museum. She is also notable for her acting roles in Unstable Fables: Tortoise vs. Hare, True Jackson, and VP. Born in Harvey, Illinois, Palmer performed with her church choir as a child. She later moved with her parents, Sharon and Larry Palmer, to California to pursue an acting career. She accepted her first film role in 2004 and starred alongside Ice Cube and Queen Latifah in Barbershop 2: Back in Business.
The 27-year-old actress is set to work on the upcoming television show The Proud Family: Louder and Prouder as Maya Leibowitz-Jenkins. When she's not acting, she posts online classes on her Youtube page and teaches her 779,000 subscribers how to do makeup and how to dress up.
KYLIE JENNER
Facebook: 31 Million
Twitter: 37.2 Million
Instagram: 213 Million
YouTube: 10.1 Million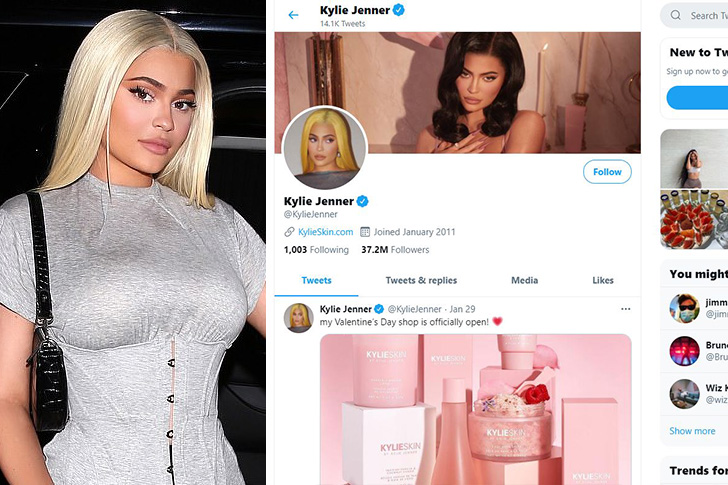 Kylie Jenner is famous for being part of the Kardashian family and their E! reality television series Keeping Up With The Kardashians. Other than that, she is the owner and founder of her cosmetic company Kylie Cosmetics. The young American socialite, businesswoman, and media personality has definitely made a name for herself, just like all her sisters.
Jenner became the world's youngest self-made billionaire at the age of 21. She knows how to navigate the social media channels by posting content that her fans love. Love her or hate her, the young social media personality knows how to keep her fans and people who know her follow her every move.
Fans credit her for reviving the social media application Snapchat all over again. Her impact is undeniable as she demonstrated her strong presence with just one tweet about using Snapchat. Jenner is considered to be one of the most prominent people on social media, and her power over digital media is still growing.
MIKE SHINODA
Facebook: 1.6 Million
Twitter: 1 Million
Instagram: 1.5 Million
YouTube: 735 Thousand
Twitch: 114k Thousand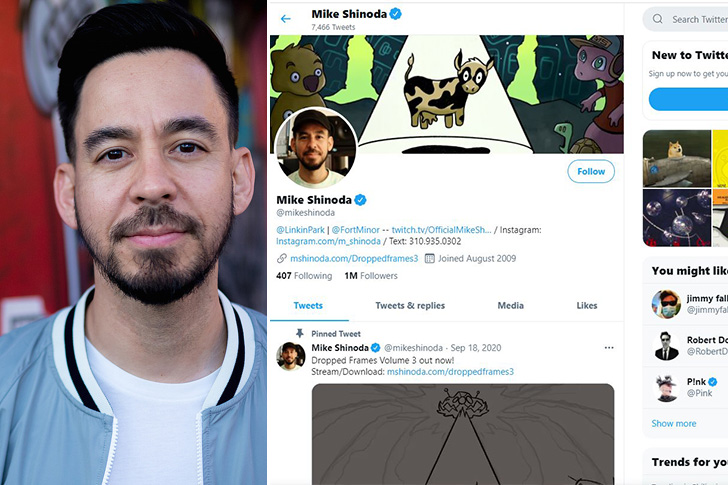 Mike Shinoda is the co-founder of the famous band Linkin Park, and he is also one of the band's vocalists. He plays many instruments, too, like guitar and keyboard, and is the primary songwriter and producer. Shinoda uses social media to continue promoting his solo music. In 2018, the musician released an album called Post Traumatic. The album contains 18 songs about how he felt after Chester Bennington's death, his bandmate. In 2017, the man who fans credit to be a significant influence in the music industry.
Shinoda connects with his fans through social media in a unique way. Besides the typical social media platforms, he continually uses the Twitch platform to communicate with his fans and show them music productions he made and collaborations with other artists. The musician tried something different by allowing his fans to submit their original songs, and he will produce them live on Twitch! Shinoda doesn't only show what he does to his fans, but he also creates a way to connect with them.
ROSEANNE BARR
Facebook: 636.7 Thousand
Twitter: 828.3 Thousand
Instagram: 188 Thousand
YouTube: 251 Thousand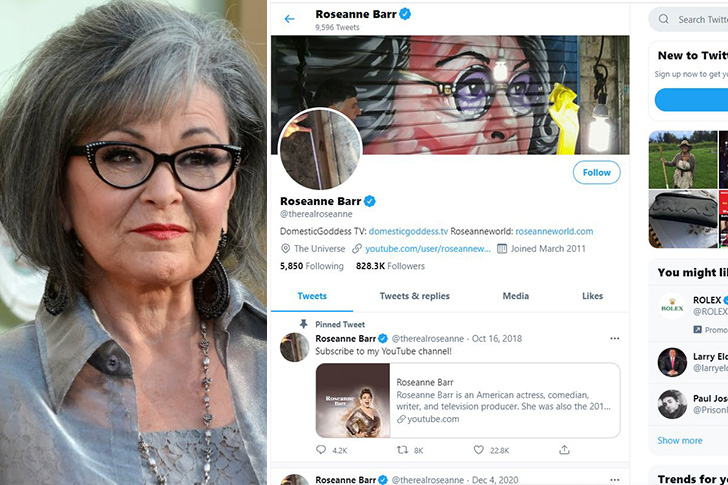 Roseanne Barr is an amazing American actress, comedian, and presidential candidate who started her career as a stand-up comedian before she was in the critically acclaimed television sitcom Roseanne that aired from 1988 to 1997 and a revival in 2018. As a woman born decades before the rise and peak of social media, Barr uses her social media platform to post her unfiltered thoughts for her fans and the world to see. Her investment in social media might be controversial with her opinions, but that does not stop the actress from posting content.
She posts about her YouTube videos expressing her opinions on different topics in Roseanne World, photos and videos on Instagram about her daily life, and everything in between. The woman might not be as influential in social media as the younger generation, but she still brings back the nostalgia that people love.
SETH ROGEN
Facebook: 5.1 Million
Twitter: 9 Million
Instagram: 8.4 Million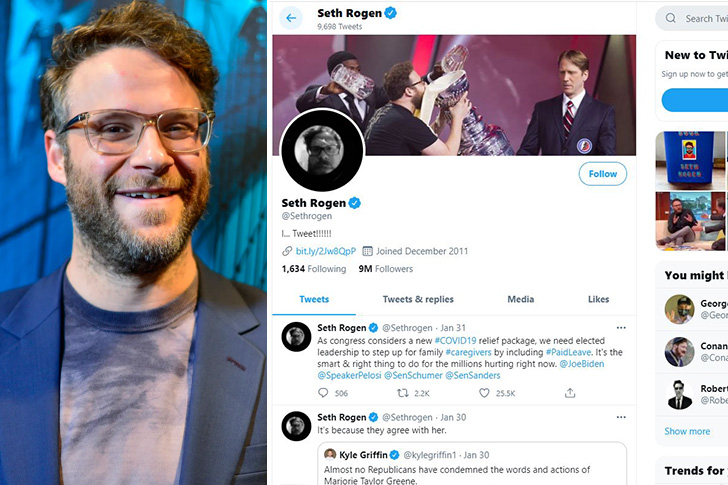 Seth Rogen is a well-known Canadian-American actor, director, comedian, writer, and producer who started as a stand-up comedian in Vancouver. He is known for his movies like Knocked Up, Funny People, the Steve Jobs biopic, and his voice work in the famous animated film series Kung Fu Panda, among others. Some of his credits as a director and writer are in The 40-Yeard-Old Virgin and Da Ali G Show, respectively.
Rogen uses his social media presence to share bits and pieces of his life and things he's passionate about. The funnyman's vocal about his beliefs and stands strong about them. Another thing to commend about him is that he frequently interacts with his fans by replying to their tweets or comments on other social media platforms. On Instagram, Rogen mostly posts about his love for creating different types and designs of pots. The comedian shows that, like any other person, he also has hobbies that people can relate to.
TIA MOWRY
Facebook: 6.4 Million
Twitter: 1.9 Million
Instagram: 8.3 Million
YouTube: 815 Thousand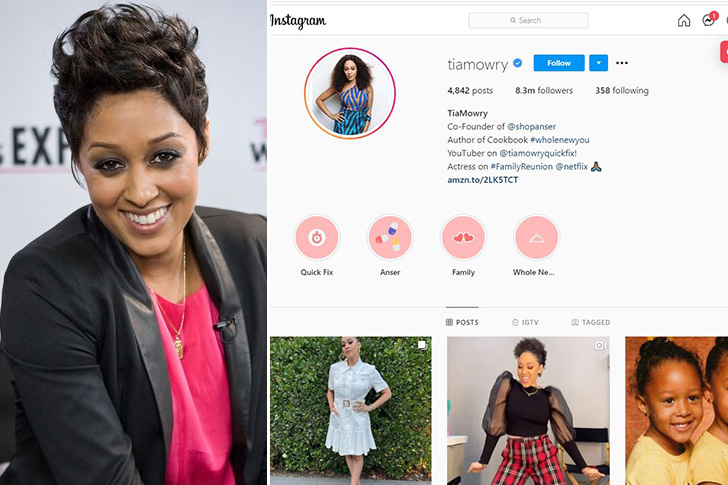 Tia Mowry is an American actress who became famous by starring in the sitcom Sister, Sister that ran from 1994 to 1999 with her twin sister Tamera Towry. Mowry is very active on social media. She shares many posts about her family life, her work outside of acting, and body positivity photos with her fans and followers.
These posts show her and her family doing lots of activities and details about her weight loss journey. The actress also uses social media platforms to talk about her career experiences and the struggles she and her twin sister had to push through, and investments that didn't go through because of the situations back then. Mowry has a YouTube channel called Tia Mowry's Quick Fix, where she uploads videos that advise her audience on how to do quick ideas for a weeknight meal and beauty tips that don't take time.
PETER DINKLAGE
Twitter: 220.5 Thousand
Instagram: 5 Million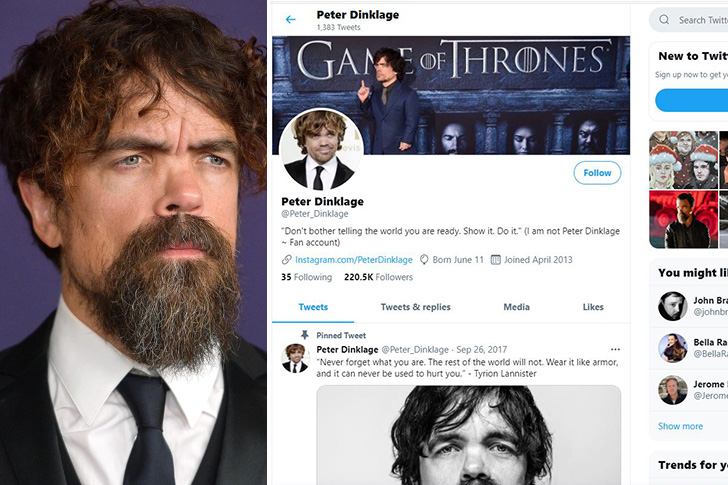 Peter Dinklage is best known for his fantastic portrayal of the character Tyrion Lannister on the HBO fantasy television series Game of Thrones. This role won him a Primetime Emmy Award for Outstanding Supporting Actor in a Drama series not just one but four times! Dinklage also won a Screen Actors Guild Award and a Golden Globe Award for the part.
The American actor and producer doesn't have any social media accounts, but he does have fan accounts that post photos of him and the shows and events he's been in. With five million followers on Instagram for his fan account page, the page posts contents of shots from his programs and some backstage pictures. Dinklage might not have social media accounts, but it is evident that his fans find a good investment in creating pages for him and share bits and pieces of his life as an actor. He's influential enough to have this kind of dedication.
CARDI B
Facebook: 25.4 Million
Twitter: 16.8 Million
Instagram: 81.9 Million
YouTube: 15.9 Million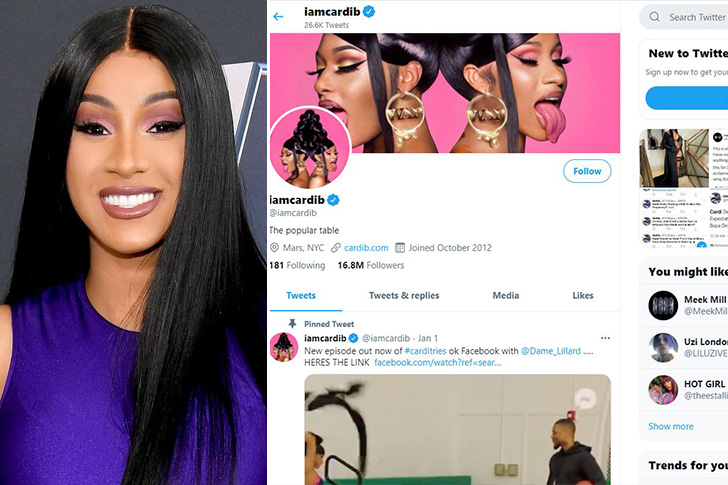 Cardi B is undeniably one of the most successful female rappers in the game right now, and new upcoming female rappers credit her for giving women chances in the industry. She knows how to navigate social media platforms to her advantage. She has a big personality, and she knows it, which helps her create contents that might look ridiculous to most people but still go viral. The rapper loves to vocalize her thoughts that might seem controversial, but she does it in an ingenious and charismatic way. She's unfiltered and unapologetic, making her relatable to her fans and the people viewing her social media posts.
The lesson of portraying yourself as a professional in social media is now out of the window with Cardi B. The strategy works for her because she continues to attract attention every time she posts something, whether it be a video of her talking about things or just posting a photo of herself. She knows precisely to be herself, and people will respond to her.
ELON MUSK
Twitter: 44.7 Million
Instagram: 1.5 Million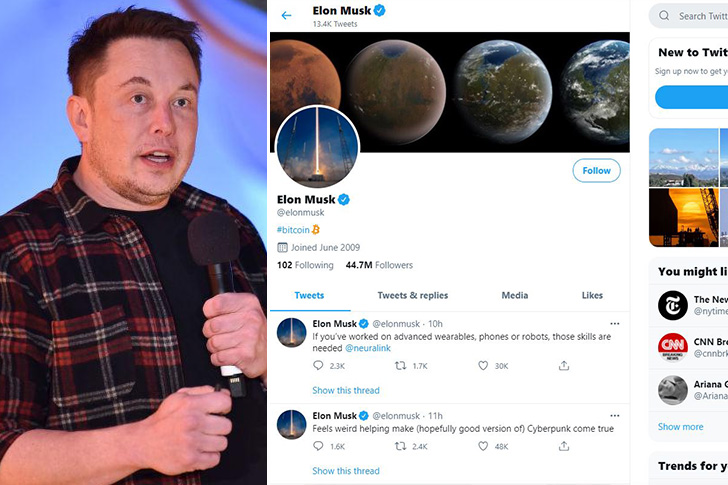 Elon Musk is most known for being the CEO of Space X and Tesla, Inc., among other companies. He is a centibillionaire and became the wealthiest person in the world in January 2021, surpassing Jeff Bezos, the CEO of the multinational technology company Amazon. He is one of the first and only CEO influencers at the moment. This decision helps him a lot as he doesn't need to partner with influencers to promote his brand. The CEO is considered one of the most influential social media users, which is more than enough.
Musk's investment in social media, Twitter specifically, is a smart decision like most of his assets. He doesn't have any social media strategy and just posts everyday things like funny quotes and controversial and random thoughts. The CEO loves posting thoughts about his life and the decisions he makes, making people feel like they're talking to someone who's not a centibillionaire.
JASON BIGGS
Twitter: 448.1 Thousand
Instagram: 602 Thousand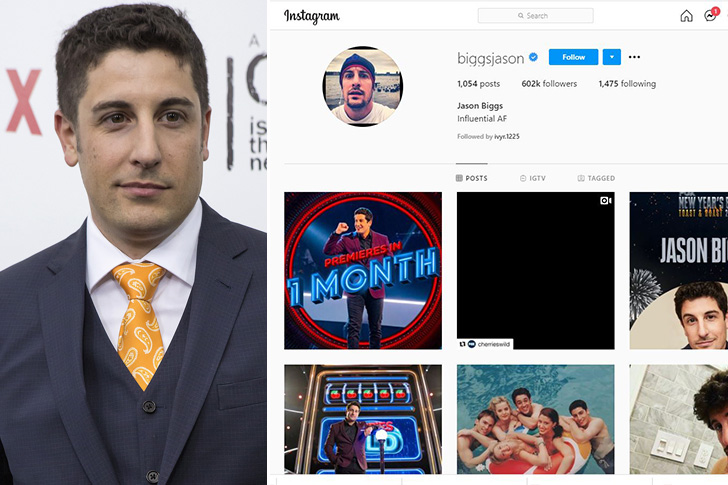 Jason Biggs is famously known for playing the role of Jim Levenstein in the American Pie comedy movie series. The actor and comedian have many credits in his name and even got nominated for a Daytime Emmy Award for the Outstanding Younger Actor category in a Drama Series in the soap opera As The World Turns in 1995.
In his social media, Biggs shows that he and his family travels a lot. He says that traveling is essential to him and his children because it's his kind of education. The actor didn't go to college, and he loves exposing himself and his family to different environments. His investment in flying seems to work because he posts a lot of photos from different places. He loves posting funny commentaries on his Twitter account about tweets about him. Biggs also posts throwback photos of him and his friends and families on Instagram, along with funny memes. The actor loves the magic of social media and continues to use it.
LENA DUNHAM
Facebook: 225 Thousand
Twitter: 5.3 Million
Instagram: 2.8 Million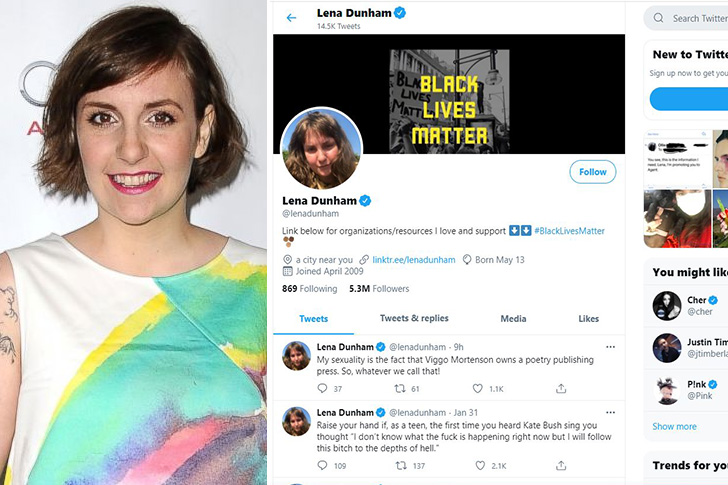 Len Dunham is one of the most creative forces the Hollywood industry has seen in a long time. She's a writer, director, and actress and famously known for her critically acclaimed show Girls. The actress uses her social media presence to raise important issues and advocate for things she believes in. She considers herself to be a strong feminist and shows it through her tweets on Twitter and posts on other social media platforms.
Dunham admitted that she didn't know how to use social media before correctly and how to use her voice in the right way, but she has been learning and making it an investment for her career. She continues to post on her social media accounts pictures of her and events that she feels strongly about. Dunham shows that even with people who don't believe in her, she's not running out of gas yet to see the change she wants.
MARK HAMILL
Twitter: 4.4 Million
Instagram: 5.6 Million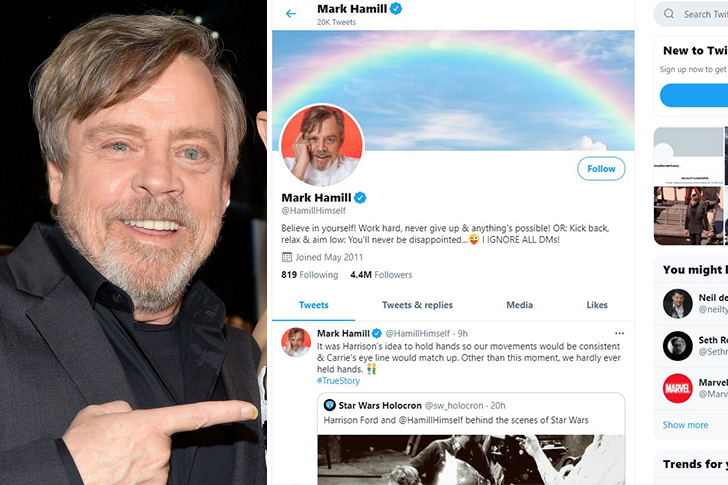 Mark Hamill is a big name in the industry and is most known for playing the iconic character of Luke Skywalker in the classic film series Star Wars. The actor was hesitant to interact with his fans online, and he wasn't accustomed to using any social media platforms. Now, he enjoys it quite a bit and sees the influence social media has on him and his career as an actor. He compares it to the old days when he answered fan mails and Twitter as an electronic fan mail.
He credits his wife and children about him being consistently active on social media. His wife told him to answer 50 tweets, and that's fine for the day, although Hamill notices when he answers one question, many will want to know the answers too. Some people think he only uses it to gain more followers, and it almost made him back out of using social media, but he advises people to follow their engaging content and find a way to make it fit their own prism.
MINDY KALING
Facebook: 1 Million
Twitter: 11.7 Million
Instagram: 5.8 Million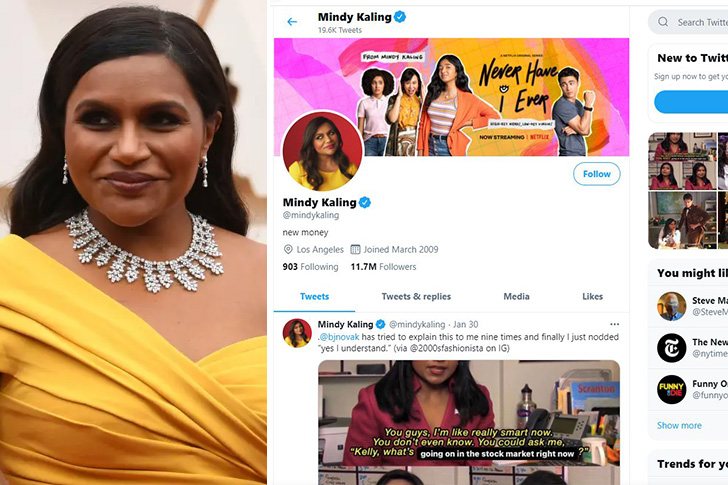 Mindy Kaling is a very successful actress, comedian, writer, author, producer, and director. Multiple of her works have received acclaim, and she even has nominations for the Emmy Awards, among other notable awards. Kaling uses social media to her advantage by letting out her ideas and getting immediate feedback from her fans and followers. Her investment in using social media presents her as someone follow-worthy because of her relatable tweets and personality.
The comedienne fuses her blog writing into social media to create more buzz for her books. Kaling uses social media not just for business-related posts but also for interacting with her fans and creating social spaces to discuss topics. Her humor isn't gone, as it translates well with how she communicates with people. Kaling knows how to balance using social media platforms for her works and creating a community that will stay and talks to her online. She hasn't ran out of gas to create that safe space she wants for her fans and that's admirable.
ROLAND MARTIN
Facebook: 1.29 Million
Twitter: 599.3 Thousand
Instagram: 593 Thousand
YouTube: 731 Thousand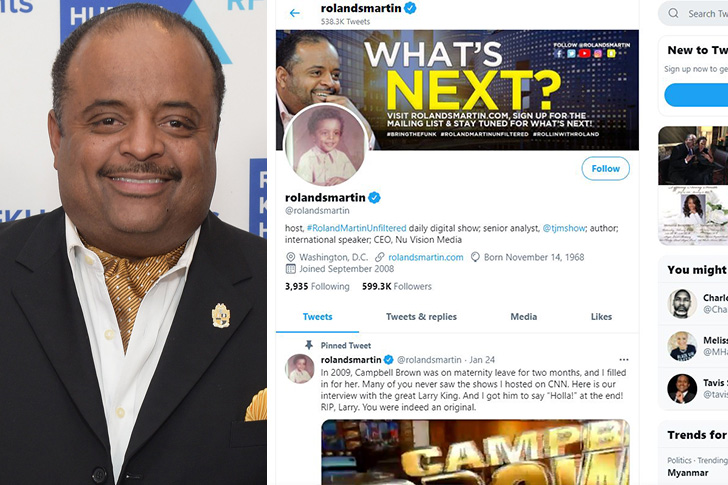 Roland Martin is a host and a managing editor of his digital show called RolandMartinUnfiltered Daily Digital Show. The digital media and television journalist reaches out to 675,000 YouTube subscribers with his content. The show is streamed on multiple online platforms, and this achievement is a milestone for him. He uses social media platforms like Facebook and YouTube to live-stream his podcast five days a week. His podcast has been viewed at least 9.2 million times in total viewership across all of the platforms he uses.
The veteran journalist understands that more and more people depend on social media platforms for their news, and he uses this to his advantage. An investment in social media platform works for Martin because these platforms have broad reaches to viewers who do not have cable and such. Martin knows how to use his social media platform to reach people, which proves that age doesn't matter when it comes to digital media.
ADAM SAVAGE
Facebook: 2 Million
Twitter: 1.4 Million
Instagram: 1 Million
YouTube: 5.39 Million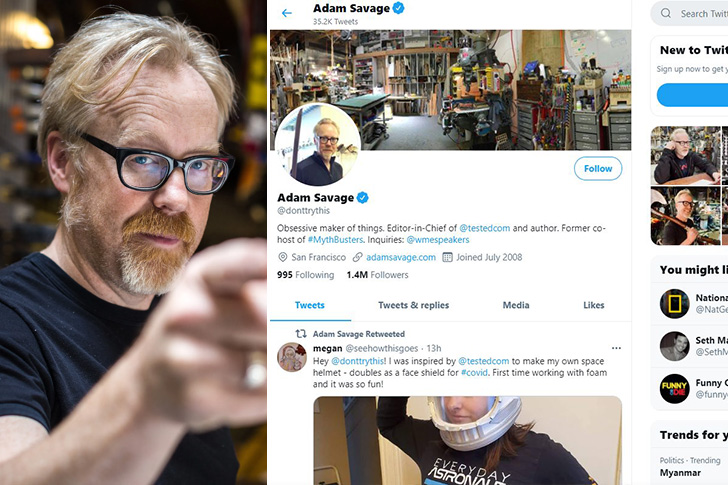 Adam Savage is a famous American special effects designer and fabricator, television personality, and producer who uses social media platforms to expand his reach with his work. He was the former co-host of Mythbusters, a well-known Discovery Channel television series, and Chained Reaction. His work appeared in major films, including Star Wars: Episode – Attack of the Clones and Matrix Reloaded.
Savage thinks social media and the platforms' use are excellent for bringing people together, especially niche topics. He believes that echo chambers should be broken into smaller chunks and what he tries to do. He uses Twitter a lot, and he wants to hear people's experiences because he wants to reach out to people. On his Instagram, he continues to post his process and works to show people how he does what he does amazingly. His community loves him for being transparent and credits him for his excellent social media presence.
BETSY DEVOS
Facebook: 33.7 Thousand
Twitter: 122.9 Thousand
Instagram: 13.5 Thousand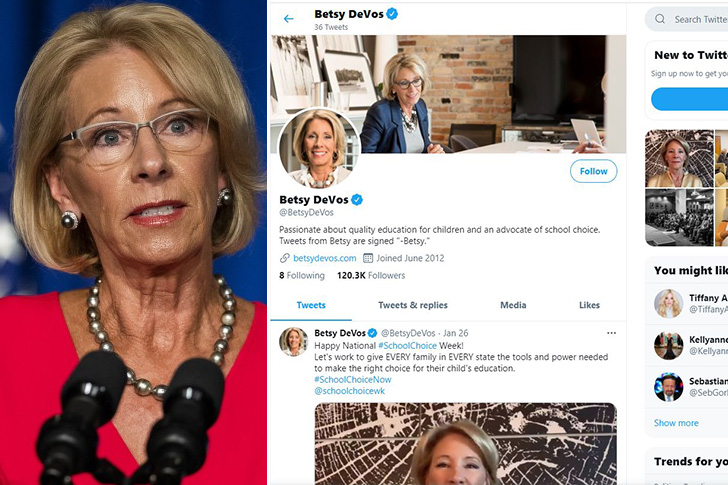 The former United States Secretary of Education uses her social media platform to promote proper handling of education and the people who work in the industry. She wants to keep the conversation going and posts her thoughts on how to handle the situation. DeVos posted on her Facebook page that she wants to make transformational changes and give everyone equal opportunity to fulfill their highest potential. DeVos posts quotes and photos of the work she did for the United States and reminds everyone that she is in it for the good fight.
She might be in some criticism with some of her work, but she says that the media should not use social media platforms to use her a clickbait. DeVos reminds everyone that it's about the students and to see the bigger picture. DeVos's investment in social media shows that people might not agree with some of her actions, but she can still keep the conversation going to reach excellent results.
Chris Brown
Facebook: 47 Million
Twitter: 32.6 Million
Instagram: 75.7 Million
YouTube: 21 Million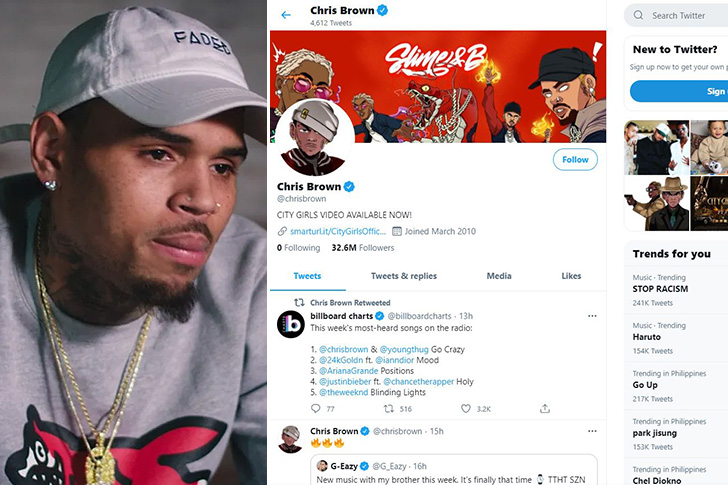 Chris Brown is one of the bestselling musicians in modern times. He earned this title through the hit singles on his credit, which is part of the reason why he dominates global airwaves. It all began with his 2007 hit Run It, his song that first charted at number 92 on Billboard Hot 100 and went on to climb at number 1 in November 2005.
Fast forward to 2007, the famed musician had another charting hit titled Kiss Kiss, which was placed 93rd on the 2007 Billboard Hot 100's year-end chart, and its music video notably received a nomination for Best Choreography on the 2008 MTV Music Video Awards. Since then, his songs had paved his way to international breakthrough and continues to be familiar to listeners' ears until today, and that is why he is wealthy not only financially but also when it comes to the numbers of his social media followers.
Dax Shepard
Twitter: 1.1 Million
Instagram: 3.3 Million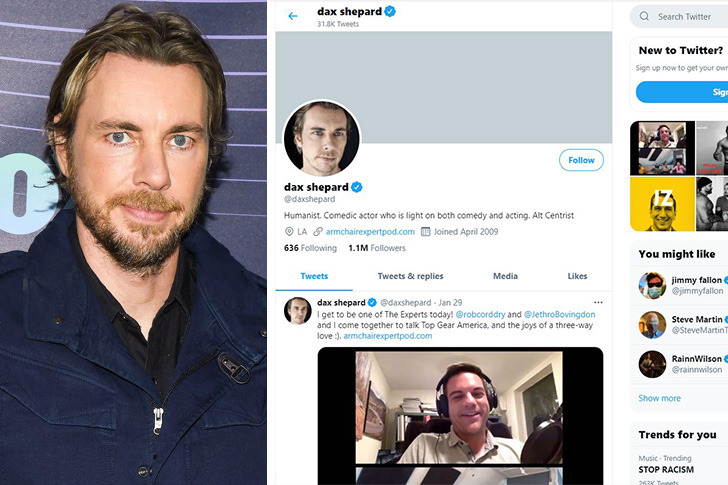 Currently, Dax Shepard hosts his own podcast, Armchair Expert with Dax Shepard, which debuted back in 2018. The actor had his wife Kristen Bell as the first guest of his podcast. Speaking about his beloved, Dax and Kristen became engaged back in 2010 and tied the knot three years later, and the loved-up pair were blessed with two children born in 2013 and 2014, respectively.
His prestigious podcast and his appearances on television shows, most notably with the MTV show Punk'd, could be credited as Dax's claim to fame. Not to mention, he has also appeared in movies such as CHiPS and Hit & Run. If that's not enough to impress you, then it should be made known to the public that these two movies were surprisingly directed by him. As a result, those appearances were one of the factors which paved his way in garnering millions of followers on his respective social media accounts. Thus, branding him as one of the beloved celebrity social media figures we know.
Kim Kardashian
YouTube: 1.8 Million
Facebook: 33.6 Million
Twitter: 68.7 Million
Instagram: 202.8 Million
TikTok: 12.4 Thousand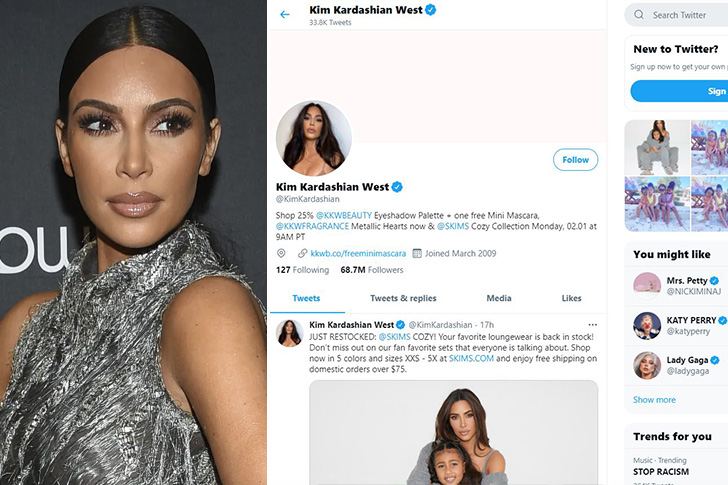 Like other members of both the Jenner and Kardashian clan, Kim Kardashian has a massive influence in the world of entertainment, particularly on social media. The numbers of her followers on her respective social media sites were no surprise since she was already known by many people around the world since she is one of the members of the prestigious families in Hollywood. Her appearance on Keeping Up with the Kardashians and her relationship with Kanye West that gained media attention were both seen as potential money-making ventures and reasons why Kim became so influential and got so many followers.
Besides that, another factor that contributed to her fame was the game Kim Kardashian: Hollywood and having numerous investments on businesses related to her love for fashion and through her own emoji called Kimoji, a portmanteau of her given name and emoji.
Matthew Lillard
Instagram: 250 Thousand
Twitter: 302.2 Thousand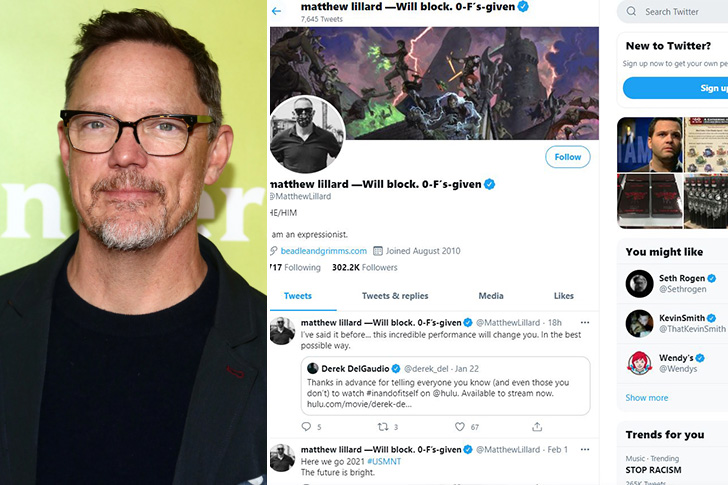 Matthew Lillard had both Instagram and Twitter accounts, but the numbers of his followers on both of these sites aren't that high. Regardless, it is his way on how to keep his fans updated on what is happening to him and to have a glimpse of his everyday activities so as on Twitter, where he usually voices out his concerns and opinions on any kind of current events. This actor is known for playing Shaggy in Scooby-Doo movies, but social media platforms like Twitter and Instagram were still not popular at that time. We could only imagine the surge of his followers if both of these social media sites were as popular as it is today at the time of his fame as Shaggy and it would be incredible if that happens. Despite having only thousands of followers on these social media sites, he will always be remembered by many people on that credited role.
Russell Brand
YouTube: 2.68 Million
Instagram: 2.2 Million
Twitter: 11.2 Million
Facebook: 4.9 Million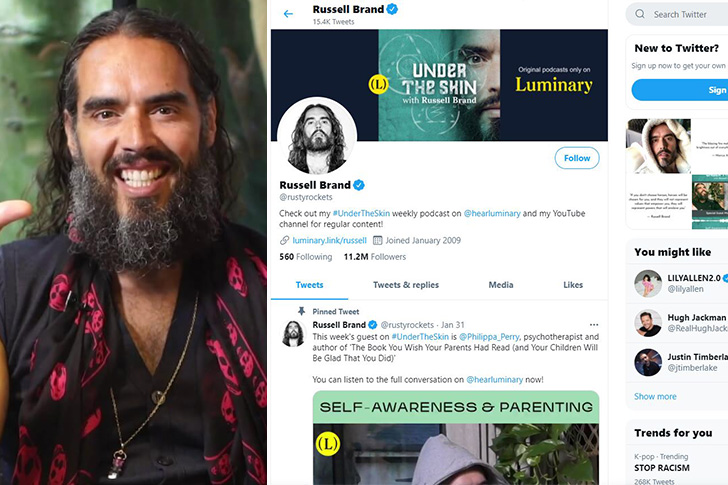 Russell Brand is a British comedian who started his career as a standup comedian. He was then introduced to a wider audience when he hosted MTV's Dancefloor Chart in 2000. Four years later, Brand became the host of Big Brother's Big Mouth. He also became an actor, starting with his roles as Flash Harry on St. Trinian's, Aldous Snow in Forgetting Sarah Marshall and Get Him to the Greek, as well as a voice acting credit as Dr. Nefario on Despicable Me and its spin-offs. He also hosted the MTV Video Music Awards for 2 consecutive years, from 2008 to 2009. In 2014, he started to gain social media attention with his web series called The Trews on his YouTube channel, where he has 2.6 million subscribers. Brand also hosts a podcast called Under the Skin on Luminary, a podcast network.
Snoop Dogg
Facebook: 44.2 Million
Youtube: 7.12 Million
Twitter: 19.2 Million
Instagram: 55.2 Million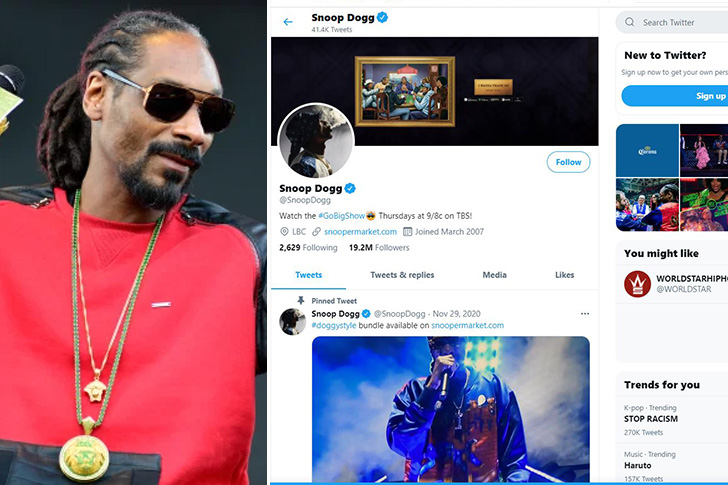 Snoop Dogg has first gained recognition in the hip-hop scene when he got featured on Dr. Dre's song Deep Cover. He was then introduced to worldwide audiences with his hip-hop singles such as Drop It Like It's Hot, Young Wild & Free, Nuthin' But a G Thang, Gin and Juice, Gz and Hustlas, What's My Name, and Signs. It is no wonder he has sold a total of 35 million albums globally. In 2018, the rapper received a star on the Hollywood Walk of Fame. Snoop Dogg is considered an icon in pop culture and has millions of subscribers on various social media sites, where he shares new music, funny videos, and sponsored posts. He also promotes his new projects and appearances on his accounts. We give him credit for having fun with his fame and fortune. He is slated to release his next studio album, Take It from a G, later this year.
Tony Hawk
Instagram: 6.2 Million
Twitter: 4.4 Million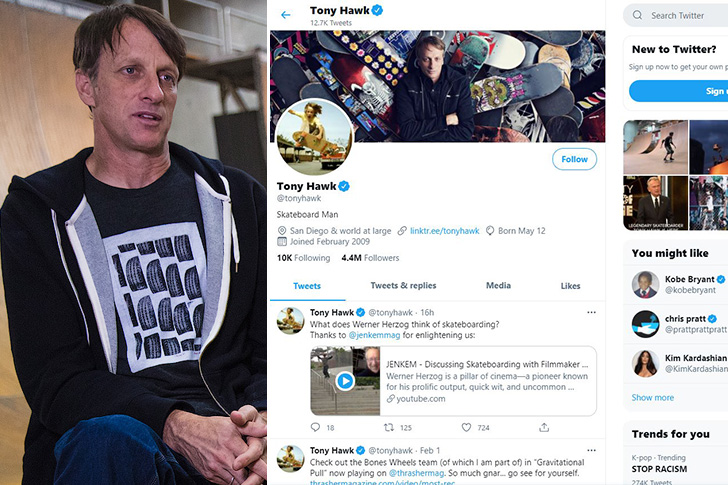 Tony Hawk is a well-known pro skateboarder. He was credited as one of the 8 skateboarders to successfully do a 900 skateboarding stunt during the 1999 X-Games after a total of 10 unsuccessful attempts. Fast forward in 2011, he did the same stunt successfully at the age of 43 years old while in Sweden, proving to everybody that he can do it despite his age. Hawk did the same stunt again for one last time at the age of 48 back in June 27, 2016. He is also widely known to the eyes of gamers through his eponymous video game franchise, which made its debut in 1999 with Tony Hawk's Pro Skater 1. Among his social media accounts, his Instagram is surely the most viewed account since it mainly contains his videos performing skateboard stunts. On his Twitter account, Hawk regularly tweets about funny fan encounters.
Angela Kinsey
Instagram: 1.8 Million
Twitter: 691.7 Thousand
Facebook: 220 Thousand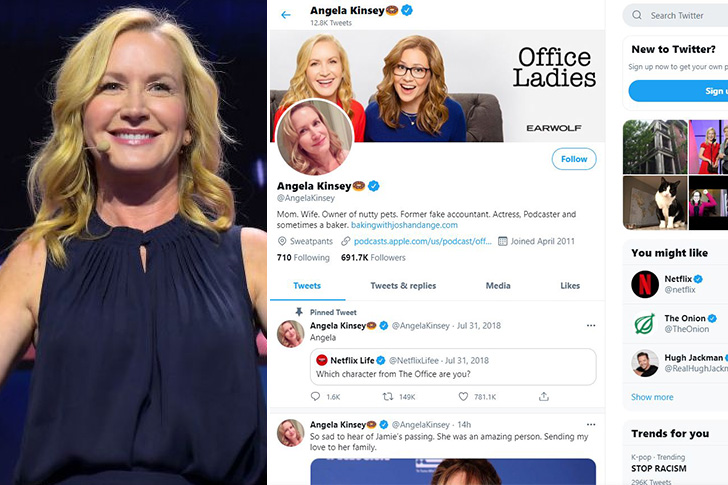 Angela Kinsey's fame began with her credit role on The Office as Angela Martin, yet she is nothing like the uptight Angela Martin. In fact, Kinsey is quite the opposite and very warm and approachable to fans. With the help of social media, she was able to broaden her reach and maintain her popularity even after the show ended in 2013. As a result, she has a total of 1.8 million followers on Instagram, where you will surely see her promotions and behind the scenes content of the movies and television shows she is currently working on. To the delight of her loyal fans, she also posts fun facts about certain scenes from The Office. In 2019, Kinsey and fellow The Office co-star Jenna Fischer launched a podcast called Office Ladies, wherein they share trivia about the show and interview other former cast members. Currently, she has 220k followers on her official Facebook page, where she posts her web series called Fridge Face-Off.
Billy Eichner
Twitter: 2.3 Million
Facebook: 411.8 Thousand
YouTube: 11.5 Thousand
Instagram: 722 Thousand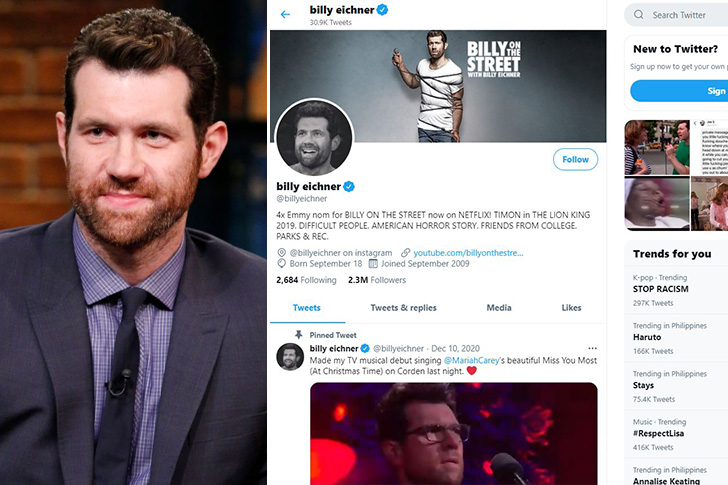 Billy Eichner's social media accounts helped his fans stay up to date on his current projects. He proudly announced on Twitter that that he was cast in the 2019 remake of The Lion King, which remains his biggest acting credit to date. Eichner also had a recurring role on Parks and Recreation as Craig Middlebrooks. The famed actor also has a YouTube account, where he posts his TV series entitled Funny or Die's Billy on the Street where he interviews random strangers on the streets of New York. He was nominated for Outstanding Game Show Host at the Daytime Emmy Awards for his work on Billy on the Street. Unfortunately, his YouTube channel isn't active anymore, while his Instagram account is filled with random pictures and remarkable moments throughout his life, which will give you a glimpse of what The Lion King actor's life behind the cameras.
Chrissy Teigen
Twitter: 13.6 Million
Instagram: 33.9 Million
Youtube: 429 Thousand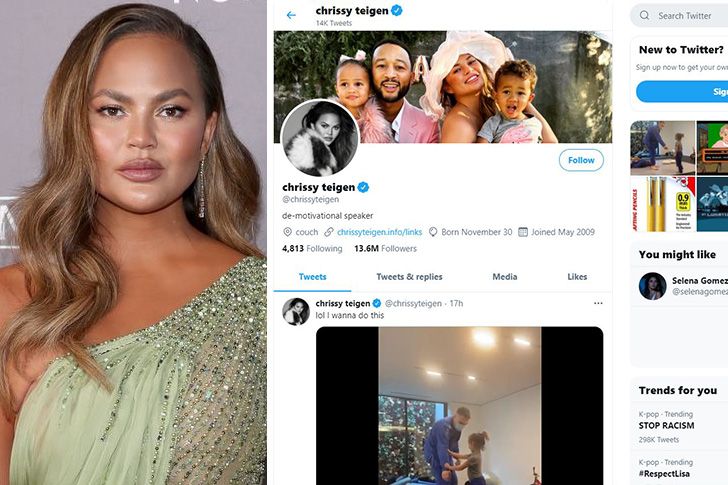 Model Chrissy Teigen is singer John Legend's lovely wife; the couple tied the knot way back in 2013. Aside from modeling, she is also the co-host of Lip Sync Battle and the author of two cookbooks. Her love for food is evident on her social media accounts. Her followers satisfy their cravings by looking at the delicious dishes being posted by the former Deal or No Deal briefcase model. On her YouTube account, Teigen posts various cooking recipes that anyone can try at the comfort of their homes. She also features her husband in some of the videos, such as the meatballs episode and the pizza episode, which shows that her husband is not only capable of singing, but he is also a decent cook. With that, we should give her huge credit for sharing her knowledge, not only to John but also to all her followers.
Joe Jonas
Instagram: 12.8 Million
Twitter: 10.2 Million
Facebook: 5.8 Million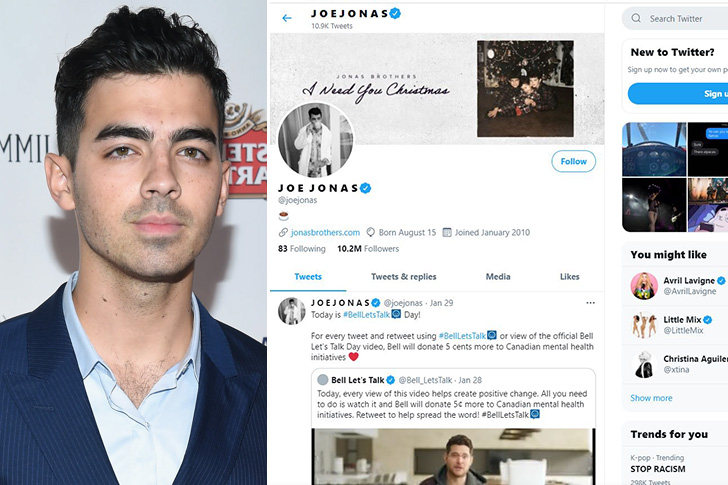 Joe Jonas rose to fame along with his brothers through their band the Jonas Brothers. The siblings notably made their first film appearance on Disney Channel's Camp Rock, which catapulted them to stardom and led them to getting their own show. Besides that, the middle Jonas brother also has a strong presence on social media where his beloved fans can get a glimpse of his unforgettable moments as a musician and life highlights with his wife Sophie Turner. Not only that, the singer also connects to his fans via his Twitch livestream, where he usually plays his favorite games. Jonas is also active on TikTok, where he goofs off and posts comedy skits. We give him credit for keeping his boredom down through his usage of social media, especially in these difficult times, and for keeping his millions of followers updated on his life.
Lil Nas X
YouTube: 11.5 Million
Twitter: 5.5 Million
Facebook: 986.3 Thousand
Instagram: 6.4 Million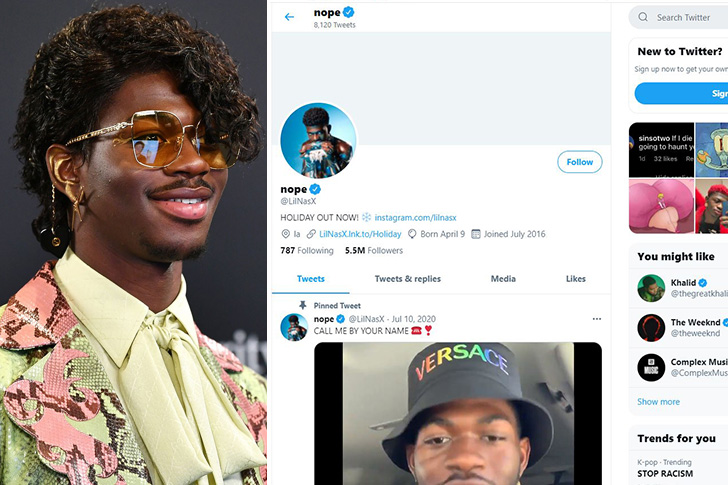 Lil Nas X skyrocketed to fame with his hit single Old Town Road, which spawned several remixes, with the most notable version featuring country singer Billy Ray Cyrus. The song itself garnered a number 1 spot at the Billboard Hot 100 for 19 weeks, beating the record of both Luis Fonsi's Despacito and Mariah Carey/Boyz II Men's One Sweet Day. To keep in touch with his beloved fans, he actively uses social media for them to be updated on his future projects and to share some memes as well. His YouTube channel has the most number of subscribers among his social media accounts as it contains music videos of his hit singles, one of which was the music video for Old Town Road, which has a total of 638 million views, so it must have been a good investment for his record label.
Madelaine Petsch
Instagram: 22.5 Million
Youtube: 6.4 Million
Facebook: 1.4 Million
Twitter: 2.1 Million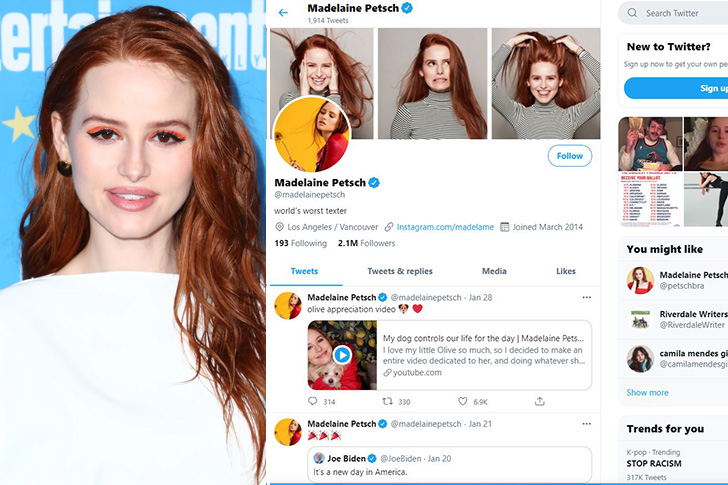 Madelaine Petsch gained fame thanks to her performance as Marissa in the 2017 film F the Prom, but her role as Cheryl Blossom on the TV show Riverdale arguably got her to where she is today. To make her fans and supporters updated on what she is always up to in front of and behind the cameras, she uses different social media platforms. Petsch regularly posts vlogs on her YouTube channel; we give her credit for keeping her avid fans and Riverdale viewers updated despite her busy schedule. She has a total of 22.5 million followers on her Instagram account, where she shares stunning selfies and behind-the-scenes photos from the set of Riverdale. Her gorgeousness is certainly one of the factors why she has amassed plenty of followers on her accounts, but her sweet personality and positive attitude also makes them stay.
Mary J. Blige
Twitter: 6.1 Million
YouTube: 1.87 Million
Instagram: 4.9 Million
Facebook: 10.1 Million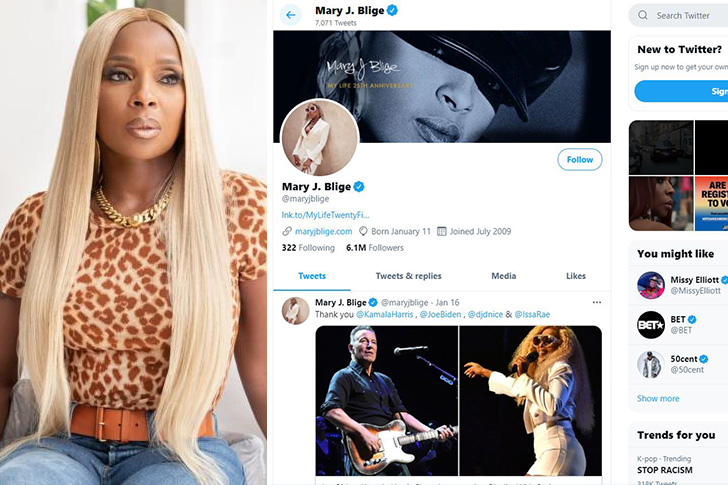 Mary J. Blige had a couple of songs on her credit, and several of them made it on Billboard Hot 100. One of those hit records is her 2001 single Family Affair, which dominated for six weeks, beating both Jennifer Lopez/ Ja Rule's I'm Real (Murder Remix) and Alicia Keys' Fallin. Plus, the song's music video posted on her YouTube account has garnered a total of 240 million views, making it her most viewed video posted on her channel.
Like other personalities, she is always using her time to post some degree of updates on her social media accounts, particularly on Facebook. The singer does this to keep her followers informed about her upcoming events and concerts. It only shows that she cares about all of her fans, seeing that she does not want them to miss any opportunity to see her live. It's a gesture that we're sure her fans sincerely appreciate.
Rainn Wilson
Twitter: 4.4 Million
Instagram: 2.5 Million
Facebook: 734.1 Thousand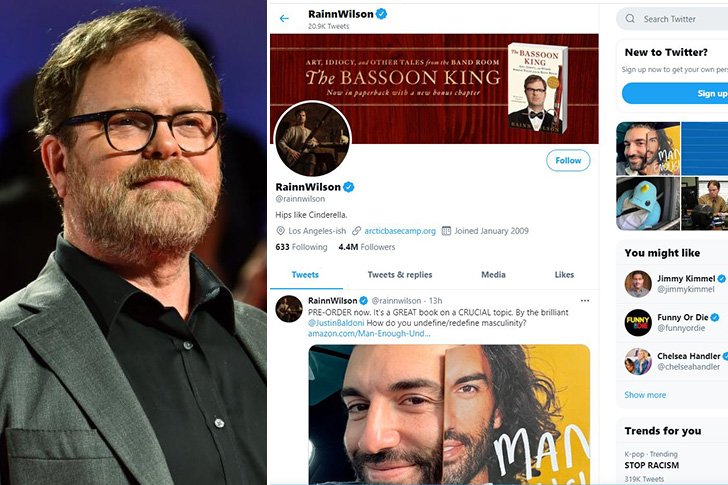 After gaining credit for his performance on NBC's The Office as Dwight Schrute, Rainn Wilson became a household television name, a role that garnered 3 Emmy nominations. Aside from the mentioned show, the actor also appeared in films such as The Meg, Cooties, Monsters vs. Aliens, Full Frontal, Super, and The Rocker. His roles in both movies and television became a significant factor in gaining plenty of social media followers. His social media usage became his way of keeping his closest supporters or fans on track with whatever he is doing. It clearly shows his love and gratitude for his fans because, without them, The Office actor won't reach this kind of stardom, and his name won't resonate on various shows. With the number of followers he has across his social media platforms, we're certain Rainn Wilson won't have any problems promoting his future projects.
SHAY MITCHELL
Facebook: 6.2 Million
Twitter: 3.1 Million
Instagram: 29.5 Million
Youtube: 4.3 Million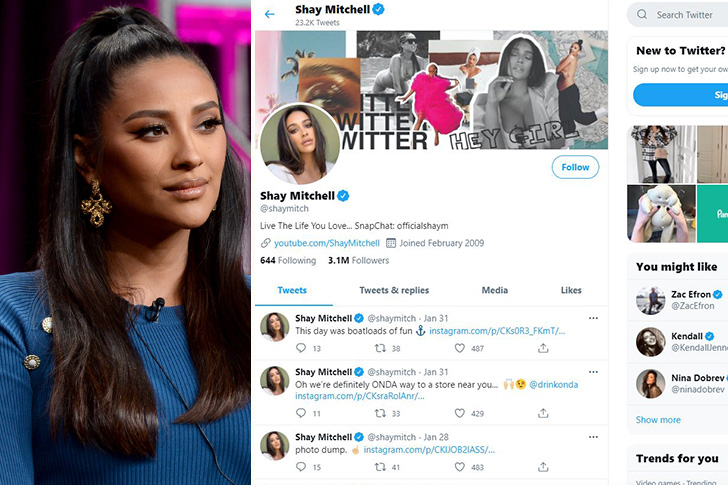 Actress and model Shay Mitchell is not running short on success when influencing the digital realm nowadays. Having over a million followers in all her social media accounts, the Pretty Little Liars actress has come a long way from being relatively unknown into becoming one of Hollywood's top rising stars. If she can make investments in herself into becoming more known in social media, who knows what she's capable of in the future too.
Mitchell is usually active on her Youtube channel the most, posting vlogs about her personal life and what she's been up to recently. Fans of the popular actress will surely love watching her. Even more, when they see the kind of content she has, from family bonding, lifestyle, and hanging out with other celebrities, she's not going to run out of publicity anytime soon, and we're excited to see her drop some more videos.
TIM ALLEN
Facebook: 1 Million
Twitter: 549.3k
Instagram: 13.9k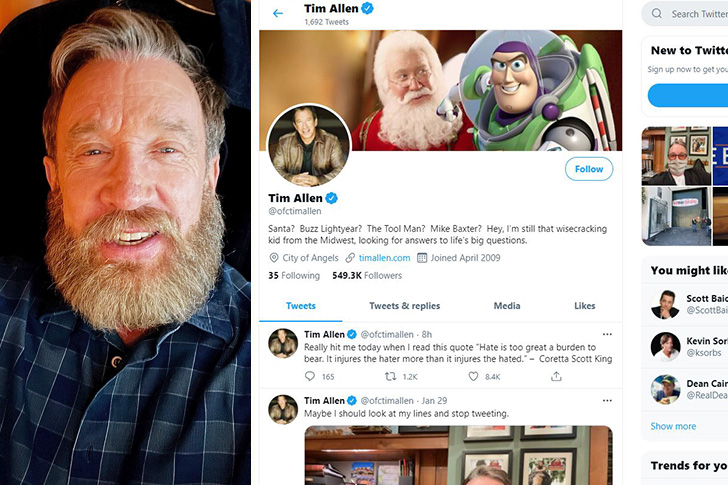 You've probably heard of actor and comedian Tim Allen as the voice of popular animated character Buzz Lightyear from the hit movie Toy Story. However, you might not know that he's been in some other hit movies as well. Some other notable projects under his belt are The Shaggy Dog, Wild Hogs, and the ABC sitcom Last Man Standing. We can see that despite his age, Allen has gotten a reasonable amount of clout, and he's got quite a number of followers on his social media accounts as well.
While his internet followers don't meet the same number as other influencers, Allen admitted that he's not really a big fan of the whole social media trend that everyone's so into lately. However, when we do see him, he's usually a bit more active on Instagram, where we can see that he's an avid motor enthusiast with love for motorcycles! We wouldn't be surprised if he's ready to get some gas going on his vehicles and take it out for a drive soon.
LIN-MANUEL MIRANDA
Facebook: 1.1 Million
Twitter: 3.5 Million
Instagram: 16.5k
Youtube: 216k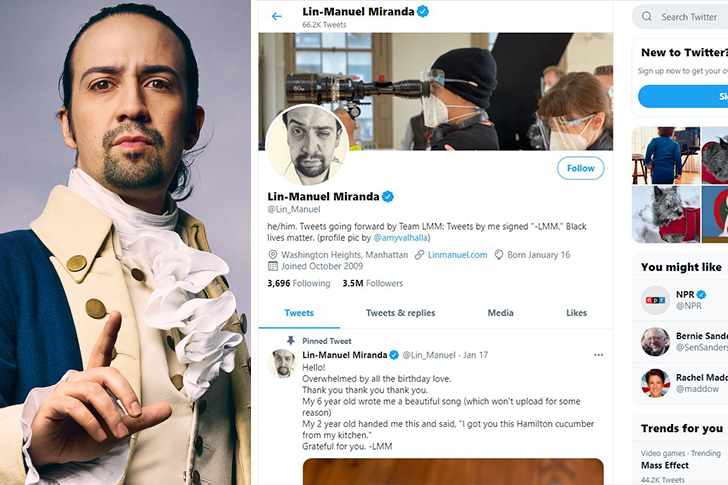 Haven't heard of Lin-Manuel Miranda? Well, to give you a quick rundown, he's an American composer and playwright who's been in popular Broadway musicals such as  Hamilton and In the Heights. Several award-giving bodies have also given his credit for his work, like the Grammy's, a Pulitzer Prize, and a record number of 16 Tony Awards. Quite an achievement for someone who's been in the industry for a while. That's just a fraction of his works, though. We haven't even touched the other projects he did.
Miranda is also quite active on YouTube, where he has his own channel with over 200k subscribers. Most of his content consists of some own personal home-made videos and a few vlogs and music covers. Disney has also made him more famous by releasing his own original song for the movie Moana called; We Know The Way. We're sure are excited to see Miranda write and compose future pieces of art in the future.
ANNA KENDRICK
Facebook: 871k
Twitter: 7.1 Million
Instagram: 17.1 Million
Youtube: 1.36 Million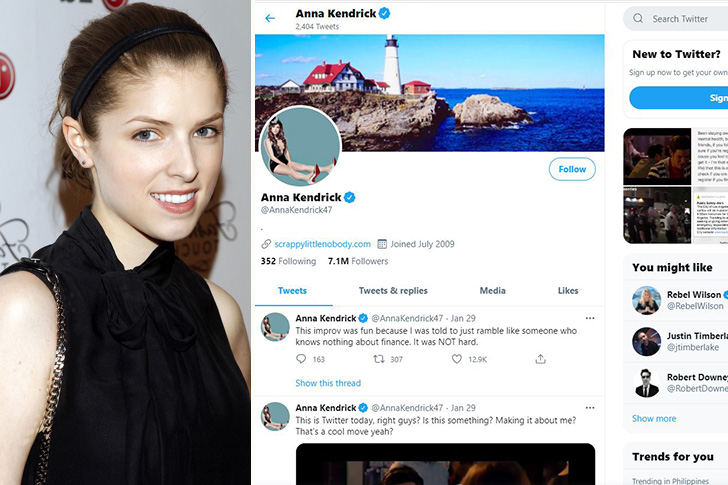 If you've watched Pitch Perfect, then you're probably familiar with the name Anna Kendrick. Playing as Beca Mitchell's character, she's known as both a talented actress and an astounding singer. The talented actress has even performed in the Broadway musical High Society way back in 1988. Starring in the movie definitely helped elevate her status in Hollywood, and she gained even more recognition in the industry. In addition to that, she's also been very active in social media, especially on Twitter.
Kendrick brought the press with her when she tweeted a hot and hilarious tweet about her relationship with actor Ryan Gosling. In an interview, the actress spoke about her own media presence on the web, saying that she just doesn't mind if it sounds a bit off. Despite that, we've got to give credit for her humor and honesty. Not many people have that in Hollywood these days.
CEELO GREEN
Facebook: 1.7 Million
Twitter: 1.5 Million
Instagram: 542k
Youtube: 489k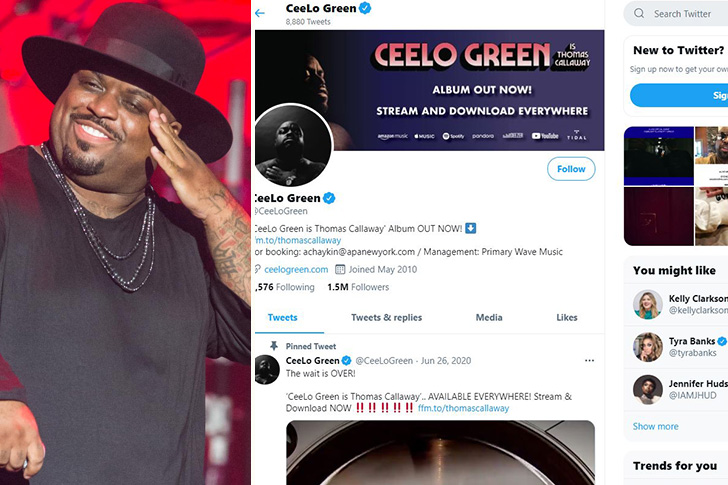 If you were a child from the early 2010s era, you've probably heard of the infamous song Eff You by Thomas DeCarlo Callaway, otherwise known by his stage name Ceelo Green. Even without social media's help, Green managed to release one of the most well-known songs of the decade. However, despite not hearing about him that much anymore, the rapper and record producer hasn't gone dark, especially when using social media platforms.
Nowadays, Green still has some loyal admirers seeing that his social media pages still have hundreds of thousands of followers. However, a few years back, there was a minor issue when he tweeted a sensitive topic on Twitter, which led to him receiving some degree of backlash. However, he has since apologized for it and owned up to his irresponsible remarks, something that not many celebrities would be willing to do that.
DREW BARRYMORE
Facebook: 2.6 Million
Twitter: 513.7k
Instagram: 13.8 Million
Youtube: 210k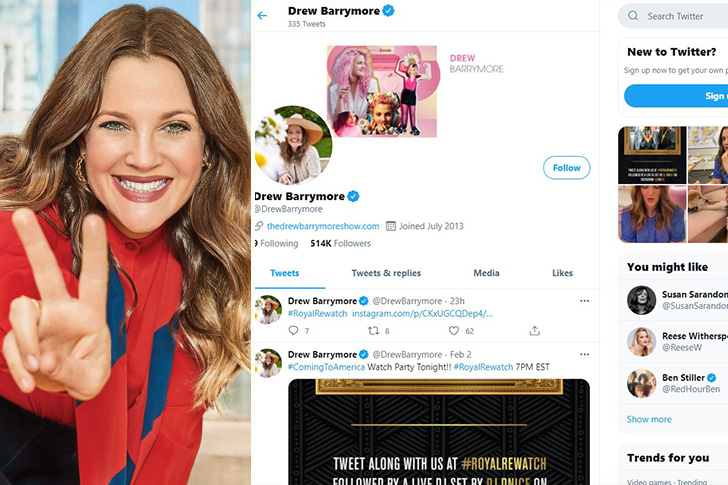 Known for her childhood role in the science-fiction movie E.T: The Extra-Terrestrial, actress Drew Barrymore has been one of Hollywood's enduring actresses. Since starring in the Steven Speilberg film, she's gone on the star in several hit movies, the likes of which include 50 First Dates, Blended, and Scream. Despite almost reaching middle age in today's time, she's shown that she can blend in with the younger generation as well, as evident by her social media presence.
She's gone on to have her own show on YouTube, entitled the Drew Barrymore Show. From the looks of it, she's looking to get all the clout she can get with her digital audience. We can see that she's really taking the right steps to make new ways to interact with her audience, and the investments she made in her personal growth seem to be showing too. We can truly see that she's still as popular as she once was, even by today's standards.
JAMES GUNN
Facebook: 586k
Twitter: 794.9k
Instagram: 1.5 Million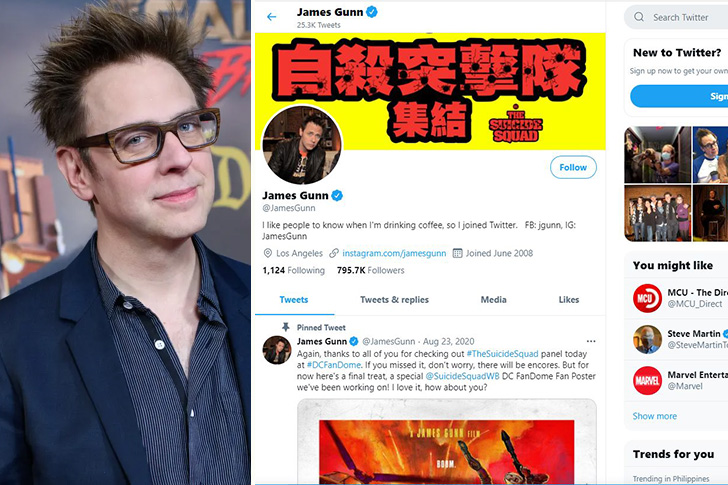 Nowadays, almost every person is a fan of Marvel superhero movies. However, many people tend to forget to credit the amazing and talented people responsible for making them. James Gunn is one of them. As the director of both Guardians of the Galaxy movies, Gunn has earned massive success and popularity. He's also been active in different social media platforms, especially on Instagram, where he takes the time to shares some updates from his work-related life with his followers.
The producer and director is fond of sharing pictures of himself and his home and usually shares photographs of himself with his friends or pet dogs. Other content he posts are some pictures of movie sets for filming and the actors he's worked with while production was ongoing. Pretty normal for now, but fans of his Instagram are surely anticipating if Gunn will make any announcements on the next Guardians film soon.
MARK RUFFALO
Facebook: 3.8 Million
Twitter: 7.1 Million
Instagram: 19.1 Million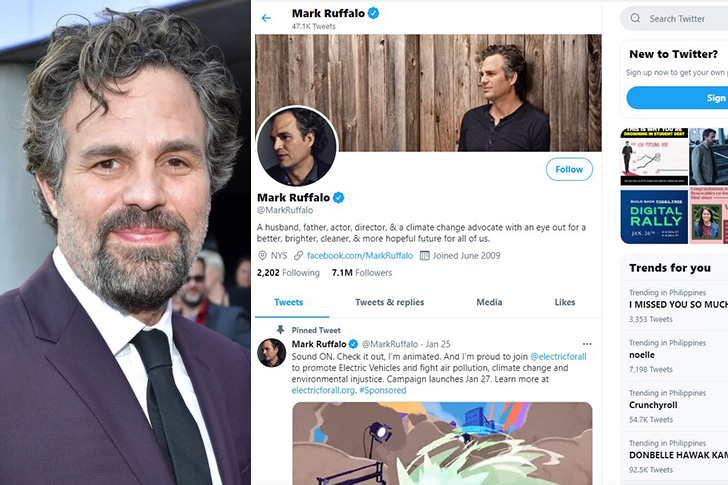 Speaking of Marvel movies, everyone knows the famous phrase HULK SMASH! from the character of Hulk himself. You've probably seen him on the big screen, alongside the superhero team, The Avengers, played by none other than beloved actor Mark Ruffalo. Starring as Hulk helped the actor gain more prominence in the industry and grew on to be one of the most successful Hollywood actors of all time. It also became the reason why he has millions of followers on social media too!
Ruffalo has also been very vocal about his love for Marvel, as evidenced by a number of posts he has with his co-stars. If Mark spends this much time on the internet and consumes this much power, his electricity bills have probably gone up. Hopefully, the actor occasionally takes some time off from being in front of his computer.
MODEL DANI MATHERS
Facebook: 1 Million
Twitter: 66.6k
Instagram: 433k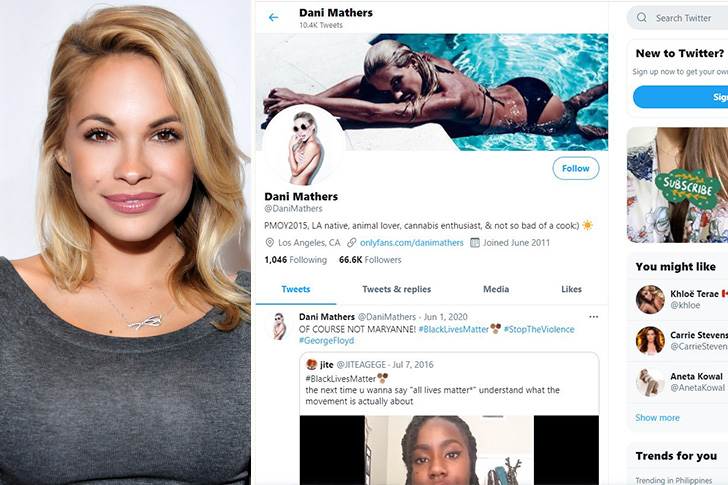 Dani Mathers had been the subject of several hate comments on social media after being accused of body shaming the 70-year old woman. The incident landed Dani in a lawyer's office to sort out legal actions. The court later decided to ban Dani from all gyms and fitness areas in Los Angeles, California.
However, the incident didn't seem to have impeded the model's growth on social media. She still has hundreds of thousands of followers on different platforms, and we can see by the looks of it, she's still pretty active and doing her best to grow her reputation still. Recovering from an issue like that isn't easy, but knowing that she got a punishment after her mistake, we hope that she has learned her lesson because it would still be a shame to see her disappear from the public eye.
RIAN JOHNSON
Twitter: 1 Million
Instagram: 192k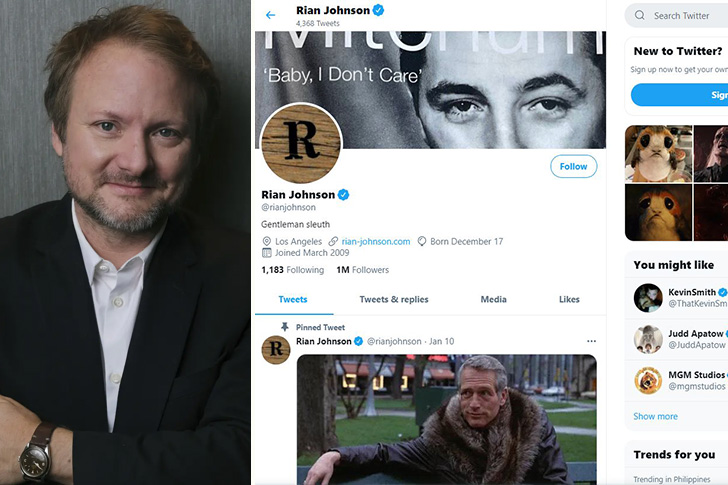 If you're a big fan of Star Wars, then you must know the names of Daisy Ridley, Adam Driver, John Boyega, who've all starred in The Last Jedi. However, not many people know the man behind the movie, Rian Johnson. The American film director has also directed several other films and TV shows, including Looper and the hit show Breaking Bad. Despite his impressive career as a director, we don't see him that much anywhere else, not even on social media.
Johnson doesn't seem to be active on Facebook, but he does have a Twitter and Instagram. In his Instagram, he mostly black-and-white pictures of people, most likely some close friends, giving his feed an overall old school vibe to it. Perhaps the director is simply busy with his career and other personal investments. Despite his inactivity, we're hoping to see more of the director's work in the film industry soon.
ZENDAYA
Facebook: 10 Million
Twitter: 18.7 Million
Instagram: 85.3 Million
Youtube: 3.01 Million
Former Disney star Zendaya has been in a number of films in recent years. This includes the likes of the Spiderman films and The Greatest Showman. Films like these helped launch her career and boost her popularity to the top, and now she's one of the most well-known young actresses in the Hollywood industry. Her most notable social media feat is probably on Instagram, to which she has over 85 million followers.
Looking at her account, the actress seems to be looking more and more like a model every day. Her usual posts consist of self photoshoots, flaunting her gorgeous appearance and her stunning wardrobe collection. From the looks of it, she's on her way into becoming an influencer too! We're confident the actress already has some lavish investments, but Zendaya isn't showing signs of slowing down. If her career continues to grow at this speed, her social media will only get bigger.
ADAM SANDLER
Facebook: 47 Million
Twitter: 2.7 Milion
Instagram: 10.8 Million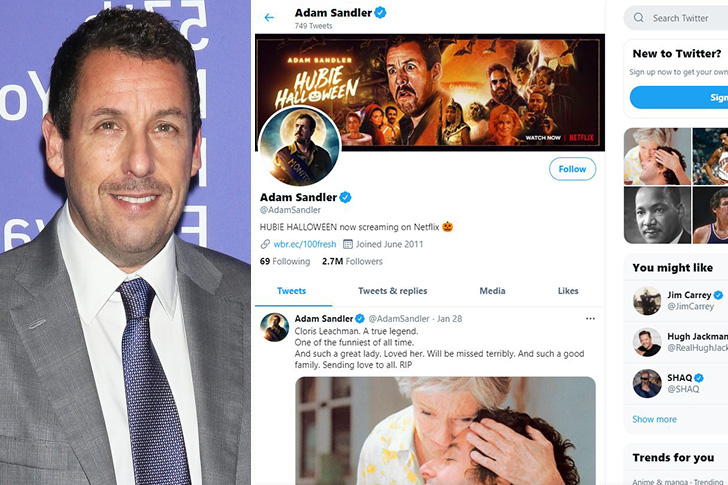 Everyone knows that Adam Sandler is an American actor, comedian and filmmaker, rolled into one.  He started his career as a cast member of Saturday Night Live before he ventured into Hollywood films.  Since then, he's developed a unique acting style of tackling comedic roles, which became a staple mark to his name. So every time you see him in a movie, he's bound to make you laugh at some point.
Among the movies he earned credit for are The Wedding Singer, Big Daddy, Jack, and Jill. Mr. Deeds, and the Hotel Transylvania franchise. We can see, too, that over the years, Sandler's popularity hasn't died out. In fact, it's only been growing. With over 47 million followers on Facebook and 10.8 million on Instagram, it's clear that the actor will live in children's and adult's hearts for a long time.
ANNA FARIS
Facebook: 3.2 Million
Twitter: 492.7k
Instagram: 2.1 Million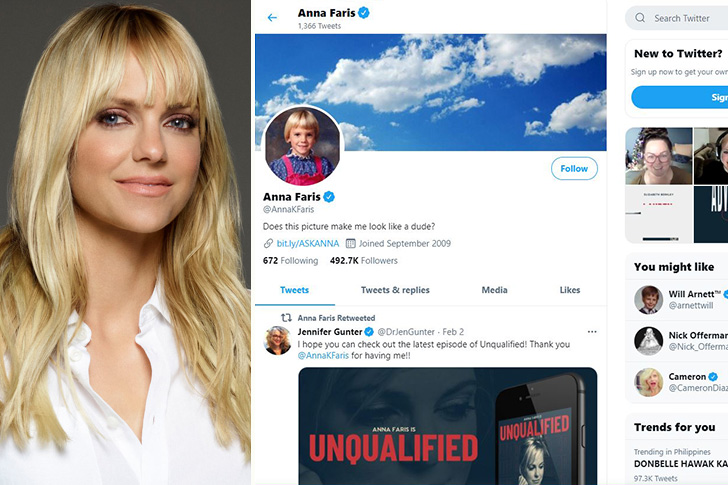 Actress Anna Farris has gotten known for taking on some comedic roles in her acting career, including Cindy Campbell's role in the Scary Movie film series, The Dictator, and The Hot Chick. It's no question that being the Hollywood actress that she is, she was able to grow her social presence as well. Despite only having a couple of million followers on her social media accounts, that's a lot when compared to the ordinary person, so we've got to give her credit for that.
We can see that from her activity, Faris is most active on Facebook and Instagram compared to any other platforms. From what we can see, she mostly promotes her podcasts entitled Unqualified, and she shares videos as well of some of the people she's talked to in her session. I guess we can see that acting isn't her only strong suit.
CHRIS EVANS
Facebook: 7.8 Million
Twitter: 14.4 Million
Instagram: 8.4 Million
Youtube: 189k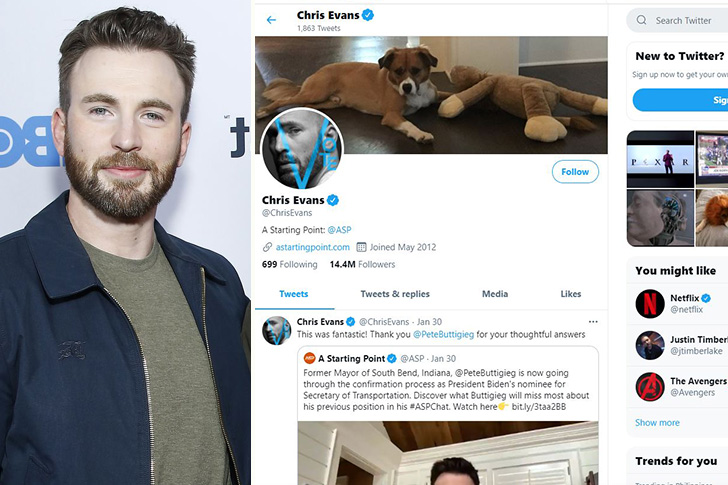 American Hollywood actor Chris Evans began his career in Opposite Sex in 2000.  He catapulted to stardom by starring first as Johnny Cage in Fantastic Four and gained worldwide recognition for taking on Captain America's role in the MCU films.  He also ventured into a directorial job as a producer/actor in the movie Before We Go.
His personality, good looks, and seemingly happy disposition in life fit Hollywood, as they say.  However, a lot of people didn't know that Evans initially rejected the role of Captain America, but actor Robert Downey, Jr. encouraged him to take the part. We can't imagine someone else fit enough to play the role. That is probably why Evans' popularity has never been higher, as evidenced by his millions of followers on social media. The actor seems to never run out of gas, as he's active in Hollywood and on his social media accounts, particularly Twitter. Evans likes to tweet about his current views on issues today. However, he's also shown to have a softer side and cracks jokes every once in a while.
KUMAIL NANJIANI
Facebook: 95,000
Twitter: 3.1 Million
Instagram: 863,000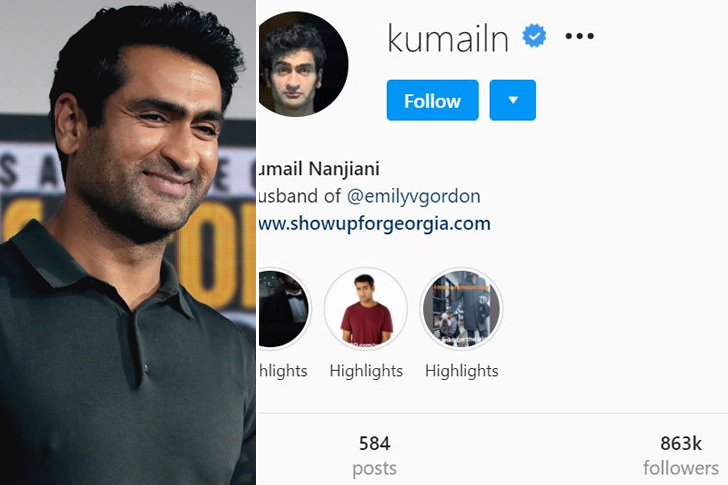 Kumail Nanjiani is a Pakistani-American comedian who shot to fame after starring in HBO's Silicon Valley. Besides being an actor, Kumail is also an accomplished playwright with one Oscar Nomination under his belt. As a Hollywood comedian, Kumail also dips his toes into stand-up performances often broadcasted on Youtube. Although the actor does not have a Youtube channel of his own, he still garners countless views averaging about 1 million views each. However, it isn't just humor that catapulted Kumail to stardom. His witty remarks on serious global issues also contributed to his degree of fame over the years. The comedian often takes to Twitter about these global issues, explaining why he has over 3 million followers on the platform. Now, Kumail has also ventured into podcasting, making his social media presence even more prominent. No wonder his name has been a staple in the stand-up comedy scene for years!
MAC MILLER
Facebook: 5 Million
Twitter: 8.1 Million
Instagram: 6.8 Million
Youtube: 3.42 Million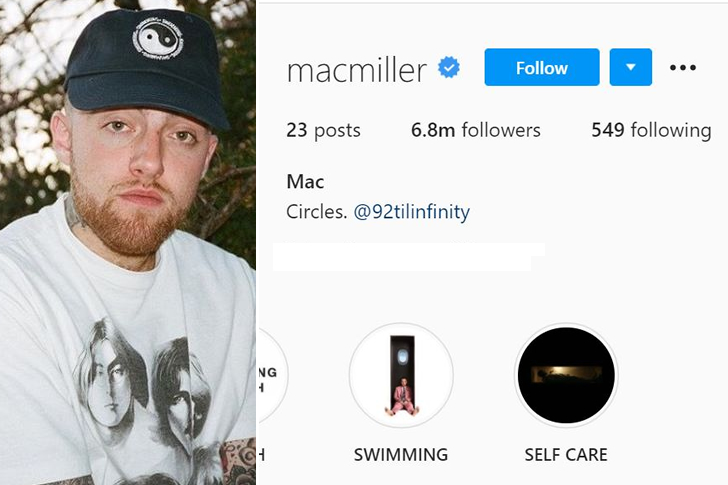 When Mac Miller was at the height of his career, his social media platforms were surging with likes and subscriptions from fans every day.
Malcolm James McCormick, better known by his alias Mac Miller, was an American rapper/musician who rose to Hollywood fame in the early 2010s after releasing Best Day Ever and K.I.D.S. Although Mac Miller's name has been quite prominent in the hip hop scene for a couple of years, it was his collaboration and relationship with pop singer Ariana Grande that cemented his name among Hollywood's who's-who. From then on, the degree of his fame grew exponentially. Unfortunately, the rapper met his untimely demise on September 7, 2018. Though Mac is no longer with us, his social media platforms still boast millions of followers with 5 million Facebook likes, 6.8 million Instagram followers, and 3.42 million Youtube subscribers.
PARIS HILTON
Facebook: 7.4 Million
Twitter: 16.8 Million
Instagram: 14 Million
Youtube: 1 Million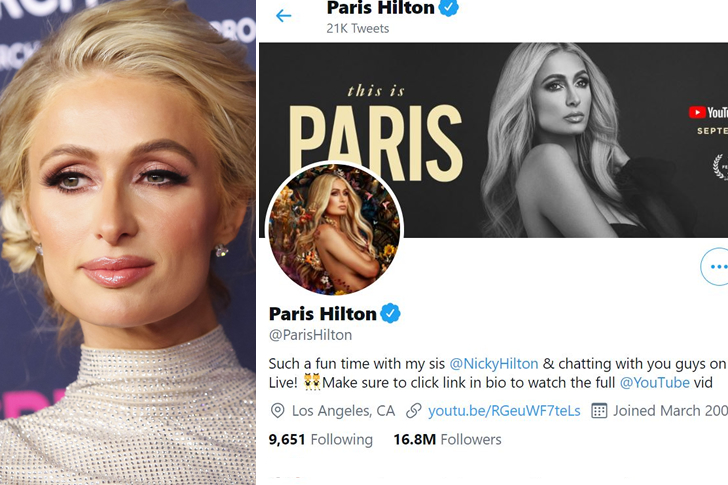 Long before the advent of YouTubers, Instagram influencers, and Twitter stans, there was one it-girl who became TV's biggest star and pop-culture's socialite blueprint, and that is no other than hotel heiress Paris Hilton.
Although Paris credits her initial rise to fame to her infamous last name, the hotel heiress eventually carved her own name as a modern-day icon by making use of social media. Paris was among the first celebrities in Hollywood to usher in the social media revolution by using her generation's existing platforms to curate and propel her career into what it is today. Of course, her journey to become Hollywood's biggest name was not without criticism. In fact, Paris' whole career got punctuated with several scandals and speculations that were borderline unbearable. Today, Paris still uses social media to further her career as an internet figure and a DJ. Currently, the heiress has 7.4 million likes on Facebook, 16.8 million Twitter followers, 14 million Instagram followers, and over 1 million subscribers on Youtube.
STEPHEN KING
Facebook: None
Twitter: 6.4 Million
Instagram: None
Youtube: None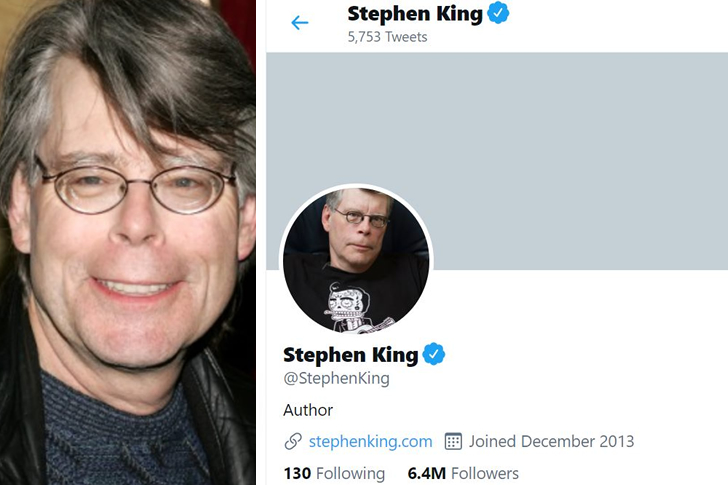 It goes without saying that Stephen King ranks high among the most influential authors of the 21st century. If you didn't already know, Stephen King is behind some of the most iconic book-to-film adaptations in Hollywood, including, The Shining, It, Shawshank Redemption, Carrie, The Mist, and many more.
Although the American author has already enjoyed a long and fruitful career, Stephen shows no signs of slowing down. Stephen continues to expand his repertoire of published masterpieces and has now turned to social media to promote them. The author does not have an official Facebook page. However, his Twitter account boasts 6.4 million followers. Through this platform, the author updates his fans with upcoming releases and shares his takes on any current issues worldwide. Given his influence on both literary and film industries, we can only assume that Stephen also has a very handsome bank account that his financial advisor surely manages.
ANTHONY WEINER
Facebook: None
Twitter: None
Instagram: None
Youtube: None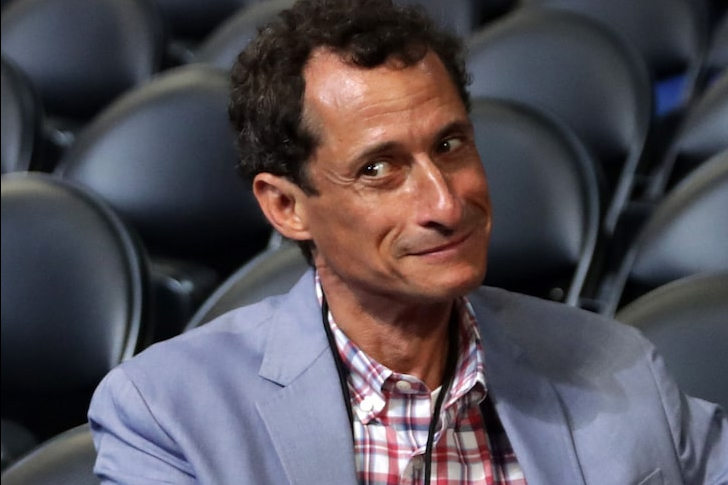 Before Anthony Weiner became the town's talk for a more controversial reason, he was an American politician serving in New York's 9th congressional district.
The former politician pursued a degree in political science when he was in college and eventually made his way into the higher ranks of the Democratic party in the United States. At some point in his career, Anthony sought candidacy to become the mayor of New York City but failed to make the cut. As a political figure, Anthony was known to support causes like LGBTQ rights and healthcare rights. It is also worth noting that Anthony advocated for the healthcare compensation of 9/11 responders in 2010. However, he also got criticized for agreeing to some highly controversial choices made by the US President regarding Iraq's conflict. Today, Anthony no longer serves any political position, nor does he maintain any social media presence.
CHELSEA PERETTI
Twitter: 1.5 Million
Instagram: 1.8 Million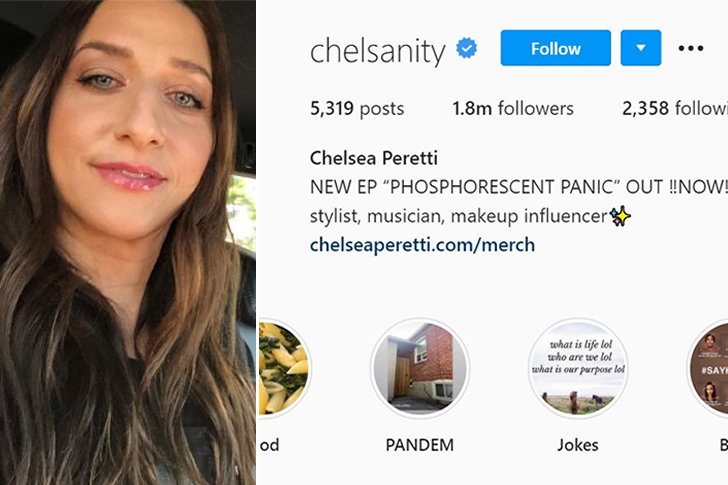 Brooklyn Nine Nine's Chelsea Peretti isn't just an accomplished Hollywood comedian, but she is also a bonafide social media personality. Chelsea is undoubtedly a rising internet sensation with around 1.5 million followers on Twitter and another 1.8 million followers on Instagram. Of course, these numbers never would've grown this big if not for the actress's charm and quick wits on screen. What's more interesting is that Chelsea ranked 75th in Paste magazine's Best Twitter Accounts back in 2014.
Outside of being an actress and award-winning comedian, Chelsea is also a writer with writing credits in Parks and Recreation. Chelsea has also made a couple of podcasts guesting, including The Todd Glass Show, How Did This Get Made, and You Made It Weird with Pete Holmes. Currently, Chelsea is working on an animated film set to be released sometime next year. Fans of hers can tune in to her social media accounts for any updates about the project.
JACK BLACK
Facebook: 7.4 Million
Twitter: 376,2000
Instagram: 7.6 Million
Youtube: 4.8 Million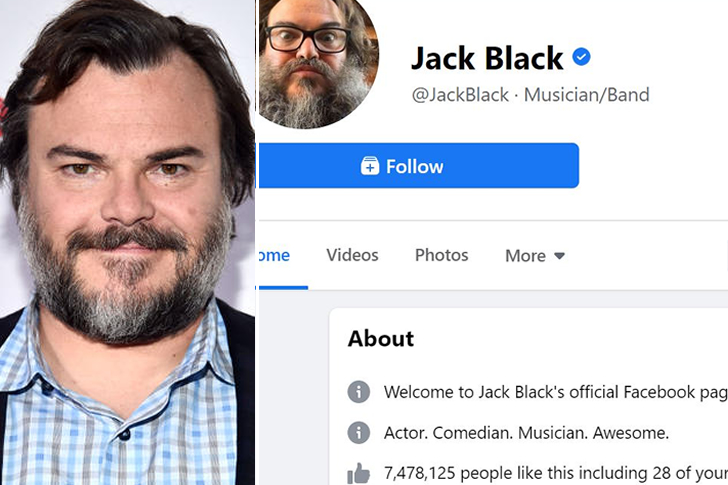 Hollywood comedian Jack Black is easily one of the most recognizable names in comedy, and for a good reason. Nowadays, however, the actor has shifted some of his focus into creating an online persona for himself. With over 4.8 million subscribers under his belt, Jack Black is now a certified Youtube star.
For those who haven't found the actor in the vast and far-reaching world of Youtube, you can find his channel under the name JablinksiGames. The channel seems to cover various content from daily vlogs, game streaming, and trendy online challenges. It certainly is a different path from what the actor is used to, but we can't deny that it's working out quite well for him. His other social media accounts aren't so bad either. His Facebook page alone boasts 7.4 million likes, while his Twitter has a decent 376,000 followers, and his Instagram with 7.5 million. However, we credit this man for staying true to his comedic routes despite branching out to different social media platforms.
LIZA KOSHY
Facebook: 2.8 Million
Twitter: 2.9 Million
Instagram: 18.7 Million
Youtube: 17.8 Million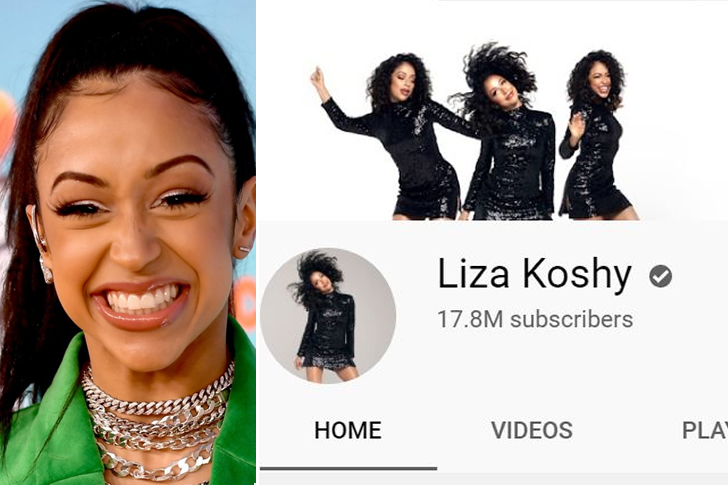 Liza Koshy is perhaps one of the very first people to establish a stable entertainment career out of social media.
Like many SNS stars of her generation, Liza Koshy started by posting innocent just-for-fun videos on an app called Vine. However, Liza moved shifted from being a Vine star to a Youtuber in 2016 after the app shut down. Today, Liza has one of the biggest channels on the site, with over 17.8 million subscribers. She has also extended her reach into the hosting industry by becoming a red-carpet correspondent for Vogue and the Golden Globes. Liza has also made investments with various brands and businesses outside of Youtube and her entertainment career. Liza has undoubtedly come a long way from creating 6-second videos on Vine, but she also has a long way to go. However, with budding acting and hosting career, we're sure Liza will continue to go far.
MARSHA BLACKBURN
Facebook: 82,000
Twitter: 281,900
Instagram: 23,400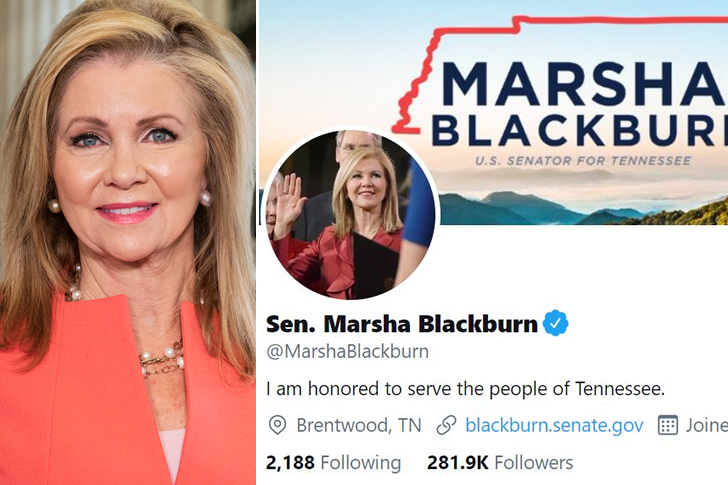 Marsha Blackburn is an American politician currently serving as a senator for the state of Tennessee. Before gaining higher political ground, Marsha served in several committees, including Committee on Energy and Commerce, Committee on Judiciary, Committee on Budget, and Committee on Education and Workforce.
As a politician, Marsha is known as a staunch conservative, often critical about new and progressive proposals. Among her, most talked-about involvements include her opposition to Obamacare, an initiative to make healthcare affordable and more accessible to the public. Another controversy that involved the tenured public official had something to do with her discrediting the scientific data surrounding climate change research. There have been a few more, but those, so far, are some of the most popular ones. Marsha Blackburn continues to hold her position until today and boasts a decent amount of social media followers. She has 82,000 Facebook likes, 283,000 Twitter followers, and an additional 23,400 followers on Instagram.
STEVE-O
Facebook: 11 Million
Twitter: 1.2 Million
Instagram: 5.3 Million
Youtube: 5.7 Million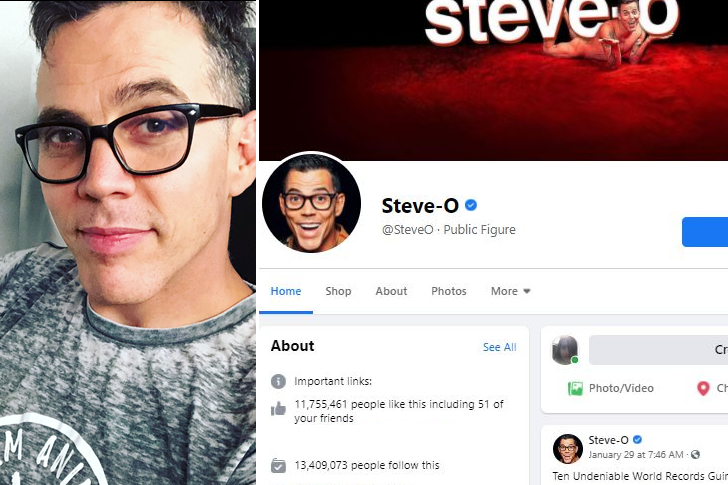 Anyone who has witnessed at least one episode of the infamous Jackass series would instantly know who Steve-O is. The American TV personality is perhaps one of the most pranksters in the industry today.
He mainly gained widespread recognition for staging some of the most elaborate stunt pranks on his TV show Jackass. Although the TV series ended in 2002, it continued to run its course through three follow-up movies in 2002, 2006, and 2010. Today, Steve-O has brought his legendary show on Youtube and continues to make pull pranks and try out different trendy challenges. Thanks to his already solid fan base, Steve-O was able to amass a large degree of following across his social media platforms. So far, his Youtube channel has over 5.7 million subscribers, while his Facebook has over 11 million likes. If he continues to do well with his videos, these numbers could go up rapidly in the next few years.
VICTORIA BECKHAM
Facebook: 3 Million
Twitter: 12.1 Million
Instagram: 28.8 Million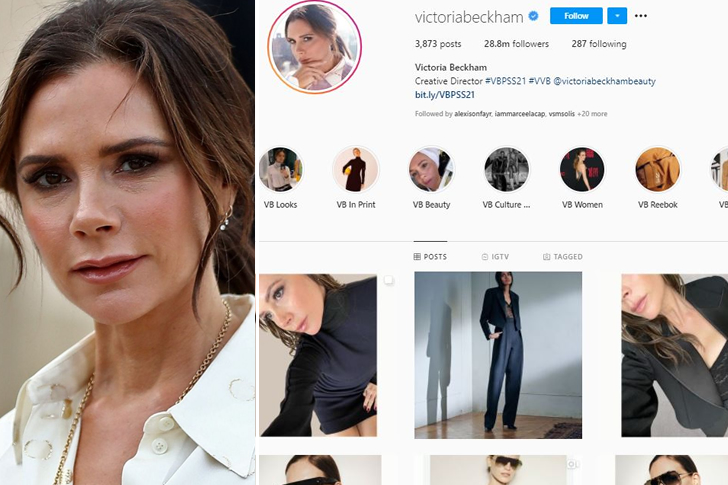 If we're going to talk about trailblazers on and offline, then we simply cannot skip the one and only Victoria Beckham. The British singer turned multi-million entrepreneur is simply one of the most iconic personalities of the 21st century. Thanks to her fashion-forward sense of style and unproblematic career run, Victoria Beckham cemented her status as an icon in Hollywood and the fashion industry.
Despite achieving massive success in the business and investment industry, Victoria continues to make several TV appearances, thus further solidifying her presence online. Because the fashion icon continues to rack up projects, internet natives also continue to speak of her name and influence. Today, Victoria has over 28.8 million Instagram followers, making her one of the industry's most-followed celebrities. Along with her husband and children, Victoria continues to carve out an online name and reach out to a younger audience.
CHARLIE SHEEN
Facebook: 5 Million
Twitter: 10.7 Million
Instagram: 1 Million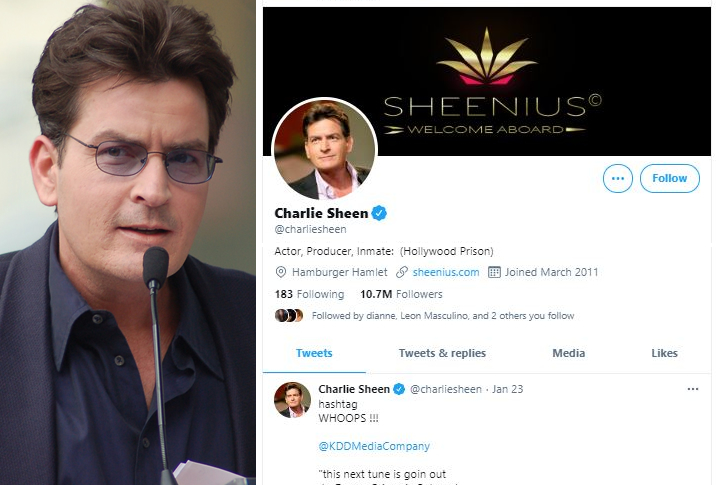 Charlie Sheen might not have the most flawless career run, but he surely has one of the most colorful.
As the son of an already successful Hollywood actor, it was not surprising to see Charlie follow suit in the 1980s. He first shot to superstardom after landing a significant part in the 1986 film Platoon. However, his role as Charlie Harper in the hit sitcom Two and A Half Men cemented his name in Hollywood's comedy industry. Unfortunately, after a series of unpleasant incidents involving lawyers' aid, showrunners decided to let Charlie go. Since then, the actor has been making efforts to find his way back into the industry and has made some decent progress. However, despite his less than stellar past, Charlie holds a significant social media presence with over 5 million Facebook likes, 10.7 million Twitter followers, and 1 million Instagram supporters.
FELICIA DAY
Facebook: 1.3 Million
Twitter: 2.7 Million
Instagram: 1.5 Million
Youtube: 237,000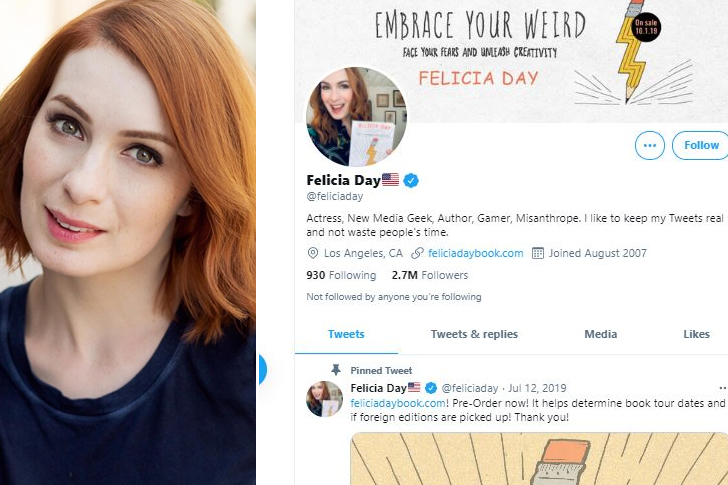 Felicia Day, born Kathryn Felicia Day, is an American writer, series creator, and actress prominently known for her role in the TV series Buffy the Vampire Slayer, Supernatural, and the film Bring It On.
However, some people don't know that this brilliant lady has production credits for many series and web shows, including The Guild and Geek & Sundry. Because of the online nature of her work, Felicia amassed a significant number of followers. Although her Youtube channel only has 237,000 subscribers, her other social media pages are doing quite well. Her Twitter has the largest number of followers with around 2.7 million supporters, followed by her Instagram with 1.5 million followers, and finally her Facebook page with about 1.3 million likes. Given her charm and talent, we're pretty sure these numbers will grow in the coming years.
JADEN SMITH
Facebook: 10 Million
Twitter: 8.1 Million
Instagram: 16.1 Million
Youtube: 3 Million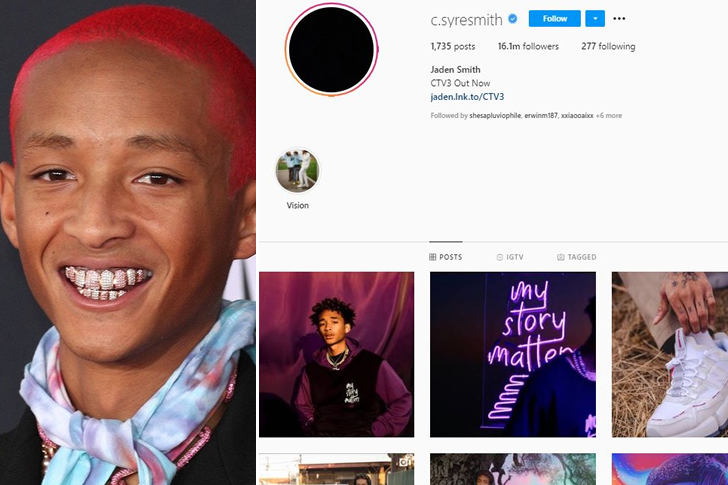 There is simply no denying the fact that Jaden Smith is one of the most famous celebrity-offspring dominating the world of social media today. As the son of Will Smith and Jada Pinkett-Smith, Jaden certainly had the luxury of cutting the line to success. However, instead of just relying on the insurance his parents laid out for him, Jaden is choosing to make a name for himself.
Since breaking out into the industry back in 2006, Jaden's career has been steadily growing. Although he initially set out to become an actor, Jaden has found more success in making music. The young Smith is currently pursuing a musical career, and his Youtube channel is evidence of his success. Jaden presently has 3.06 million Youtube subscribers, in addition to his 10 million Facebook fans, 8.1 million Twitter followers, and 16.1 million Instagram followers.
MAISIE WILLIAMS
Twitter: 2.7 Million
Instagram: 10.8 Million
Youtube: 464K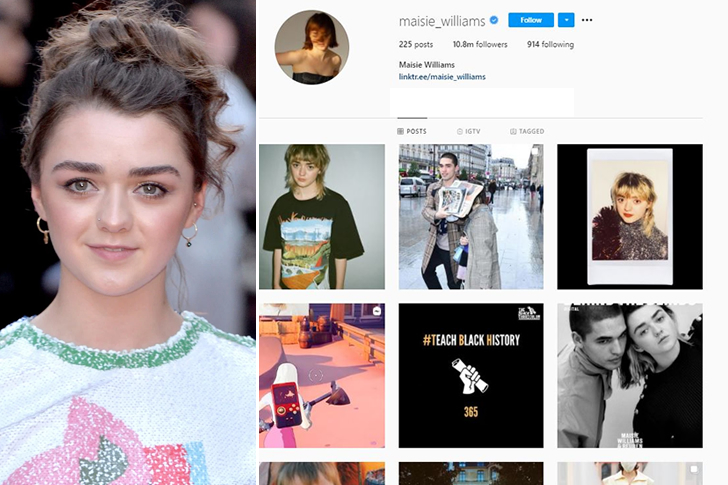 You probably know how Maisie Williams has made a name for herself. Credits to the hit TV series Game of Thrones, Williams' career doesn't only hit sky high, but it also earns her international stardom. From the boyish kid, Arya Stark, to a no-one Faceless Men wannabe, the now-23-year-old star's famous character turned to be one of the central cast of GoT; thanks for killing the White Knight, though.
It may have helped William earned a cult following on social media, making her a social media queen in her own right. As of this writing, she has 2.7 million followers on Twitter, 10.8 million on Instagram, and 464,000 subscribers on YouTube. Sorry, Facebook users, she doesn't have an official FB account. Thankfully, Williams uses these platforms to update the fans of her activities and promote different awareness that she believes in.
POST MALONE
Facebook: 8.2 Million
Twitter: 6.8 Million
Instagram: 22.9 Million
Youtube: 20.9 Million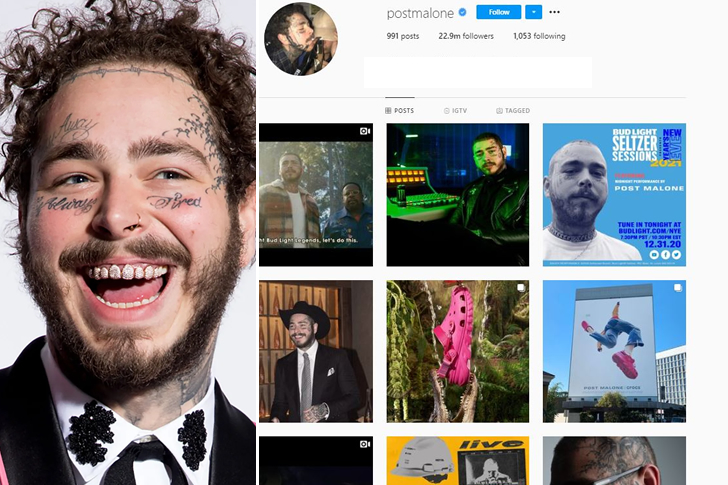 Post Malone is one of the celebrities who have millions of social media followers. His Facebook has 8.2 million, Twitter has 6.8 million, Instagram has 22.9 million, and YouTube has 20.9 million followers waiting for his every new update. These numbers are not even surprising at all, knowing he gained acclaim for "bending" different music genres, from hip hop to pop to rap-rock and more.
He has set a lot of music records, brought home several awards, and earned numerous accolades. Fans can undoubtedly see the degree of his fame here. Thanks to his hit song White Iverson, Malone became a big name in the music scene. From here, his social media pages started to gain momentum, earning several followers all over the world every minute. In fact, by the time of this writing, someone may be clicking that "follow" button on Malone's accounts.
WILL SMITH
Facebook: 104 Million
Twitter: 119K
Instagram: 51.3 Million
YouTube: 9.1 Million
As one of the most famous and loved actors in Hollywood, it's no surprise that Will Smith has a cult social media following. He has 104 million followers on Facebook, 51.3 million on Instagram, 9.1 million on YouTube, and 119,000 on Twitter. With these numbers, can we now call him the fresh prince of social media?
According to reports, Smith first joined Instagram in 2017, and in just nine months, he earned almost 15 million followers. The degree of his social growth is unbelievable—something that only this iconic actor can do. Do you want to know what his first post was? He joined the duck face craze and did his own version of it that earned more than 400,000 likes. Thanks to Ellen DeGeneres, she's the one who taught him everything he needed to know about this photo-sharing app.
ICE T
Twitter: 1.8 Million
Instagram: 884K
YouTube: 17.1K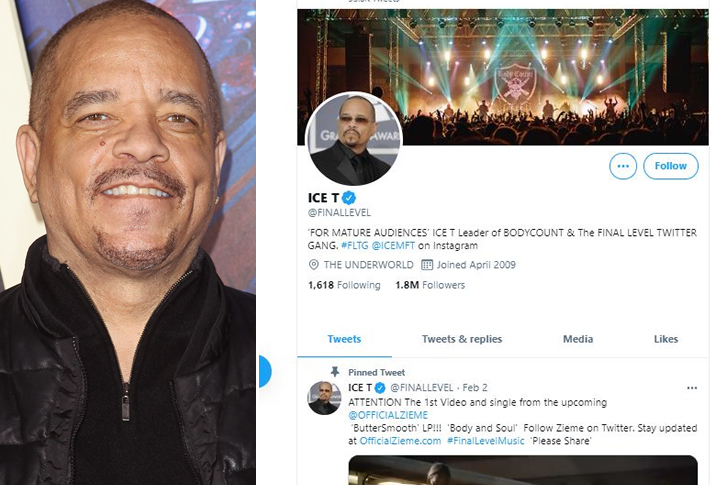 Ice T joined the social media craze and now has over a million followers on Twitter, more than 800,000 followers on Instagram, and 17,100 subscribers on YouTube. Although it's far from the cult following other celebrities have, this is already huge in numbers. He uses these platforms to update the fans of his activities, share new music and works, and reveal his sentiments and opinions about everything.
In addition, Ice T promotes other artists' work here, and they should give him credits for that. As one of the most well-known rappers in the industry, not to mention a legend in his own right, a lot of people are looking up to the 62-year-old star. Surely, this number will continuously grow as time goes by, though Ice T said in his Twitter bio that his page is for "mature audiences" only, so beware.
TAIKA WAITITI
Facebook: 205K
Twitter: 1.2 Million
Instagram: 2.2 Million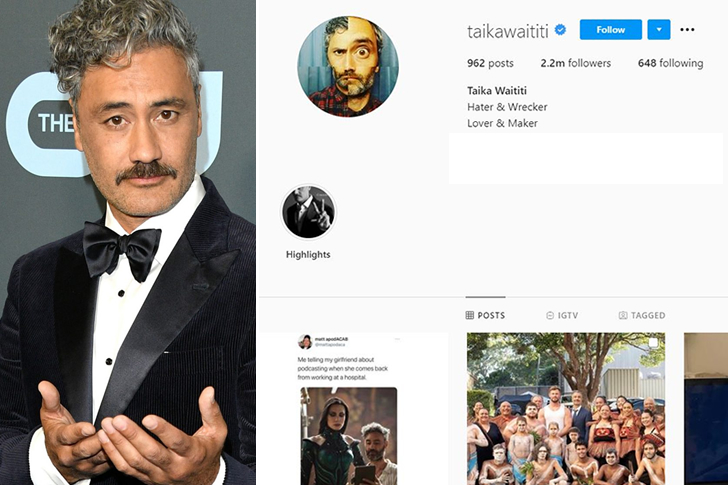 Taika Waititi makes his social media game strong. Though he has a modest following, we can't deny that his accounts are one of the most refreshing ones that you'll see online. Why? He's not afraid to make fun of himself, he'll usually give his followers a glimpse of some behind-the-scenes snaps of his movies, and he can make you laugh effortlessly.
The 45-year-old filmmaker is also not afraid of trolls because he's the best at trolling. He even brought this "expertise" of him in interviews to a certain degree. Remember the time when she trolled Cate Blanchett at the San Diego Comic-Con? He said he cast the 51-year-old actress because she needs help and waiting for someone to reach out for her in the dark. Fortunately, Blanchett was a good sport and only said she's grateful to work with Waititi. Isn't he the best fit to be the social media king?
You've Reached The End